Perspective for Days When the Pipes Freeze and *Everything* Goes Wrong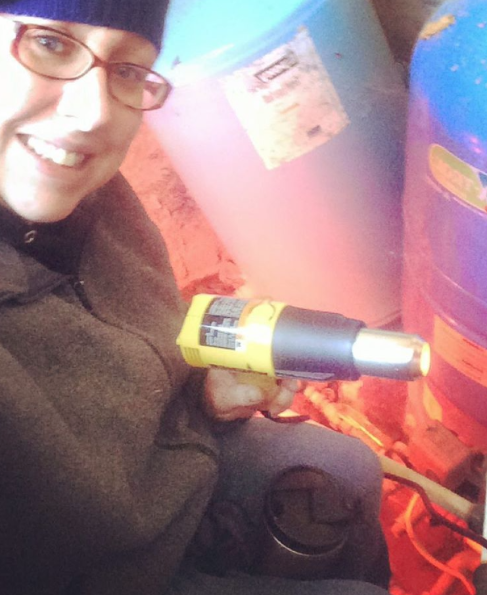 This is me with my heat gun, down in a hole that is the pump house for our well.
This is not how I planned to start my day.
My Plan
My alarm was set for 6 a.m. I was going to wake, nurse the baby in bed while I read my Bible and maybe a few pages from my new Keep a Quiet Heart book by Elizabeth Elliot, slip downstairs to get some coffee before 7, and get completely dressed because the kids wouldn't even have stirred yet.
We were going to have a full day of homeschool including tackling 6-8 more chapters of The Sign of the Beaver, get in a new lesson from All About Reading for the younger boys, and so on. We were going to have an early dinner with daddy when he got home from college and then literally skate out early for "cheap skate night" at our local roller skating rink. We would leave daddy home to watch the two youngest ones so momma here could whip out her cool roller skating moves (those moves include not falling down :))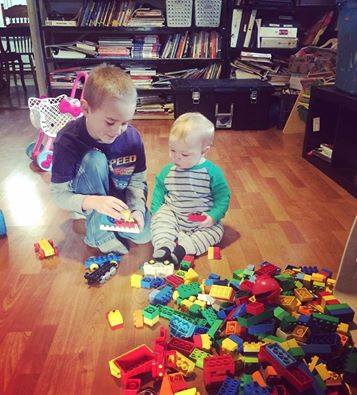 The day before had been such a lovely and simple day at home.
My Reality
My day didn't go anywhere close to the simple plan above. I woke up at 8:30 a.m. to my phone alarm having gone off and I never heard it. I couldn't find my glasses because I took them off while reading in bed the night before and they were now MIA. I quickly, and blindly, scurried downstairs to check on all the kids.
Our two oldest boys were folding laundry (bless them), my three middle kiddos were watching Netflix (because hello, Momma slept in and nobody woke her), and the two younger children were still fast asleep. My 15-year-old quickly informed me that the water turned off during his morning shower and none of the toilets flushed. Let me tell you, that's a potential nightmare in a growing family of nine.
After checking the faucets, I realized our pipes must have frozen. This didn't make any sense because we've lived in our farm house for nearly a decade and the one time this happened in the past we added more insulation where needed, etc.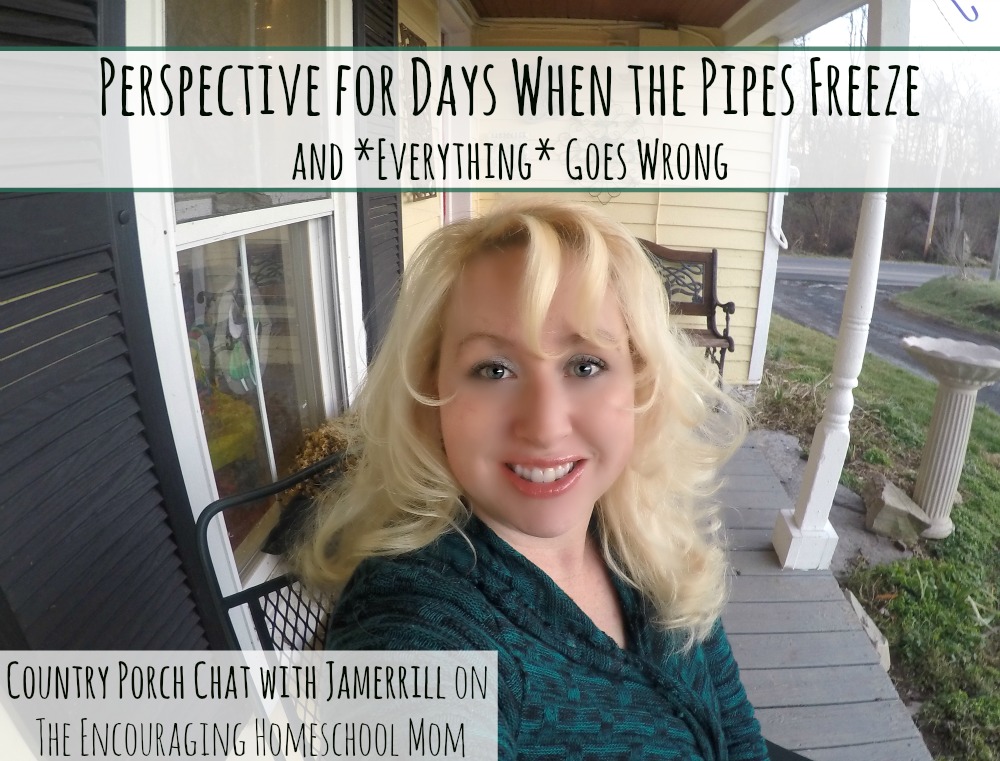 My husband was away at college for the day and it was only supposed to be in the 20's. We figured out what had happened, and via 2 hours of text messages he guided me to get the electrical back on in our pump house, get heat lamps on, and use a heat gun on the frozen pipes.
This wasn't the only issue of the day. I had gotten a weird email from PayPal soon after I returned inside, and come to find out there was some suspicious activity on my account. No charges (praise God), but some setting changes that just didn't add up. This led to my being on the phone with PayPal for at least another hour. Within all of this time we also had some other personal family issues that needed attention, as well as (could it be – not holding my breath) hashing out details for another house offer.
Reality drove full-steam across my day. Naomi got her schoolwork done at the kitchen table fairly independently. My big boys helped watch our little ones while I juggled the freezing pipes, PayPal hacking, and real estate dealings. It was just NOT the beautiful homeschool day I had in mind! I had to call it a reality day. Life skills learned, hopefully, and we'll have a better day tomorrow.
5 Thoughts to Keep in Perspective on the Really, Really, Overwhelming Days
This Too Shall Pass It really will. This day will be gone and as the Word says, "His mercies are new each day." I had enough mercy and grace for this one day. The pipes don't freeze every day. Our homeschool isn't railroaded, and Netflix and big brothers aren't the babysitters every day. We'll just rock the homeschool harder tomorrow.
The Children Are Watching You and Taking Notes Now this one just hurts, doesn't it? If I have a bad attitude toward tests and trials, my children are going to see it. That's part of being home with your children and homeschooling day in and day out. The kids get a front row seat to how Momma handles things. I'm certainly not perfect. I have my moments and even entire days where I'd like a do-over. But I was keenly aware on this particular day that my sweet group of souls was taking notes on my voice tone and problem-solving skills. I pray they took in a momma who just keeps moving forward and handles whatever situations arise with peace and grace.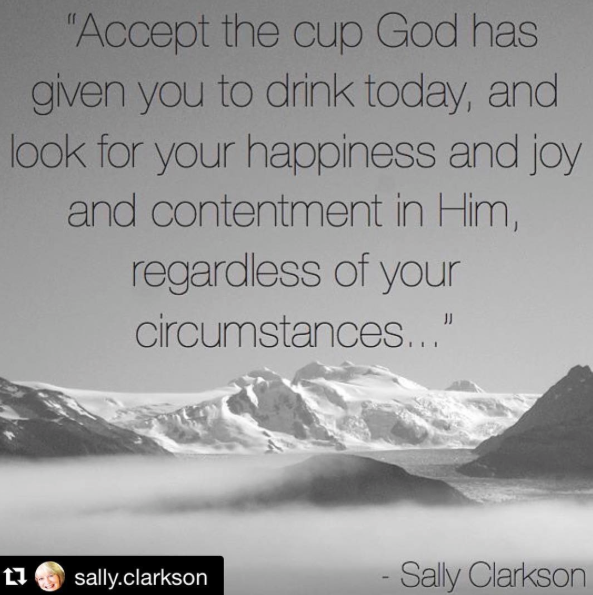 Beautifully true words from dear Sally Clarkson
Count Your Blessings We are blessed. Crazy things happen all the time. (Hey, did I ever tell you about the time our van broke down several hours away from home and we had to take not one but TWO taxis home, which ended the day with a $500 taxi bill?) We're not alone in this. I'm sure you've experienced your own fair share of wild adventures and we could no doubt spend hours over coffee sharing stories and laughing at the hilarity of it all. But at the end of our laugh-out-loud coffee time you'd look at me and I'd look at you and we'd both know that we're still two very blessed women. Because, despite the days when the pipes freeze, vans break down, and financial accounts are hacked, we're still walking with the King and resting in Him.
Prayer Time I prayed often during the long periods of time I was down in the hole of our pump house. I thanked God for His goodness, for His provision, for His wisdom on how to handle the situation. I prayed for the needs of a few friends. I prayed through my own list of needs. I surrendered again various situations on my heart. When the moments are overwhelming, don't forget that you can stop and pray. You can pray in your heart right in the middle of all the feelings and possible frustrations. I run Bible verses in my head pretty much 24/7. It's a habit of continually dwelling in the Word so I can quickly keep myself in peace (lest you think "holding my peace" comes naturally to me).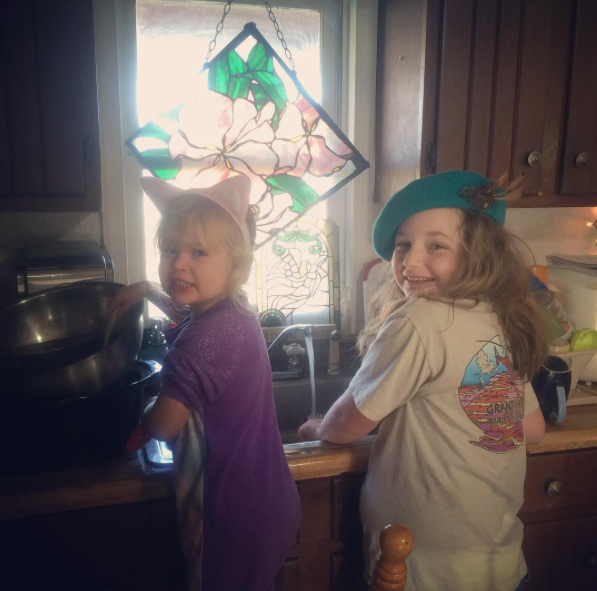 Amelia is "helping" Naomi wash dishes.
Reflection Some days are just overwhelming in general. Regular old doing dishes, fixing and serving meals, wiping noses, chasing chickens, moving the laundry mountain, and then throw in educating a herd of children, plus Momma attempting to keep herself in check – well, regular old days don't need a lot of help in the overwhelming department (and we still wouldn't change a thing). When standard daily life is overwhelming, sometimes it's learning to embrace the journey with joy, and I believe this is a multi-layered, multi-year process. We scoop up little bits of joy each day and lean on those moments during the pressing situations that come our way, because that's what we do.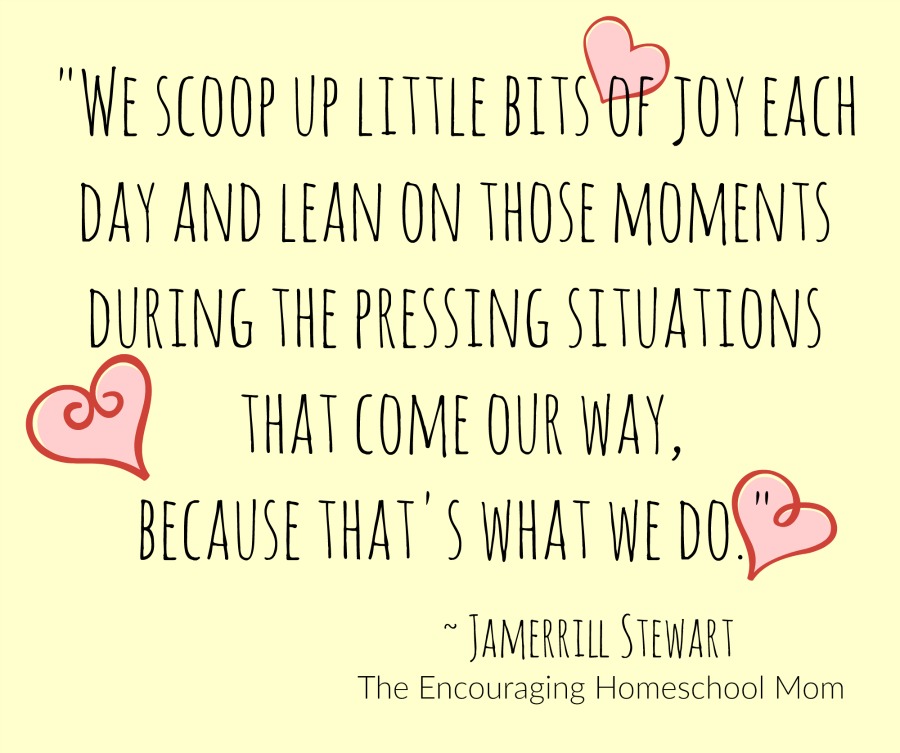 NEW YOUTUBE VIDEO
And would you believe this, a NEW YouTube Video?! If you read about SURRENDER: My One Word For 2016 you'll know that I'm treading lightly and following the Lord with my motives, time, and tons of additional life-details. I'm not sure what my YouTube schedule is going to be, and I think it's safe to say that the frequency will be hit and miss. Thanks so much for hanging out with me here in this space. In today's new YouTube Video I'm sharing more thoughts in a Country Porch Chat on Perspective for Days When the Pipes Freeze and *Everything* Goes Wrong. Also, don't miss this brand new Free She Believed printable download. Be blessed!