Today is International Get Rid of Jamerrill's Funky Old Pan Day. It's a real holiday , I swear. Tag along with me on my mission to replace my funky old pan at my new favorite store, Bed, Bath, and Beyond. Since Mama doesn't get away solo often, I also stop by Michael's to look at VBS stuff and Tropical Smoothie for a treat. My main mission is to replace this 20 year old pan with something that will work just as well for my large family needs. Who knows what we will find?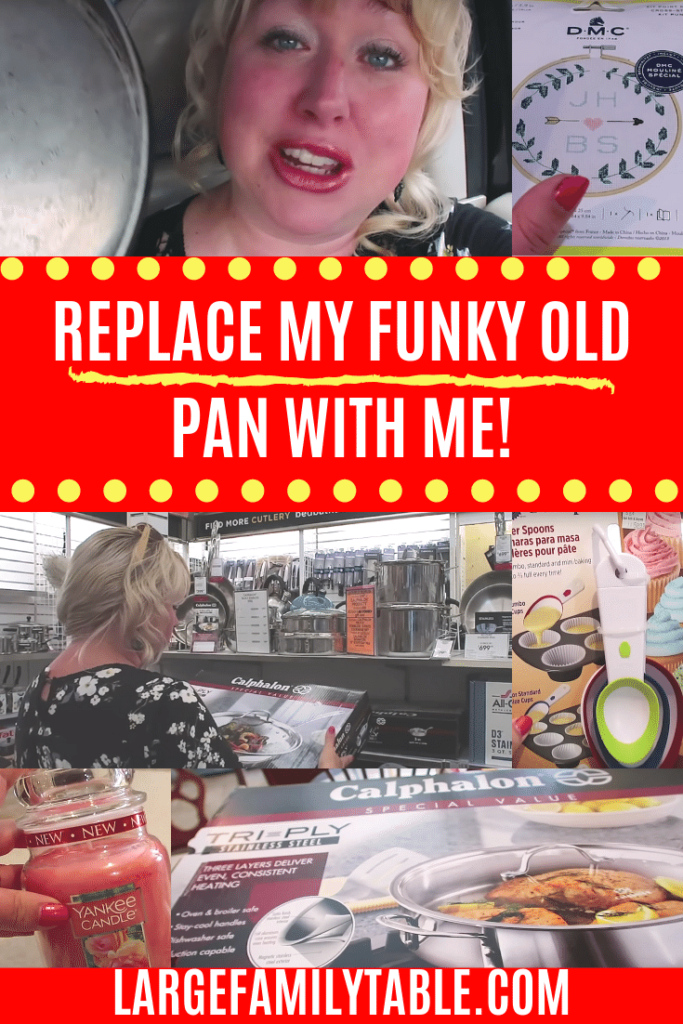 Listen, you can't replace a funky old pan without bringing it with you. Luckily the ladies at Bed, Bath, and Beyond allow me to give my funky old pan a place of honor in the shopping cart. This is just one more reason "hearts come out of my eyes" when I see the sign. Lots of items to discover and great customer service. What's not to love?
Funky old pan entered our lives way back in the day when we were just a little family. We had little Zion, little Jadin, little Travis, and little Jamerrill in an apartment in the city. It was a great deep dish pan that would help this mama who was in nursing school feed her people well. It was the first real pan I bought myself back in the day. Sentimental much?
It had non stick coating which is long gone and the poor thing is all scratched up. When I mentioned in my large family haul video recently that I wanted to put my funky old pan out of its misery, lots of you suggested cast iron or stainless steel as an alternative. Here's the thing. I have several large cast iron skillets and large pans I can use but I always resort to my funky old pan. We mamas can relate to having a favorite pan we always reach for when feeding our people.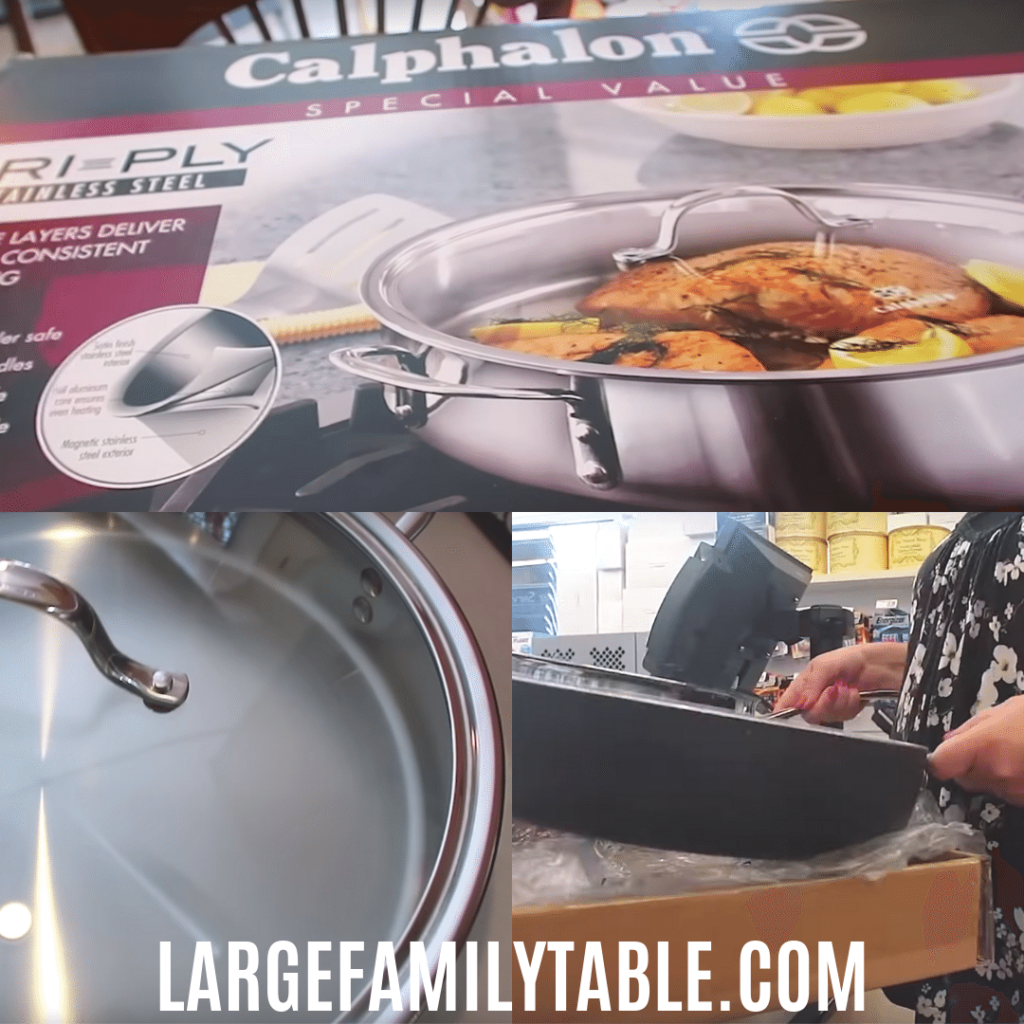 I discovered Bed, Bath, and Beyond a few weeks ago when I needed a new apple peeler corer slicer. It is a large family mama's dream come true. So many items to make feeding my people easy and fun. Why haven't I been to this store before? It's like Ikea but closer to me. It is the perfect place to find a funky old pan replacement. Today is the day!
Now I'm sure all of you bring your funky old pans into the store and video yourself finding a replacement. What? You don't? It's ok because I do and take you along with me. Let's look at the non stick ones, oh! a ceramic one, maybe a stainless one. So many choices.
Replacing funky old pan with an appropriate pan will not be cheap is what I learn pretty quickly. Wow! Breathe Jamerrill. Since I'm going to be using it for the next 20 years or the rest of my life whichever comes first, I can splurge a bit on a good pan. I pick a few that I like and BB&B staff graciously allow me to take them out of the package to look them over and compare them to funky old pan.
Once I have the funky old pan replacement, I get to meander the store to see if there are any other things I need like a new sleep mask. Mamas need sleep too. I check out with all my goodies then give funky old pan the toss in a garbage can outside the store. If funky old pan doesn't come home with me then I can't use it anymore. It was a good pan. It served my family well.
Off to Michael's to look at VBS stuff . I don't know about you but craft stores make my heart happy. Of course, I find the clearance section and get some good finds. This frugal mama is having a such a good day, I think I'll stop at Tropical Smoothie for a treat.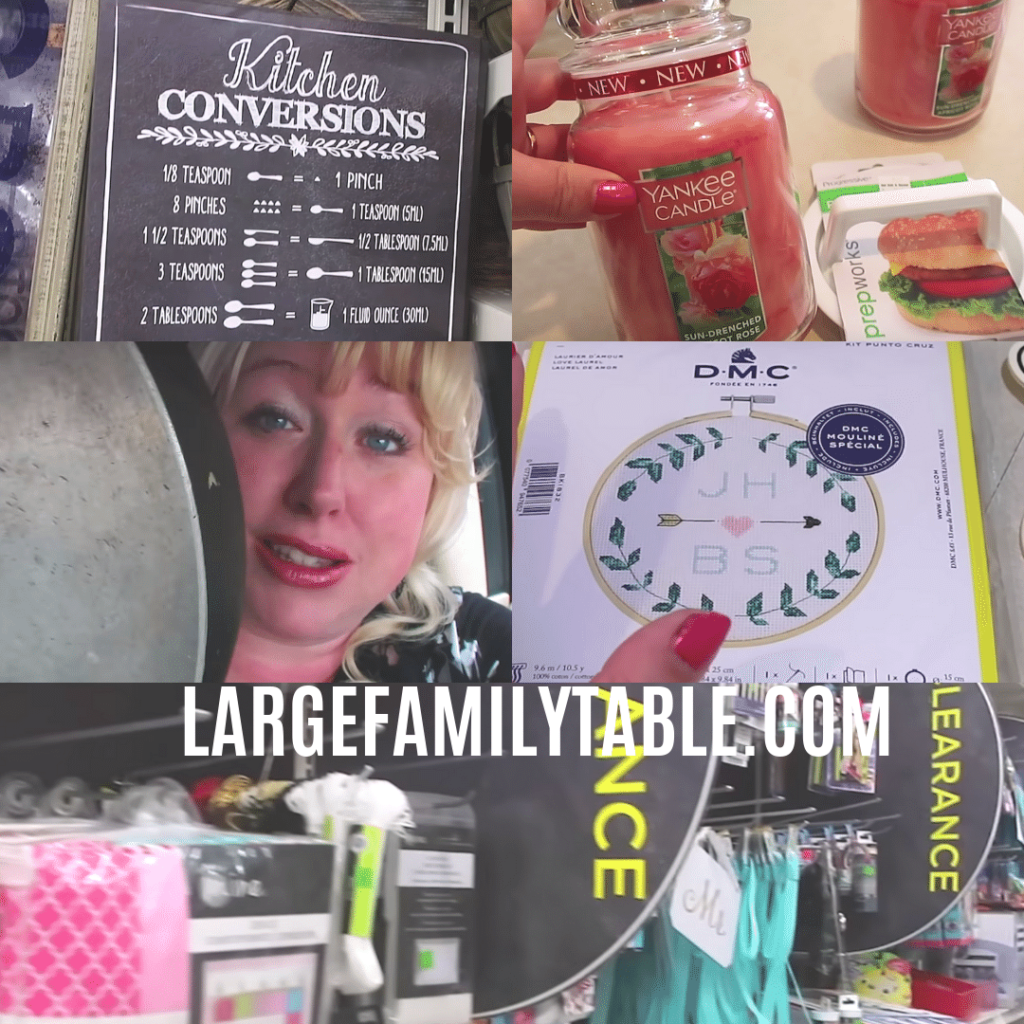 Breakdowns
Bed, Bath & Beyond
2 Sun Drenched Apricot Rose Yankee Candles 1/2 price
Patty maker
Batter spoons
Sleep Mask since I can't find my other one
Calphalon 5 quart saute pan with cover
Total $167 minus 20% savings for joining their club at $29 for the year so it comes out to . $128.66
Michael's
2 sketchbooks for my artsy kids
Masks for the kids to color
cross stitch pack to find in my basket when I'm 84
Fun times walking around – priceless