In my new Building a Grocery Store in My Basement RESTOCK Tour, I share with you my large family pantry updates including restocking many toiletry items, checking food dates, and showing you my process for rotating my food storage.
🎉 Use Coupon Code HELLO20 to take 20% off the SUPER MEGA EXTRAVAGANZA BUNDLE which includes 50+ meal-time sanity-saving products like Big Batch Freezer Meal Guides 1-18!!! 🎉
Restock Tour of the Grocery Store in my Basement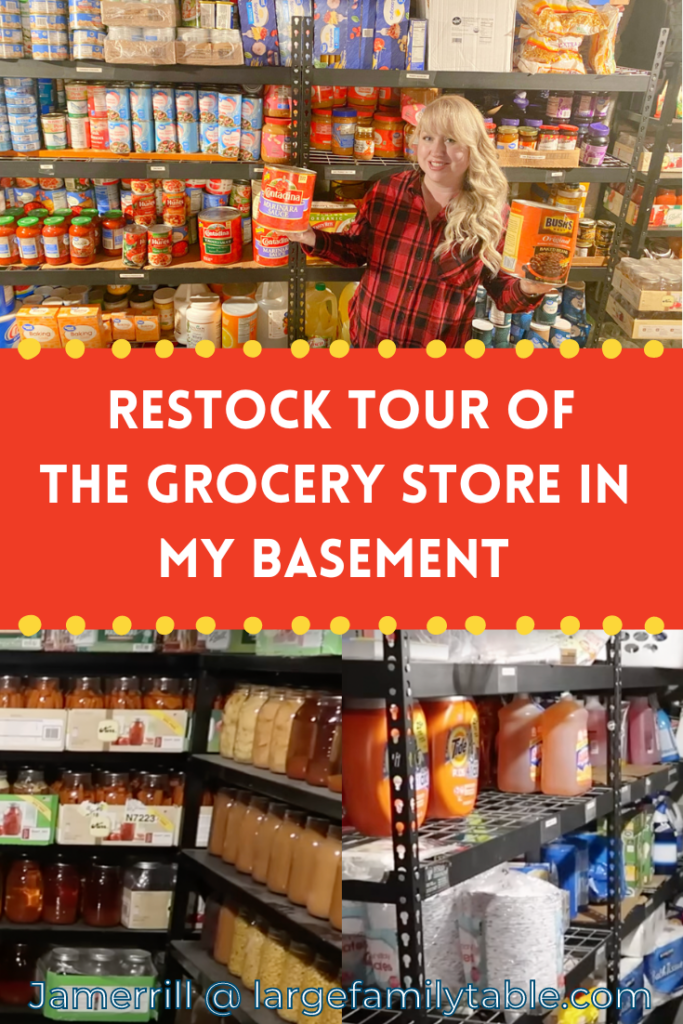 Back when my oldest children were little babies, I had to live on a $250-$350 budget for groceries. I knew how to pinch and stretch those dollars and always dreamed of having a grocery store in my basement, where I could stock up on items and visit the grocery store less and less.
Then, in 2020, I read a book called A Year Without the Grocery Store by my now good friend, Karen Morris. She taught me so many great tips and strategies to build up my rotating stock pile of pantry staples and other supplies. I still have so much room for more growth and learning in this area.
I like having the Grocery Store in my Basement because I feed at least 11 people at home, all day, every day! In a a household of 11, Mega Momma needs tons of food on hand, lots and lots of toiletries, and not to mention the massive mega amounts of laundry we do every day! I also enjoy sharing the supplies I've stocked up to give to families in need, as I often do.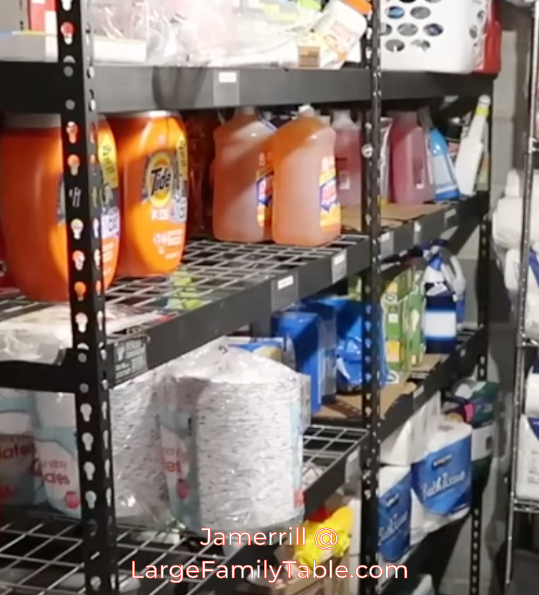 In this video, I talk about how I've developed large family food preservation skills and we look through the pantry shelves to create a shopping list to do a massive mega restock. We needed to fill in some empty areas with disinfectant wipes, shampoo, toilet paper, laundry soap, coffee, and so much more!!
Then, see the tour of the restocked Grocery Store in My Basement after we did our shopping. You get to see in full detail all of my pantry in my Grocery Store in my Basement! Join me for this restocking adventure and gain some ideas for your own pantry stash!
🎉Find all 50+ Food Guides Here!!
You can get all my 50+ Recipe Packs in my meal time sanity-saving Super Mega Extravaganza Bundle! It includes all the food products in my shop through Fall 2022!! You will get so many recipes, make-ahead and freezer meals, lots of sheet pan meals, baking bundles, and planning packs to help you organize all your meals (breakfast, lunch, and dinner) and so much more. That's why I call it the Super Mega Extravaganza Deal!