You are going to love these Star Wars Activities! Stars Wars is undoubtedly one of the most successful, well-known movie series of all time. It has captured audiences of all ages from its inception in the late 1970's.
Are you a Star Wars fanatic? How about your kids? Here is a cosmic collection of Star Wars themed ideas for your next birthday party, May 4th celebration, or any day of the year!
You're sure to find something your family will enjoy among these activities, craft ideas, and tasty treats.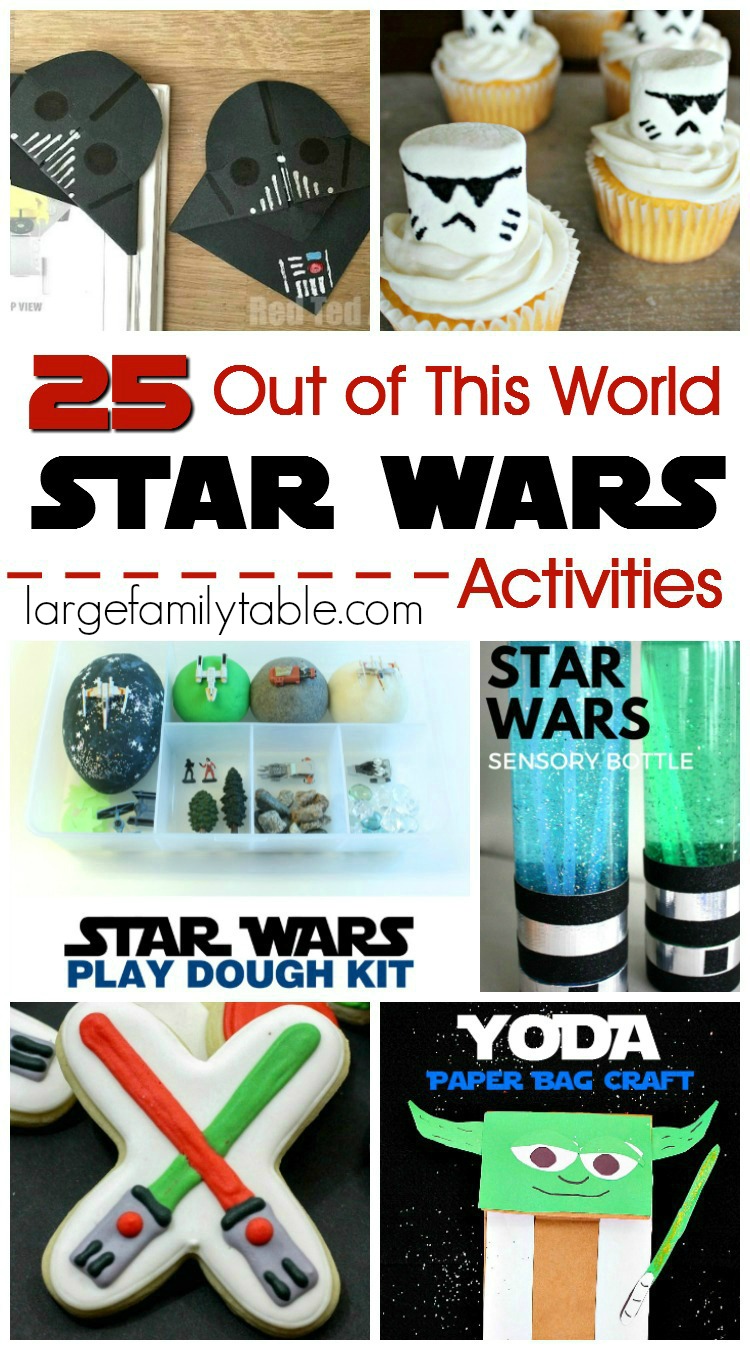 25 Out of This World Star Wars Activities
Check out this cute Yoda paper bag puppet you can make.  This puppet requires just a few materials to make – brown paper lunch bag, construction paper, scissors, and glue.
These Star Wars vehicles made out of cardboard would make great party props.  Learn how to make a Millennium Falcon and Rey's Speeder.
These Star Wars tin can lanterns are better suited for older kids and would add the perfect decorating touch to a Star Wars party.
Who doesn't love a good game of Bingo or Trivia? Both are even better when you pair them up
with Star Wars. There are four printable Star Wars bingo cards available and a trivia quiz for each Star Wars movie.
These light sabers pencils are easy to make, and inexpensive. They make great stocking stuffers,
small gifts, or additions to a Valentine or Christmas card.
Sensory bottles seem to be all the rage lately. These light saber sensory bottles are fun and easy to make, and yes, they glow in the dark!
Kids can play all kinds of games with these DIY glow-in-the-dark Star Wars pyramid bean bags. And if you use glow-in-the-dark fabric (who knew they even made that stuff?), you'll have a fun night time toy!
Here's a natural, healthy Star Wars fruit snack. Follow this recipe and you'll have a vegetarian, gluten free treat.
These Princess Leia Oreo truffles are absolutely adorable! Using Rolo candies as her hair buns is super clever and cute.
Making an edible Storm Trooper (cupcake) couldn't be any easier than this. All you need is a batch of cupcakes, frosting, big marshmallows, and a food grade marker (who knew they made those either?).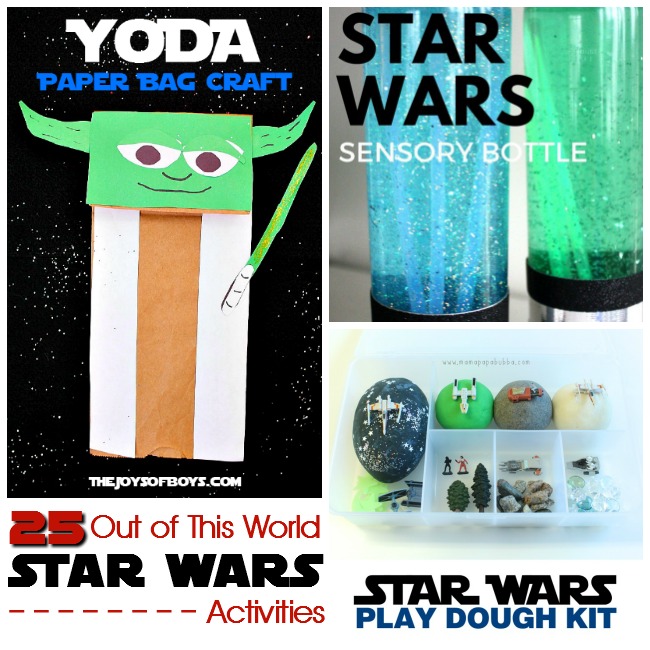 If you like creating artwork with your kids' hand and foot prints, you'll love turning those prints into lots of different Star Wars characters. These Star Wars inspired footprint art projects are sure to be a hit!
Have your kids do a recap of their favorite Star Wars movie with these fun Star Wars shadow puppets.
There's even a printable pattern available for you to help make the puppets.
Follow this step-by-step tutorial for making light saber cookies. These are a must for any Star Wars party.
These silly and entertaining Stars Wars Mad Libs will keep your family laughing and entertained on your next road trip or family fun night. There are four different Star Wars Mad Libs to print out for free.
This is a simple craft that even little Star Wars fans can help make. Little Star Wars fans are sure to enjoy creating their own sponge painted death star.
Mmm, edible light sabers. You can make them in any color you wish.
How creative is this Star Wars thumb print art? Even more creative is using your artwork
as gift wrap!
This milk jug storm trooper helmet looks a little complicated to make, but the end result is pretty impressive.
Combine S'mores with your favorite Star Wars characters and you've got Star Wars S'more Pops!
Your child will have endless fun as they use their imagination with this kit full of play dough and Star Wars toys.  It makes a great gift too.
Dress up clothes are a big hit with kids.  Your little princess will love this easy-to-sew Princess Leia costume.
This is a fun Star Wars Lego science activity with baking soda and vinegar where you rescue Han Solo, or any other Lego Star Wars characters you may have.
Not sure what to do with all of those broken crayon? Why not make some Star Wars crayons? They make a fun gift or party favor.
With a little felt, you can transform a tin can into everyone's favorite droid, R2D2, that holds your pens and pencils. This R2D2 pencil holder will be any Star Wars fan's favorite desk item.
Corner bookmarks are a unique way to mark your spot in a book.  Check out the video in this post to make one that looks like Darth Vader.
No matter which Star Wars activity you choose to start with, you'll definitely want to try them all!
25 Awesome Star Wars Crafts, Activities, & Treats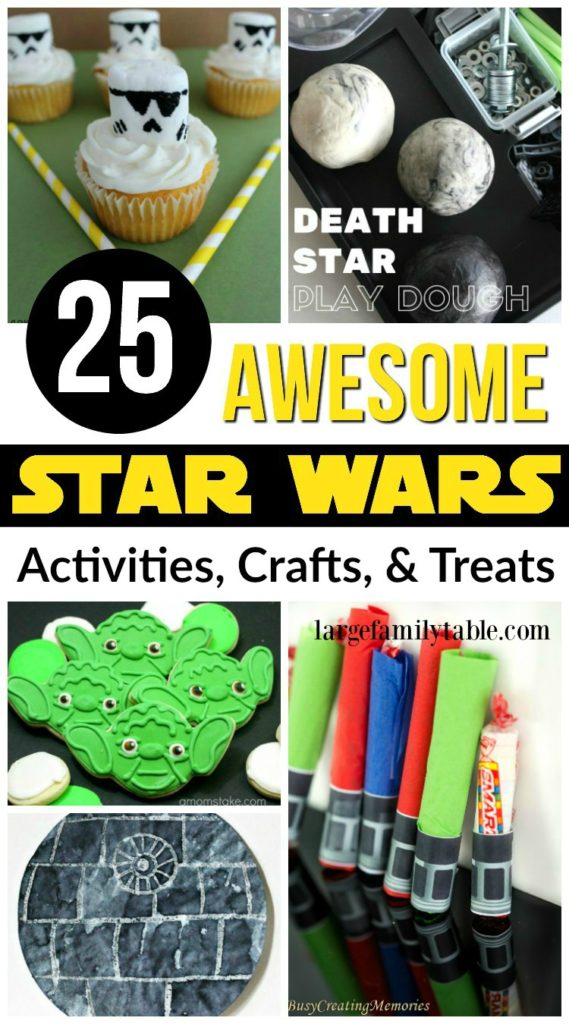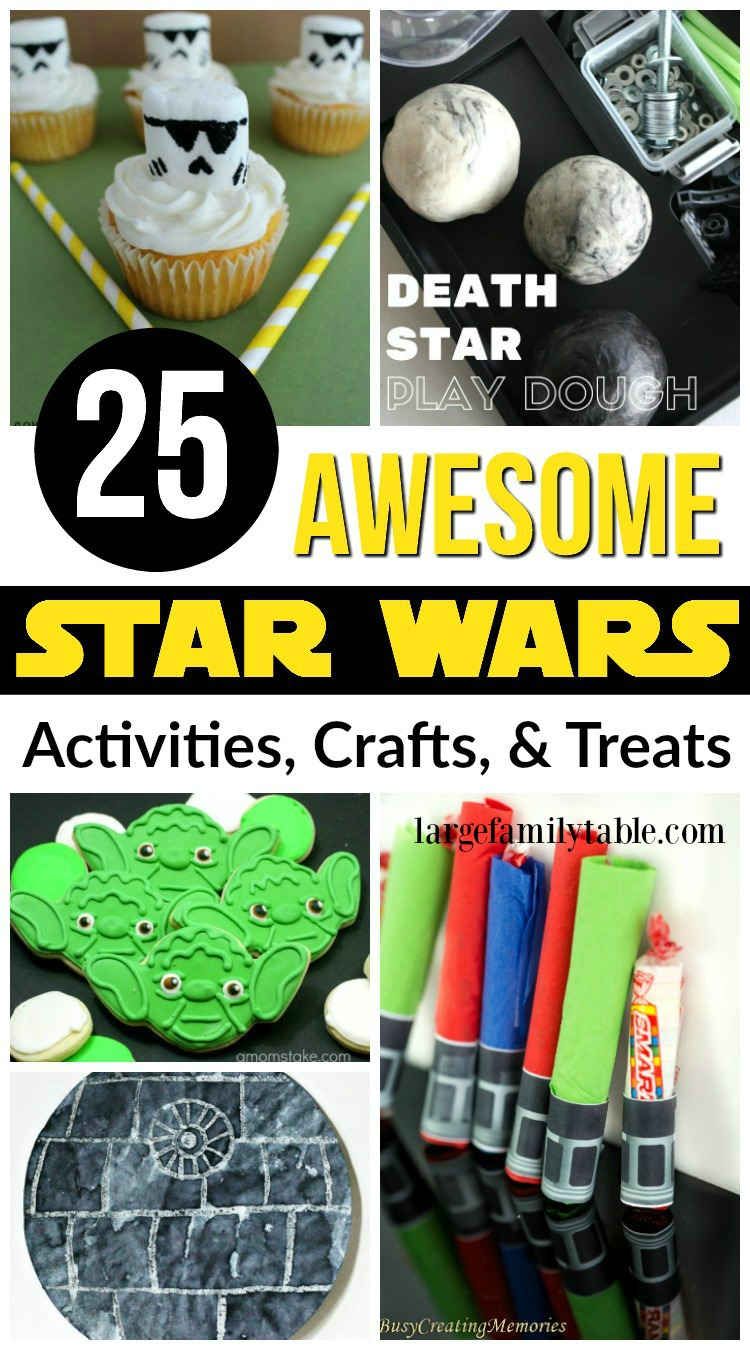 Don't miss these 25 Awesome Star Wars Crafts, Activities, & Treats!