Last Monday I planned to film a few clips for a fresh week in the life video, and I ended up filming more of a day in the life style vlog. There are lots of cute moments with baby Benjamin and Daniel. The house is busy as we prepare for my husband to get home from a huge once-a-month grocery haul.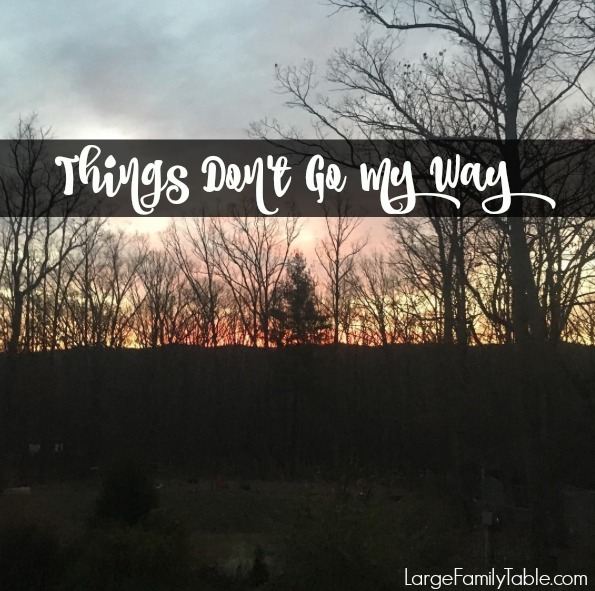 During a few minutes of down time between the babies and the groceries, I found myself reading a post my friend Crystal Paine from MoneySavingMom.com shared on Facebook. Crystal was sharing how some of her plans didn't go how she intended, actually more along the lines of how she chose a more peaceful path. This is something she has walked out for many years, and I always appreciate her wisdom and strength.
Her post got me thinking about how I come up with lots and lots of ideas, too. I have notebooks full of product ideas. There are book outlines, course topics, blog post titles, video thoughts, podcast brain storms (you know, for that podcast I've yet to start).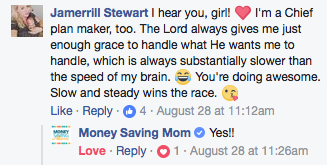 This brought me to a thought I really wanted to share with you ladies, how very much of the time things don't go my way. Whether we're talking about homeschooling, chicken raising plans, house projects, entrepreneur-ish topics, etc. It's not that I don't make goals and lists. Remember, I'm the chief of those. It's that my goal setting and list making don't get the credit. Those are good mental exercises on my part. I guess I will always make those goals and fill out those lists. However, I have to hold those loosely.
Anything I appear to accomplish is completely by God's Grace. Very much of my very existence is leaning on the Lord. Much of the time I pray prayers like, "Lord, you're going to have to show me how to do this because I haven't got a clue." And honestly, that is the very best place to be, and not that I'm even close to mastering it. Just an all out position of surrender and dependence on the Jesus.
Each time he said, "My grace is all you need. My power works best in weakness." So now I am glad to boast about my weaknesses, so that the power of Christ can work through me. 2 Corinthians 12:9 NLT
Much of what I walk out on a daily basis is handing my enthusiastic plans and well-meaning to-do list over to the Lord. I live and operate by the His mercies. Life itself, the daily walking it out, can be pressured and thick for anyone. We all get muddled in the details and weighed down by burdens at times. We can see how things could go, how we think they should happen, and no matter how we plot, organize and rearrange the reality is many times things don't go our way. This can lead to a great deal of frustration if we let it. Part of what the Lord has me walking out is releasing what I think are my best aspirations to Him and watching Him unfold events that are far better than what I had scribbled on paper.
I've shared on Instagram, "More than once I have heard God say that power belongs to him and that his love is constant." Psalms 62:11″
And still, within it all, while we watch and wait, we can have great joy. We can enjoy the many gifts we do have. We can grab onto all the beauty that already surrounds us. We can give God the glory in all the situations, both simple and complex. The Lord will give us just enough grace to walk out where He wants us at this time as we surrender our plans for His.
"For My thoughts are not your thoughts, Nor are your ways My ways," says the Lord. "For as the heavens are higher than the earth, So are My ways higher than your ways, And My thoughts than your thoughts." Isaiah 55:8-9 NKJV
Things Don't Go My Way…
This is what I'm also trying to share today in Things Don't Go My Way. In between the hustling rhythm of the day, I hope you hear my heart and encouragement within my kitchen rambles. 🙂