Mixing in Time4Learning in Our Homeschool
Time4Learning is one of FreeHomeschoolDeals.com & TheEncouragingHomeschoolMom.com sponsors. I only work with a select few companies who I feel will be most helpful to my reading and viewing friends. xoxo ~ Jamerrill

I love sharing helpful homeschool resources when I find them. Any helps that can make homeschool mom life easier are greatly appreciated. We've been mixing in Time4Learning in our homeschooling over these last few months. I'm enjoying picking and choosing based on the needs of our various kiddos. I knew that having a huge selection of online classes at my finger tips was going to be helpful.
Over the last few months I have mixed in Time4Learning within Jadin's homeschool high school studies, and Zion's homeschool middle school studies (although he's more high school than middle school at this point – love homeschooling!). Jadin is working through Time4Learning's High School English. Zion is currently using Time4Learning for World Geography. They are working through these courses as part of their summer homeschooling (I share more about our year round homeschooling in Large Family Mom Day in the Life Early Summer Edition).
You can see by these pictures the convenience of the flexibility of these studies. Jadin usually stretches out with his laptop on the futon. Zion likes to work on the ottomans. Time4Learning is an efficient way to work additional studies into the boys work stacks.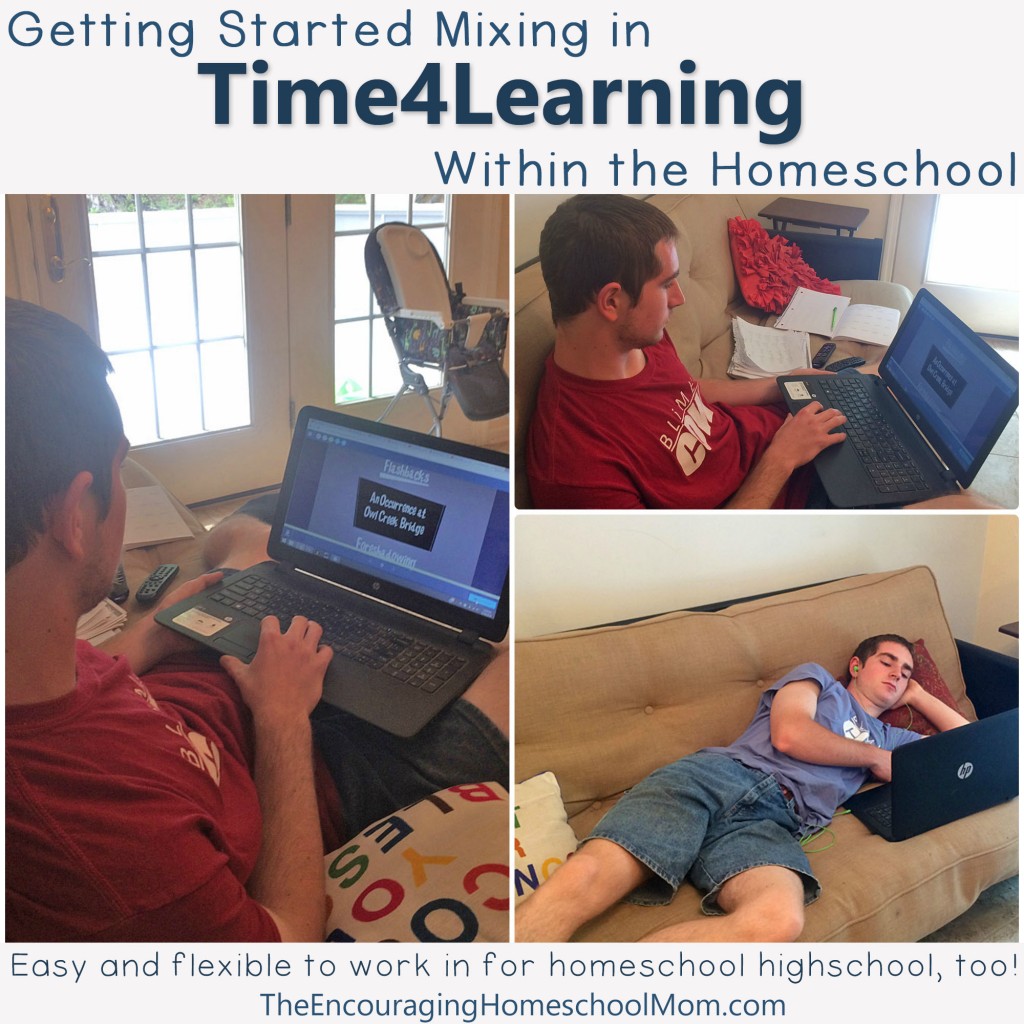 I've already mentioned in a few YouTube videos that Jadin and Zion are accustomed to working independently with their Time4Learning dashboard and lesson structure. Now I'm starting the younger children in daily Time4Learning lesson time as well. I plan to share more on this as it develops. I wanted to go ahead and share with you how Time4Learning works so you can look into for your homeschool if you're interested.
Tips for Mixing in Time4Learning in Your Homeschool
Time 4 Learning is an online education program, available for Kindergarten through High School. It combines animated lessons, interactive activities, and technology to create a comprehensive curriculum for each child.
As a homeschool mom, I know how difficult it can be to meet the individual needs of each child. Time 4 Learning takes some of the guess work out of that process, while helping children become more independent learners.
How Time 4 Learning Works
One of the many wonderful features of Time 4 Learning is that each of your children has their own curriculum, based on their current stage and needs. As the homeschool mom, you set the grade level, which you can change if needed.
Since you are "in charge" of the curriculum, you can enlist your child in 3rd grade math, but choose 2nd grade language arts, for example. Whether you have average learners, special needs, or gifted kiddos, you can customize their entire curriculum at Time 4 Learning.
For the typical lesson, the material is introduced to your child using a recorded teaching session, instructional video, or animated lesson. There are also opportunities for review, enrichment activities, and evaluations.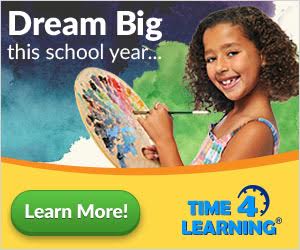 For each subject, you'll see a suggested learning path, typical to the 'Scope and Sequence' we're all familiar with. You can follow this learning path, or stop and hone in on skills your children need further work on.
There is no guess work, since lesson plans are completely laid out for each grade.
One of the best assets at Time 4 Learning is their comprehensive Parent's Forum! All of the Getting Started information is right at your fingertips for easy access, along with even more homeschooling help and ideas.
It's an enormous resource for parents!
To get a big picture view of how Time 4 Learning works, make sure you watch one of the online demos. You can choose a demo from any grade level, from Preschool through High School.
Time 4 Learning offers a 14-day unconditional money back guarantee! For a Preschool – 8th grade student, the cost is only $19.95/student per month. Each additional child is $14.95/student per month.
Since you pay by the month, you can cancel at any time.
Click the image to start your subscription to Time 4 Learning!