Survival Strategies For Work-At-Home Moms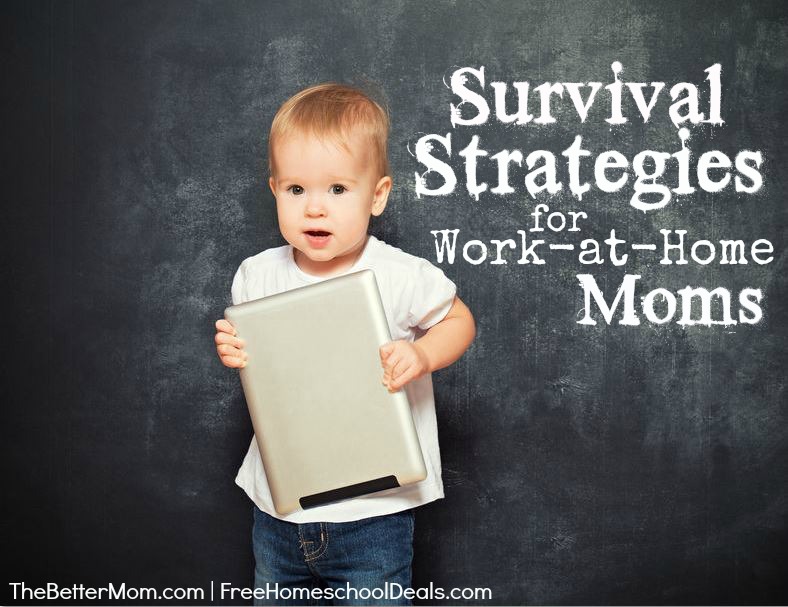 Being a work-at-home mom is a journey that I've been walking out over the last several years. It has not been easy. Please don't ever think it is. However many rewarding aspects of life are NOT easy, we all know this. I truly enjoy my work and the flexibility and blessings is has brought to my family.
From Survival Strategies For Work-At-Home Moms,
"I'm a homeschooling mother of six, with number seven due Christmas 2014, and I run a full-time business from home as a pro-blogger and speaker. I certainly don't have a cape or any special super power, other than I've continued to put one foot in front of the other in constant forward motion over the last several years.
Let me tell you, there have been moments on this work-at-home journey in which I've felt completely drenched in anxiety. The pressure and strain have been suffocating. It has been during the dark times of trying to figure out just how in the world I'm supposed to handle this load, that I've been totally broken and cried out to the Lord for direction."
Read the rest of Survival Strategies For Work-At-Home Moms on The Better Mom!
The Working Homeschool Mom Resources & Encouragement
How I Make A Full-Time Income Online To Support My Growing Family – in this post I break down how I make a full-time income online, plus resources to help you get started too!
It's Okay if it's Hard: Realities of Juggling Family Life and a Successful Blog – I wrote this article for a conference where I was speaking. It shares the realities of birthing a huge vision (this is case my FreeHomeschoolDeals.com blog), and all the judging and family teamwork it took to get it off the ground.
How My Blogging Brought My Husband Home Full-time, popular article sharing part of my family's story on FreeHomeschoolDeals.com
My Real Life Work-at-Home-Mom Schedule: Part One – I wrote this series in early 2015, right after Daniel Joel was born. Several aspects have changed, yet many hold true.
My Real Life Work-at-Home-Mom Schedule: Part Two
My Work-at-Home Mom Scheduling Secret Weapon
The Working Homeschool Mom Day in the Life! Enjoy the Family Day and Work with Me During the Evening 🙂
Survival Strategies For Work-At-Home Moms an article I wrote for TheBetterMom.com
Balancing Blogging and Social Media as a Business and a Ministry another helpful post from TheBetterMom.com
Don't forget to subscribe to The Encouraging Homeschool Mom Newsletter where you'll get my latest helps, tips, and encouraging resources, straight from my heart to yours! <3