**Special note from Jamerrill: Hey friend, I have a special treat for you today. Large family homeschooling mom of 15, Sherry Hayes, is sharing her thoughts on ways to build up your family with a classic movie night! I always appreciate Sherry's ideas and tips for family living. She's a blessing to my momma heart. I hope you enjoy her post today! ~ Jamerrill xoxo
From Sherry,
Large family life is a lot of work, but it is also loads of fun. This is especially true when it comes to movie night. We regularly pop up some corn, rip open a box of Milk Duds and immerse ourselves in a good flick. However, we don't want to watch something that will take bleach to clean out of our heads later.
The choices these days are almost endless, or so it seems. However, after doing a pretty good job of searching just about every streaming movie service, from Netflix to Hulu to Amazon, we have found that most of what is being offered is not according to our standard:
So then, let us pursue what leads to peace and to mutual edification.

Romans 14:9
Our home is more than a house filled with people, it is a place where we want the Holy Spirit to reign. This is a daily miracle when you have so many different genders and ages all rubbing against each other. Attitude can be everything in a large family, so we try to avoid movies that:
Waste valuable life
Tear down good morals.
Do not be deceived: "Evil company corrupts good habits."

1 Corinthians 15:33
Certainly, there are worthy movies that have come to us in recent years, but these are hard to find, and often sprinkled with the profane. In order to enjoy the good you have to fast-forward through a LOT of the bad.
However, there was a time in the not-so-distant past when movie makers tread more carefully. We're talking here about the decades of the 30's, 40's, 50's, and most of the 60's. Nary a curse word was allowed, no nudity, and even the violence was more of a suggestion than an accurate depiction. Movies back then were regulated by something called the Hays Code (make sure and take the time to read it–it will be a testament to how far we have fallen as a culture). Here is one of the basic tenets of this code: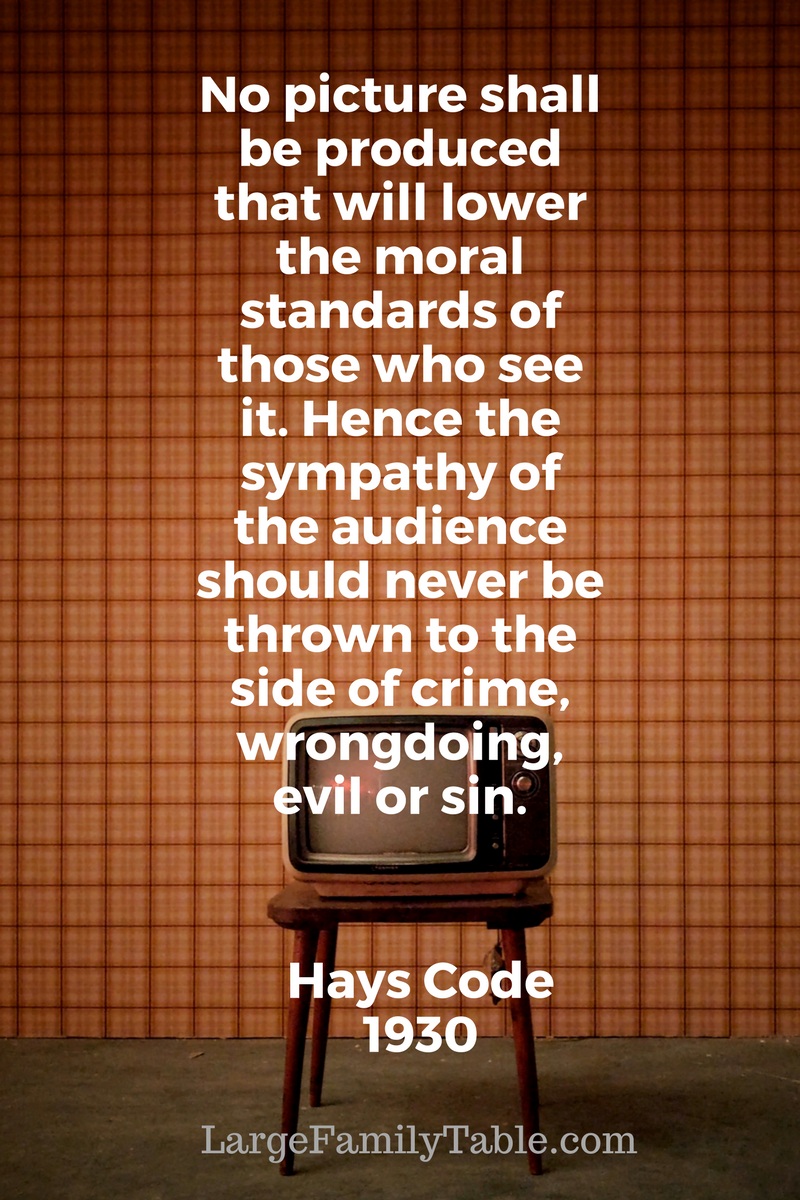 No picture shall be produced that will lower the moral standards of those who see it. Hence the sympathy of the audience should never be thrown to the side of crime, wrongdoing, evil or sin.
No, the movies weren't perfect. However, when you see a good one you end up adding to your family life instead of taking away from it.
Here is what you get when you watch one of these golden oldies:
Excellent cinematography. These were the big-budget films of the day, with panoramic, breathtaking scenes, well-done stages, and poetic editing.
Excellent scores. We actually listen to the soundtracks while we are homeschooling. Some are best for math, others for writing. Here is the El Cid soundtrack, here is the soundtrack for Ben Hur.
Excellent acting. These are the stars everyone else tries to live up to: Chuck Heston, Richard Burton, et al.
Stimulation to learn more about history and other interesting subjects. Even though the story lines were often embellished, the basics are solid and often capture the imagination enough to spur the entire family on to find out more.
Moral reinforcement. The mores of the past were more (although not completely) in line with a conservative, Biblically-based world view. Very little political correctness found in any of these. There are consequences for evil and the good guys (who really are good, not so convoluted that you can't tell) win.
Encouraging take-aways. We try to pick movies that stir us up to persevere, forgive, and give more of ourselves.
Only the jaded and cynical are critical of movies from this era. This is because altruism has been redefined. According to the current "morality," anything that hampers the "self" is sin, where it used to be:
Unselfish concern for the welfare of others; selflessness.
We watch them because they are excellent, they make us feel good, and they encourage us in the lines of Philippians 4:8:
Finally, brethren, whatever things are true, whatever things are noble, whatever things are just, whatever things are pure, whatever things arelovely, whatever things are of good report, if there is any virtue and if there is anything praiseworthy—meditate on these things.
We have viewed quite a few of these over the years. some aren't worth mentioning, but there are a number every person should watch. Here are just a few to start you off (with descriptions from IMDb):
An all-star, large scale epic film that chronicles the life and ministry of Jesus Christ.
In the Roman province of Judea during the 1st century, Roman tribune Marcellus Gallio is ordered to crucify Jesus of Nazareth but is tormented by his guilty conscience afterwards.
A fierce Roman commander becomes infatuated with a beautiful Christian hostage and begins questioning the tyrannical leadership of the despot Emperor Nero.
When a Jewish prince is betrayed and sent into slavery by a Roman friend, he regains his freedom and comes back for revenge.
The Egyptian Prince, Moses, learns of his true heritage as a Hebrew and his divine mission as the deliverer of his people.
The fabled Spanish hero Rodrigo Diaz (a.k.a. El Cid) overcomes a family vendetta and court intrigue to defend Christian Spain against the Moors.
A knight seeks to free the captive King Richard and put him back on the throne.
Extravagant production of the first part of the book of Genesis. Covers Adam and Eve, Noah and the Flood and Abraham and Isaac.
The temporary physical life of everyone's Savior, Jesus Christ.
A Greek artisan is commissioned to cast the cup of Christ in silver, and sculpt around its rim, the faces of the disciples and Jesus. He travels to Jerusalem and eventually to Rome to complete the task. Meanwhile, a nefarious interloper is trying to convince the crowds that he is the new Messiah, by using nothing more than cheap parlor tricks.
Oh, and if you are wondering where you can watch the above films for free (or nearly free) try your local library, or maybe you could find them on a free Roku channel. Many stream for a small fee (often much smaller than for current movies) via Amazon or YouTube (there are actually tons of other, less-known old movies for free there, too).
Have a wonderful family movie night!
Sherry Hayes is the homeschooling mom of 15 children. She lives at the foot of the Rocky Mountains where she walks with Jesus and shares His abundant life with her husband, David. Besides laughing with her family, some of her favorite things are long walks, vintage learning, and all things creative. For more of what she's up to, click over to her blog, Mom Delights.