**Today we're hearing from Amy Roberts of Raising Arrows about one of my favorite topics, How to Stay Sane While Homeschooling a lot of Kids. No matter how many kiddos you're currently homeschooling, I think you'll find lots of helpful grace-filled thoughts from Amy in this post! ~ Jamerrill xoxo
How to Stay Sane While Homeschooling a lot of Kids
From Amy,
As a homeschooling mom with a lot of kids, I am often asked how I manage it all and stay sane. I definitely don't do it perfectly every day, but I have learned a few tips and tricks over the years to contain the chaos and stay as sane as possible through it all!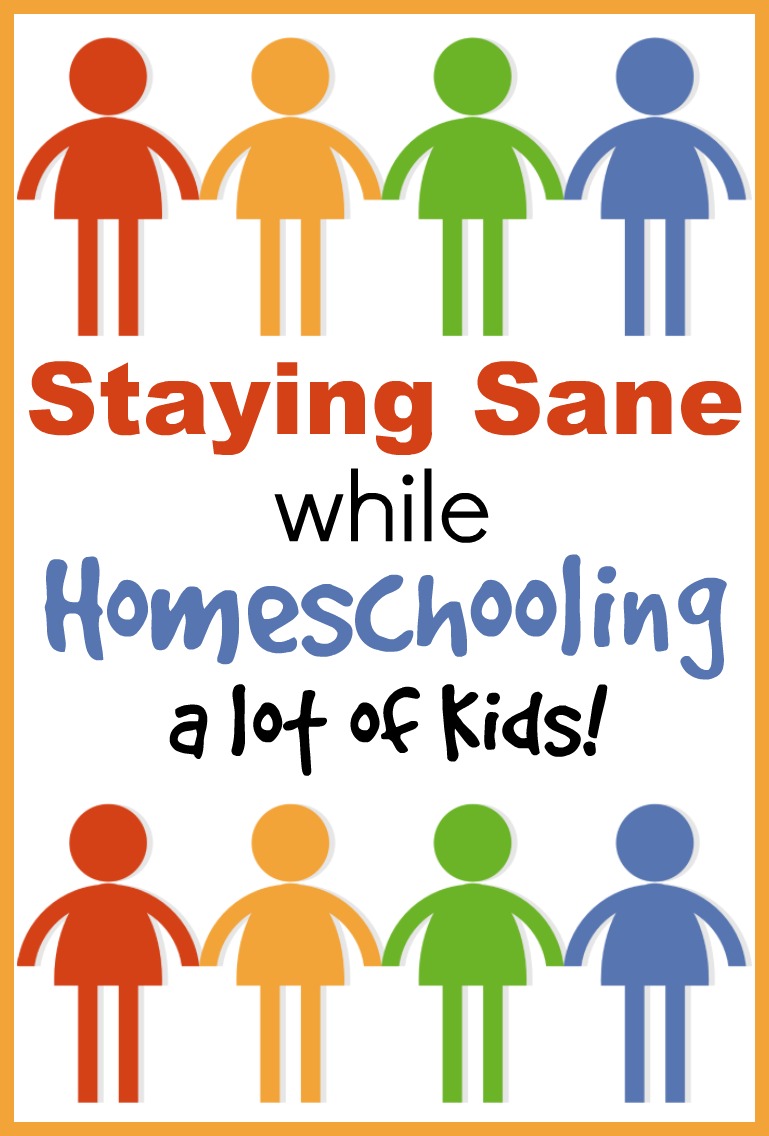 Homeschool from the bottom to the top
I always start with the youngest kids, so once they are finished with school, they can head off to play, leaving me to work with the older kids fairly uninterrupted. Some people find it is better to homeschool the older ones first, but I usually end up neglecting the younger kids' school work when I do this. Homeschooling little ones doesn't take very long, so I prefer to get it out of the way first thing.
Don't try to teach every subject yourself
In this technological age, we have computer programs, online sites, and Pinterest to help us homeschool! Use them! Try using a computer-based math program, or a free spelling site, or a typing program on CD. Use whatever resources you can to lighten your load.
Train toward independence
Starting from the time your children are young, start teaching them to work on their own. Give them a few problems in their math workbook and then walk away while they try to complete the work by themselves. As soon as they are reading well, give them books to read on their own. Don't hover, and don't let them depend on you for the answers.
Stay flexible with your time
Large families always seem to have something going on that can easily throw us off track if we don't stay flexible. Our family has chosen to homeschool year round because it has allowed us the flexibility we need to take breaks without stress. You might choose the same path we have or you might choose to homeschool at night or even on the weekends to allow yourself the flexibility to stay sane as you homeschool through the ins and outs and hiccups of having a large family.
Look for mastery
You don't need a test and grades to tell you if your child is understanding their lessons. You need to look for mastery of subjects and that can often be found through a simple conversation or observation of your child working. Don't spend a lot of time grading and testing your children unless you absolutely have to.
Don't teach subjects "just because"
My 17-year-old has never had a spelling lesson throughout her entire homeschooling career because she's a natural speller. I don't need to waste time, money, and energy on a spelling curriculum with her because she simply does not need it. Don't think you have to do certain subjects because that's what everyone does. Your time is better spent doing the subjects your children need.
Homeschool hearts before heads
Your children need a mother more than they need a teacher. Yes, you are both, but never sacrifice your mothering for your homeschool lessons. Remember to smile at your children, hug them, encourage them, and be mom while you homeschool. Build relationships with your kids. Being mom lasts much longer, and is much more important than academics will ever be.
Blessings,
Amy
Amy Roberts of RaisingArrows.net is a Christ-follower, devoted wife, homeschooling mother of 10, blogger, conference speaker, podcaster, and author. Amy inspires the hearts of weary, overwhelmed mamas across the world as she offers practical and encouraging advice to help simplify the path and enjoy the journey of homemaking, homeschooling, marriage, and mothering. Find her on Facebook, Pinterest, YouTube, and Instagram.