Pumpkin Pie Recipe
This past weekend I wanted to kick off the holiday season by making a big stack of homemade pumpkin pies. My homemade pumpkin pie recipe works so well and the kids love to help. For the last several years we've baked pumpkin and made homemade pumpkin puree. All the children take so much joy in knowing it was *their pumpkins* we baked for the homemade pies. It's so cute to watch them get excited about these things. 🙂
How to Bake a Pumpkin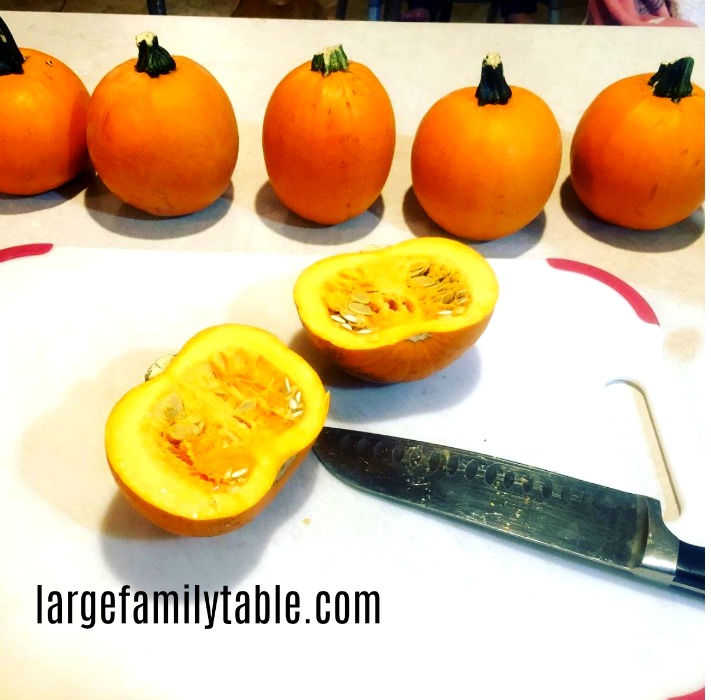 Sugar Pumpkins are the best pumpkins for baking a pumpkin at home. I've baked the HUGE pumpkins over the years. The bigger variety are messy more stringy (although they'll work if that's what you have!). This year we baked up our smaller pumpkins.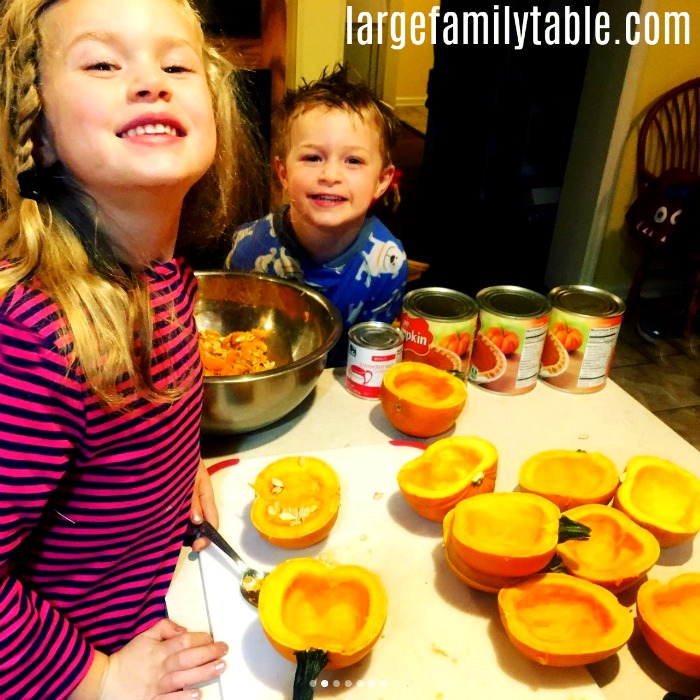 You just cut each pumpkin open and scoop out the insides. Then you place each pumpkin face down on a sprayed baking sheet. Place pumpkins in the oven for 375 degrees for 45-minutes.
Upon baking completion let the pumpkins cool completely. Next, scoop out pumpkin flesh and fill mixing bowl full of pumpkin to become pumpkin puree.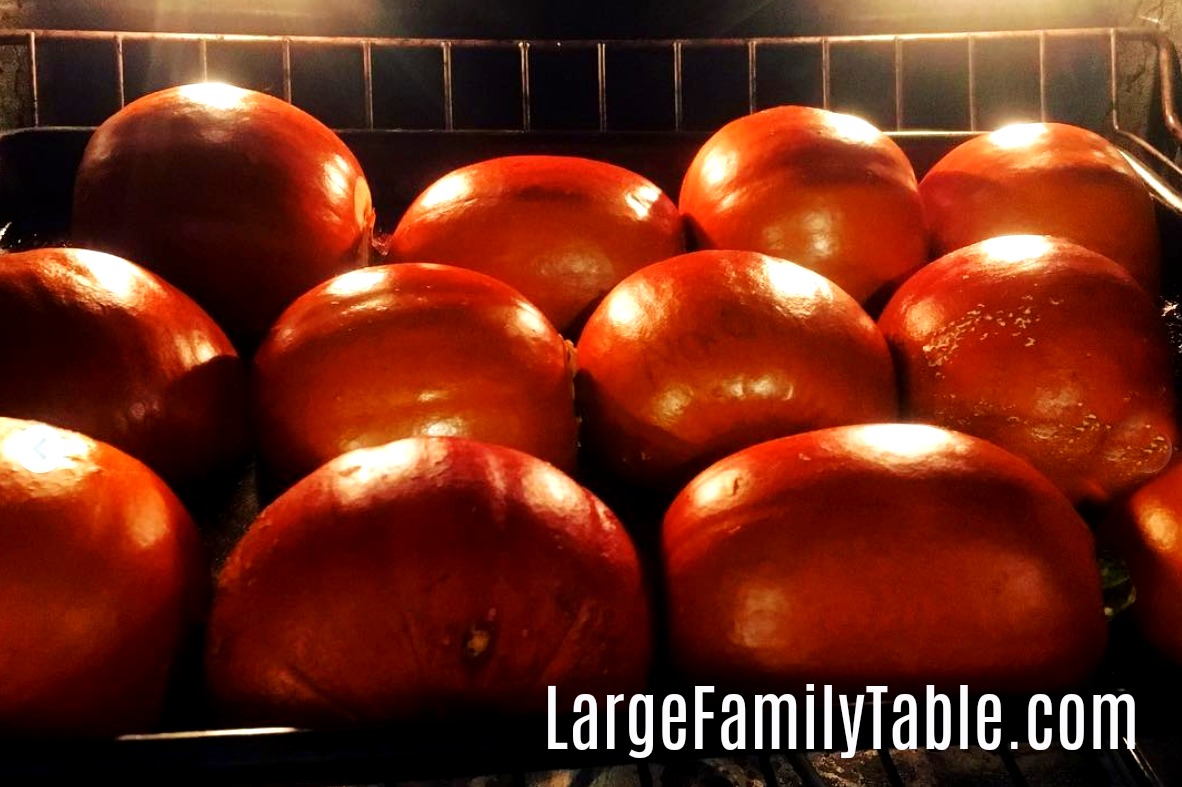 Homemade Pumpkin Pie Recipe for Thanksgiving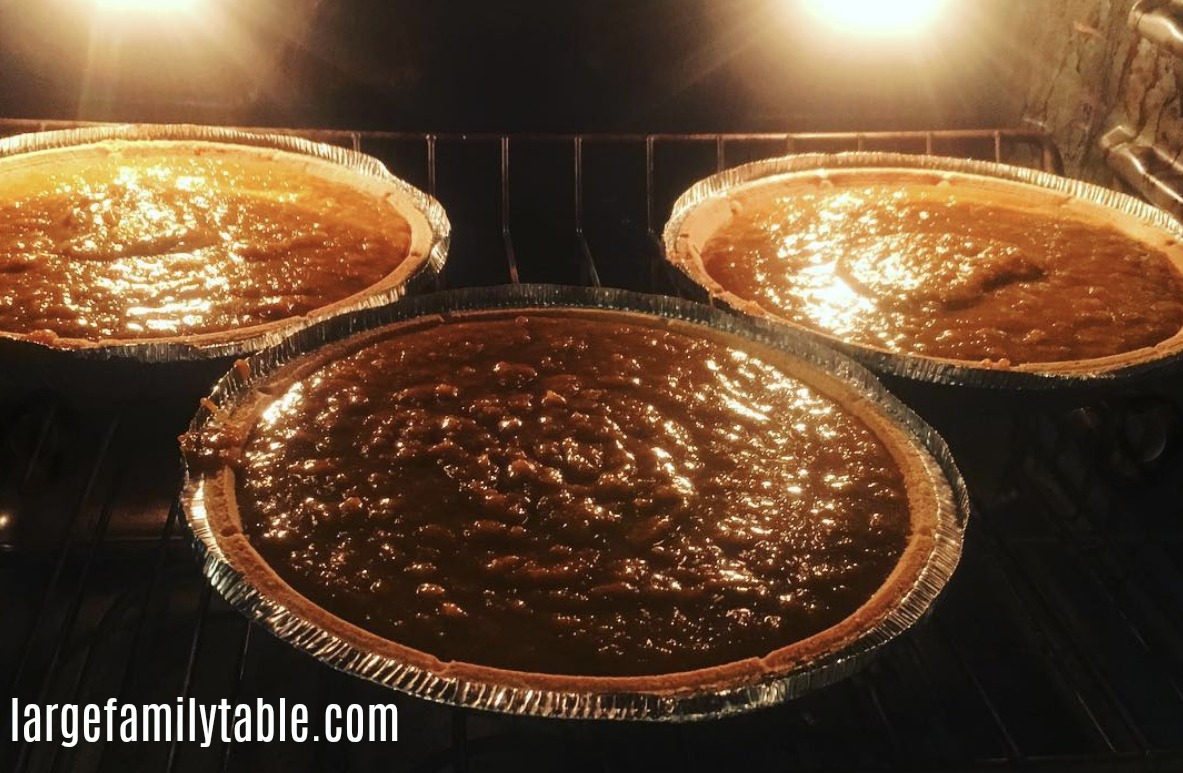 Print
How to Bake a Pumpkin and Make Homemade Pumpkin Pie Recipe for Thanksgiving (+ How to Freeze Pumpkin Pie!)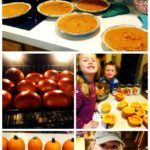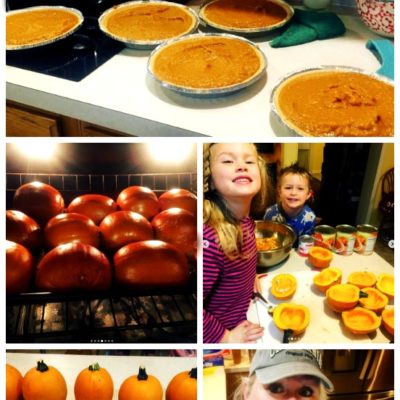 Enjoy making homemade pumpkin puree by baking your own pumpkins. Then whip up this wonderful homemade pumpkin pie recipe! Don't forget that you can also make ahead and freeze your pumpkin pies if needed. This recipe make 4 pies.
Ingredients
6 cups of bake pumpkin puree
6 eggs
3 cups of packed brown sugar
2 tsp All Spice
2 tsp Ginger
2 tsp Cinnamon
2 tsp Cloves
1 TBS Vanilla
1 tsp salt
2 cups milk
3 TBS flour
Instructions
Mix all listed ingredients together well in large mixing bowl.
Fill pre-made pie shells (I recently found 85-cent each pie shells at Aldi)
Bake for 45 minutes at 375.
How to Freeze Pumpkin Pie
You may want to make ahead several pumpkin pies in advance and freeze them for upcoming family gatherings. You may want to get the main cooking mess done and cleaned up to have more time to visit and less time in the kitchen. I cooked up these pumpkin pie recipes in advance for an upcoming homeschool "Friendsgiving" luncheon event
It's simple to freeze your pumpkin pie. Just wrap your cooled pie in 2 to 3 layers of plastic wrap followed by one layer of foil. Label and freeze your pies until 24 hours before you need them. The day before you need to serve your homemade pumpkin pies just remove the foil and allow to sit in the refrigerator for 24 hours. Serve as you normally would after fully defrosting your pies.
Make Ahead and Freeze Homemade Pumpkin Pies for Thanksgiving
I made 4 homemade pumpkin pies using our home baked pumpkins. Then I made 4 more pumpkin pies using canned pumpkin from Walmart. You can watch us make all the pies in today's YouTube video Make Ahead and Freeze Homemade Pumpkin Pies for Thanksgiving!