Y'all know I love me some large family slow cooker easy freezer meals (understatement of the year, ha!), but *crockpot freezer meals* hold a special place in this busy mama's heart. Crockpot freezer meals are so easy to prep & freeze with no aluminum pans or glass baking dishes required. And they are oh-so-easy to dump in the crockpot, turn it on, and get on with your busy day, not giving a second thought to dinner until dinner time, when, voilà! Dinner's ready! What's not to love? Yes, and Amen!
***Use special promo code HELLO20 to take 20% off your first order in the shop including the SUPER MEGA ULTIMATE Large Family Freezer Meals Bundle here!**
Large Family Slow Cooker Easy Freezer Meals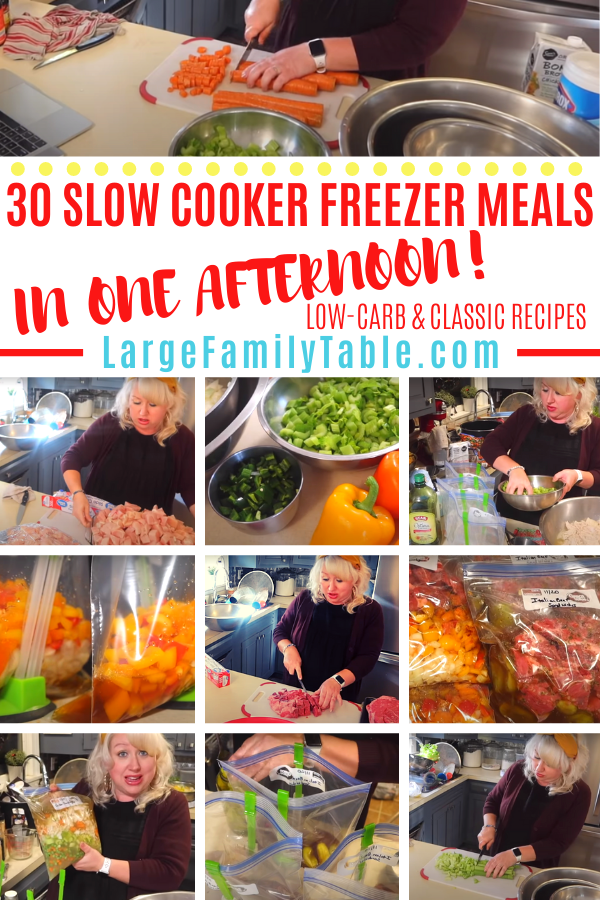 Don't have a large family? No problem, if you're a smaller family my crockpot freezer meals recipes will still feed your family, AND you'll have leftovers! Built-in lunch the next day, "Winner, winner, chicken dinner!!" Some of us with large families only dream of leftovers, lol!
I recently cooked up all of the meals found in Pack One of my 30 Easy Freezer Meals in About Two Hours, and of course I made a video for you to see just how easy it really is, even for a busy mama of many. 😊
Meals Included in 30 Easy Freezer Meals in About Two Hours – Pack One
This Freezer Meal Pack contains a yummy mix of low-carb and classic recipes. With something for everyone, you're bound to find a new family favorite!
Low-Carb and Sugar-Free Teriyaki Chicken
Chicken and Dumplings
Low-Carb Jalapeño Popper Soup
General Tso's Chicken
Chicken Caesar Wraps
Rosemary Garlic Chicken
Low-Carb Steak Fajita Bowls
Italian Beef Sandwiches
Broccoli Beef
Easy Creamy Ranch Pork Chops
What else is included?
I've done all the planning for you! In this one afternoon freezer meal pack you will not only find 10 easy and delicious large family recipes done 3-times, but you also get a full detailed grocery lists, special notes for your meals, and the Freezer Meal Cooking Prep Guide!
How long does it really take?
I like to say, "time and mileage may vary". Depending on your life circumstances, how many *ehem* helpers you have, etc… But this pack of meals generally takes me around two hours or so to assemble (plus prep time) or an entire afternoon *depending* and cost me around $300.
You can do it all at one time or you can do what I like to do, and break it up into two sessions, doing the prep work the night before, and then the bulk of the work of assembling the meals and getting them into the freezer the next day. Whatever works for you!
30 LARGE FAMILY SLOW COOKER EASY FREEZER MEALS IN ONE AFTERNOON!
You can find 30 Easy Freezer Meals in About Two Hours by clicking this link to my ***MEGA DEAL*** Get it All Bundle, or as an individual item here.