Homeschooling Mom Life

Brrr! In this week's new week in the life vlog, Freezing Homeschool Week | Homeschooling Mom Life, it was freezing for sure! Many days it was 20-18 degrees. The following Sunday at church was 1 degree. So yeah, it was cold in Virginia from January 1st through the 7th when this homeschooling mom life vlog series was filmed.
LIAM'S 7TH BIRTHDAY
We started this homeschool week by celebrating New Years Day with "International Liam Day," as we call it. That's right, Liam turned 7 and had a Jurassic Park birthday party also featuring King Kong, RC Cars, and more goodies! He picked out all his party food at Costco. We stayed up until 2 a.m. the night before (New Year's Eve) playing Ticket to Ride.
There was also several inches of snow on the ground so he and the kids played outside in the snow before and after his family birthday party. As you can see in the pictures and vlog, he has a hard time not licking his lips in cold weather, despite various balms. I'm sure you've seen some other kids do this, too 🙂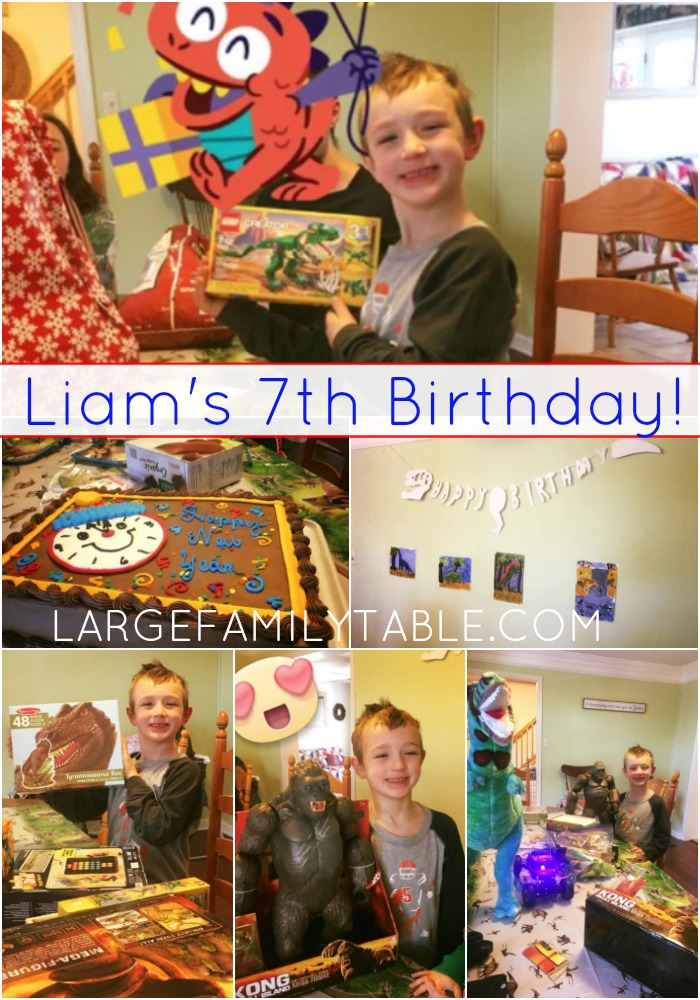 TICKET TO RIDE
I've also received a lot of questions about the new game I purchased over Christmas break, Ticket to Ride (you can see where I first shared it on Instagram here). I hope to write a post to share how we've liked the game as a family, how we've made it work for us, and how we quickly learned it.
In the meantime here is my Amazon affiliate link if you are interested in picking this Ticket to Ride game up for your bunch! I paid over $40 for it in-store at Walmart, so the current Amazon price is a savings!
On Instagram, I shared "@Walmart Ticket to Ride looked at me and said, "Jamerrill, you need me in your life." And it was so. ?We've gone through seasons where we play lots of family games, and overflowing real life seasons where it doesn't happen often. I'm determined in 2018 we're going to find our family game playing groove again. What are some of your family's favorite games?"
HOMESCHOOL READ ALOUDS
Also during our freezing homeschool week, in addition to our homeschool table work, we worked on our current read aloud homeschool stack. We finished read Little Town on the Praire and started reading These Happy Golden Years, too!
I get lots of questions about using read alouds in homeschooling. You can read my post on Becoming a Homeschool Read Aloud Momma here that's full of helpful thoughts for reading aloud, plus includes 50 of our favorite homeschool read alouds.
You might also enjoy this fun blast-from-the-past post from 2011, What Does Homeschool Read Aloud Time Look Like At Our House. Sigh, back when my "big boys," did Legos for hours at the kitchen table.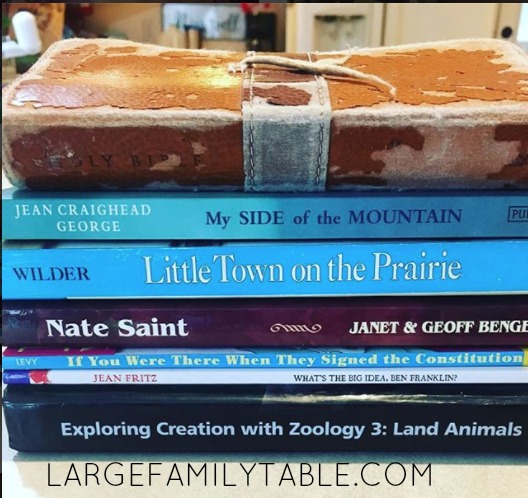 Sooo many great book ideas from other homeschool mommas here in this post.
You can see more of this particular week here where I shared my current read aloud stack, these super cute shots of Bennie-Boo here, here, and here. I also chatted about my 2018 goals on this day.
I had three kiddos start creating story notebooks for extra writing during our writing time as well. It was a full and freezing homeschool week!
FREEZING HOMESCHOOL WEEK | Homeschooling Mom Life
Click here to watch the full FREEZING HOMESCHOOL WEEK | Homeschooling Mom Life!
You can read and watch more week in the life posts here.