Thanksgiving wouldn't be the same without stuffing. Too bad you're eating low carb. Or is it? What if I told you that you can eat low carb and have stuffing this Thanksgiving? Yep, you read that right. I'm here to present a very tasty low carb Thanksgiving stuffing recipe. You can thank me later.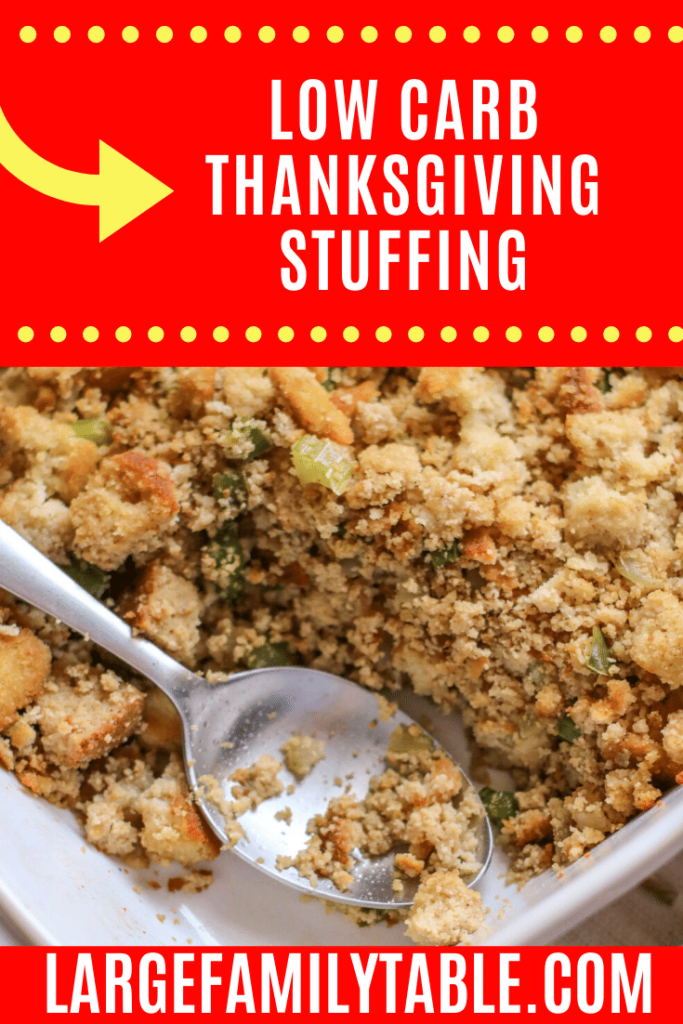 You may have to make a whole new recipe of low carb cornbread in order to have enough to make this recipe. No judgment here, mamas. I could eat a whole pan myself. After it cools, cut it into cubes. Don't worry about keeping it fresh and sealed. You want it to dry out a bit which is why we toast in the oven first. If you make the cornbread a few days ahead of time so it can start to get stale, that's even better.
Toast the cornbread cubes on your sheet pan in a 400 degree oven for 7-9 minutes. You want them nice and brown and toasty. We need them in this state so we can add the broth and form it into a casserole if you will. While they are cooling, go ahead and saute the vegetables. Get them fragrant and soft.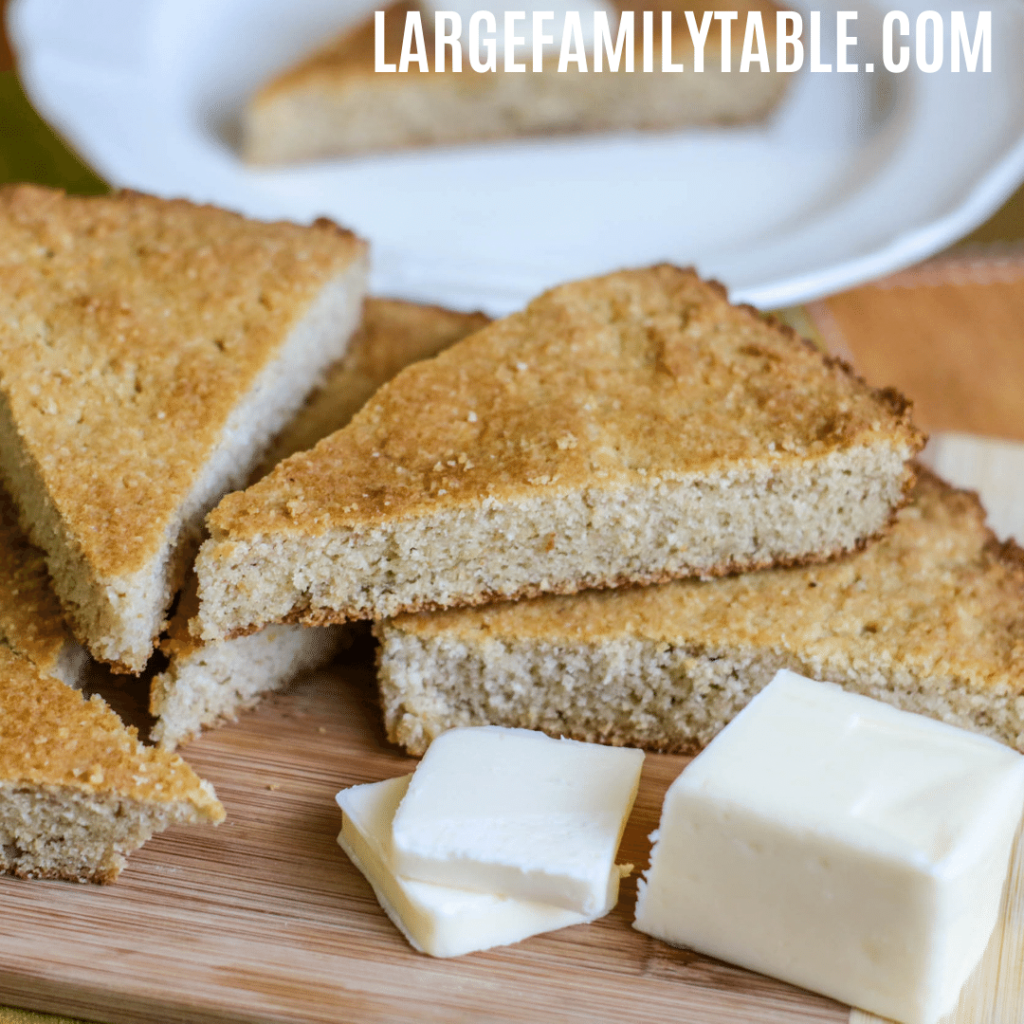 Mix everything together in your mixing bowl along with the seasonings. Start pouring the broth over all of it until it's moist but not soggy. Soggy is a bad thing after all that. It's a delicate balance but you don't want it to have dry spots. Mix it all up so every little piece of cornbread is happy.
Transfer the happy cornbread mixture to a 9×13 baking dish. Cook in a 350 degree oven for about 30 minutes until the top is brown and crispy and the middle is warm. Remove from oven. Best served hot which seems silly to say because stuffing is always better hot.
Print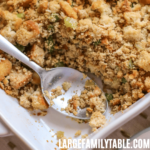 Low Carb Thanksgiving Stuffing Recipe!
Author:

Prep Time:

20 mins

Cook Time:

30 mins

Total Time:

50 minutes

Category:

Low Carb

Method:

Oven

Cuisine:

Thanksgiving
---
Description
This low carb Thanksgiving stuffing recipe means you can partake of holiday food without overloading on carbs.
---
Ingredients
4 cups low carb cornbread, cubed

1 tablespoon olive oil

1 stalk celery, diced

1 onion, diced

1 bell pepper, seeded and diced

½ teaspoon dried sage

½ teaspoon dried thyme

½ teaspoon black pepper

½ teaspoon salt

1 ½ to 2 cups chicken stock
---
Instructions
Preheat oven to 400 degrees.

Spritz your sheet pan with nonstick cooking spray.

Place prepared cubed cornbread on sheet pan and toast in the oven for 7 to 9 minutes or until crunchy at the edges.

Remove from oven and set aside.

Reduce oven temperature to 350 degrees.

Prepare a 9×13 casserole dish with nonstick cooking spray.

In a medium skillet over medium heat, add olive oil. To the olive oil, add the vegetables and cook until softened.

In a large mixing bowl, toss together cornbread, vegetables, and seasonings.

Pour half of the chicken stock over the mixture and stir. Add additional chicken stock until the cornbread is moist but not soggy. No one wants soggy cornbread.

Transfer mixture to casserole dish and level the dressing.

Bake for 30 minutes or until the top is crispy and the middle is warm.
Keywords: low carb, stuffing, Thanksgiving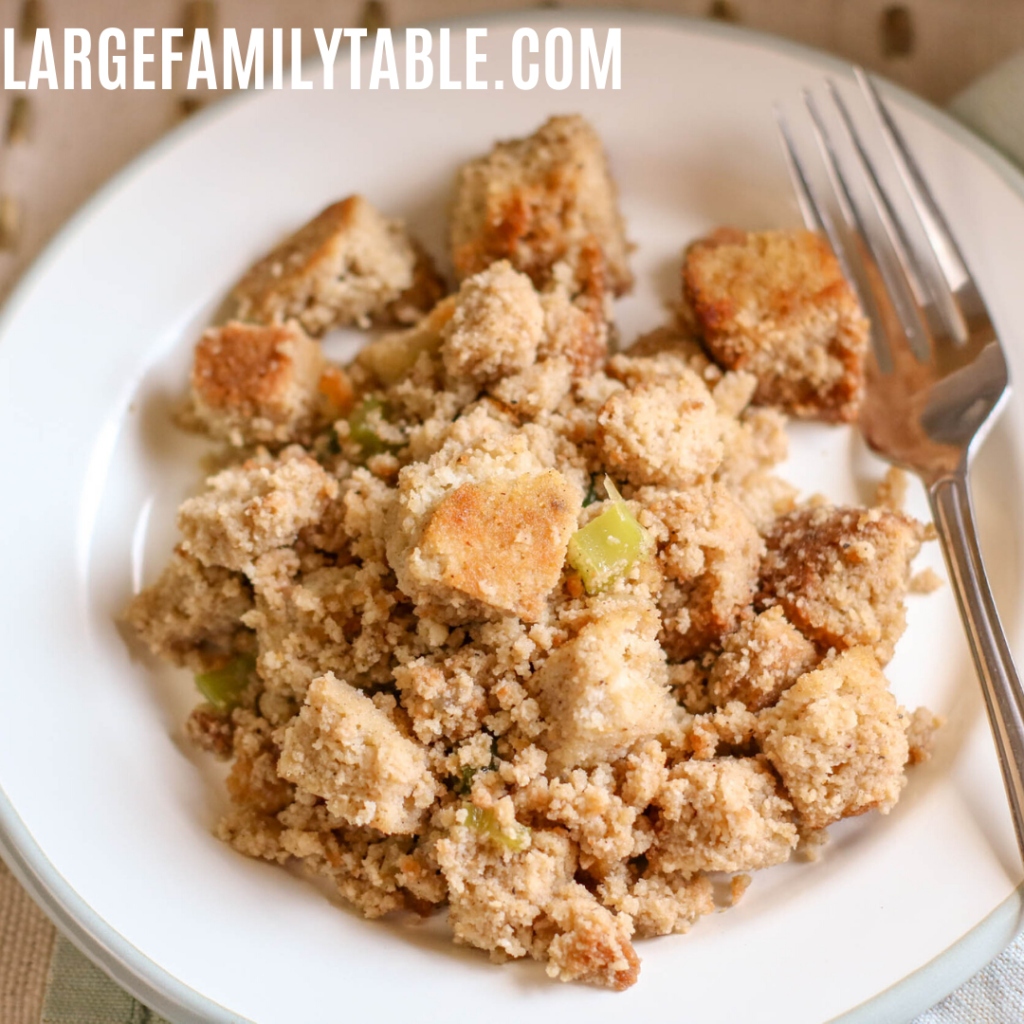 Thanksgiving will be perfect with this low carb Thanksgiving stuffing recipe on the table. You won't get carb overload, well if you stay away from the pie that is, and you get stuffing. Bonus points that this recipe is freezer friendly. Just like our make ahead pumpkin pies, you can make this in advance then freeze it for serving on the big day. That's a winner in my book.
Check out my Youtube channel for loads of low carb recipes.