Are you looking for some clear instructions for how to make freeze dried tomatoes with your Harvest Right? If you want to have some of your questions answered about using your new Harvest Right Freeze dryer, then keep reading, friend!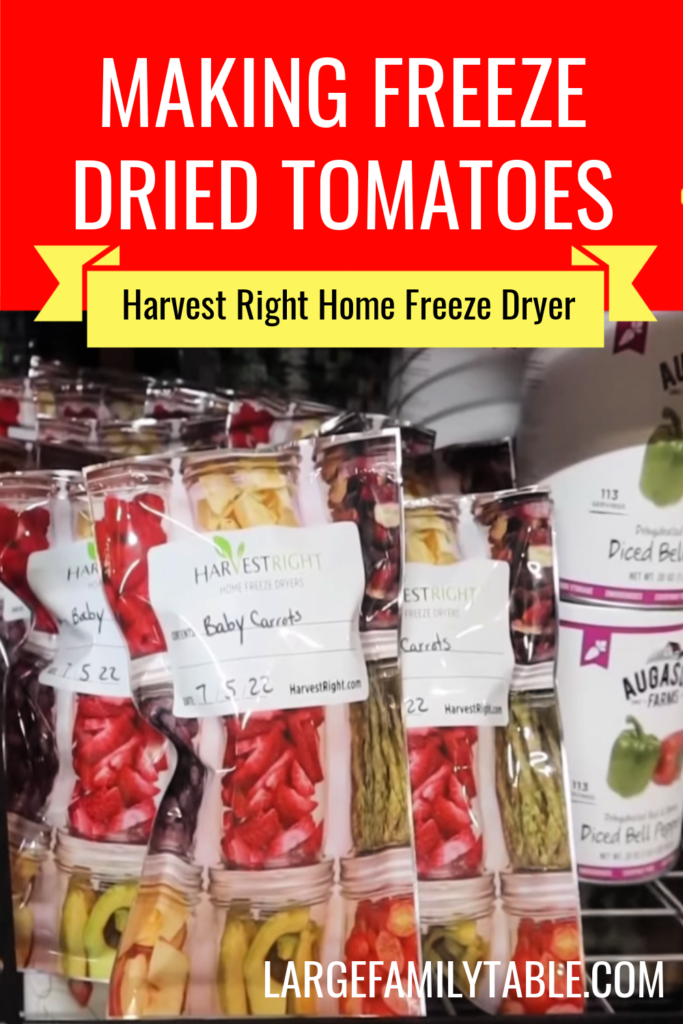 Making Freeze Dried Tomatoes at Home
Making freeze-dried tomatoes at home with your Harvest Right Freeze Dryer is a great way to preserve the fruits of your fresh garden harvest, build up your long term storage and extend the shelf life of fresh tomatoes.
Garden tomatoes have such a great burst of flavor just taste so much better than ones you buy from the grocery store. Freeze-dried tomatoes keep that intense flavor and taste just as fresh as the day you picked them. . 
Freeze drying is the best option to store pounds of tomatoes to preserve all of your hard work you spent in the garden. It also preserves the Vitamin C and Vitamin A that most heating when cooking destroys. 
Can fresh tomatoes be freeze dried?
Absolutely they can! I love tomatoes in all forms and toss them into most dinners at my house. Actually, if you head over to the Harvest Right Freezer Dryer website, their manual says that it's best to use fresh vegetables any time you can.
The reason being this is that when freeze drying any food, the nutrients actually don't get "lost" as they do with canning or deep freezing in your freezer.
What that means for your family, is that the nutrients in the food on day one will be the nutrients on day 7,000. So it's best to use as many fresh foods in your Harvest Right as you can. This way your family will reap the benefits of freshly freeze dried food for up to twenty years!
Can you freeze dry raw vegetables?
Many people want to know what needs to be done to prepare fresh vegetables for the Harvest Right. Does it need to be blanched first? The only prep work is to ensure that your vegetables are cut as you prefer them be.
Make certain that the food has been cleaned. You don't have to blanch any vegetables prior to placing them in your Freeze Dryer.
What can you do with freeze dried tomatoes?
Use your freeze dried tomatoes to add to soups, or any recipes that call for tomatoes. Freeze dried tomatoes are a great convenient food that you can use to replace fresh tomatoes in any recipe, even chili.
You can even eat them freeze dried like a snack. Some say the have the taste of sun-dried tomatoes.
Add a little bit of water to them to create a tomato paste to use for sauces or other recipes.
Make tomato powder by grinding up the freeze dried tomatoes into powder form. Use the tomato powder to add to your own seasoning mixes.
Other tomato products you can freeze dry
Try your hand at freeze drying spaghetti sauce, tomato sauce or pizza sauce, by pouring them in a thin layer on your freeze dryer tray.
Pick these tomato products up when they are on sale or at discount stores and store the dried product in bags or jars. Reconstitute with hot water and heat up. 
How do you rehydrate freeze dried tomatoes?
Freeze dried tomatoes are very easy to rehydrate by reconstituting with water. For many recipes with liquid, like soups or stews, you an just toss the tomatoes right in and they will absorb liquid.
If you want to rehydrate them first then you will want to get a large bowl and fill it with hot water. Place your freeze dried tomatoes in the water and let them absorb the water for about 15 minutes.
You can test if they have absorbed enough water by picking them up and squeezing them. If they are soft and pliable they are ready to use in your recipe.
How to Freeze Dry Tomatoes with the Harvest Right
Some of the foods you'll want to freeze dry in your Harvest Right are going to take a few steps prior to the freeze dry process. Tomatoes are no different.
First, you need to start with clean and healthy tomatoes. 
The next step is actually the most important: Cut your whole tomatoes into bite size pieces. Even if using large beefsteak tomatoes or even small cherry tomatoes, or roma tomatoes, they must be cut. 
Once your clean, healthy, and cut tomatoes are ready, place them onto one of your Harvest Right trays. From there, you'll want to pre-freeze the trays in your freezer. (If you don't have freezer space, you can skip this step, but it will increase the time)
Next, you need to remove the trays once the tomatoes are solidly frozen. Then place directly into your Harvest Right. Then follow the prompts on your machine.
Store them. You can store them in mylar bags, a freezer bag or mason jars, with an oxygen absorber inside.
How long does it take to freeze dry tomatoes?
This is one question that is the easiest to answer. The Harvest Right Freeze Dryer senses when your food has been properly freeze dried. There's no need to learn or to remember any specific times.
When we decided to purchase our Large Capacity Freeze Dryer, this was one of the leading factors in choosing the Large size over any other. If I'm going to be using the same amount of time to freeze dry 3 trays (about 1 gallon of dried food), then I'm going to be more satisfied doing it with 5 trays (about 3 gallons of dried food).
With the large capacity I'm able to preserve about 2,500 pounds of food a year!
Most runs with the machine will take anywhere from 24-36 hrs. Once the machine is done, you're able to then choose if you think your tray might need more drying time and adjust accordingly. It's a very simple system.
If you want to know more, you can read HERE to learn about how the machine actually works.
More Freeze Dryer Posts:
Jamerill's New Large Capacity Home Freeze Dryer
Cooking Chili and Freeze Drying Tomatoes
Jamerrill's Misadventures with her Large Capacity Harvest Right
Don't forget that the freeze drying process will create an expansion within the solid tomato and they will burst within your freeze dryer. This means that the entire machine must be well cleaned, not to mention the entire batch will have to be thrown out to the chickens.
This is the video link where I show you how I messed up during my preparations, and how I'm learning from my little mistakes so you don't have to make! 
FREE Emergency Pantry Planning Pack!
Don't forget to sign up for the emergency pantry planning pack for free to help you plan your pantry meals! The free Emergency Pantry Planning Pack will help you plan your needed pantry items! Printable pages include pantry inventory, grocery lists, meal planners, list of pantry staple items, and more.