Join me as I tackle this Massive Tomato Canning Extravaganza where I take on the super mega project of canning 380 pounds of tomatoes!! Oh yes, I did!! How long did it take? How much was I able to can!? Let's find out together!!
🎉 Use Coupon Code HELLO20 to take 20% off the SUPER MEGA EXTRAVAGANZA BUNDLE which includes 50+ meal-time sanity-saving products like Big Batch Freezer Meal Guides 1-18!!! 🎉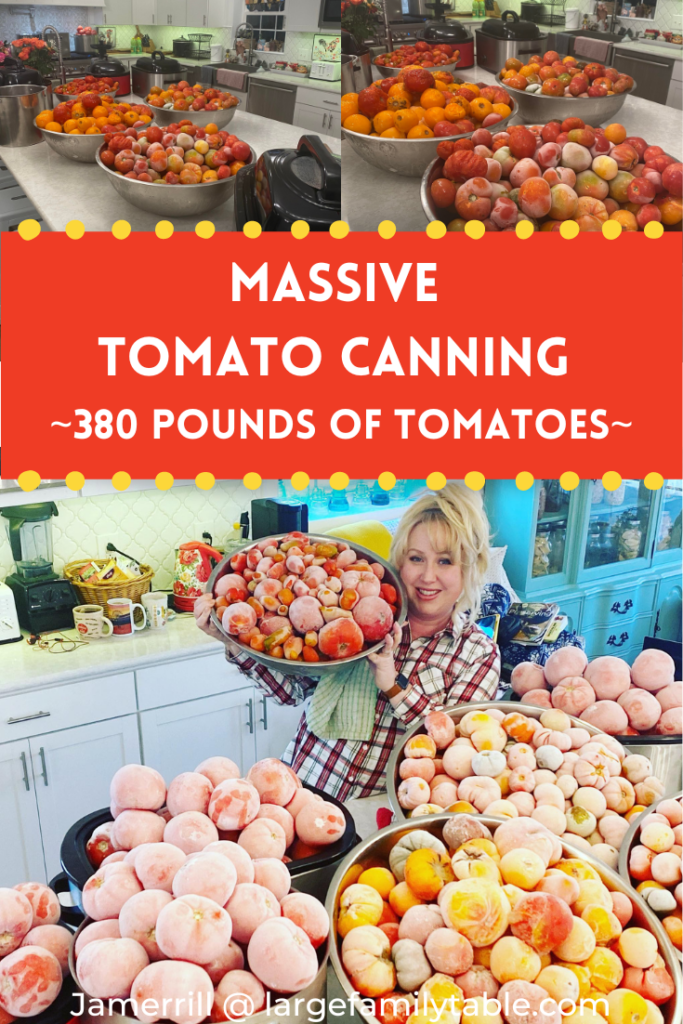 Our massive tomato canning extravaganza starts back in the Fall of 2022 when I found an amazing deal on tomatoes at my favorite local market, Jon Henry General Store. I got over half of my tomatoes in a "25 pounds for $10" box deal and I also got an additional 150 pounds off because those tomatoes were very ripe and needed to be canned or processed that day. Instead of processing them that day, I froze them for us to deal with later.
So here we are!! Canning these tomatoes from Jon Henry PLUS a mix of various kinds of tomatoes from my own raised garden beds!!
I had a lot of friends who asked if these were peaches, but nope, they are just still frozen and waiting to be processed. I had frozen tomatoes in my mega momma bowls, stockpots, and roasters. They filled up my entire island!!
What's the tomato canning plan?!
Canning 380 pounds of tomatoes takes a lot of planning and research! I wanted to do it right, so I became a YouTube video-watching expert and got lots of help from my friends Becky from Acre Homestead, Jill from Prairie Homestead, and Living Traditions Homestead!! As always, I also use my Ball Book of Canning at these safe canning directions from the National Center for Food Preservation.
*The links below are my affiliate and referral links. Shopping through these links costs you nothing additional and helps support my online work helping families feed their people around the world. Thank you for your support!*
My plan was to cook down these tomatoes, pull out the extra juice that is created from that process to can tomato juice, use my food mill to separate the nice, thick tomato sauce from the seeds and skin, can the sauce using my Ball brand electric pressure canner, my Lehman's Stovetop Water Bath Canner, and my All American Pressure Canner, and then finally freeze dry the seeds and skins in my Harvest Right Freeze Dryer to grind up to make tomato powder!
Nothing will go to waste!!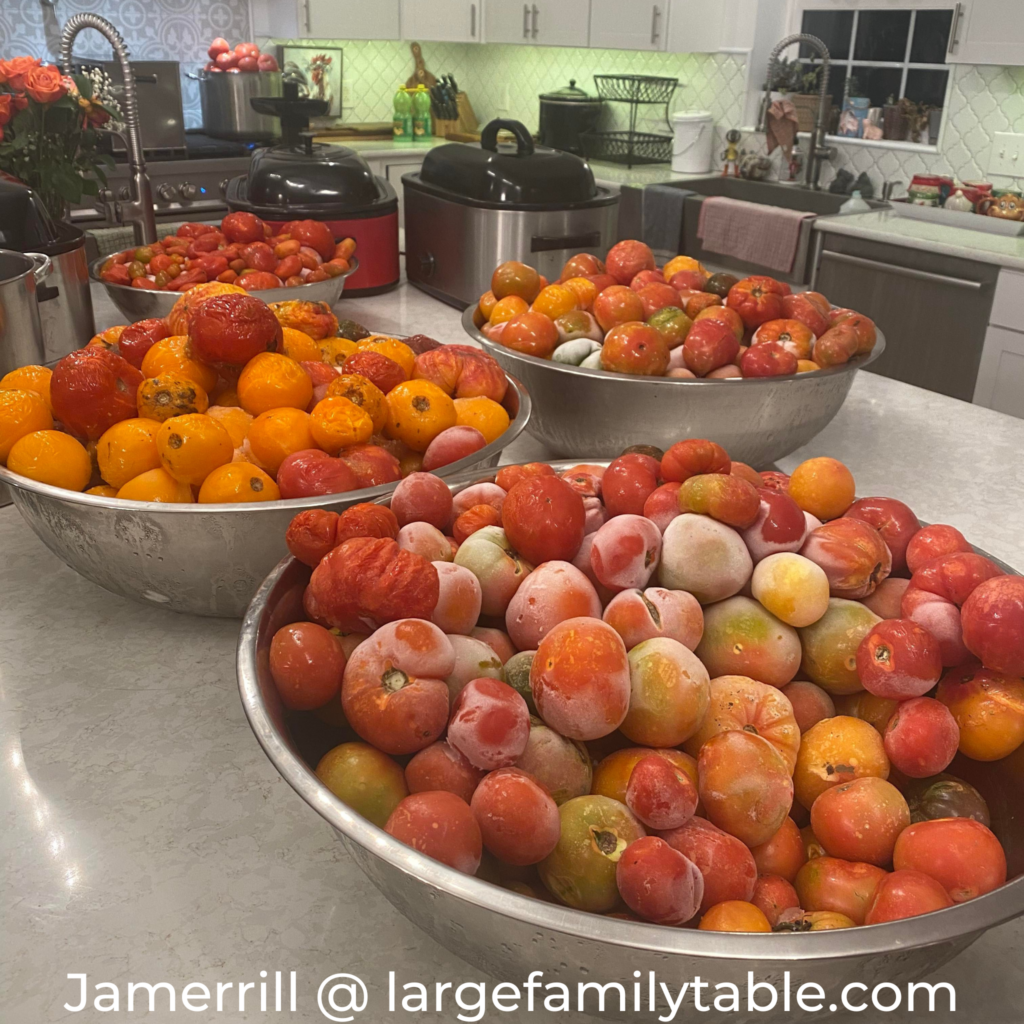 Cooking Down the Tomatoes
I processed the tomatoes in two roasters and four large stockpots on the stovetop. As they cooked, I added more tomatoes into the pots and also pulled the tomato juice from them as needed. Because the tomatoes form their own juices. I didn't have to add any water at all before cooking. I'm sure glad I didn't because those frozen tomatoes created a TON of juice!! At one point, we had an overflow situation but we took care of that quickly and learned from that experience.
Tomato Juice!
Pulling the juice was a full-time job. I pulled the juice from the pots and strained it through a small strainer to save the skins and seeds for freeze-drying. I cooked the juice on the stovetop and then canned it! We ended up with tons of tomato juice and we've already been enjoying it in our large family dinners!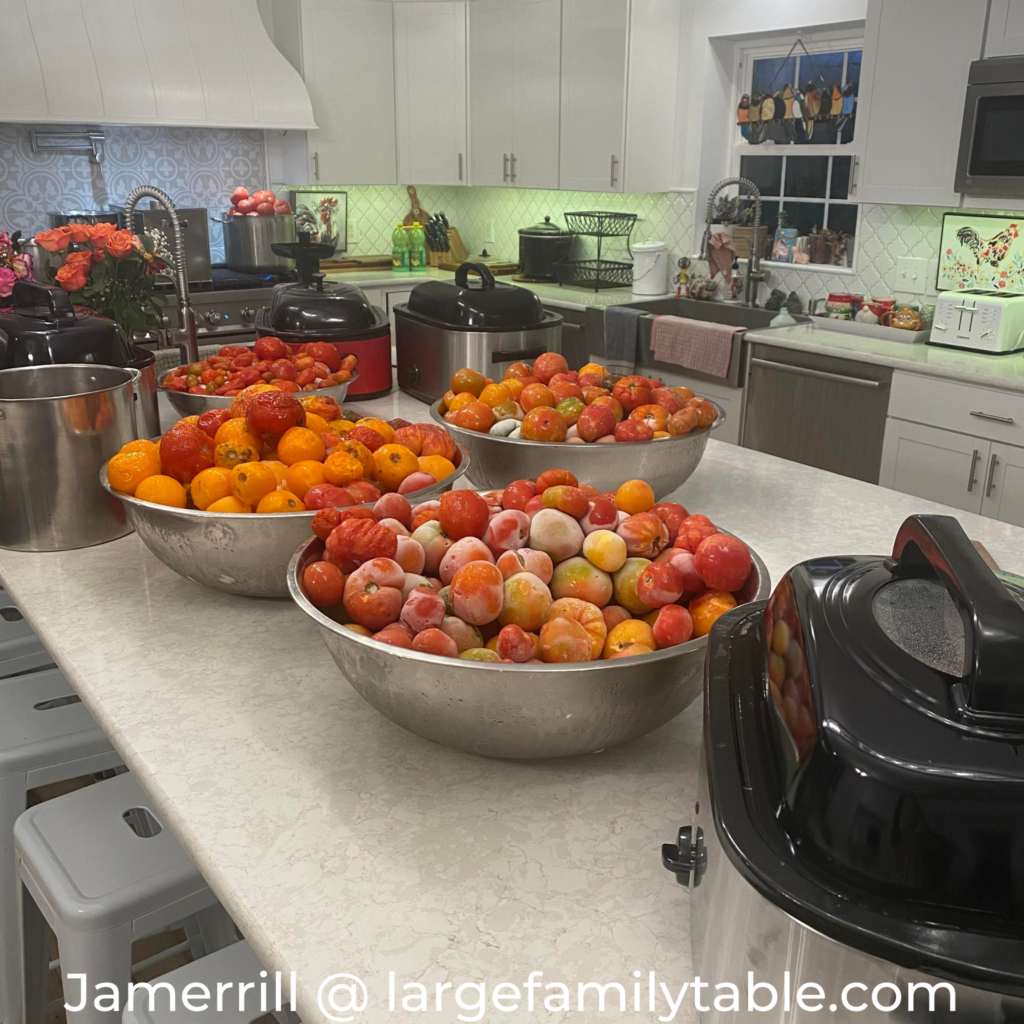 The Sauce is the Boss!!
Now here comes the super fun part! I used my electric food mill to separate the beautiful, thick tomato sauce from the seeds and skin. I'm so thankful for my good friend who was able to come over for a few hours to help me with this because it was no small task and doesn't go quickly.
But once you see that perfect tomato sauce, it is worth it!!
I cooked the sauce and canned that as well, using my Ball brand electric pressure canner, my Lehman's Stovetop Water Bath Canner, and my All American Pressure Canner, adding 2 tbsp of lemon juice to each can and following the National Center for Food Preservation's safe canning directions here.
Prepping for the Tomato Powder
I took all the tomato leftovers (skin and seeds) and spread them onto four sheets for our freeze dryer. After this massive tomato canning extravaganza, I decided I'd leave the freeze drying project for another day, but they are ready to go in my Harvest Right Freeze Dryer!!
Watch my Massive Tomato Canning Extravaganza!
Find out if my super mega tomato canning plans worked out the way I imagined, how many cans of juice and sauce we ended up with, and chat with me about soooo many gardening and all the Stewart Family Homestead things! Click here to watch the Massive Food Preservation Video where we process and can 380 pounds of tomatoes.
Get it all HERE!
You can get all my 50+ Recipe Packs in my meal time sanity-saving Super Mega Extravaganza Bundle! It includes all the food products in my shop through Fall 2022!! You will get so many recipes, make-ahead and freezer meals, lots of sheet pan meals, baking bundles, and planning packs to help you organize all your meals (breakfast, lunch, and dinner) and so much more. That's why I call it the Super Mega Extravaganza Deal!