Salmon Cakes Recipe and Oven Roasted Red Potatoes | Large Family Style!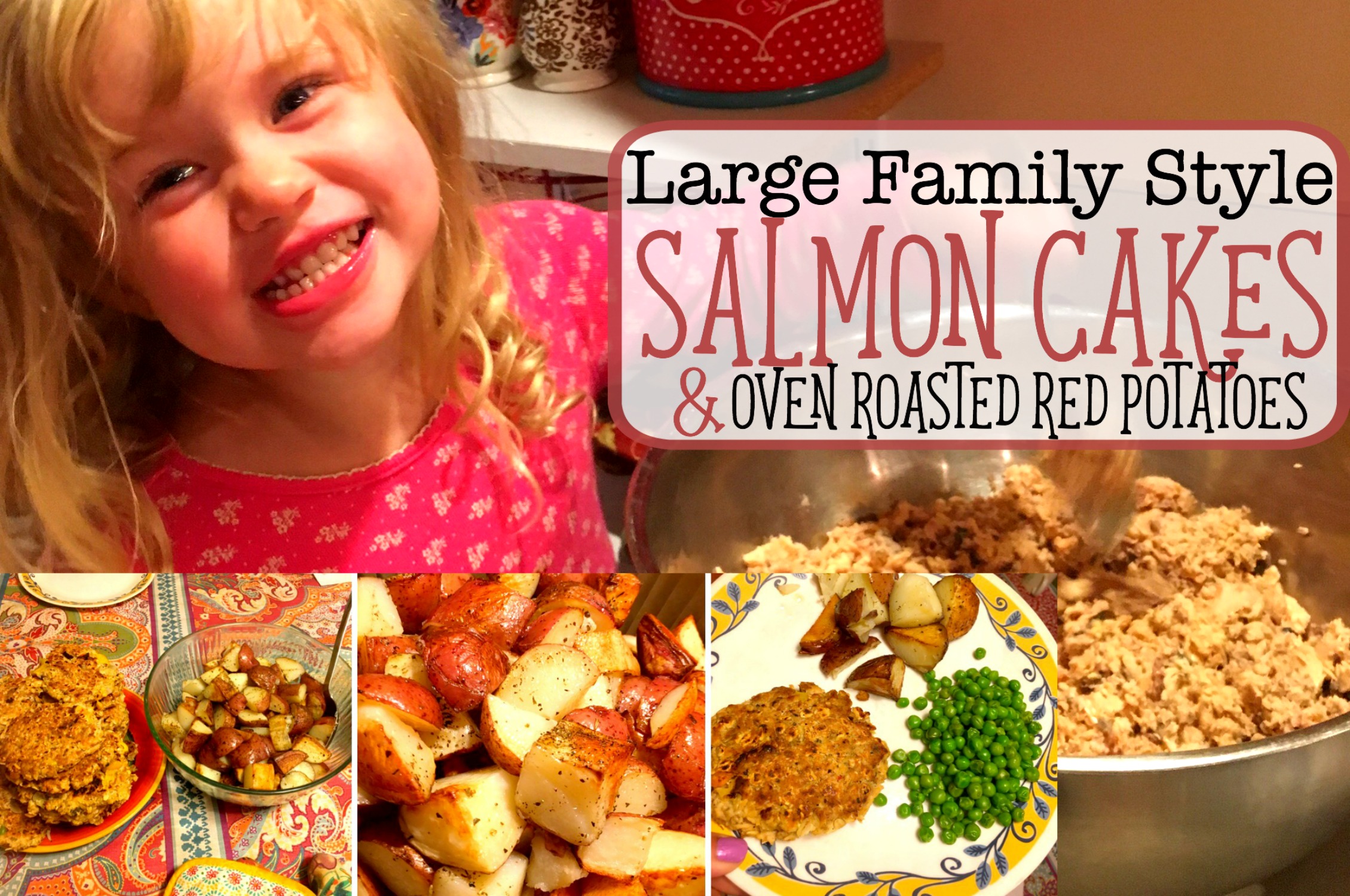 A little bit ago I shared my large family recipe for homemade tuna cakes. Today I'm sharing my recipe variation for Homemade Salmon Cakes, plus I'm also sharing my quick and easy way to make Oven Roasted Red Potatoes!
What About the Salmon Bones
Before we jump into the Salmon Cakes recipe, you'll need to decide how you feel about the bones. In the cans of Salmon, I tend to buy (the cheapest I can find, usually) there is still skin on the Salmon and the vertebrae bones. I leave the skin for extra nutrients. However, I remove the bones. When I filmed my Salmon Cakes Recipe video, it got me thinking about what other families do.
(For extra confusion this question is from when I was also trying to have a food channel. Then in 2017 I smushed it all back together. Clear as mud? Everything is now LargeFamilyTable.com. Yes, and amen! 🙂
I asked on Large Family Table Facebook page and received a variety of answers including,

Amanda said, "I leave skin but pull out bones."

Sarah shared, "My boys want to eat the bones right out of the can, so they never make it into the Salmon Cakes!"

Angela chimed in, "I take out all the bones & skin. It only takes a minute or two to remove it all. Like way quicker than peeling potatoes or other food prep tasks. Love salmon cakes (that's what we call them)."

Yitti said, "My mother actually left the bones in they were soft&a good source of calcium."

And (super funny) Lisa responded with, "If I ever think about using canned salmon, I'm going to remember this post and think.." ".eh, too much work." Lol!"

You can read all the different answers to the question of do you leave the salmon bones in or take them out here.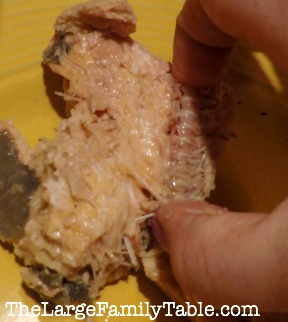 This is the Canned Salmon that I use with my Amazon link. If you don't want to think about Salmon skin and bones here's my Amazon link with a full list of boneless/skinless Salmon options.
Now that we have all this bone talk out of the way let's jump into the Salmon Cakes recipe!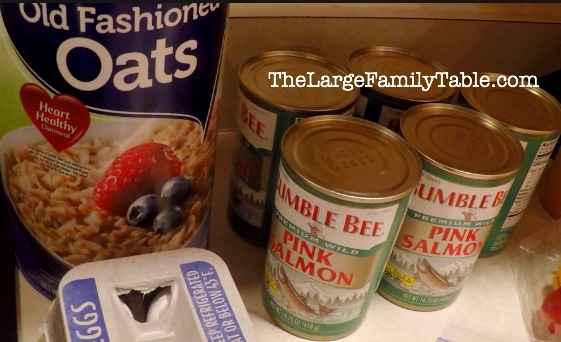 Large Family Salmon Cakes Recipe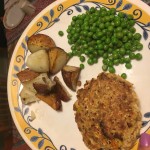 74 oz Canned Salmon (this is about 3 cans)
3 cups Old Fashioned Oatmeal
1 Dozen Eggs
2 cups chopped peppers and other choice veggies
1 tsp Rosemary
Add 74 oz of drained Salmon in a large mixing bowl
Add in 3 cups of Old Fashioned Oatmeal and 1 dozen eggs
Add 2 cups of chopped colored peppers (or any other veggies you'd like to throw in!).
Sprinkle in 1 tsp of Rosemary and salt/pepper to taste.
Mix all ingredients well.
Form patties of the Salmon cake mixture. Cook Salmon cakes on medium heat, flipping as needed.
And now that we have those Large Family Style Salmon Cakes out of the way, let's move on to those perfect Oven Roasted Red Potatoes! There is no rocket science required for this recipe. If your family loves potatoes, they'll give you a big bear hug for this recipe.
Oven Roasted Red Potatoes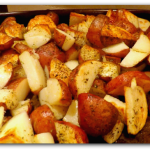 2 1/2 lbs Red Potatoes
1 cup Canola Oil
1 tbsp Italian Seasoning
Preheat oven to 450.
Wash and cube the 2 1/2 lbs of Red Potatoes
Pour 1 cup Canola Oil in bowl.
Toss cubed Red Potatoes in oil. Place on sprayed baking sheet.
Sprinkle with Italian Seasoning, Salt/Pepper.
Bake at 450 for 25-30 minutes.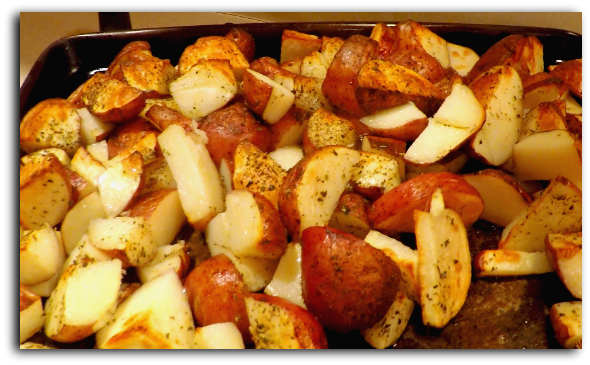 As you can see in the picture above, the Red Potatoes cook up wonderfully! We also had a side of frozen peas from Aldi. There were enough leftovers for our family of nine also to have this meal for lunch the following day. After that there was nothing left, it was that good!
Salmon Cakes Recipe and Oven Roasted Red Potatoes | Large Family Style!
Click here to watch the full Salmon Cakes Recipe and Oven Roasted Red Potatoes Video