Slow Cooker Homemade Sloppy Joes
Let's talk about one of my favorite ways to get food on the table and fast.
Ground beef. And more specifically, precooked ground beef. First of all, there are so many recipes that use ground beef that I could never begin to make them all. But let me share a few that I have tried and that my family loves so you can get some ideas just in case you're never sure what to do with ground beef besides spaghetti and chili.
We love Shepherd's pie, taco bakes, meatloaf, and so many more. Ground beef can almost always be found at a good price if you shop around a little bit. I like to get the big 5-lb chubs when I can find them. I will buy several at a time and use them during one of my Large Family Freezer Cooking Days.
There is another great way to use ground beef for freezer cooking as well, and that is to brown it and use it to prepare even more meals for your freezer! That's what I did for these Sloppy Joes and it couldn't be easier.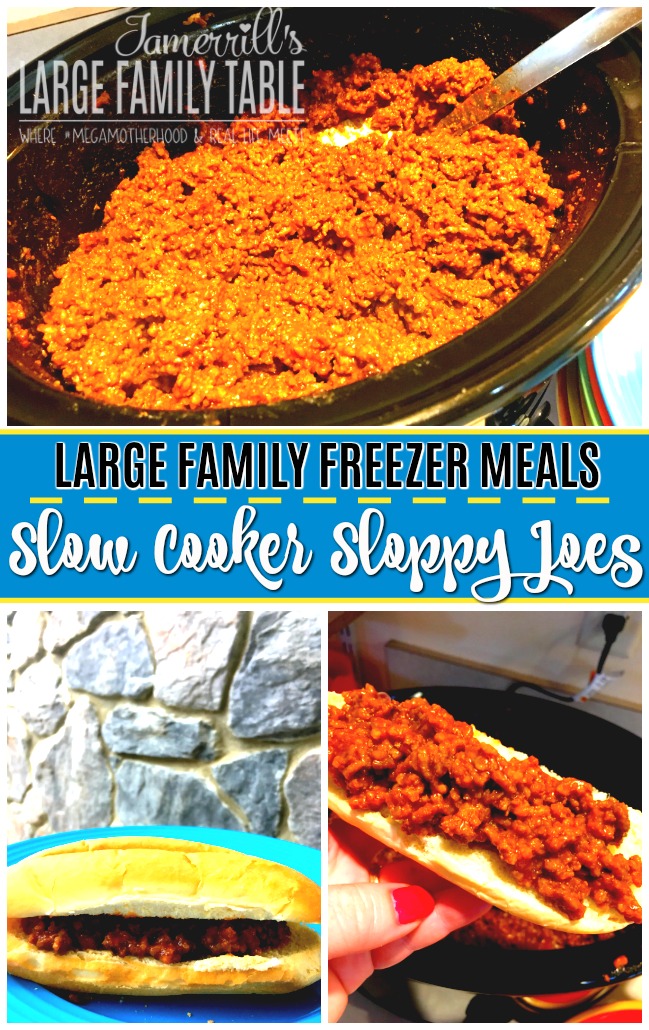 I used my 2 electric pressure cookers to brown my ground beef during this particular freezer cooking session but before I had them, I just did it on the stovetop and you can too!  I just broke up the precooked ground beef and used it in Shepherd's pies that I mentioned earlier, in my big batch spaghetti sauce, and in these Sloppy Joes.
If your family loves Sloppy Joes, you will love having them in the freezer ready to go for those extra busy days! They are such a warm and hearty meal. If your kids balk at anything saucy, try having these on the small slider buns. They make them so much more fun! We used toasted sub rolls last time we had these, yum!
Print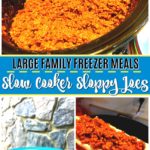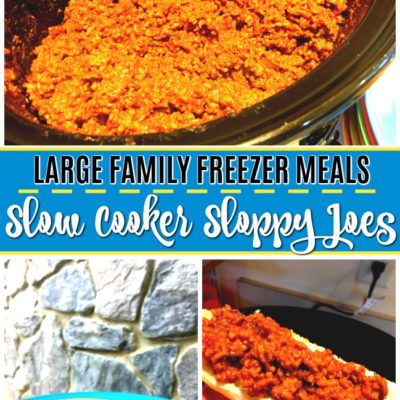 Slow Cooker Homemade Sloppy Joes | Large Family Recipes
---
Description
Enjoy these large family style slow cooker Sloppy Joes! Serve these up on sub rolls, as sliders, or on hamburger buns.
---
Ingredients
2 1/2 lbs pre-cooked ground beef
1 cup ketchup
1/2 cup brown sugar
1/4 cup soy sauce
1/4 cup yellow mustard
2 TBSP onion powder
2 TBSP garlic powder
6 oz tomato paste
---
Instructions
Place all ingredients into gallon-sized freezer bags.
Seal, remove all air, and freeze flat.
Set out from the freezer into the refrigerator the day before you need it.
To cook, put Sloppy Joes in slow cooker and cook on LOW for 4 hours.
These Slow Cooker Homemade Sloppy Joes where one of the many meals I did in my last 27+ Meals for Big Families in about 10 hours! Click here to see more of the large family meals I did that day.