Slow Cooker Italian Dressing Chicken Recipe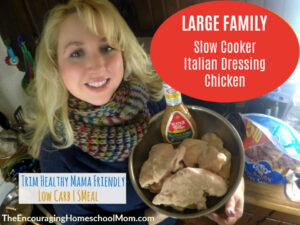 Okay ladies, get ready for another silly-easy slow cooker recipe from me. Today I'm sharing Slow Cooker Italian Dressing Chicken. When I make this slow cooker recipe even the little kids comment on how good the kitchen smells -yum!
Slow Cooker Italian Dressing Chicken Recipe
What you need:
3-4 lbs of boneless skinless chicken breasts
1 bottle of your favorite Italian Dressing (I used Ken's Light Northern Italian in today's vlog)
Your slow cooker – don't forget that 🙂 I use an 8 qt slow cooker.
And sweetie, all you do is dump the chicken in your slow cooker. Pour in your bottle of Italian Dressing, and BAM! 4-6 hours later you have a fantastic dinner. Cook on 4 hours high or 6 hours low. This recipe is both Trim Healthy Mama Friendly + Low Carb.
Freezer Friendly
To make this Slow Cooker Italian Dressing Chicken Recipe as a freezer meal just combine your frozen chicken breasts with the one bottle of dressing in a gallon size freezer bag. Label the bag, remove any extra air, and place it in your freezer. Later, place the frozen gallon bag in your refrigerator from your freezer overnight to defrost. The following day dump the contents of your Italian Dressing Chicken Meal into your slow cooker and follow the cooking times above.
Watch Today's Vlog
Watch how I make this Slow Cooker Italian Dressing Chicken Recipe in today's vlog.
You can click here to watch all of my cooking vlogs!
INSTANT POT RECIPE UPDATE
Run cold water over the outside of your frozen gallon freezer bag to gently defrost the frozen food from the bag (enough to dump it out and release the food from the side of the frozen bag). Place in Instant Pot. Place lid on pressure cooker and seal the valve. Cook on manual high pressure for 25 minutes. Let pressure naturally release for 5-7 minutes, then quick release the remaining pressure if you like.

*Note the internal temp of your large family Italian Chicken. If the internal temp is not reached place back in IP for 10 minutes and check again. Because of the variables with pressure cooking, it's not always a perfect science and sometimes needs additional adjustments. The USDA recommendations a minimum internal temperature of 165 degrees for poultry.