Large Family Style Tuna Cakes Recipe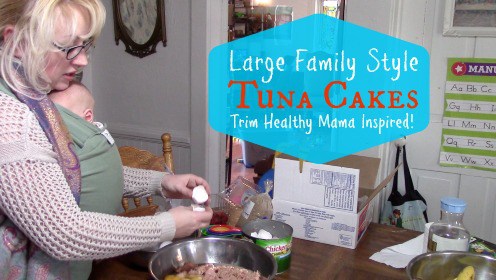 Click here to watch my full Tuna Cakes Cooking Video that's Trim Healthy Mama Inspired!
These easy homemade Tuna Cakes that I make are one of those recipes that is Trim Healthy Mama inspired, and the whole family enjoys it.
First off, I adapted this recipe by using tuna. I additionally add in all the extra veggies I can find from green peppers to avocado slices, maybe little-shredded carrot – you name it! Plus a little bit of milled flax because, well, I do weird stuff like that now that Trim Healthy Mama has completely changed my life.
These Tuna Cakes are an "S Meal" if you're looking for a Trim Healthy Mama friendly recipe. In this video, I made the family a large bowl of buttered brown rice as a side item. I simply added broccoli for myself and could have had brown rice as an "S Helper."
This recipe is enough to feed our large family twice. I usually cook enough for dinner one night so we can have the leftovers for lunch the following day. That's just a little feeding-a-herd trick that makes food prep a little simpler for me. 🙂
Click here to watch my full Tuna Cakes Cooking Video that's Trim Healthy Mama Inspired!
Print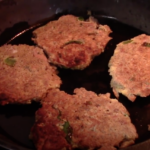 Large Family Style Tuna Cakes Recipe
---
Description
Enjoy flavorful Large Family Style Tuna Cakes that are good for you and are a creative twist on salmon cakes. These are the perfect tuna cakes for both adults and children. Trim healthy mama inspired, and adaptable to add as many healthy vegetables as you'd like, this recipe is a must for you!
---
Ingredients
11 cans tuna in water
11 eggs
2 cups oatmeal
2 cups diced green peppers
1/4 cup ground flax seeds
1 avocado mashed
Feel free to mix in any combination of vegetables chopped finely, up to 2 more cups. 
3 tablespoons coconut oil for cooking
---
Instructions
Mix all ingredients in a large bowl. Stir together well, making sure all ingredients are well combined.
Preheat skillet and press into patties.
Cook on a skillet in coconut oil. Cook until well browned on each side, about 10 minutes, depending on the size of your patty.