You want to give gifts to everyone at Christmas but it is not a frugal option. Making homemade gifts is a great option to make this happen. Gifts in a jar are easy to make and can be a fun family project. This 5 bean soup gift in a jar is sure to be a hit with everyone. Who doesn't love soup?
*Use special promo code HELLO20 to take 20% off your first order in the shop including the SUPER MEGA ULTIMATE Large Family Freezer Meals Bundle here!**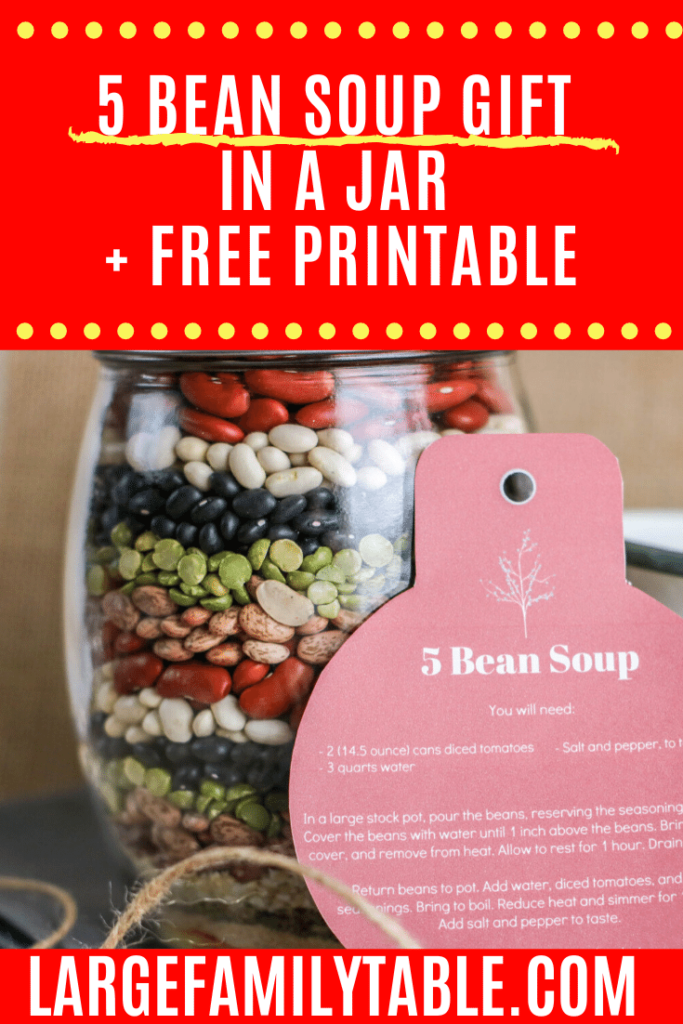 Bags of beans are super frugal anytime of year. Get some each time you go shopping to make it even more frugal. Find the jars at yard sales or save the jars that hold your spaghetti sauce for a few month. No matter which you choose, take time to clean and sanitize the jars before filling. These gifts in a jar are a fun family activity or get together with your homeschool group.
Mix together the seasonings first. You want them on the bottom so as to not have them floating through the beans looking weird. Once you have them on the bottom, layer the beans in a pattern of your choosing. It's not really important how the beans go in but be sure to put solid layer in so as to make a pattern. Place a bay leaf in the top, seal the top, then attach the printable tag. Voila! 5 Bean Soup Gift In A Jar!
Print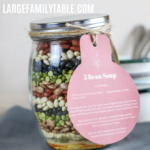 5 BEAN SOUP GIFT IN JAR + FREE PRINTABLES!
---
Description
A frugal option for the many people in your life that you want to give a gift but don't want to spend a ton of money.
---
Ingredients
1 quart (32 ounce) jar with lid

Printable label/gift tag

1 cup dried kidney beans

1 cup dried white beans

1 cup dried black beans

1 cup dried pinto beans

1 cup dried split peas

1 teaspoon dried minced onion

1 teaspoon dried oregano

1 teaspoon garlic powder

½ teaspoon paprika

½ teaspoon dry mustard

1 bay leaf

⅓ cup beef granules, optional for vegetarians
To make the soup, you will also need:
2 (14.5 ounce) cans diced tomatoes

3 quarts water or beef stock

Salt and pepper to taste
---
Instructions
To avoid the sifting of seasonings through the beans, layer the seasonings in the bottom of the jar first.

Then, add layers of the beans to create the look you desire.

Place the bay leaf on top.

Seal and attach gift tag.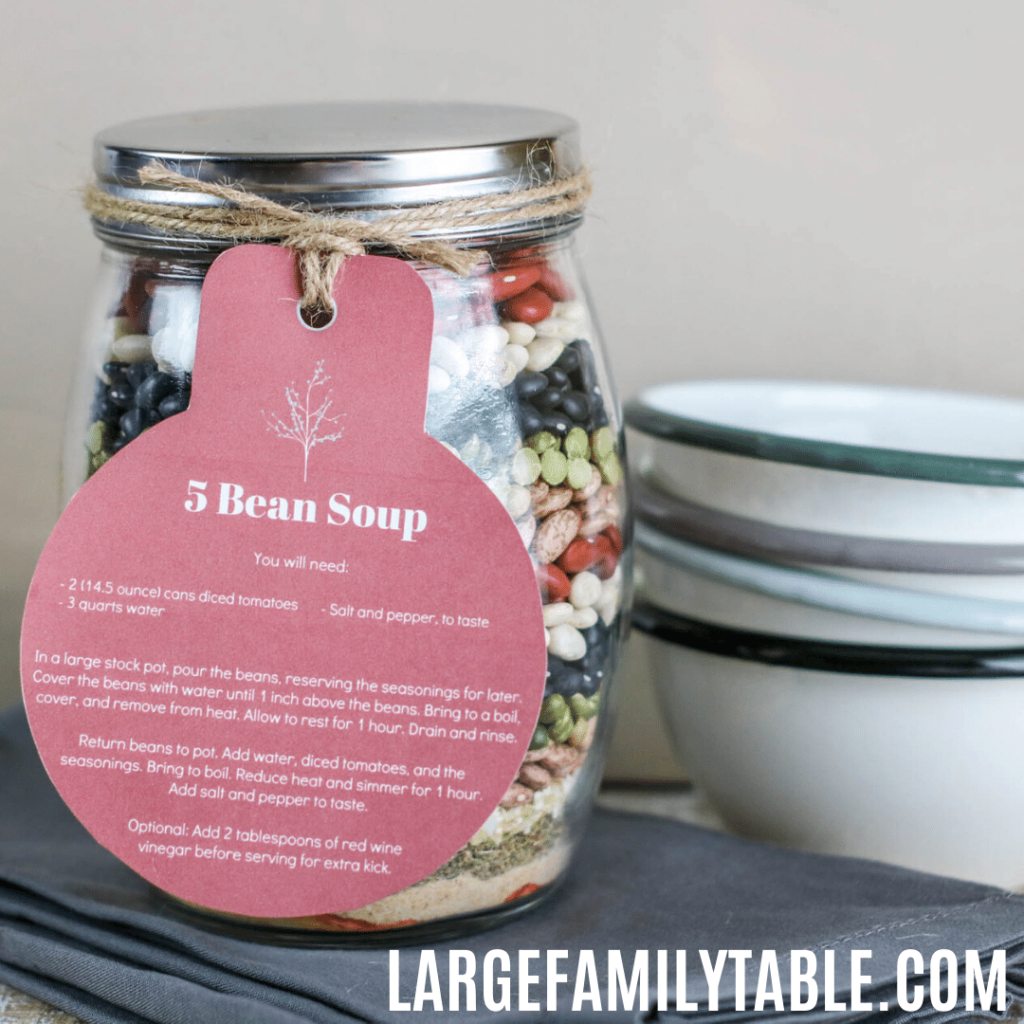 GET YOUR FREE PRINTABLE FOR YOUR 5 BEAN SOUP IN A JAR!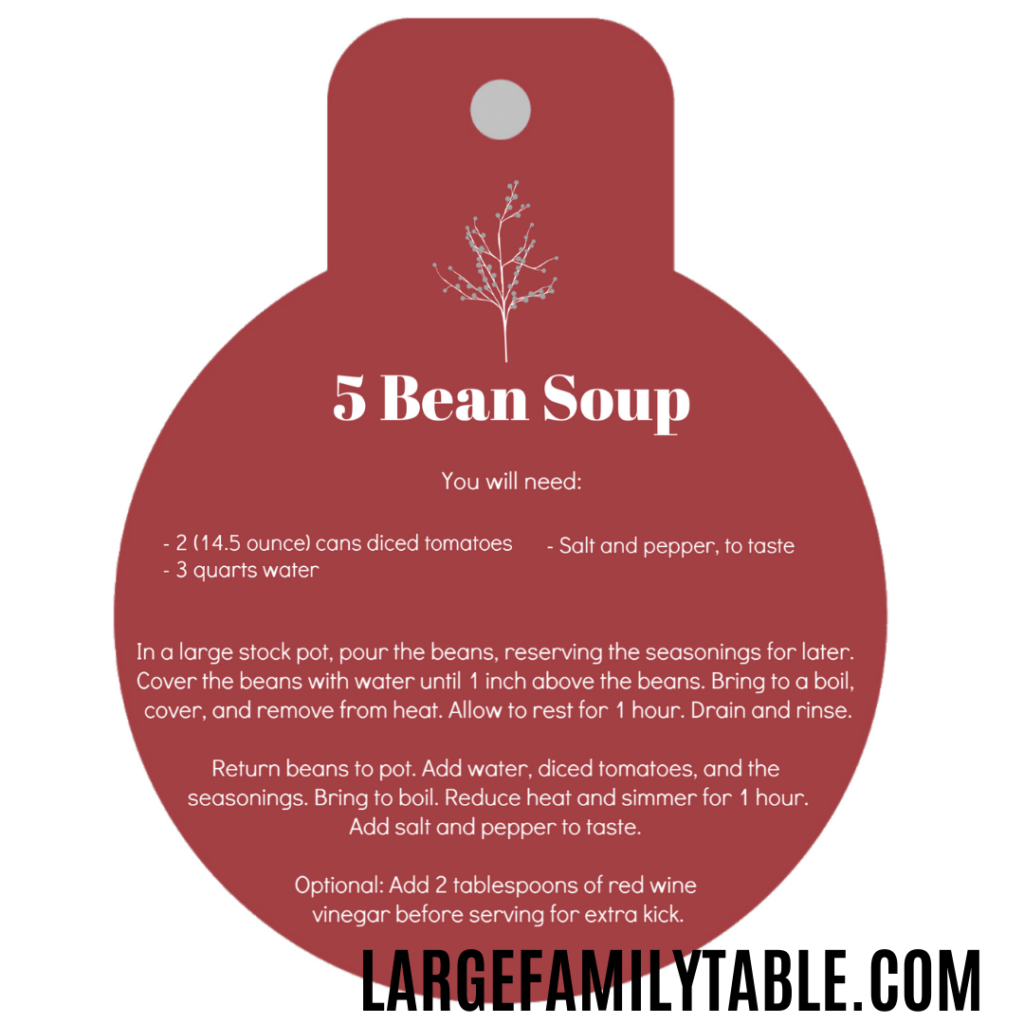 WANT MORE GIFTS IN A JAR IDEAS?
Peppermint Brownies Gift In A Jar
Toffee Pecan Cookies Gift In A Jar