Burgers – as American as baseball and apple pie. Sometimes, nothing can beat a delicious, juicy burger right off of the grill. But what if you are currently "grill-less" like we are, but you've just got to have a burger?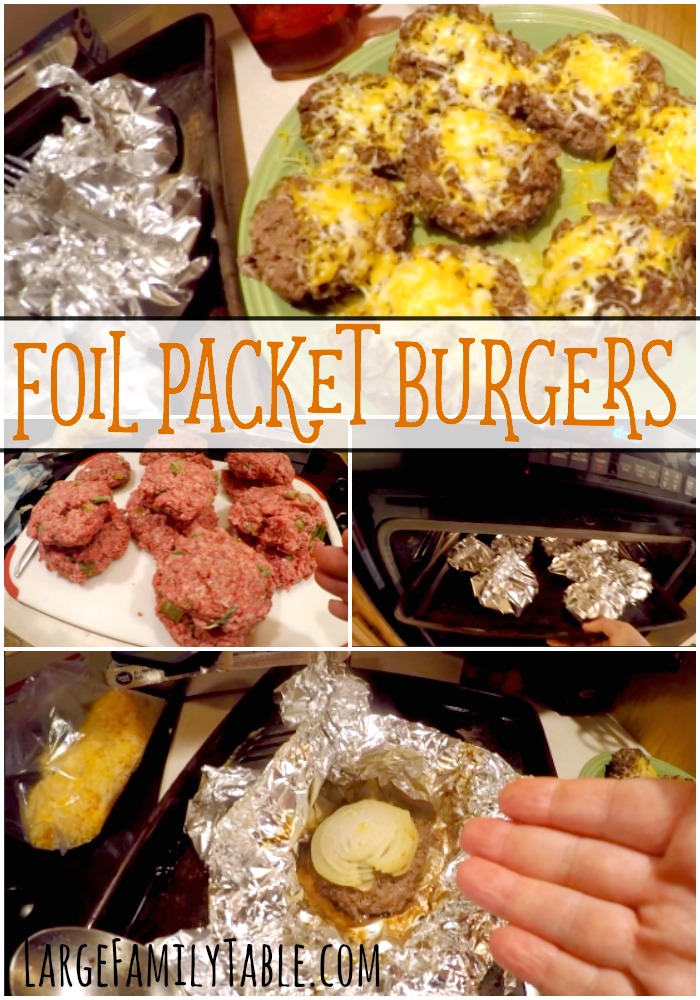 Obviously, you can cook burgers other ways besides on a grill, but what a mess! I got tired of cleaning up the greasy mess they left on my stove top; and the counter was a mess when I used my griddle.
So I decided to try something a little bit different and make these burgers in foil packets and cook them in the oven.
They turned out so yummy, and the kids loved having their own little packet! I added onions to the top of my husband's burger, and I sprinkled shredded cheese on top of the rest of the burgers.
Print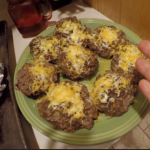 Foil Packet Burgers
Author:

Yield:

13
---
Description
Delicious burgers without the mess!
---
Ingredients
5 lbs. ground beef
1 bunch green onions
1 Tbsp ground oregano
1 Tbsp Italian seasoning
salt and pepper to taste
Cheese and other veggies (optional)
---
Instructions
Add spices to ground beef and mix thoroughly with your hands or a Kitchen Aid.
Form meat into patties, and place each patty on a square of aluminum foil. Seal foil tightly.
Place all packets on a baking sheet.
Bake at 400* for one hour, or until done to your liking.
Serve.
---
Notes
Feel free to add whatever you like on your burger before cooking. Some yummy options would be cheese, mushrooms, green peppers, or onion slices.
The thing I love about this recipe is how easy the clean up is! No nasty stove top to clean, and no greasy pans. I just gathered up the foil and threw it in the trash, and Voila! Clean up was done!
We enjoyed these burgers with a simple salad of lettuce, tomatoes, and cucumbers. Because I am (mostly) attempting to do Trim Healthy Mama, I enjoy having my burger on my salad instead of on a bun. Do what works for you!
Foil Packet Burgers | Large Family Recipes!
Click here to watch the full foil packet burgers video!
I hope you will try these easy burgers. Be sure to comment below and let me know how they turned out for you!