In this video, you will see a freezer tour of the grocery store in my basement with before AND after shots because I'm tackling a massive mega freezer cleanout project!! Join me for the super-satisfying process of cleaning out and reorganizing my freezers to create a system of squeaky clean freezers that each have a dedicated purpose!!
🎉 Use Coupon Code HELLO20 to take 20% off the SUPER MEGA EXTRAVAGANZA BUNDLE which includes 50+ meal-time sanity-saving products like Big Batch Freezer Meal Guides 1-18!!! 🎉
Freezer Tour of the Grocery Store in my Basement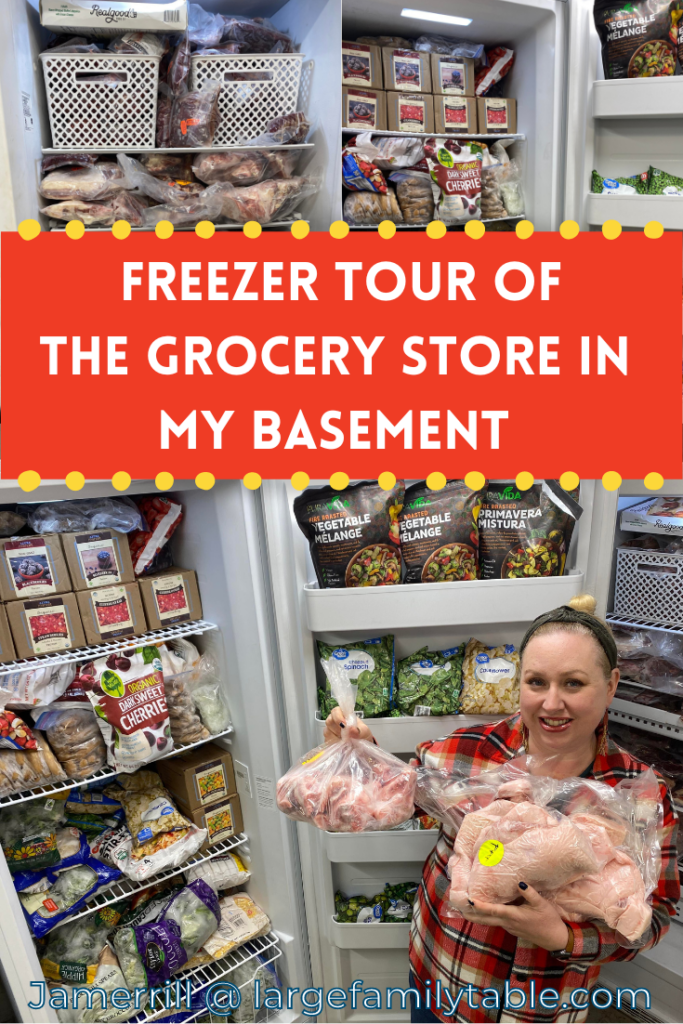 Freezer Tour of the Grocery Store in my Basement
When you feed 11 people at home all day, every day, you need MEGA & LOTS of food storage!! My Massive Mega Freezer Cleanout was a much needed project. In the Fall of 2022, I bought two new freezers and my hopes & dreams were to reorganize the new and existing freezers and give each one a dedicated purpose.
But life happened, right? Let's think back…I had back problems, we had a a car accident with a deer, Christmas, other family emergencies…The massive mega freezer cleanout just wasn't up high on the priority list for a while.
Then I finally made some time over the weekend in March to totally clean out and reorganize my four refrigerators and five full freezers!
In this freezer tour of the grocery store in my basement video, I take you through the "before" shots while telling you the stories of how I came by each freezer. One is our very first one from our first house, which means that GE fridge is over 20 years old! Yes & Amen! Some of these freezers were not totally full because I had just completed my Massive Food Preservation Home Canning 380 Pounds of Tomatoes plus I had given some groceries and freezer meals to several families who needed them.
It was a big job shuffling all the contents of each freezer while wiping them out. I was super thankful to have some happy helpers doing some of the extra behind-the-scenes work like wiping down the shelves.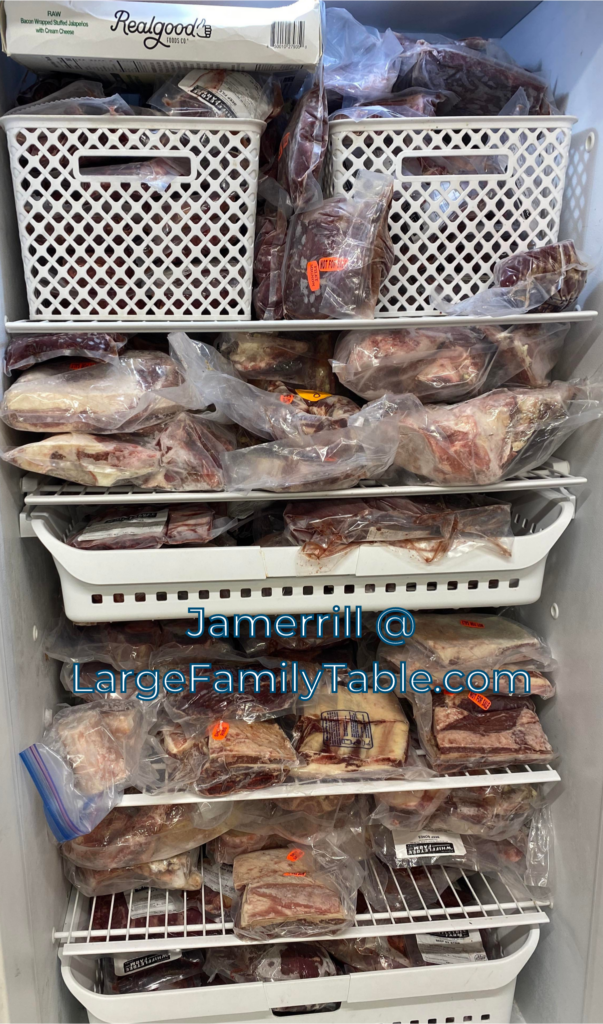 I also emptied out the four chest freezers that will be finding new homes to make room for our new laundry room in the basement. (Yes, we are still in the process of updating our 1960's home to work for our large family!)
The Final Product 🎉
At the end of our long freezer cleanout workday, I give you the final freezer tour of the grocery store in my basement!! We had a dedicated freezer meal freezer, fruit and veggie freezer, beef freezer, pork and chicken freezer (plus random other items), and what I call a project freezer. There, I am storing items that are waiting to be processing like grapes for grape juice and the 50-80 pounds of tomatoes I discovered after our tomato canning marathon–hello, homemade ketchup!! In the smaller above-fridge freezers I have bread, random lunchmeat & store bought freezer meals, one just for my adult son who still lives at home, and finally a freezer for popsicles and ice packs!!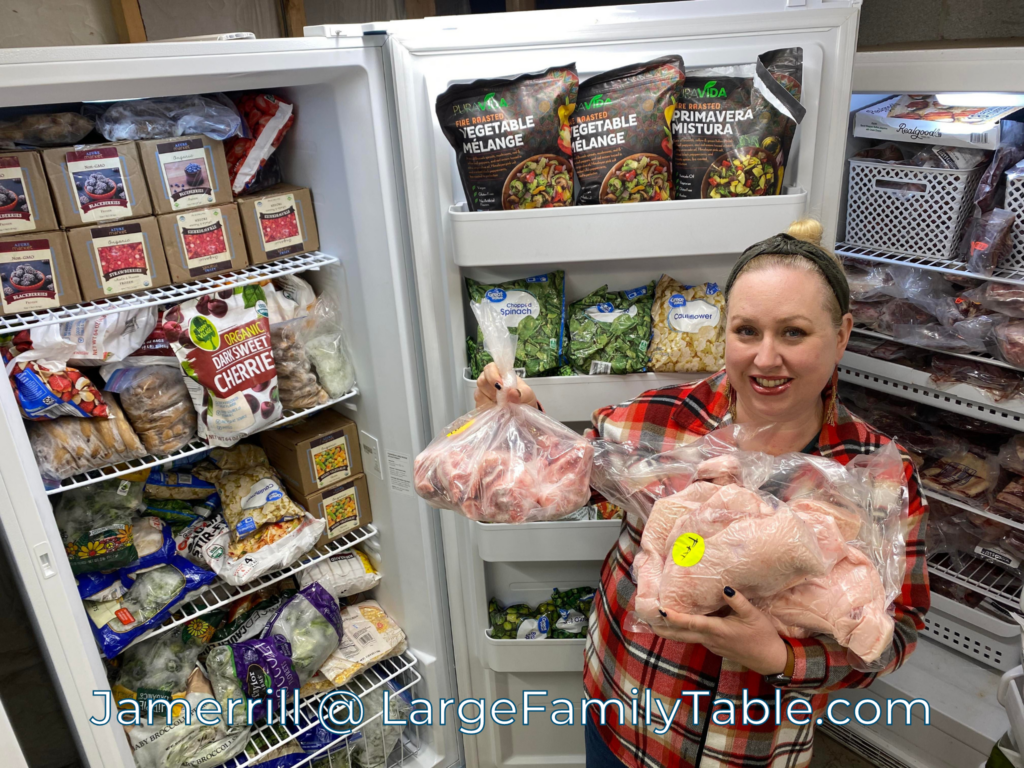 What a great feeling to have all this cleaned out and organized and to have a system with freezers with a dedicated purpose!! 💃
Watch Freezer Tour of the Grocery Store in my Basement Here!!
Watch the entire process from the beginning, where you can see what real life large family freezers look like when lots of people use them all day, every day; to the oh-so-satisfying process of wiping down and organizing each freezer and giving it a purpose; to the end where you get to enjoy the finished product of our long work day!! See the Freezer Tour of the Grocery Store in my Basement video here!!
🎉 You can Get it ALL!!
You can get all my 50+ Recipe Packs in my meal time sanity-saving Super Mega Extravaganza Bundle! It includes all the food products in my shop through Fall 2022!! You will get so many recipes, make-ahead and freezer meals, lots of sheet pan meals, baking bundles, and planning packs to help you organize all your meals (breakfast, lunch, and dinner) and so much more. That's why I call it the Super Mega Extravaganza Deal!