Homemade freezer meatballs in all their forms are one of our favorites and I love having a whole bunch of them in the freezer for convenience. They are messy little things to make so I would much rather do a mega-batch at once and not have to deal with them every single time we want them.
Spaghetti and meatballs. Meatball subs. Sweet and sour meatballs. Swedish meatballs. Italian meatball soup.  
Is your mouth watering yet?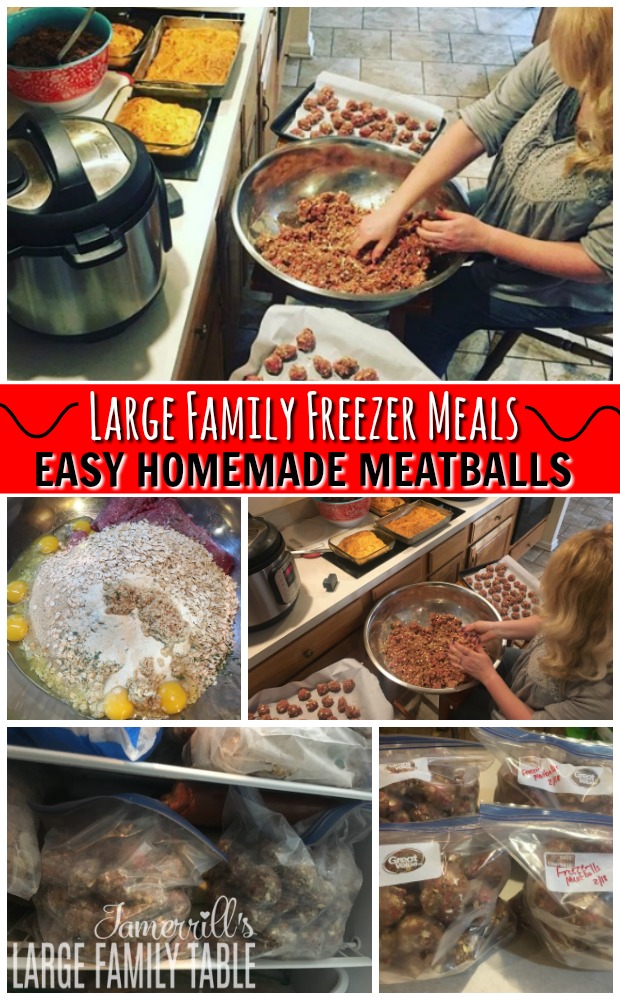 You can use an ice cream or cookie dough scoop to make the job a bit less messy for your hands, but since I had mixed the whole batch by hand, I figured a bit more mess was no big deal. : )
You can use some of these homemade freezer meatballs as soon as you make them or freeze the whole batch in portioned sizes that suit your family. I ended up with 17 dozen (204) meatballs. I did make mine rather large, so if you make them smaller, you will get more than I did! As usual, do what works for your family.
Print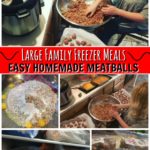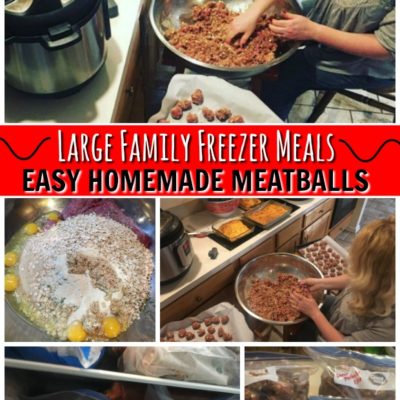 Large Family Freezer Meals: Easy Homemade Meatballs
---
Description
Mild-flavored meatballs suitable for adding to just about anything or covering with sauce and enjoying on their own.
---
Ingredients
10 lbs ground beef
9 cups breadcrumbs (I only had 5 cups of breadcrumbs so I added 4 cups of old-fashioned oats)
7 eggs
2 TBSP Italian seasoning
2 TBSP garlic powder
4 TBSP onion powder
4 TBSP minced garlic
4 TBSP dried parsley
4 TBSP dried oregano
---
Instructions
Mix all ingredients together thoroughly. This is going to take you a little while so take your time and do it right. You don't want all the spices in one place. : )
Form into meatballs of whatever size you prefer. Flash freeze on parchment-lined cookie sheets or pans. Divide into freezer storage bags into the amounts that you will need for a meal.
To cook meatballs, remove from freezer the day before needed and thaw in frig overnight. Use them in whatever recipe you'd like the next day.
I hope you enjoy this quick and easy homemade meatballs recipe. Most recently this meatball recipe was in my 30 Large Family Meals in 10 Hours vlog from my latest large family freezer cooking day.