Electric Pressure Cooking Big Batch Spaghetti Sauce
Spaghetti is one of those good old standby's that almost everybody likes and that's super easy to make. I think you'll enjoy this electric pressure cooking big batch spaghetti sauce. I really like having it over spaghetti squash, too!
I don't mind making up pots of spaghetti sauce as we need them, but when I cook huge amounts of ground beef in my electric pressure cookers, I figure I might as well go the next step and make that meat into the form I want it to take, whether that's spaghetti, beef stroganoff, hamburger soup, or sloppy joes.
Making a big batch of this electric pressure cooker spaghetti sauce is usually a quick job for me but on this day I made a slight error in judgment. I forgot to assign an older, muscular young man to do all the veggie-chopping for me earlier in the day. So there I was, chopping a whole bunch of veggies when I could have been whittling down my freezer-cooking list.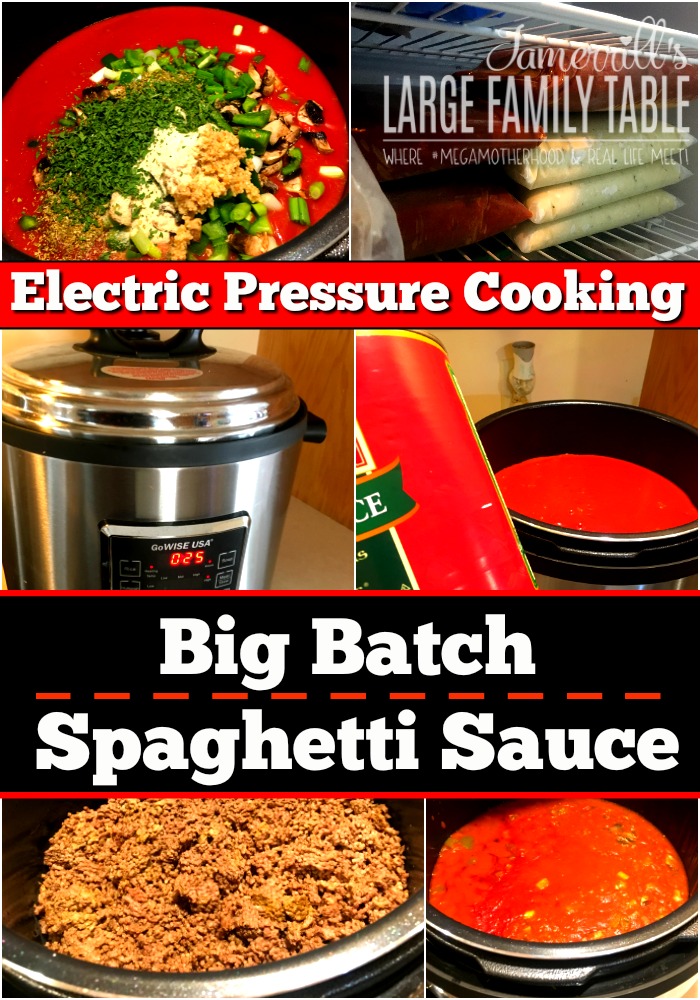 Oh, well. We learn our lessons and live to tell about them. : ) That put me about 30 minutes behind where I wanted to be on this freezer cooking day. It's all good though and I kept right on plugging along once I got them chopped.
Print Electric Pressure Cooking Big Batch Spaghetti Sauce | Large Family Recipes
---
Description
A huge batch of spaghetti sauce ready for you to use in whatever recipes you have! I love to also put this homemade spaghetti sauce over spaghetti squash!
---
Ingredients
5 lbs ground beef, pre-cooked
210 oz tomato sauce ( I used 2-105 oz cans)
4-6 cups chopped veggies (I used green onions, mushrooms, and green bell peppers)
2 TBSP minced garlic
2 TBSP garlic powder
2 TBSP parsley
2 TBSP oregano
2 TBSP onion powder
---
Instructions
Place all ingredients in electric pressure cooker and set on HIGH for 15 minutes using the manual setting. I used my 14 Quart GoWise Electric Pressure Cooker for this mega-sized batch.
This electric pressure cooking recipe was in my 30 Large Family Meals in 10 Hours vlog from my latest large family freezer cooking day. Let me know if you cook up a big batch of spaghetti sauce at your house. I bet you'll use it faster than you think 🙂