Serve a classic meal with this Large Family Cheese Stuffed Shells Oven Dinner. If you love pasta, sauce, and cheese, you are going to thoroughly enjoy this tasty meal.
If pasta is one of your favorite foods, try this Large Family Cheese Stuffed Shells Oven Dinner. You can make enough for your entire family to enjoy a cheesy, savory dinner dish that's easy to assemble and tastes great. Not only can you make these stuffed shells on the spot, but you can also prepare them ahead of time and freeze them for special occasions.
***Use special promo code HELLO20 to take 20% off your first order in the shop including the SUPER MEGA ULTIMATE Large Family Freezer Meals Bundle here!**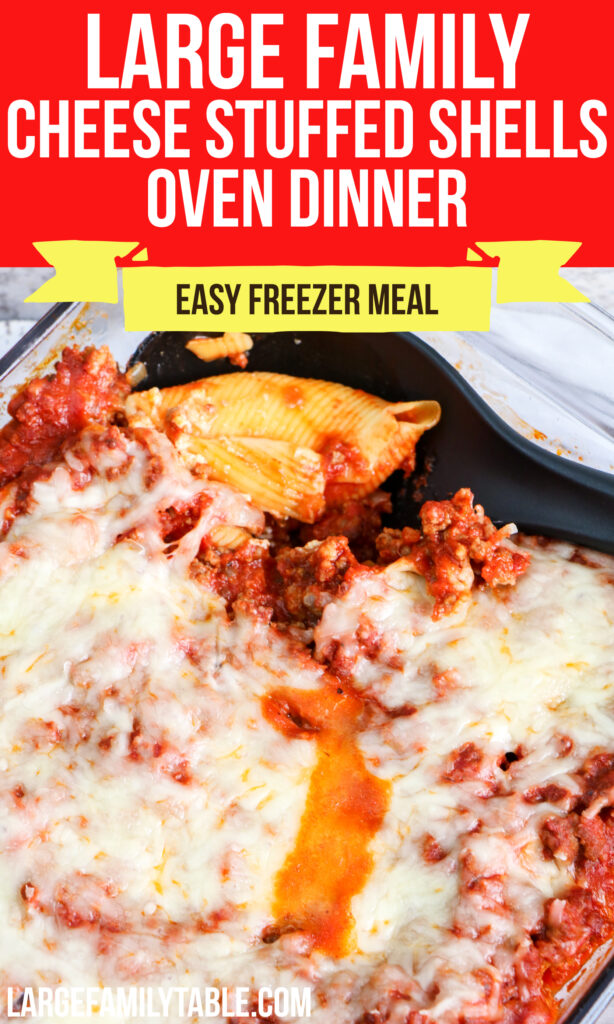 Ingredients Needed to Make the Cheese Stuffed Shells
Prepare the Cheese Stuffed Shells Oven Dinner for your large family menu with the following ingredients:
Ground Beef. Use a pound of lean ground beef for this recipe. I have lots of ground beef dinners so be sure to check those out.
Mild Italian Sausage. Remove the casings from two pounds of mild Italian sausage before cooking it. You can also use spicy Italian sausage if you prefer that flavor. Try my Italian Sausage and Peppers bake if you enjoy Italian Sausage.
Tomato Sauce. Create a flavorful sauce for your shells by using this sauce as the base. Here is my spaghetti/pasta sauce recipe if you want to make your own sauce.
Beef Granules. Add flavor to your tomato sauce with beef granules.
Small Curd Cottage Cheese. The cottage cheese goes great with the sauce and meat.
Jumbo Pasta Shells. Use any brand of jumbo pasta shells. Make sure they are jumbo size to ensure that you have plenty of room to stuff them.
You will also need garlic powder, diced onion, dried oregano, eggs, water, mozzarella cheese, and parmesan cheese to complete this recipe.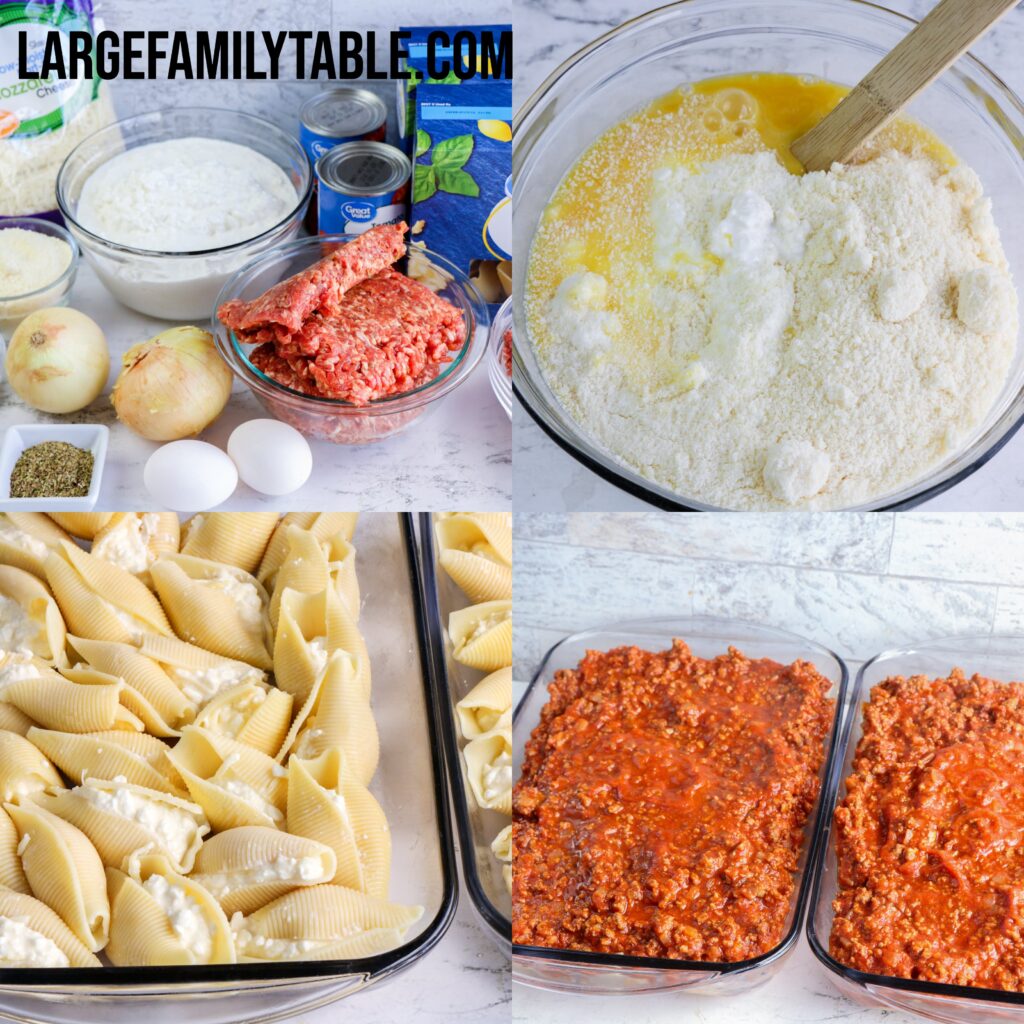 Cottage Cheese Alternatives
If you don't have cottage cheese at home or simply do not eat it, you can use alternative ingredients to replace the small curd cottage cheese if need be. Ricotta cheese is the best alternative ingredient and will take just as delicious. A few other alternatives include Fromage blanc and cream cheese. No matter which alternative you choose, be sure to mix it with the egg, mozzarella cheese, and parmesan cheese before adding it to your shells.
What to Serve With the Cheese Stuffed Shells
Serve the Cheese Stuffed Shells freezer meal with a spring salad and homemade bread with garlic. You can purchase frozen garlic bread or prepare your own bread at home using this French bread recipe, butter, minced garlic, and parsley flakes.
You can also add a side of vegetables like Sheet Pan Roasted Broccoli, Collard Greens with Ham, or Garlicky Green Beans and Tomatoes.
In addition, you can add a delicious dessert to stretch the dinner. Try adding one of my many make-ahead cookie recipes, Baked Apples, Strawberry Trifle, or Banana Heath Pudding.
How to Freeze the Cheese Stuffed Shells Oven Dinner
Assemble the casserole, then cover your baking dish full of ingredients tightly with aluminum foil, then again with plastic wrap, and one more with aluminum foil. Once you cover the baking dish, store it in your freezer for a maximum of three months. You will need to allow the meal to thaw overnight in the refrigerator before removing the foil, placing it in the oven, and baking it as directed.
Here are More Large Family Dinner Ideas!
I have lots of dinner recipes for big families including low carb recipes, instant pot/ slow cooker meals, casseroles, and freezer meals.
This recipe for Cheese Stuffed Shells is a great choice for a freezer-friendly meal! You can find so many more great freezer meals in my Ultimate Super Mega Large Family Freezer Meals 1, 2, 3, 4, 5, 6, 7, 8, 9, 10, 11, 12 Digital Bundle!!! It includes packs 1-12 of my best-selling large family freezer meals. You will have everything you need to make over 250 large family freezer meals (make as little or as much as you want ) including 12 batch cooking meal prep guides, 12 pack specific freezer meal grocery shopping lists, freezer meal tips, freezer meal printables including a freezer meal planner and more.
Large Family Cheese Stuffed Shells
Print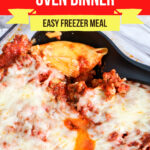 Large Family Cheese Stuffed Shells Oven Dinner | Easy Freezer Meal
Author:

Prep Time:

40 Minutes

Cook Time:

30 Minutes

Total Time:

1 hour 10 minutes

Yield:

2 9×13 Casserole Dishes

Category:

Dinner

Method:

Oven
---
Description
This delicious dish features pasta shells stuffed with cheesy goodness and topped with pasta sauce and meat. 
---
Ingredients
1 pound lean ground beef
2 pounds milk Italian sausage, casings removed
2 onions, diced
½ teaspoon garlic powder
2 (12 ounce) cans tomato paste
2 tablespoons beef granules
3 teaspoons dried oregano
4 cups water
2 large eggs, lightly beaten
4 cups small curd cottage cheese
4 cups shredded mozzarella cheese, divided
1 cup shredded Parmesan cheese
1 and ½ box jumbo pasta shells, cooked according to package directions (about 50 shells)
---
Instructions
Preheat the oven to 350 degrees. Prepare two 9×13 casserole dishes with nonstick cooking spray.

In a stock pot over medium-high heat, cook the ground beef, Italian sausage, and onion, crumbling as it browns. Drain well and return to the stock pot.

To the stock pot, add garlic powder, tomato paste, beef granules, and dried oregano. Stir in the water. Bring to a boil and reduce heat to medium-low. Cook for 15 to 20 minutes.

Meanwhile, combine the eggs, cottage cheese, 2 cups of mozzarella cheese, and Parmesan cheese. 

Divide the cooked noodles between the two prepared casserole dishes. Using a cookie scoop, divide the cheese mixture and stuff the shells. Place the shells in rows in the casserole dishes, approximately 25 shells in each dish.

Pour the sauce over the stuffed shells and cover with aluminum foil. 

Bake for 30 minutes. Uncover and top with remaining cheese. Return to the oven, uncovered, and cook for an additional 10 minutes or until the edges are bubbling and the cheese has melted.
---
Notes
How to freeze:  Assemble casserole. Cover tightly with aluminum foil and freeze up to 3 months. Thaw in the refrigerator overnight. If using glass baking dishes, place on the counter as the oven preheats. Remove the aluminum foil. Follow the above instructions to bake.
Keywords: Large Family Cheese Stuffed Shells Oven Dinner
Fast and traditional, this large family meal is sure to please the whole family. Eat it just as it is or make garlic bread using my homemade bread recipe and a salad. Either way, you will enjoy this recipe.
FREE Emergency Pantry Planning Pack!
Don't forget to sign up for the emergency pantry planning pack for free to help you plan your pantry meals! The free Emergency Pantry Planning Pack will help you plan your needed pantry items! Printable pages include pantry inventory, grocery lists, meal planners, list of pantry staple items, and more.