Most of us have gotten our white bread from the store for years. Well, now is your chance to change that up! You can make Homemade White Bread or White Bread without Yeast right at home and not ever buy white bread again unless you want to. Feeding a large family can be so expensive, it's vital to cut costs where you can. That is where these white bread recipes comes in!
*Use special promo code HELLO20 to take 20% off your first order in the shop including the SUPER MEGA ULTIMATE Large Family Freezer Meals Bundle here!**
Homemade White Bread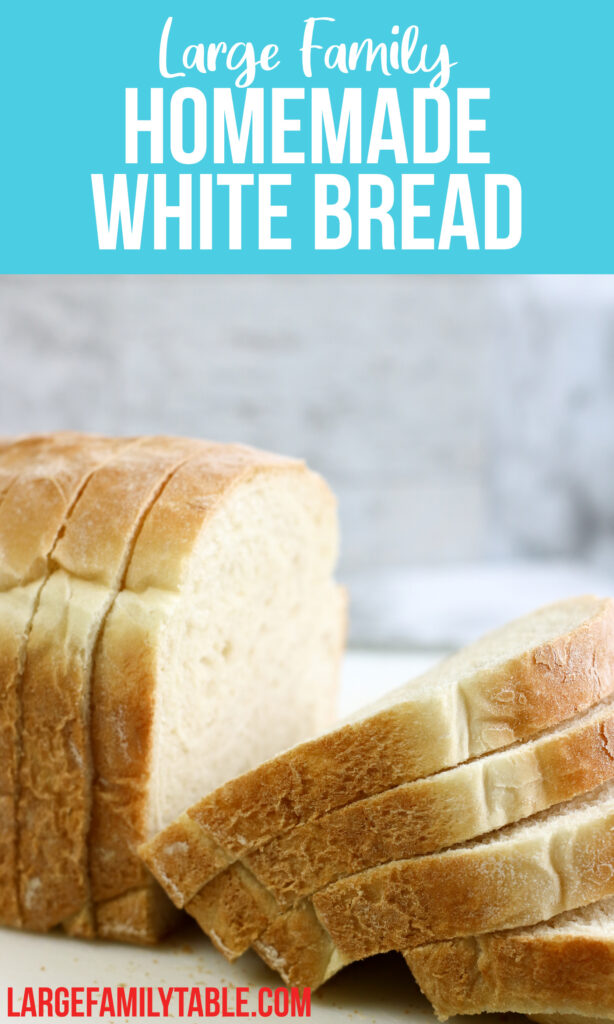 Whether you choose to eat it warm slathered with butter or you make a peanut butter and jelly with it, nothing compares to homemade bread. Some people are even intimidated by baking their own bread, but we're going to do it today and you'll see how easy it is. You can even freeze this loaf for later and eat it when you want.
Ingredients for Homemade White Bread
As you decide on making this bread, you may be wondering what it involves. Is it really as easy as I say it is? YES! It's time to step outside of your comfort zone and make this bread. You are going to love the basic ingredients to make this recipe. Here we go.
All-Purpose Flour – If you are like me, you probably have a nice stockpile of all-purpose flour. This is an excellent way to use it up.
Sugar – Don't worry, you aren't going to be using a lot of sugar for this. You will be using the perfect amount.
Active Dry Yeast – It's important to buy yeast on sale when you can. It's a great dry ingredient to have on hand.
Salt – This ingredient is a vital part of making bread, so don't forget it in the recipe!
Milk and water – This recipe calls for a liquid, so milk and water are also an important ingredient.
Butter – Don't forget the essential roll that butter plays in making bread.
All of these ingredients help to make the most delicious Homemade White Bread you will ever have!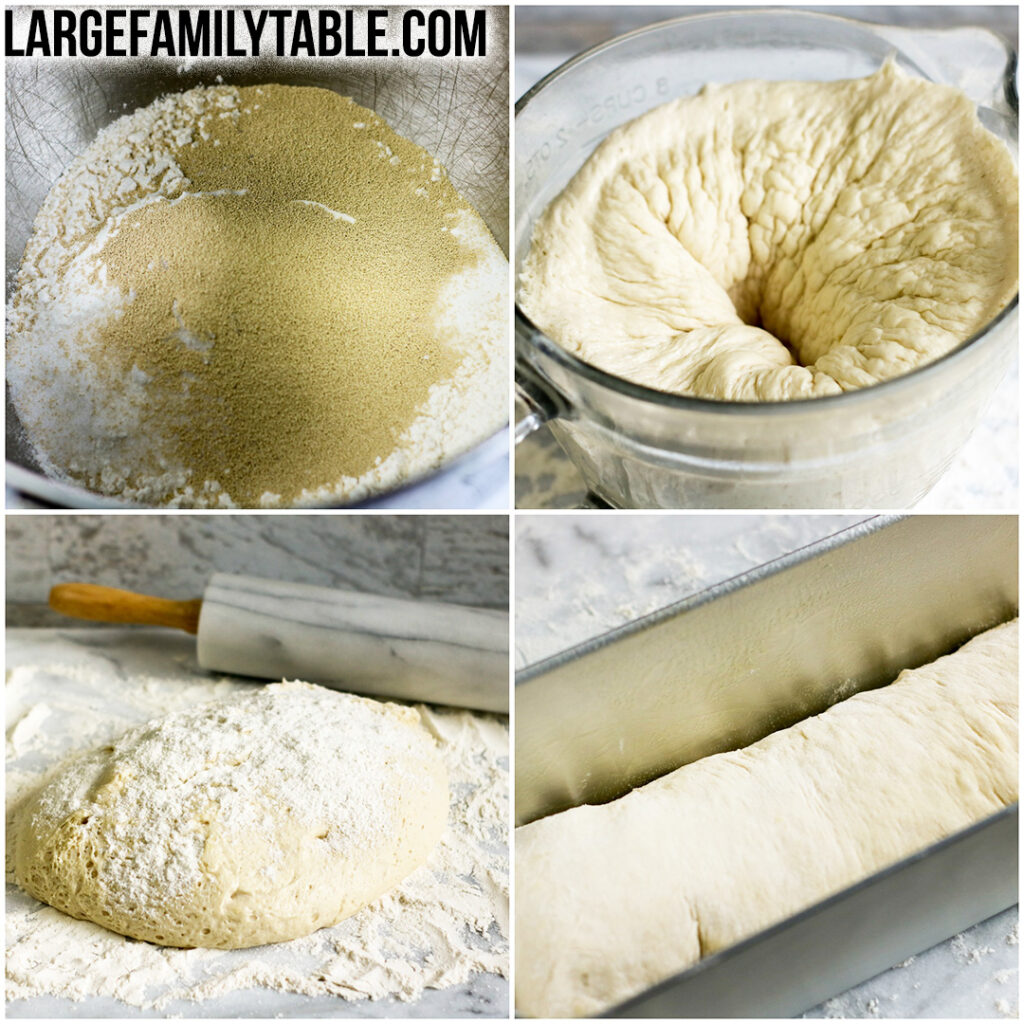 How to Freeze White Bread
After you have made this Homemade White Bread, you may be wondering how you freeze it. Just like our Freezer Fruit Bread and Pizza Dough, this bread can go in the freezer, too!
You will want to wrap each loaf of bread in plastic wrap.
You will then wrap the bread in tin foil.
When you double wrap the bread, you are making sure it stays as fresh as possible.
Go ahead and slice the bread before you freeze it, so you can use it one slice at a time. This prevents waste.
Freezing bread is actually very easy, just follow the directions listed above. Do you freeze your bread?
How to Enjoy White Bread
Once you have aced learning how to make your own bread, you may be wondering how you can enjoy it.
Peanut butter and jelly
Toast
Lunch meat sandwich
French toast
Apple butter or just butter
You can't go wrong however you choose to enjoy this bread. The biggest question is, what's your favorite way to enjoy homemade bread? Do you eat it warm? Do you toast it? Leave an answer in the comment section.
Do you have more baking recipes to save me money?
Baking is a great way to save money on groceries. Buying prepackaged bread, rolls, muffins, baking mixes, and sweet treats can get expensive fast. Baking ahead and freezing it in the freezer means it's ready for you when you need it and you can make it when you have the time. Try my Frugal from Scratch Baking Recipes and Staples Book One for lots of money-saving recipes like Depression Era Chocolate Cake plus three other sweet treats, four delicious versions of bread recipes, plus baking staples like cake mixes, baking mix, baking powder, and more. My Frugal From scratch Baking Book Two expands into ten new recipes. Grab them both in the DOUBLE BUNDLE!! Frugal From Scratch Baking Recipes & Baking Staples to save even more!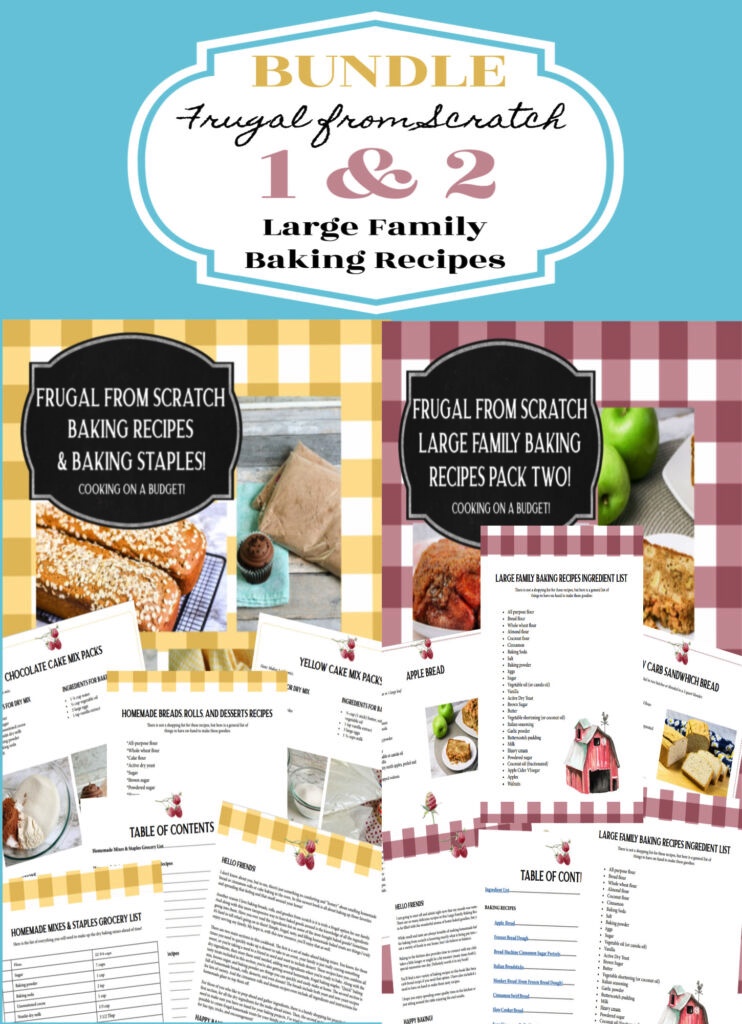 Here are some recipes your family will enjoy eating with bread.
Homemade White Bread Recipe
Print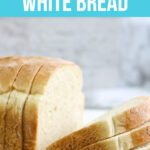 Homemade White Bread| Large Family Table Baking
Author:

Prep Time:

1:30

Cook Time:

30 Minutes

Total Time:

2 hours

Category:

Dinner

Method:

Oven
---
Description
You can say goodbye to buying bread at the store these days. I'm going to show you how to make Homemade White Bread in no time! 
---
Ingredients
5 to 6 cups all purpose flour

3 tablespoons sugar

4 ½ teaspoons active dry yeast

2 teaspoons salt

1 ½ cups water

½ cup milk

2 tablespoons butter

 
---
Instructions
In a stand mixer bowl fitted with the paddle attachment, stir together 2 cups of flour, sugar, yeast, and salt. 

Combine water, milk, and butter. Microwave to 120 degrees. Pour into flour mixture and beat just until combined. Change the mixer attachment to the kneading hook.

Add 2 cups of flour and mix on medium until the flour is combined into the dough.

Continue adding flour a spoonful at a time until the dough forms a ball and no longer sticks to the side.

Continue mixing with the kneading hook for 3 minutes. Transfer to a bowl sprayed with nonstick cooking spray and cover with a clean towel. Allow to rise until doubled in size, about 60 minutes.

Punch dough down and place on lightly floured pastry board. Using a rolling pin, shape dough into a rectangle. Starting on the longest side, roll dough up (like a jelly roll) and tuck the ends under the loaf. Place in loaf pan/s with the seam side down. Cover and allow to rise for 45 to 60 minutes or until doubled in size.

Meanwhile, preheat the oven to 400 degrees.

For the 9×5 pans, bake for about 20 to 30 minutes. For the jumbo (16×4) pan, bake for 30 to 40 minutes or until done.

Allow the bread to cool in the pan/s for 10 minutes before transferring to a wire rack to cool completely.
Try having a baking day and make a bunch of loaves of bread all at once. This way you will have a good supply of bread ready to go when you need it.
FREE Emergency Pantry Planning Pack!
Don't forget to sign up for the emergency pantry planning pack for free to help you plan your pantry meals! The free Emergency Pantry Planning Pack will help you plan your needed pantry items! Printable pages include pantry inventory, grocery lists, meal planners, list of pantry staple items, and more.