When you need a hearty meal that's fast and easy, slow cooker sausage baked ziti comes to the rescue! One slow cooker makes enough to feed all my people with a few leftovers for the next day which makes this leftover queen happy. Bonus points that it's a pretty frugal meal too!
Don't miss my brand new 3 Dump & Go Crockpot Meals on YouTube including this new Slow Cooker Baked Ziti recipe!
Get the Best-Selling Large Family Freezer Meals Collection here! Use promo code HELLO20 to take 20% off your first order!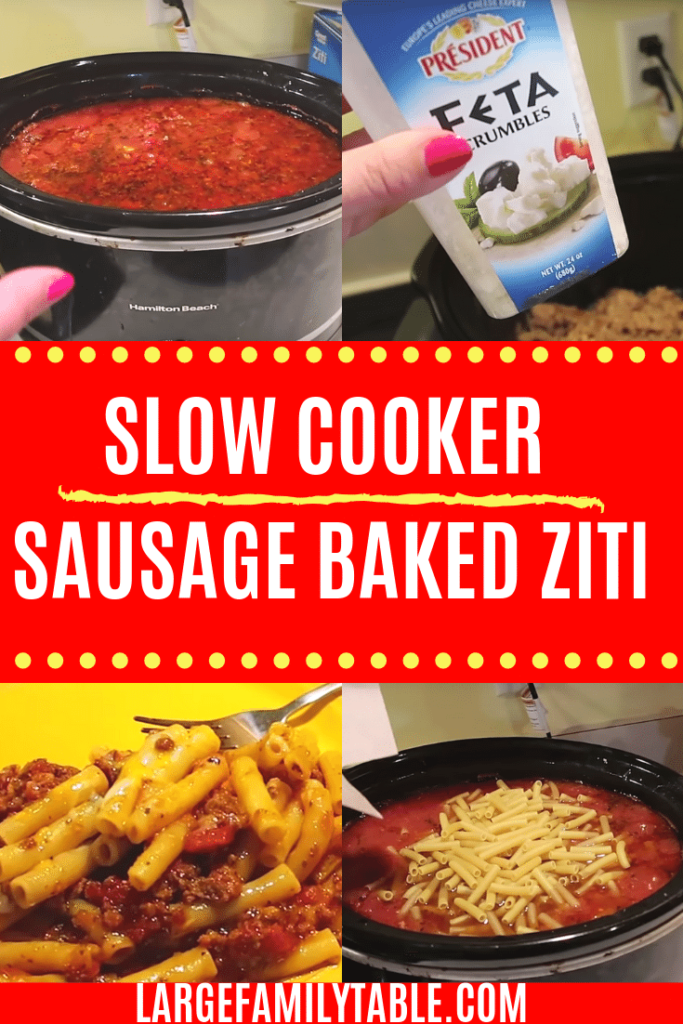 This is a great slow cooker meal for when you will be away for hours like after church or a homeschool group day out. It can bubble and brew away until you're almost ready to eat then the noodles cook in no time. I saved even more time by cooking 6 lbs of ground sausage in the slow cooker overnight. I used 3 lbs for this recipe and 3 lbs to make 2 egg, sausage, and cheese oven bakes. As usual, I show you what you could do and should do then show you what I did, haha!
Dump the sauce, broth, tomatoes, remaining spices, and ricotta cheese into the slow cooker. I didn't have ricotta cheese so I used feta cheese instead. Here's a frugal tip for you. Grab cottage cheese when it's on clearance or on sale. Freeze it then use it in place of ricotta cheese in your lasagna or casseroles. You won't notice the difference and your wallet will thank you. Put the lid on then decide if you want it in 7-8 hours or 3-4 hours. Turn it on low for the former and high for the latter.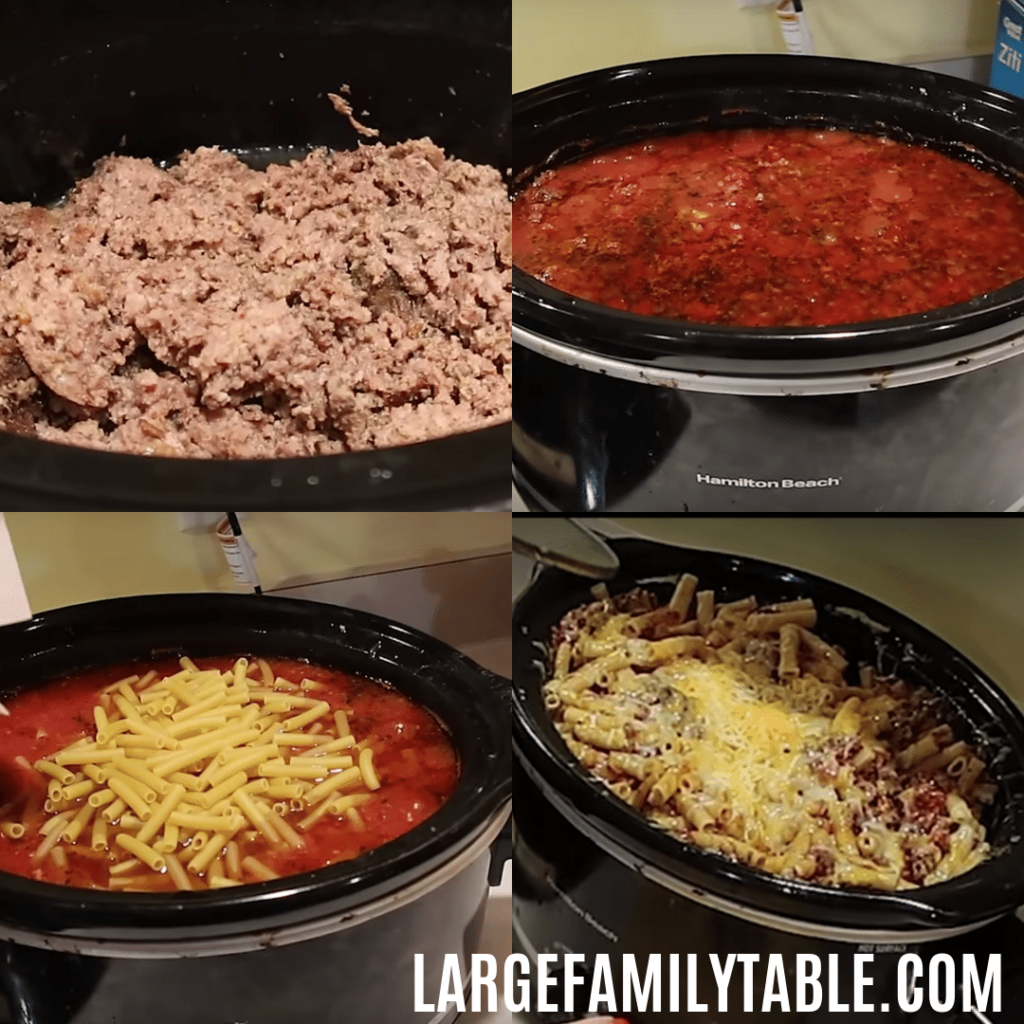 Many hours later, take the lid off to find it bubbling and brewing. It's pretty forgiving so no worries if it's been on slightly longer than the recommended time. Add the dried noodles, make sure it's on high, then relid it and set your timer for 20 minutes. You should check the noodle doneness at the 20 minute mark. Once the noodles are done, add the cheese and wait 2 – 3 minutes for it to melt. Serve immediately and revel in your family's appreciation of the deliciousness that is slow cooker sausage baked ziti.
Want more slow cooker recipes?
Slow Cooker Chicken Broccoli Alfredo
Slow Cooker Homemade Sloppy Joes
100+ Cheap Crockpot Meals For Large Families
SLOW COOKER BAKED ZITI RECIPE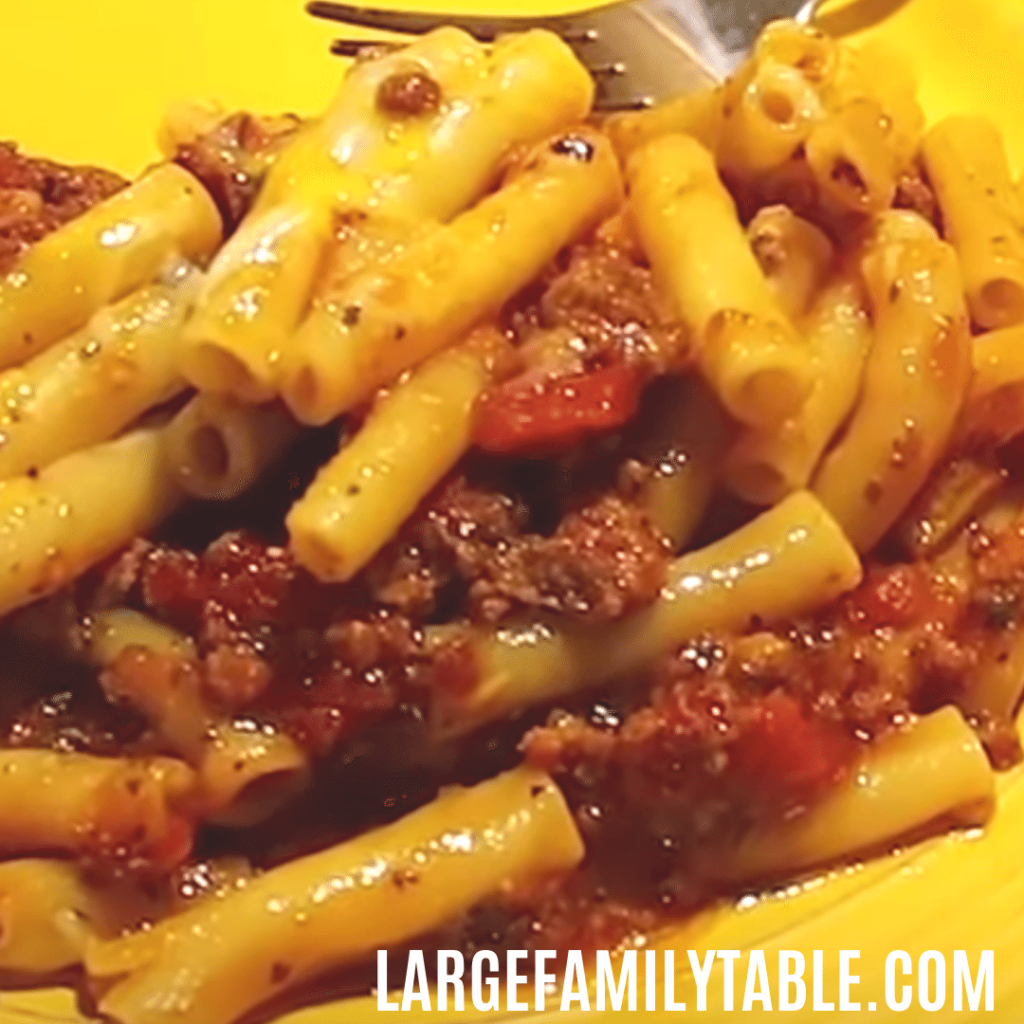 Print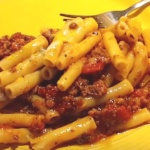 Slow Cooker Sausage Baked Ziti
Author:

Prep Time:

15 mins

Cook Time:

8 hours

Total Time:

8 hours 15 minutes

Category:

Crockpot Meals

Method:

slow cooker

Cuisine:

Italian
---
Description
Need a yummy, hot meal that is sure to fill up your family? This slow cooker baked ziti is filling and easy to prepare!
---
Ingredients
3 lbs cooked and drained ground beef (or ground sausage)
1 onion chopped (or 1 Tbsp minced onion)
2 Tbsp minced garlic
1 Tbsp dried basil
1 Tbsp dried oregano
1 tsp salt
1 tsp pepper
1/4 cup feta cheese, ricotta cheese, or cottage cheese
30 ounces tomato sauce
56 ounces diced tomatoes
6 cups water or broth
3 16 ounce boxes of dried ziti noodles
4 cups shredded cheese
---
Instructions
Precook meat with onions and garlic
Drain
Add meat, remaining spices, sauce, broth, ricotta cheese, and tomatoes to slow cooker
Cook on low 7- 8 hours on on high for 3-4
Final 30 minutes, make sure slow cooker is on high then add the dried ziti noodles and stir. 
Put lid on and let noodles cook for 20-30 minutes. Check for doneness at 30 minute mark.
Once done, cover with 4 cups cheese. Wait 2-3 minutes for it to melt.
---
Notes
You can use ground beef, ground sausage, ground turkey or whatever you have on hand.
Keywords: slow cooker baked ziti
This recipe is sure to become a family favorite both for how delicious it is but also how easy and frugal. It's great for large families, for potlucks, or even smaller families who want leftovers. Everyone is sure to love slow cooker sausage baked ziti!
Catch My Crockpot Playlist for More Ideas!