It is time for something a little different for breakfast today. We are making Breakfast Sliders. This is a simple recipe that will also keep those bellies full. Sliders are something you can make when you want to feed a bunch of people in your family too. It requires limited cooking time and everyone will love the taste.
*Use special promo code HELLO20 to take 20% off your first order in the shop including the SUPER MEGA ULTIMATE Large Family Freezer Meals Bundle here!**
Breakfast Sliders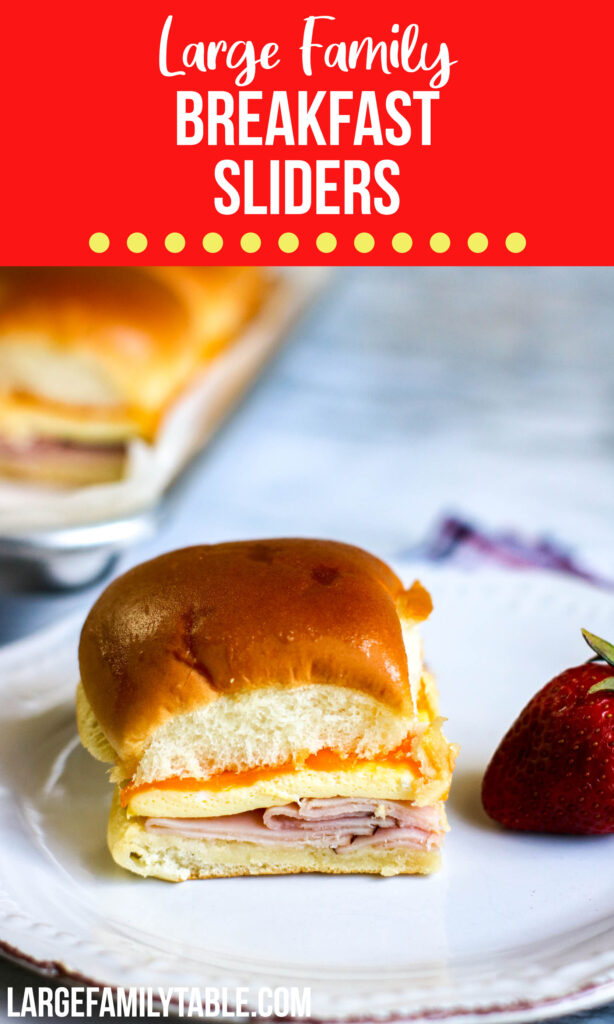 If you're curious about what Breakfast Sliders are, you will be amazed that you didn't think of this before. Using ingredients like classic dinner rolls, butter, eggs, sliced ham, and cheddar cheese, you can create a recipe that your family will love over and over again. You can make these for your own large family or even a pot luck! You'd be surprised as to how many sliders this breakfast recipe makes.
Ingredients for Breakfast Sliders
I love going over the ingredients for the dishes I create for you guys. You can always see the full list of ingredients and steps in the recipe card. Let's about some of these ingredients and why I chose them for this meal.
Classic dinner rolls – If you've never used classic dinner rolls for breakfast, you are missing out. I can never get enough of using rolls in recipes. This is a great recipe to do if you need to use up rolls quickly.
Butter – You can't have a yummy breakfast recipe without butter. I think melted butter always gives so much flavor.
Packaged sliced ham – With this meal, you don't even need to pre-cook the protein. I use packaged sliced ham because it makes it so easy to cook with! Of course, you can use leftover ham if you have that too.
Mild cheddar cheese – Of course, you can't have a slider without the cheese. You will love the cheesiness it adds to the dish!
As you can see, these are basic ingredients, but they come together to create a meal unlike any other. I've had some dishes like this for dinner, however, eating it for breakfast is going to be amazing! Sometimes I'm in the mood for something savory for breakfast and this hits the spot.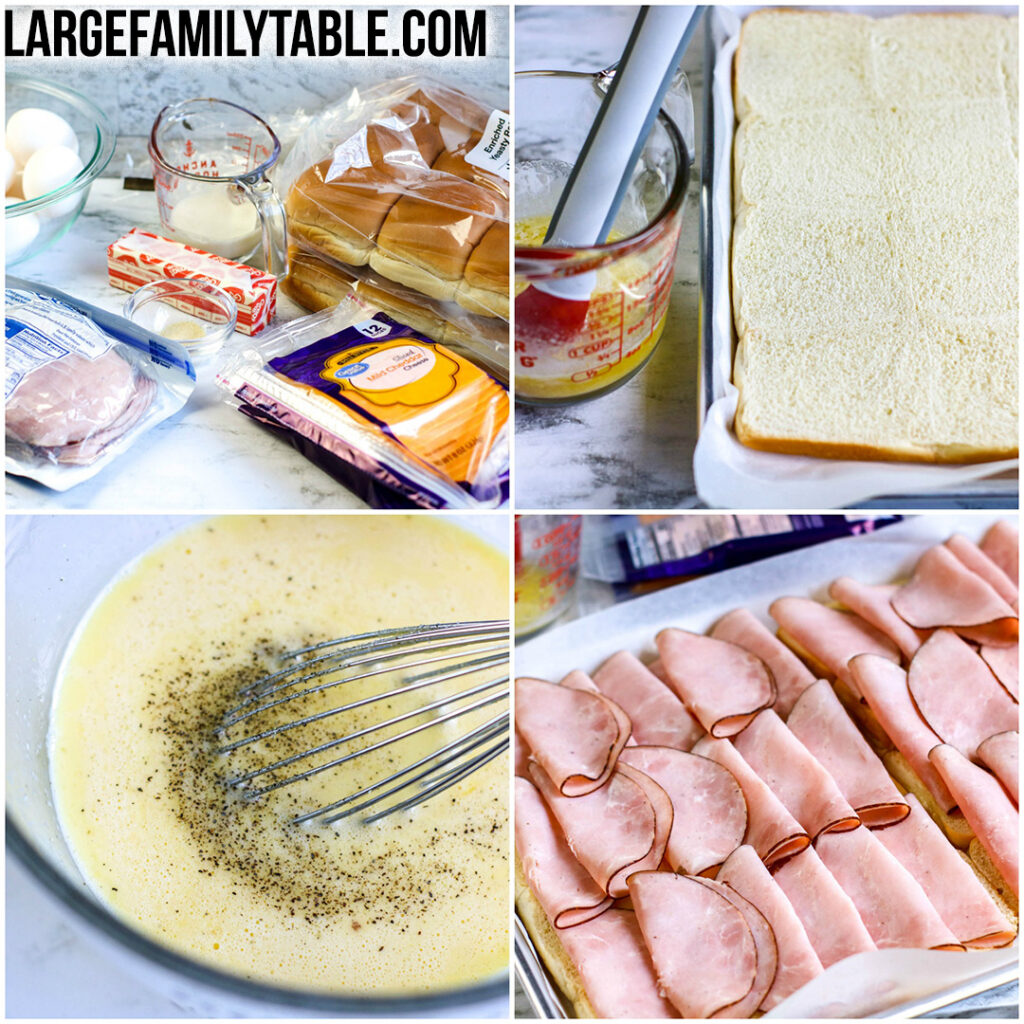 How to Freeze Sliders for Breakfast
When you make these Breakfast Sliders, you may be wondering how you can freeze them. Because you know I love to fill my freezer! Get a dish big enough to fit the sliders in. Once you have the sliders in the freezable container you want to use, make sure you double wrap it! This will keep them from getting freezer burnt.
You can also freeze these all individually by wrapping them in aluminum foil and then placing plastic wrap around them. If your kids are independent enough to unwrap them and place them in the microwave, then you will be winning at breakfast.
Family Friendly
Don't be shy about making a dish like this for your family. Sometimes trying a new breakfast dish like this one can lead to being one of the best meals your family has ever had! Using simple ingredients, you can make Breakfast Sliders for your family at any time of the week. They are savory and so delicious! If you get a chance to make these, let me know what you think.
Where can I find more large family breakfast recipes?
Breakfast doesn't have to be complicated to be filling and healthy. I know it may seem easier to buy pre-made breakfast items, but you can save lots of time and money just by making breakfast ahead of time with my Breakfast Freezer Meals Pack, it's number 10 in my Large Family Freezer Meals Series. It includes 10 amazing breakfast recipes with directions to help you make 25 breakfast meals to put in your freezer!If your freezer is already full or you just don't have the freezer space, then try my Easy and Simple Large Family Sheet Pan Breakfasts which includes 10 delicious and easy breakfast meals to make your large family. Save time and money!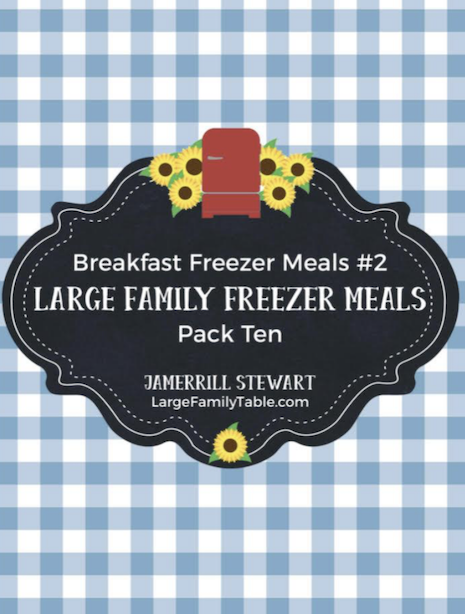 Looking for more Breakfast Ideas?
Here is our Homemade Breakfast Pizza.
Try our Egg & Potato Breakfast Bowl Bake.
Our delicious Cheesy Ham Souffle is going to be a big hit along with these Large Family Pumpkin Pancakes.
Large Family Breakfast Sliders
Print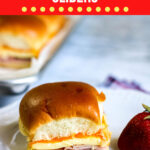 Breakfast Sliders | Large Family Table Breakfast
Author:

Prep Time:

25 Minutes

Cook Time:

30 Minutes

Total Time:

55 minutes
---
Description
Create these Breakfast Sliders for your family next weekend. It'll be wonderful to have something different, but equally delicious. 
---
Ingredients
2 packages (12 count) classic dinner rolls

1 stick butter, melted

10 eggs

¼ cup milk

½ teaspoon onion powder

Salt and pepper, to taste

1 (16 ounce) package sliced ham

15 to 18 slices mild cheddar cheese
---
Instructions
Slice rolls horizontally with a serrated knife. Place the bottom half of the rolls on a 17×11 inch rimmed baking sheet lined with parchment paper.

Brush half of the butter over the bottom part of the rolls.

Place ham over the bottom of the rolls.

Preheat oven to 350 degrees. Prepare a 17×11 inch baking sheet with parchment paper.

Whisk together eggs, milk, garlic powder, salt, and pepper. Pour over parchment paper and carefully place in oven. Bake for 15 to 20 minutes or until set. Remove from oven and transfer to the open rolls.

Top the eggs with cheese and the top of the rolls.

Brush the top of the rolls with the remaining butter.

Bake in the 350 degree oven for 10 to 15 minutes or until the rolls are browned and the cheese is melted.

Cut apart and serve or wrap in parchment paper and place in a zip top freezer bag to store in the freezer. To reheat, leave the sandwich in the parchment paper and microwave for 1 minute. Let the sandwich rest in the microwave for 1 minute.
Keywords: Breakfast Sliders
It's easy to get in a cereal rut, but I hope you try some of these delicious breakfast ideas. And don't forget, you can always make them ahead, freeze them and pull them out each morning.
FREE Emergency Pantry Planning Pack!
Don't forget to sign up for the emergency pantry planning pack for free to help you plan your pantry meals! The free Emergency Pantry Planning Pack will help you plan your needed pantry items! Printable pages include pantry inventory, grocery lists, meal planners, list of pantry staple items, and more.