**Use special promo code HELLO20 to take 20% off your first order in the shop including the SUPER MEGA ULTIMATE Large Family Freezer Meals Bundle here! Get packs 1, 2, 3, 4, 5, 6, 7, 8 & 9!**
This Cheesy Ham Soufflé is a long-time family favorite recipe that is also perfect as a breakfast freezer meal! You can prep this Cheesy Ham Soufflé to bake and eat now, or meal prep it to place in the freezer for a later breakfast. With the holidays here in just a minute this Cheesy Ham Soufflé would be perfect to serve for Christmas brunch or New Years Breakfast.
On my last breakfast freezer meals freezer cooking day, I made a pan of this 11×18 Cheesy Ham Soufflé, Egg & Cheese Breakfast Burritos, Sausage & Cheese Quiche Breakfast Freezer Meal, and 24 LOADED Breakfast Biscuits!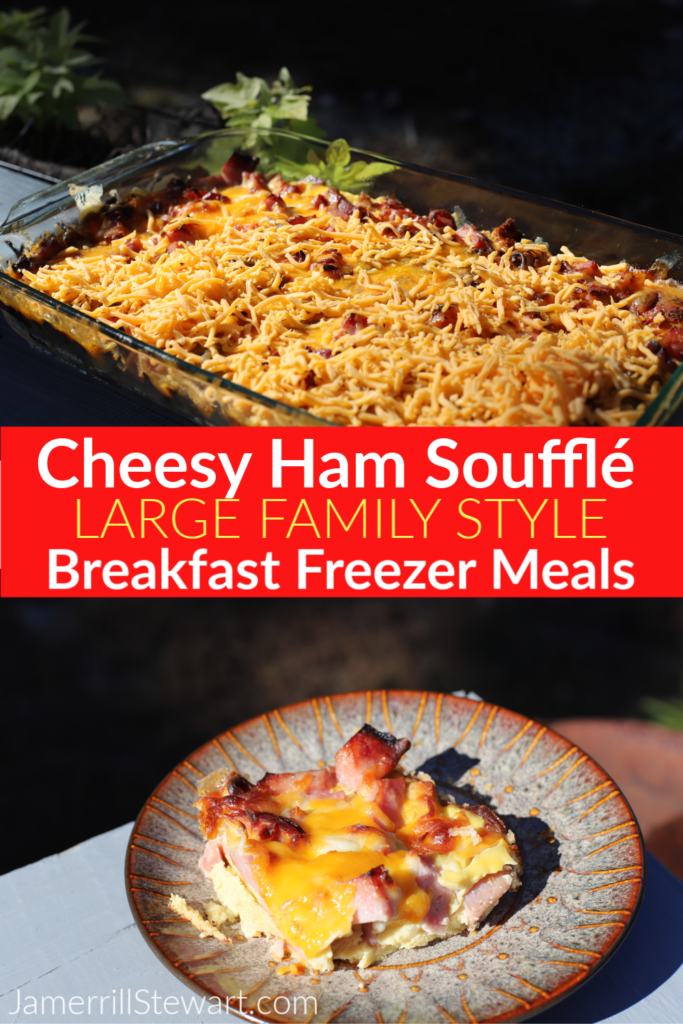 BREAKFAST FREEZER MEALS
Don't miss these additional family favorite breakfast freezer meal recipes on the blog! You can also find all of my favorite freezer cooking tools and kitchen supplies here.
My family loves French toast. It's so time consuming, though. So, I opt to make large batches to stock my freezer. The kids can warm them in the microwave for a quick, hot breakfast.
Baked oatmeal blueberry muffins can be made ahead and frozen for busy mornings. You'll have a delicious breakfast without a lot of hassle.
Mix up a huge batch of baked oatmeal chocolate chip muffins. Enjoy them straight from the oven or pop them in the freezer for later.
No matter what fruit you have on hand, you can whip up a few loaves of freezer fruit bread to enjoy with your family.
Cheesy Ham Soufflé Recipe
Print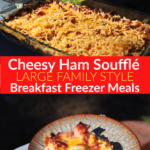 Cheesy Ham Soufflé
Author:

Prep Time:

10

Cook Time:

45

Total Time:

55 minutes

Yield:

One 11×18 Cheesy Ham Soufflé
---
Description
Meal prep an 11×18 pan full of this Cheesy Ham Soufflé! You can prep and bake this Souffle to eat now, or freeze it prepped but unbaked for later. This is a great large breakfast for serve for brunches, holiday meals, bridal showers, other events or just regular big family breakfast!
---
Ingredients
20 slices of bread, cubed
2 lbs of Ham, choped
3 cups shredded cheese
2 cups shredded cheese ( hold back for topping)
8 eggs
2 cups milk
1 tsp onion powder
1 tsp garlic powder
---
Instructions
In greased 11×18 pan layer all bread, ham, cheese.
Whisk together eggs, milk, onion powder, garlic powder, in separate bowl. Then pour egg mixture over dish.  Cover with remaining 2 cups of cheese.
 To serve immediately, bake at 400° for 45 minutes, or until hot and bubbly .
To freeze for later, wrap in two layers of foil and two layers of plastic wrap, labeling container and place in freezer. To serve, set soufflé out from the freezer into the refrigerator the day before.
Place in the oven following same about directions, only baking time may be increased slightly based on how thoroughly defrosted etc.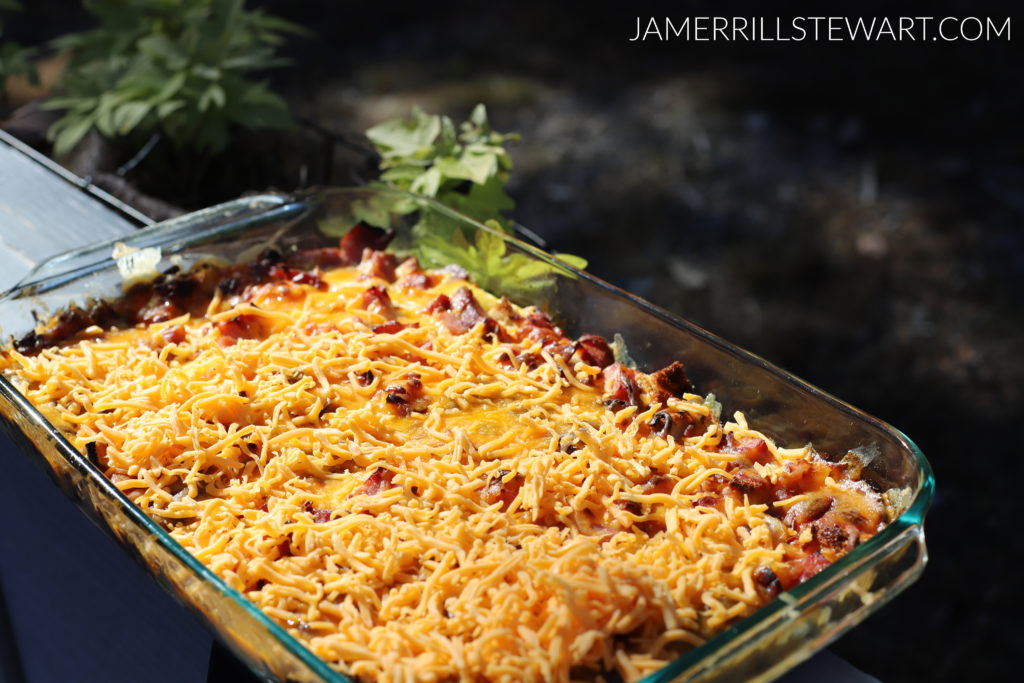 Don't miss my huge playlist of large family freezer meals and freezer cooking days!