Baked Oatmeal Chocolate Chip Muffins | Large Family Freezer Meal Recipes
Mornings can be crazy, can I get an Amen? Who wouldn't want a few dozen baked oatmeal chocolate chip muffins in a pinch?
Mama is trying to get herself going and the kiddos want breakfast. I bet I am not alone in finding my coffee, freezing cold, still sitting in the microwave where I put it hours earlier to heat up for the third time. It happens!
I have found over the years that having some type of freezer breakfast can be a saving grace for our mornings, especially the ones when we are trying to get out of the house for homeschool group or to hang out with friends.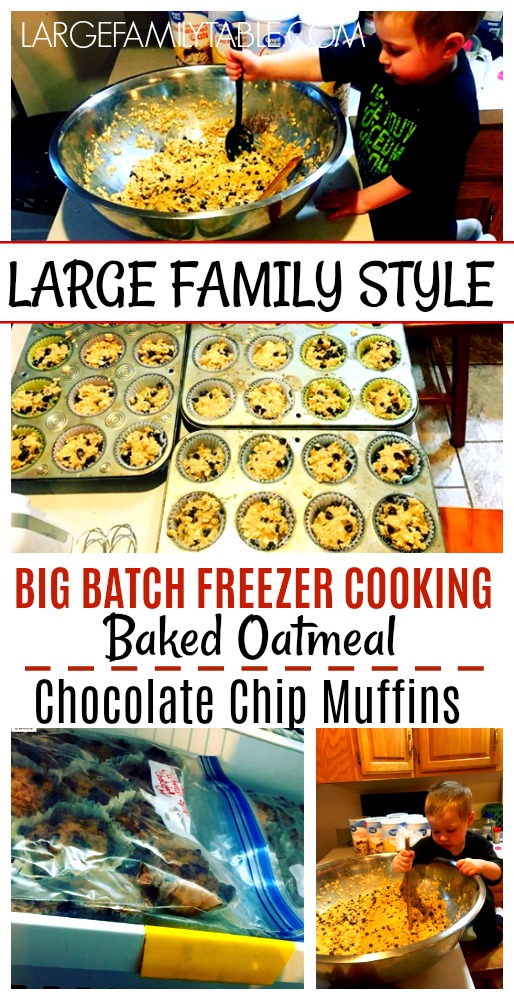 These baked oatmeal chocolate chip muffins fill that bill perfectly. I keep them in the freezer and pull out what we need the night before. In the morning, they are ready to stick in the microwave to warm up. They're also lovely straight out of the fridge cold.
I hope your family enjoys these as much as we do. I mean, chocolate chips…what's not to enjoy? ; )
Print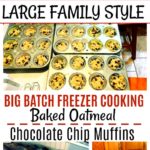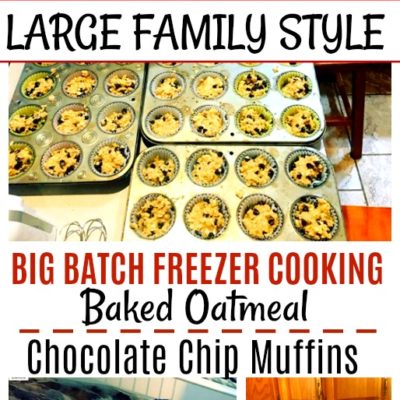 Baked Oatmeal Chocolate Chip Muffins | Large Family Freezer Meal Recipes
---
Description
Warm and delicious straight from the oven or perfect to stick in the freezer for later. Chocolate chips…need I say more?
---
Ingredients
12 cups old-fashioned oats
8 tsp. baking powder
4 TBSP cinnamon (I was out of cinnamon on this day, so feel free to use allspice or cloves instead)
4 cups brown sugar
2 TBSP vanilla
1 cup oil
2 cups applesauce
4 cups milk
4 cups chocolate chips
---
Instructions
Mix all dry ingredients in a super-sized bowl.
Stir together wet ingredients, then add to dry ingredients.
Mix well.
Scoop into greased muffin tins or use muffin papers.
Bake at 375* for 30-35 minutes.
Cool completely and place in freezer zipper bags.
To serve, let thaw overnight and heat in oven on warm or microwave.
Makes 5 dozen.
FREE MEGA FREEZER MEALS PLANNING PACK!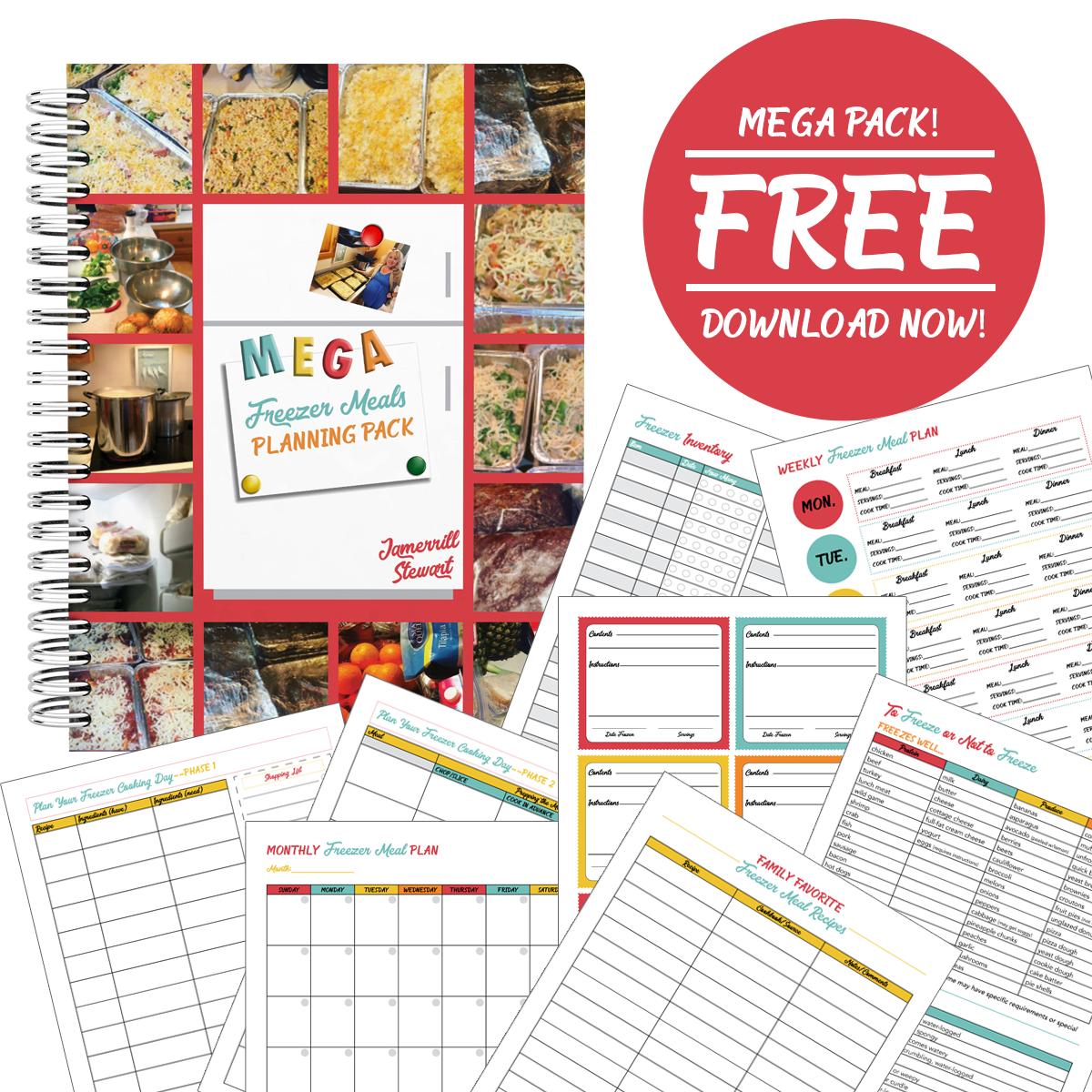 Sign up for your free Mega Freezer Meals Planning Pack here!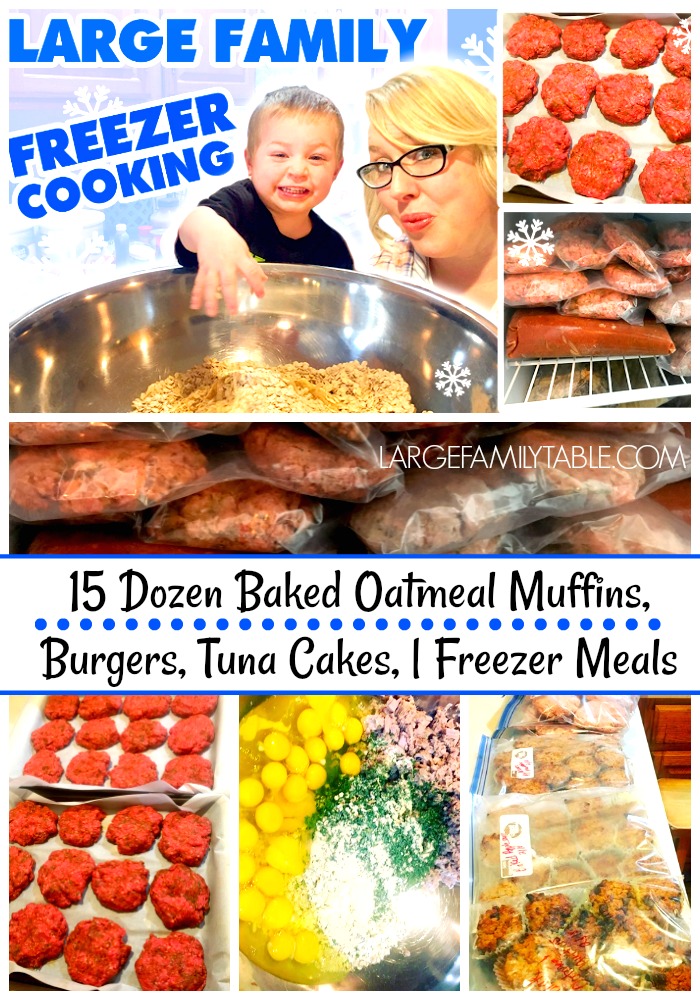 See these muffins in action here on Large Family Freezer Cooking: 15 Dozen Baked Oatmeal Muffins, Burgers, Tuna Cakes, | Freezer Meals!