I don't know about your family, but my family loves French toast. There's just something about that hot bread with the crispy coating of the egg and milk wash that makes mornings feel special. This french toast freezer meal recipe is perfect to load up your freezer for those busy mornings when breakfast has to be on the go.
The one downside of French toast is the time it takes to make it. All the dipping and the frying can take a while to do if you have a large herd to feed like I do.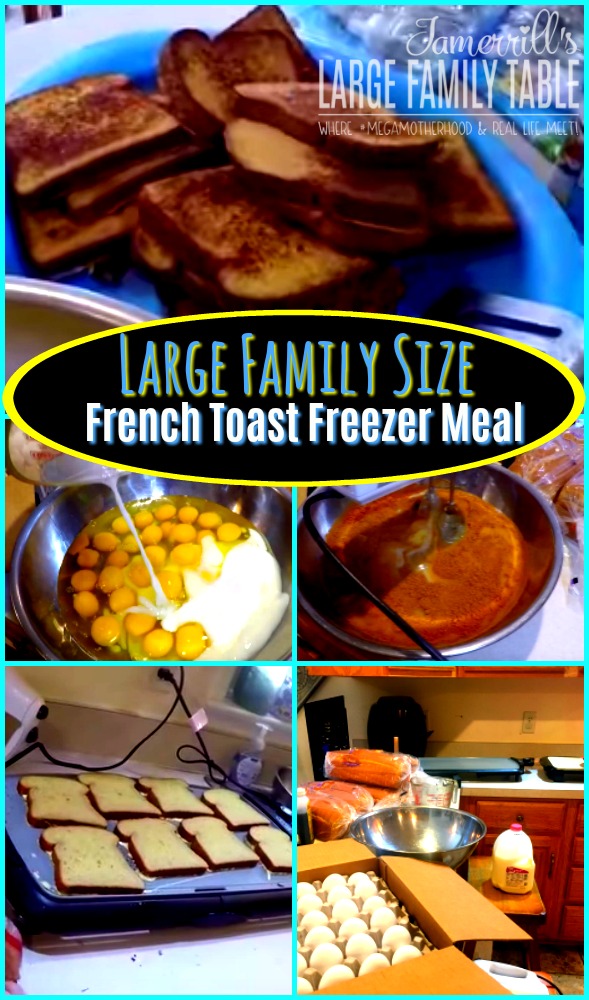 That's exactly why I started prepping and cooking my French toast ahead in bulk and putting it in the freezer for those mornings when we are craving it. I have shared many times about prepping French toast for the freezer but I have never given my recipe so I am doing that in this post!
Let me show you how easy it is to have French toast whenever you want it with some work on the front end.
And if you have a strapping young man at your house, by all means, set him up with a French toast cooking station. Zion manned our dueling griddles and got all this French toast done for me.
Print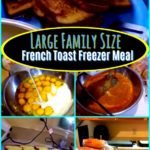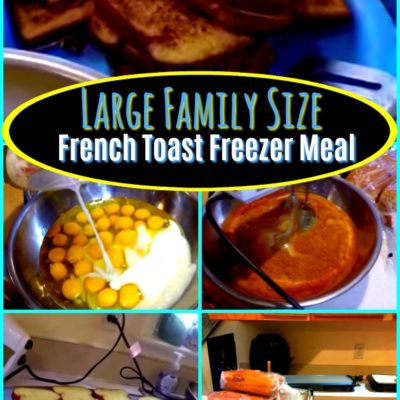 Easy French Toast Freezer Meal Recipe | Large Family Style!
---
Description
Enjoy hot french toast any day of the week with this easy large family french toast recipe!
---
Ingredients
4 loaves of bread (8 dozen slices of french toast)
2 1/2 dozen eggs
4 cups milk
1/2 cup cinnamon
2 TBS vanilla
---
Instructions
Mix eggs, milk, cinnamon, and vanilla in a large mixing bowl. I like to use my hand mixer for this.
Spray electric griddle or stovetop pan with non-stick spray and warm to medium heat.
Dip individual slices of bread into french toast egg mixture. Do a quick dip so the bread doesn't get soggy!
Place dipped bread on electric griddle or stovetop pan to cook. Continue adding more pieces until pan is full.
Flip each piece of french toast after 45-seconds to one minute depending on the heat temp settings. Cook evenly on both sides.
---
Notes
To freeze: Place french toast on a large platter to cool. Once pieces have cooled stack approximately 12 pieces at a time in a gallon size freezer bag. When you'd like to have french toast for breakfast just set a bag of frozen french toast from the freezer into the refrigerator the night before. To serve warm in the microwave for 1 to one and a half minutes. Serve with warm butter, syrup, and a sprinkle of powdered sugar!
Let me know if you make a boatload of french toast for your freezer! I've made french toast in the freezer for years. Most recently this recipe was in my 30 Large Family Meals in 10 Hours vlog from my latest large family freezer cooking day.