Homemade Cornbread | Freezer Friendly Large Family Recipe
If you've been around these parts for very long, you know how much my family loves cornbread. Mr. Travis's favorite meal is beans and cornbread and we have it once in awhile for our big weekend meal. As easy as it is to make cornbread, it's even easier if I already have it made and in the freezer.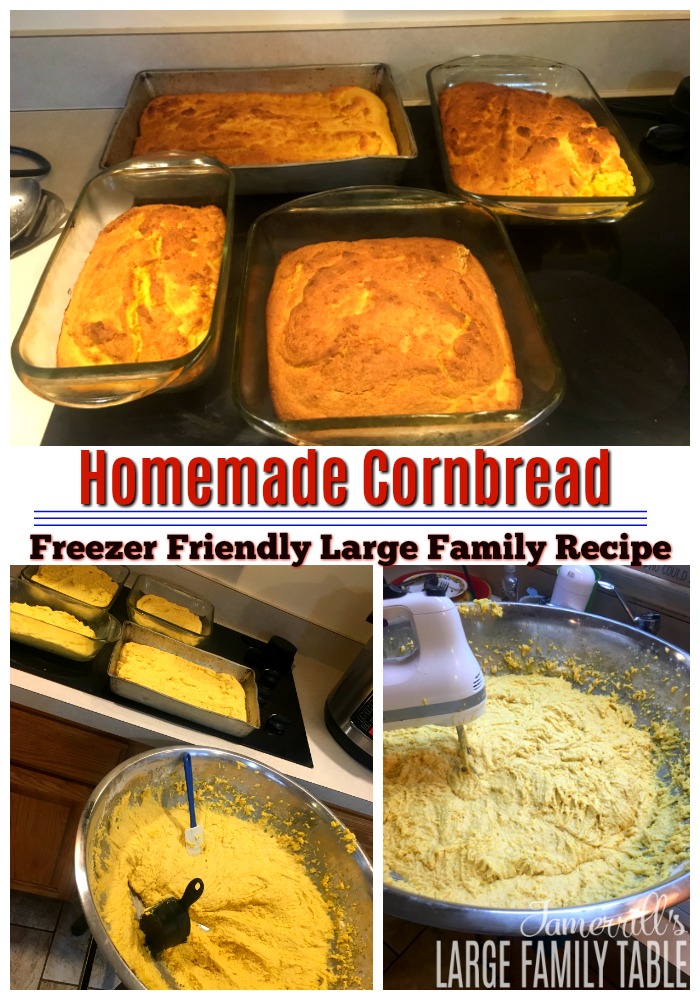 That way, I can pull out a loaf or 2, or 4 haha, on Saturday night and we have cornbread ready to go for our lunch after church on Sunday. This is my "mixed by hand and baked in the oven" recipe, but I also make cornbread in the bread machine. You can see that homemade cornbread recipe here!
When I make a batch of cornbread this big, I use my trusty 30-quart mixing bowl and my hand mixer. You can certainly cut this recipe down to whatever size suits your family. I got 7 pans of cornbread from this batch.
Here are my Amazon affiliate links to see my favorite 30-quart large family size mixing bowl.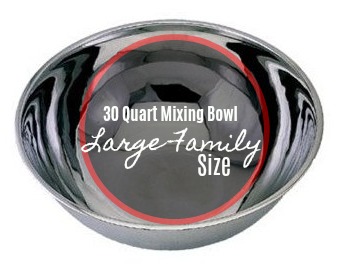 Print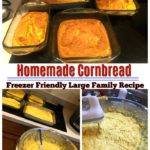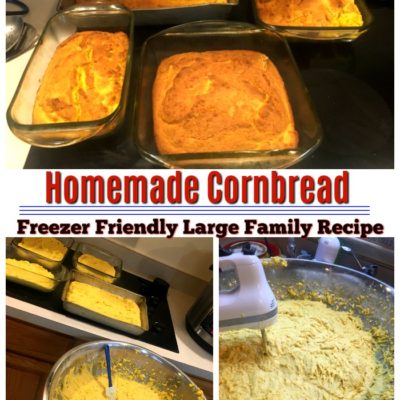 Homemade Cornbread | Freezer Friendly Large Family Recipe
---
Description
If your family loves cornbread, be sure to have plenty in the freezer so you can enjoy anytime you like!
---
Ingredients
8 cups cornmeal
8 cups flour (I used all-purpose but you can use whole wheat or a combination of the two)
2 cups sugar (or your preferred sweetener)
10 TBSP baking powder
4 tsp salt
10 cups milk (I eyeball the milk and add a little more or a little less as needed to get the consistency I want)
2 cups oil
8 eggs
---
Instructions
Stir together dry ingredients in mixing bowl.
Add wet ingredients and use hand mixer to combine thoroughly.
Grease 13 x 9 (or any size) pans and add cornbread batter. Spread batter evenly in pans.
Bake for 25 minutes at 425*.
---
Notes
I used several different size pans for this mega-recipe. I had a few 13 x 9's, a 13 x 11, an 8 x 8, and who knows what else Jamerrill found. : )
Just be careful if you use smaller pans that the cornbread doesn't overcook.
To freeze: cut each large loaf in half and store in a freezer storage bag.
Take out however many loaves you need the night before you plan to use them. Reheat right before you're ready to eat in the microwave or a warm oven.
I shared this recipe on my recent 30 Large Family Meals in 10 Hours post here. See this cornbread plus many large family freezer meal recipes in action!