This homemade breakfast "hot pocket" freezer meal recipe is easy to prepare, easy to reheat, and even easier to eat while on the go in the car to church, homeschool, or just about anywhere. Batch cook 50 or more to plop in the freezer just waiting for your people to want to eat again. Isn't it weird how they all want breakfast every morning?
*Use special promo code HELLO20 to take 20% off your first order in the shop including the SUPER MEGA ULTIMATE Large Family Freezer Meals Bundle here!**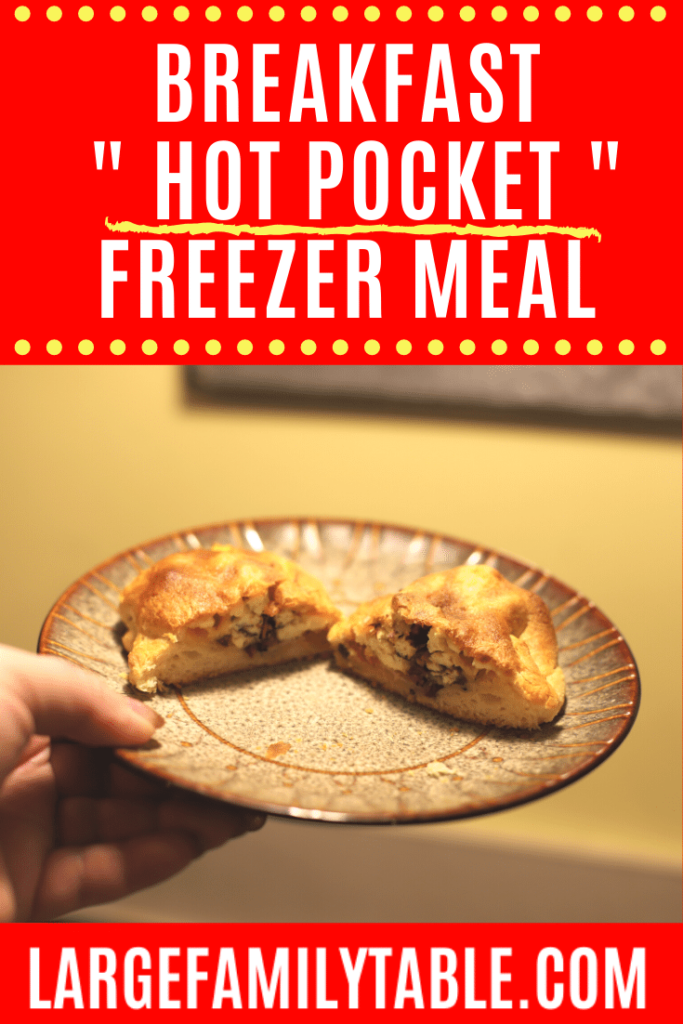 Travis just did a large grocery pick up for me so all my sausage and bacon is already defrosted. If you have it in the freezer then be sure to take it out overnight to thaw. Batch cook the sausage on the stove or the bacon in the oven depending on which version you're making. Often for oven bacon I will twist it and make it pretty. When I'm batch cooking bacon, I cut it in half and throw it as one piece. It gets us more bacon for our recipe and that's all that matters. Yes and amen.
Since we're doing a big breakfast freezer session, we need to make massive amounts of eggs. This would be so easy in the roaster if you preplanned. I like to take some time before starting a freezer cooking session to do all the prep work if I can . It doesn't always work out that way, does it?
Open up your cans of crescent rolls. You could certainly use homemade dough but this mama surely doesn't have time for that in this season of her life. It's the already canned variety for me. No shame in my game. Press 2 crescent dough triangles together at the seams to make one rectangle.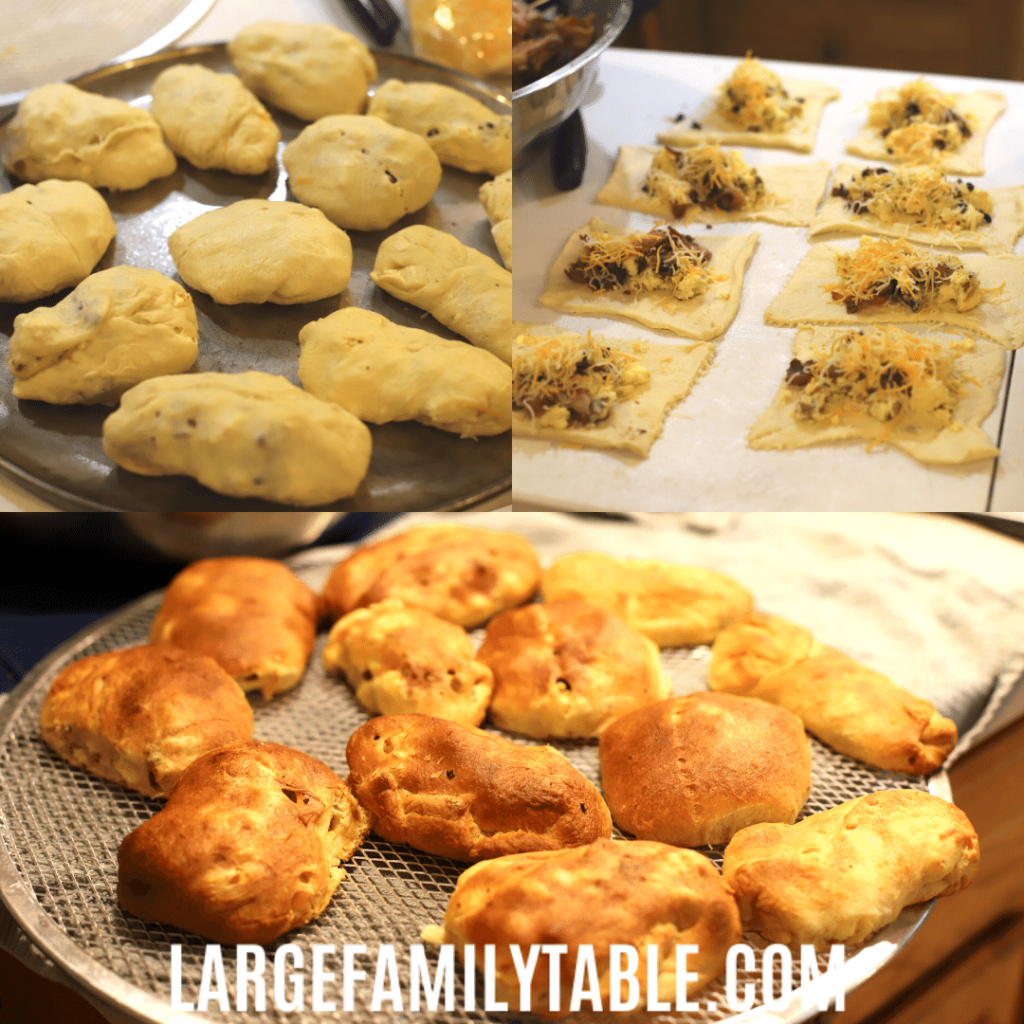 Put 2 dozen scrambled eggs, 2 pounds of already cooked sausage or bacon, into separate mixing bowl on the counter or table where you will be assembling them along with your bag of cheese. Throw a sprinkle of each onto the pressed out crescent roll. This is easy to scoop out using your hands. I don't know about you but I like to keep dishes at a minimum. Ha!
Fold in the sides as well as the top and bottom. Press the seams together to close the crescent rectangle around the mixture. Place on your sheet pan seam side down. Cook at 350 degrees for 15-20 minutes or until the dough is golden brown. Set aside to cool. Freeze individually for up to 6 months. Reheat in microwave for 2-3 minutes after unwrapping from aluminum foil.
Print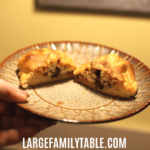 Homemade Breakfast "Hot Pocket" Freezer Meal Recipe
Author:

Prep Time:

15 mins

Cook Time:

15 mins

Total Time:

30 minutes

Yield:

50 hot pockets

Category:

Breakfast

Method:

Oven

Cuisine:

Freezer
---
Description
These homemade "hot pockets" are a great addition to your breakfast freezer stash to kep your family's bellies full while on the go.
---
Ingredients
2 dozen eggs, scrambled
2 lb sausage or bacon
2 cups shredded cheese
4-5 cans crescent rolls
---
Instructions
Scramble eggs and cook sausage/bacon beforehand
Put eggs, sausage/bacon, cheese in separate bowls in assembly station
Press 2 crescent roll triangles together to form a rectangle
Sprinkle a bit from each bowl onto rectangle.
Fold sides in toward center and press seam closed.
Place seam side down on sheet pan.
Bake at 350 degrees for 15 mins or until golden brown.
Let cool then wrap in aluminum foil then plastic wrap.
Place in freezer for up to 6 months.
---
Notes
Reheat in microwave for 2-3 minutes after unwrapping from aluminum foil.
Keywords: breakfast, freezer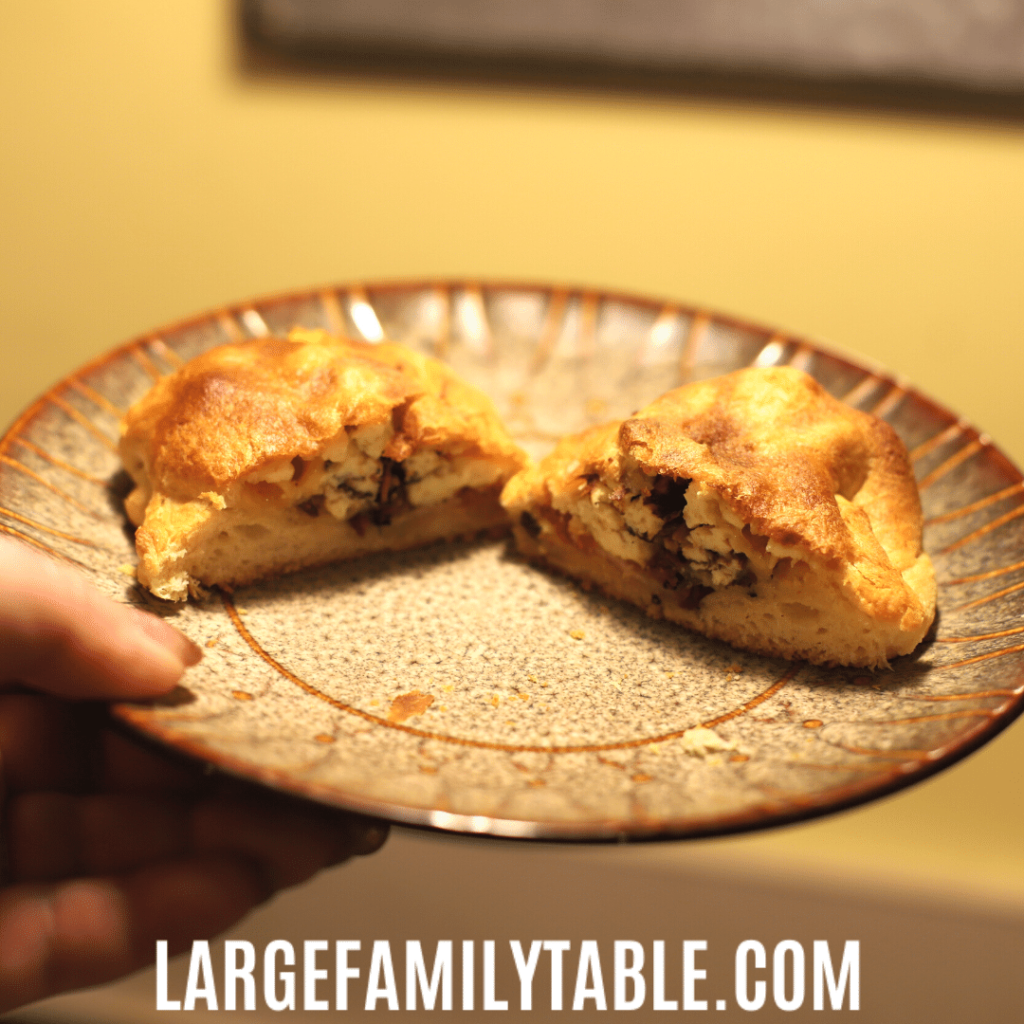 Your family is sure to love Homemade breakfast hot pockets. You will love having them already down in the freezer for those days when you gotta grab something and go. These babies are easy to reheat and are totally portable for in the car on your way to wherever.
Check out my breakfast freezer pack!