If carrot cake is one of your favorite desserts, you will love these Large Family Freezable Carrot Cake Muffins. They are moist, delicious, and great for a quick on-the-go breakfast treat.
If you enjoy our Carrot Cake breakfast cookies, it only makes sense to want to turn your favorite treat into something else you can eat for breakfast. The slightly sweet taste of carrot cake with hints of vanilla and cinnamon get replicated in this recipe for the Large Family Freezable Carrot Cake Muffins. These muffins are great for an on-the-go breakfast when you and your loved ones do not have the extra time to sit at the dining table and eat together. You can even pop these muffins in the freezer, saving them to keep them fresh until you eat them. If you have a dairy-free diet, then these are perfect as they are a dairy-free recipe! Yay!
****Use special promo code HELLO20 to take 20% off the entire MEGA DEAL get-it-all Bundle including the best-selling Large Family Freezer Meal Packs 1-12 + so much more!!****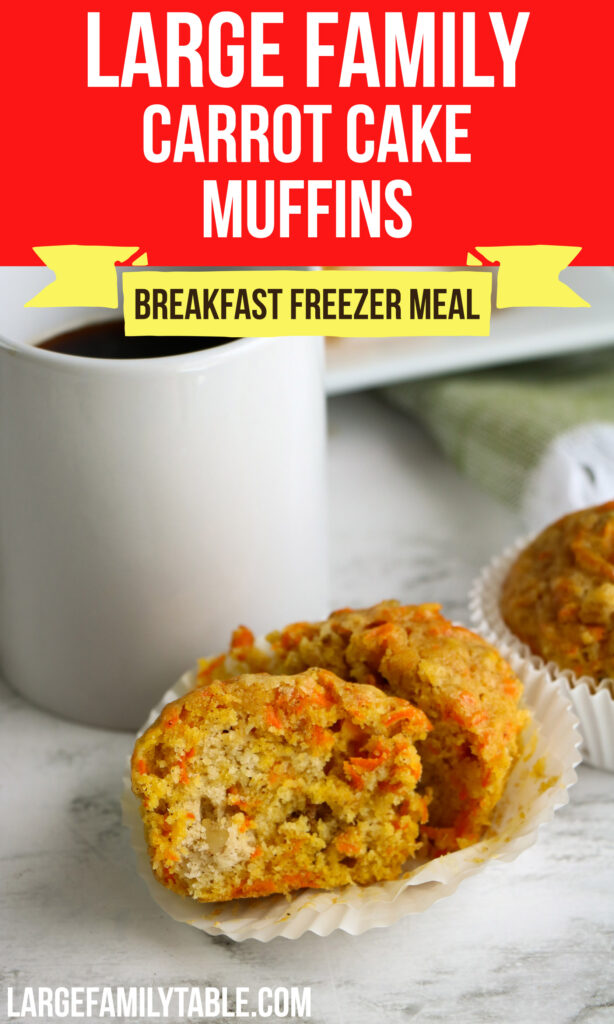 Ingredients For the Large Family Freezable Carrot Cake Muffins
If you have an interest in making the Large Family Freezable Carrot Cake Muffins, and adding them to your weekly menu plan, gather these ingredients:
All-Purpose Flour. You will use the all-purpose flour as the base for your muffin mix.
Baking Soda. Adding baking soda to the recipe is a must when you want fluffy muffins with the perfect texture.
Ground Cinnamon. The ground cinnamon adds excellent taste to the muffins to remind you of your favorite slice of traditional carrot cake.
Shredded Carrot. Make sure to shred your carrot into tiny pieces before you mix them in with your other ingredients.
Vanilla Extract. Using vanilla extract is the perfect way to give these muffins a sweeter taste.
Granulated Sugar. The granulated sugar also adds the perfect amount of sweetness to the muffins that is not too overpowering.
You will also need a few other ingredients, including salt, eggs, and vegetable oil. You can add chopped walnuts to the recipe, but that is entirely optional and depends on whether you like the extra crunch or not. You might also check out my must-have kitchen list to stock your kitchen!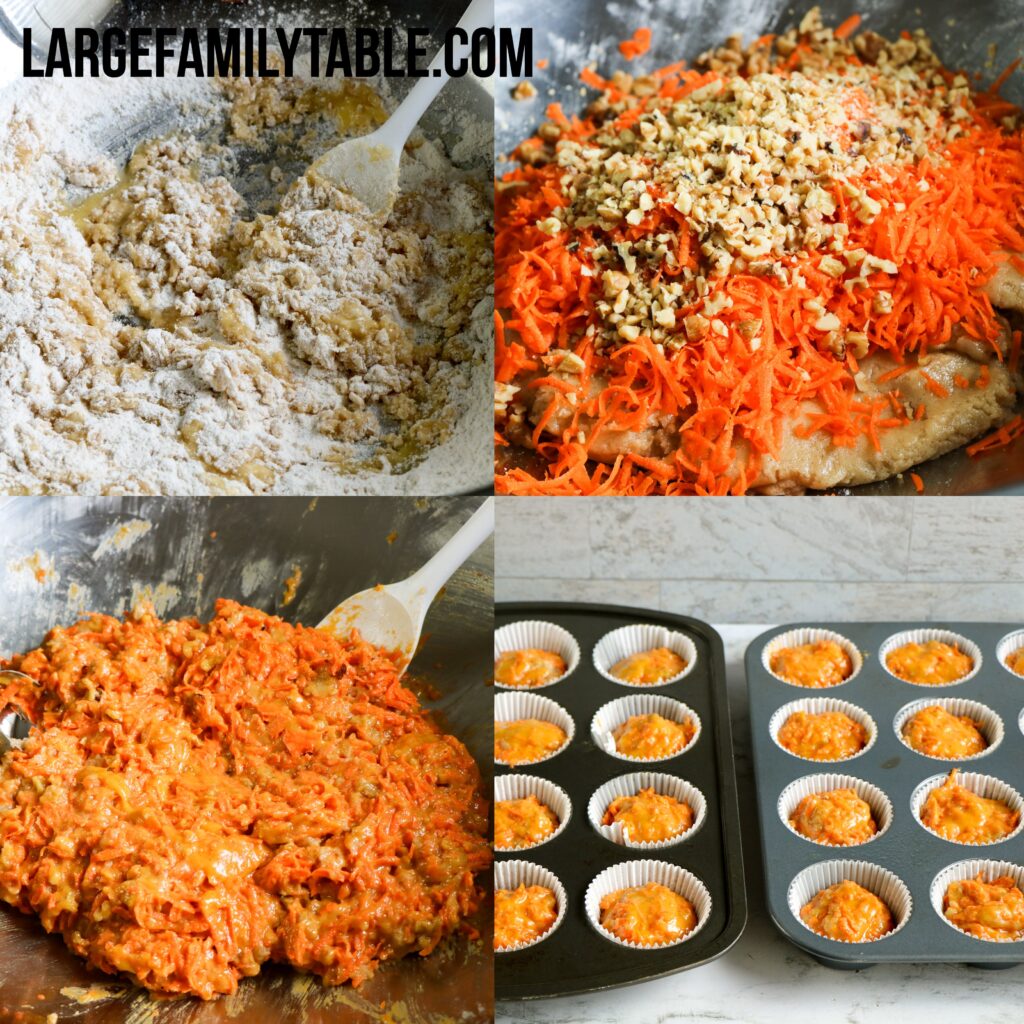 How to Freeze Your Large Family Freezable Carrot Cake Muffins
Allow your muffins to cool before you store them. While you can serve the Large Family Freezable Carrot Cake Muffins while they are still warm, you can save the extras in the freezer. Before you put the meal in the freezer, wrap the muffins individually in plastic wrap and then a sheet of foil to seal in the moisture.
You may then place the muffins in a large freezer bag with a zipper seal for added protection. Defrost the muffin in the fridge overnight or pop it in the microwave for 40-60 seconds to reheat the muffin before you eat it.
Be sure to check out our other freezer friendly muffins and baked goods!
Breakfast Recipes to Have with Your Muffins
You can enjoy the carrot cake muffins without anything else, or have them with other breakfast casseroles or breakfast meals. Here are 40 large family breakfast freezer meals, we also have English muffin breakfast sandwiches or waffle breakfast sandwiches. We have loaded breakfast burritos, Overnight Oats to keep your mornings simple, granola Bars for on the go, or Grits and sausage casserole for something a little more hearty.
Here are more freezable muffins and desserts your family will enjoy!
Where can I find more large family breakfast recipes?
It is so convenient to have breakfast freezer meals like these Carrot Cake Muffins on hand!! Breakfast doesn't have to be complicated to be filling and healthy. I know it may seem easier to buy pre-made breakfast items, but you can save lots of time and money just by making breakfast ahead of time with my Breakfast Freezer Meals Pack, it's number 10 in my Large Family Freezer Meals Series. It includes 10 amazing breakfast recipes with directions to help you make 25 breakfast meals to put in your freezer!
Large Family Carrot Cake Muffins
Print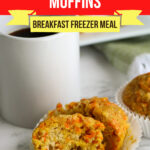 Large Family Freezable Carrot Cake Muffins | Make-Ahead Big Family Breakfast
Author:

Prep Time:

20 minutes

Cook Time:

15 Minutes

Total Time:

35 minutes

Yield:

24 Muffins

Category:

Baked Goods

Method:

Oven
---
Description
If carrot cake is one of your favorite desserts, you will love these Large Family Freezable Carrot Cake Muffins. They are moist, delicious, and great for a quick on-the-go breakfast treat.
---
Ingredients
3 cups all purpose flour
3 teaspoons baking soda
1 teaspoon ground cinnamon
1 teaspoon salt
1 ½ cup granulated sugar
4 large eggs, beaten
1 cup vegetable oil
2 teaspoons vanilla extract
3 cups shredded carrots
1 cup chopped walnuts, optional
---
Instructions
Preheat the oven to 350 degrees. Prepare two muffin pans with paper liners spritzed with nonstick cooking spray.
Whisk together the flour, baking soda, cinnamon, salt and sugar in a large mixing bowl.
Combine the beaten eggs, oil, and vanilla and stir into the dry mixture. Stir until the ingredients are moistened. Add the shredded carrots and stir until all ingredients are truly mixed. The batter will be thick.
Using a large spoon or cookie scoop, fill each cup ¾ full.
Bake for 22 to 25 minutes or until a toothpick comes out clean. Let muffins cool in the pans for 15 minutes before removing them to a cooling rack.
Keywords: Freezable Carrot Cake Muffins
These delicious delicious muffins are great for make-ahead snacks, on-the-go breakfast, or have handy snacks in the freezer. Plus, it's a great way to get extra veggies in picky eaters!
FREE Emergency Pantry Planning Pack!
Don't forget to sign up for the emergency pantry planning pack for free to help you plan your pantry meals! The free Emergency Pantry Planning Pack will help you plan your needed pantry items! Printable pages include pantry inventory, grocery lists, meal planners, list of pantry staple items, and more.