Fill Your Freezer With Large Family Breakfasts (Great for Prepping for Baby's Arrival & REAL LIFE!)
We've all heard that breakfast is the most important meal of the day, but busy moms know that getting a hearty and filling breakfast made first thing in the morning is easier said than done. Let me help you put a plan together to fill your freezer with some Large Family Breakfast Freezer Meals that are perfect to pull out for ready to go breakfasts!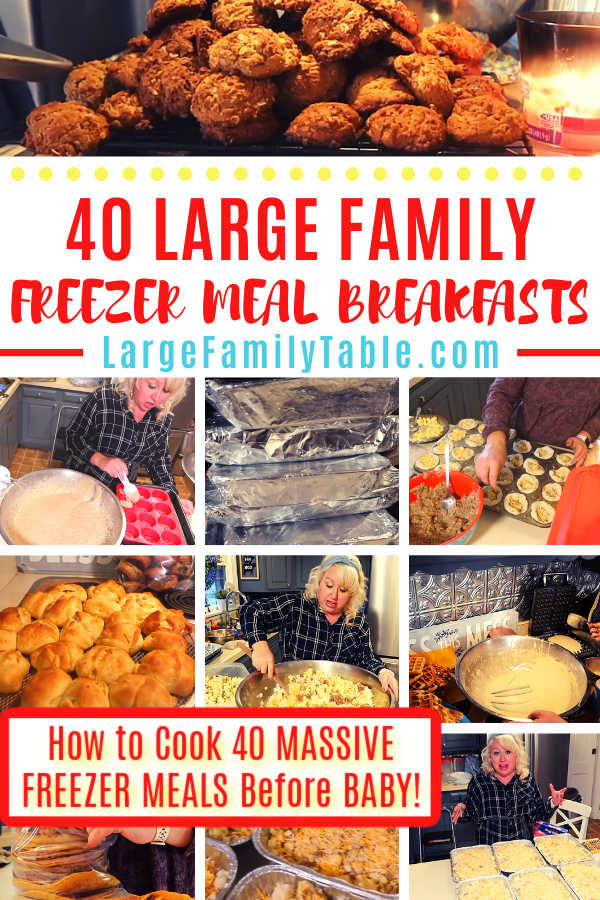 Large Family Freezer Meal Prep
In my newest How to Cook 40 MASSIVE FREEZER MEALS Before BABY video on YouTube, I share how I freezer meal prep and cook up 40 large family freezer meals for easy breakfasts for my family over the coming months. I spread these family freezer meals out and make them work for ME! You will love these large family meals and mega breakfast recipes. I mega cook up over 5 dozen eggs in my glorious 30 qt mixing bowl, make tons of muffins, breakfast bakes, waffles, dozens upon dozens of breakfast cookies, and super lots more.
Easy Postpartum Freezer Meals
Freezer meals are perfect to fill your freezer before baby. You'll have freezer meals before the baby comes and in your postpartum weeks that follow. I use freezer meals for a big family even when I'm not pregnant, but when I am pregnant these freezer meal recipes are the very best! You'll also love my postpartum dinner freezer meal ideas of how to cook 40 freezer meals for new moms in ONE evening.
With my Large Family Freezer Meals Pack Ten 2nd Breakfast Edition, you'll get a delicious variety of breakfast recipes to fuel your family in the morning. I also include a detailed shopping list and my Big Batch Freezer Meal Cooking Prep Guide where I walk you step-by-step through the process. With a little planning, and an afternoon of prepping & cooking, you can be ready for weeks of hearty breakfasts for all of your hit-the-ground-running kind of days. And your kids will love them!
What Large Family Breakfast Recipes Are Included?
In my Large Family Freezer Meals Pack Ten I've included a variety of breakfast recipes and ideas, from egg & cheese dishes to pancakes, waffles, and muffins.
Large Family Recipes included –
Egg & Potato Breakfast Bowl Bake
Applesauce Muffins (a family favorite)
Sausage & Cheese Quiche
Pumpkin Pancakes
Loaded Breakfast Biscuits (will be a favorite!!)
Peanut Butter Banana Breakfast Cookies
Oatmeal Blueberry Muffins
Homemade Breakfast "Hot Pockets"
Make-Ahead Waffles (will save your life for days!)
Sausage, Egg, and Cheese Breakfast Burritos
Kitchen Tools That Make Large Family Freezer Meals Cooking Easier
Y'all know I'm a firm believer in the use what you have mentality. The best tools are the ones you actually use, right? But I get asked all the time about what I use in my kitchen, so here ya go on My Favorite Large Family Cooking Tools Page!
Watch Me Prepare a Massive Amount of Large Family Breakfast Freezer Meals!
If you haven't already, be sure to subscribe to my happy YouTube channel – Jamerrill Stewart, Large Family Table.
(Don't forget to spread a little "thumbs up" love to your favorite videos! 😍)
More Large Family Freezer Meal Cooking