In my new video, America's Cheapest Grocery Store | Large Family Grocery Haul, shop with me at Costco and Sharp Shopper and then join me for in my mega momma kitchen where we go over the amazing deals I discovered!!
🎉 Use Coupon Code HELLO20 to take 20% off the SUPER MEGA EXTRAVAGANZA BUNDLE which includes 50+ meal-time sanity-saving products like Big Batch Freezer Meal Guides 1-18!!! 🎉
America's Cheapest Grocery Store | Large Family Grocery Haul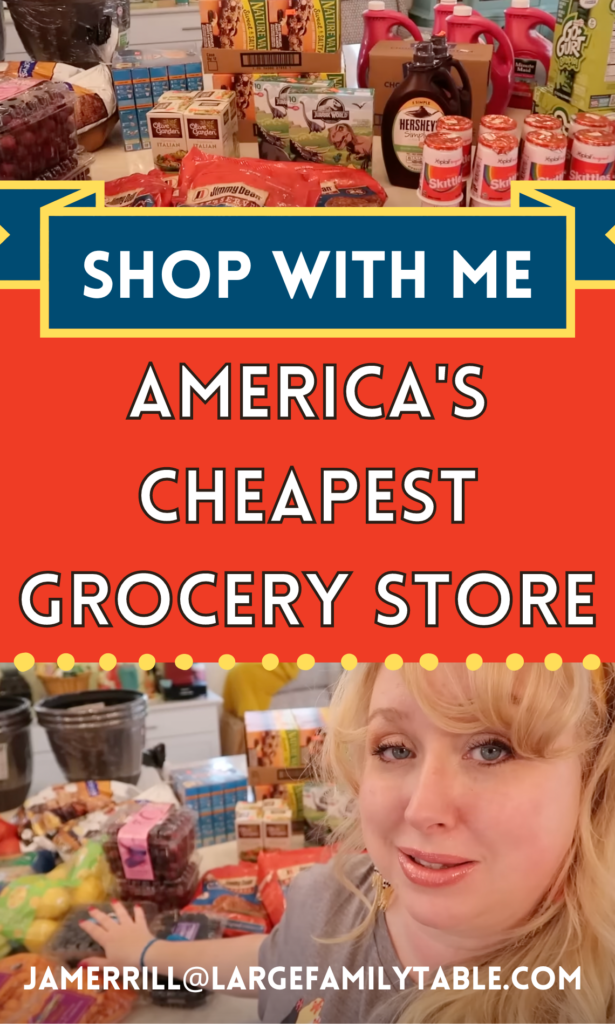 Join me on this Large Family Grocery Haul to America's Cheapest Grocery Store!!
Can you guess where we're going? That's right! Sharp Shopper!! Yay!!
Sharp Shopper is so good for snacks, frozen products, and meat. I also found some great deals on pasta!!
Shopping at Costco is also always a super fun event! We looked at all the awesome summer items like solar lights, beach chairs, coolers, toys, and so much more!! I was so tempted by the seeds and bulbs but, after my heirloom seed haul, I didn't "really" need them!!
There was just so much goodness to be found at America's Cheapest Grocery Store and Costco today but I had some decisions to make…What came home with me?
Sharp Shopper Finds
I didn't hit Sharp Shopper that hard this month, but I may end up taking another trip there in the next week or two to prepare for our large family beach trip! I just wasn't prepared at that point to think about what we needed. At Sharp Shopper, we bought some frozen cookies for 99 cents a pack because we have run out of our homemade freezer cookie dough. We found Skittles Yogurt for six for $1. I bought these as a special treat for this week! I was pleased to find Olive Garden dressing packs for 50 cents each. Wow! Also, there was more yogurt–Gogurt for $3.99 box, where Costco had it for $7.49! We picked up a big ole case Naked Chocolate Protein for $3.99/case, too.
What did CostCo tell us we needed?
Oh boy, at Costco we found lots of goodies! It is getting warmer here in VA and we also have a beach trip coming up, so I came across super cute summer clothes! Costco had a pack of four character shirts for $14.99! I got them for two of our boys who are close in age and can share clothes. We also grabbed some trash bags and zip locks bags, diapers, Lysol wipes, and sooo much laundry detergent because we breeze through that each month.
I also found a pack of four beautiful kitchen soaps for under $10. We also needed some waffles because we are finishing up our massive mega breakfast freezer meals from February. These freezer waffles will hold us over until my next mega momma cooking day. It's almost Easter, so I picked up a spiral ham for $2.29 a pound! I thought that was a good, decent price!! We bought a big bag of lemons for my lemon water, celery sticks, baby carrots, and some fruit, but, really, I went light on fruits and veggies at Costco. My very favorite place to get produce is our Jon Henry!
Momma couldn't resist some of the great outdoor finds at Costco! I picked up three packs of pots and an amazing wind spinner. I just love the one we bought last year and put in our pumpkin patch! It needed a friend.
The grand total at Costco was $605, which makes our monthly total so far this month $725 for our large family of 11. This sounds low, but you know how meat really adds up. We have a lot of meat on hand already so the only meat product I needed was the Easter ham!! That made this haul much easier on the wallet!!
Join me for this Sharp Shopper and Costco Haul over on YouTube!!! There were so many great finds, way too many to list here!!
🎉 Find it ALL Here!!
You can get all my 50+ Recipe Packs in my meal time sanity-saving Super Mega Extravaganza Bundle! It includes all the food products in my shop through Fall 2022!! You will get so many recipes, make-ahead and freezer meals, lots of sheet pan meals, baking bundles, and planning packs to help you organize all your meals (breakfast, lunch, and dinner) and so much more. That's why I call it the Super Mega Extravaganza Deal!