?Get the Best-Selling Large Family Freezer Meals Collection here! Use promo code HELLO20 to take 20% off your first order. 🙂
If you love a flavorful lemon pepper chicken meal, this Lemon Pepper Drumsticks with Roasted Brussel Sprouts Sheet Pan Dinner Recipe is sure to be a hit! If you think you're not a fan of Brussel sprouts, you really should try them again. They are so good roasted with some avocado oil and lemon juice. You just might join the Brussel Sprouts Fan Club. 😀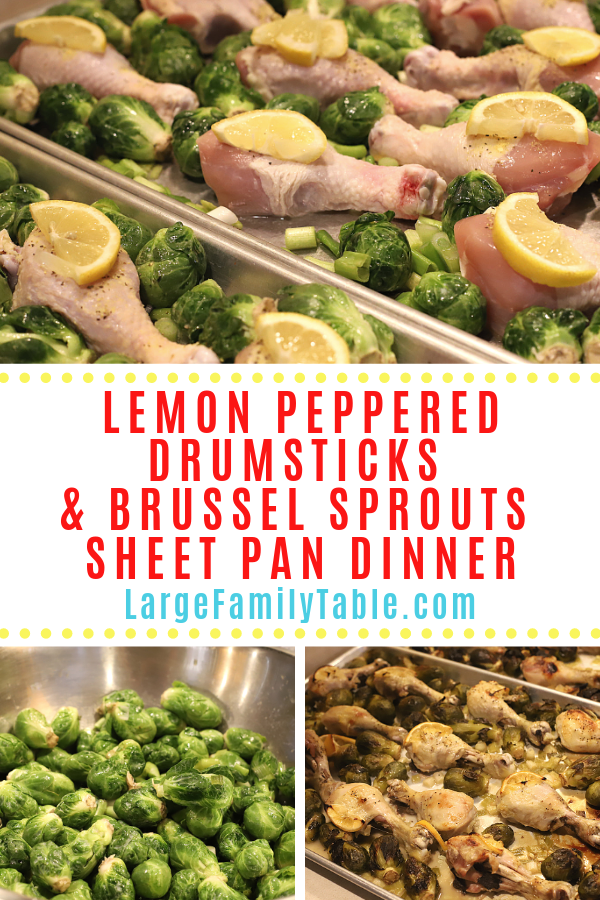 Lemon Pepper Drumsticks with Roasted Brussel Sprouts Sheet Pan Dinner Recipe
Chicken drumsticks are a great kid-friendly favorite dinner meat, and they are typically cheaper than buying chicken breasts. During grilling season, you can usually find some great deals on large packs of drumsticks. A good sale on meat is always awesome for the budget-conscious large family mom!
The Meat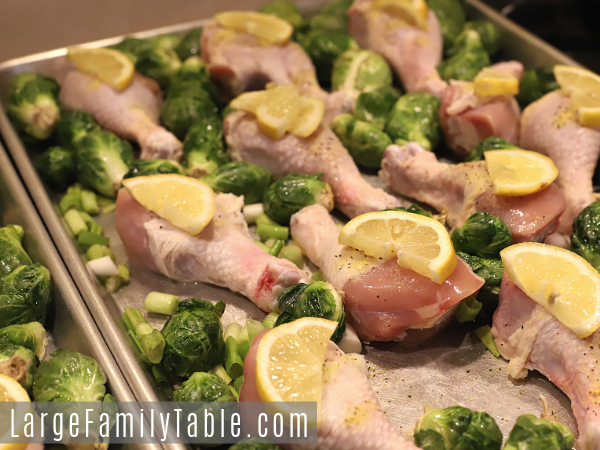 I used two big family packs of chicken drumsticks, which were approximately 4 lbs each (remember, that's bone-in weight), for a total of right around 8 lbs. I was blessed to pick these up on sale at Aldi for $0.99/lb!
The Veggies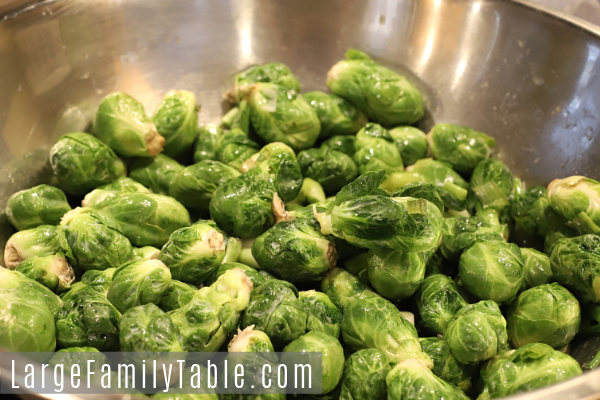 I used four 1 lb bags of Brussel sprouts and sliced up 4 green onions for an added touch of flavor. I tossed the veggies in a large bowl with some avocado oil, the juice of a whole lemon, and some zesty lemon pepper seasoning. The finished roasted flavor makes them the perfect companion for the chicken drumsticks. Yum-m-mm!
The Cooking
After the oven is preheated to 450°, and the minimal prep work is done, this Lemon Pepper Drumsticks with Roasted Brussel Sprouts Sheet Pan Dinner Recipe bakes up in around 40 minutes, or whenever the internal temperature of the chicken reaches 165°. Easy peasy, and so delicious!
Watch me prepare this recipe and 4 more Healthy Sheet Pan Dinners!
Print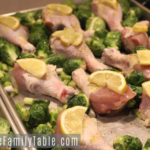 Lemon Pepper Drumsticks with Roasted Brussel Sprouts Sheet Pan Dinner Recipe
---
Description
Enjoy this fresh & zesty tasting Sheet Pan Dinner!
---
Ingredients
8 lbs chicken legs (bone-in weight)

4 (1 lb) bags of Brussel sprouts

4 green onions

3 lemons

1 TBS lemon pepper seasoning

1/4 cup avocado oil
---
Instructions
In a large bowl, place 1 TBS lemon pepper seasoning, the juice from 1 whole lemon, and 1/4 cup Avocado Oil. Roll 4 lbs of Brussel sprouts and 4 chopped green onions in oil-lemon juice mix, and place on two large sheet pans.

Spread out chicken legs over the two large sheet pans as well. Sprinkle lemon pepper seasoning over chicken legs and top with lemon slices from the remaining two lemons.

Bake at 450° for 40 minutes, or until chicken reaches an internal temp of 165°!
I hope you enjoy this healthy sheet pan dinner recipe! If you're looking for a good large family style sheet pan, here is my Amazon affiliate link to my exact sheet pans – https://amzn.to/2MzjgG7
More Sheet Pan Dinner Recipes