Large Family Dairy-Free Dinners
A note from Jamerrill: Hey there! My good friend Monica has a family of six. She has also been a foster mom to many and done home daycare over the years. Meaning, Monica feeds lots of kiddos. She has been dairy-free for a few decades and has a life-threatening tree nut allergy. Here on Large Family Table, Monica will now share with you her allergy diet wisdom, tips, and tricks she had learned over the years!
For all of you large family moms who need to make dairy-free meals, we've got you covered! Here you will find a list of 45+ dairy- free slow cooker, freezer, instant pot and oven meals to feed your crowd.
Cooking Dairy-Free Dinners
Cooking dairy-free dinners can be a challenge. Many of the basic casseroles and meals that are large family friendly include cheese as a main ingredient, which can be frustrating. It was a complete learning curve for me to learn how to cook with flavors instead of relying on cheese as a flavor. I found that international food was a great way to go as many other cultures do not eat as much dairy as our American diets include. Plus it tastes great! Other than that, I had to learn how to substitute dairy items in recipes. (More to come on that soon!) For now, I have compiled this delicious list of dairy-free meals to get you started.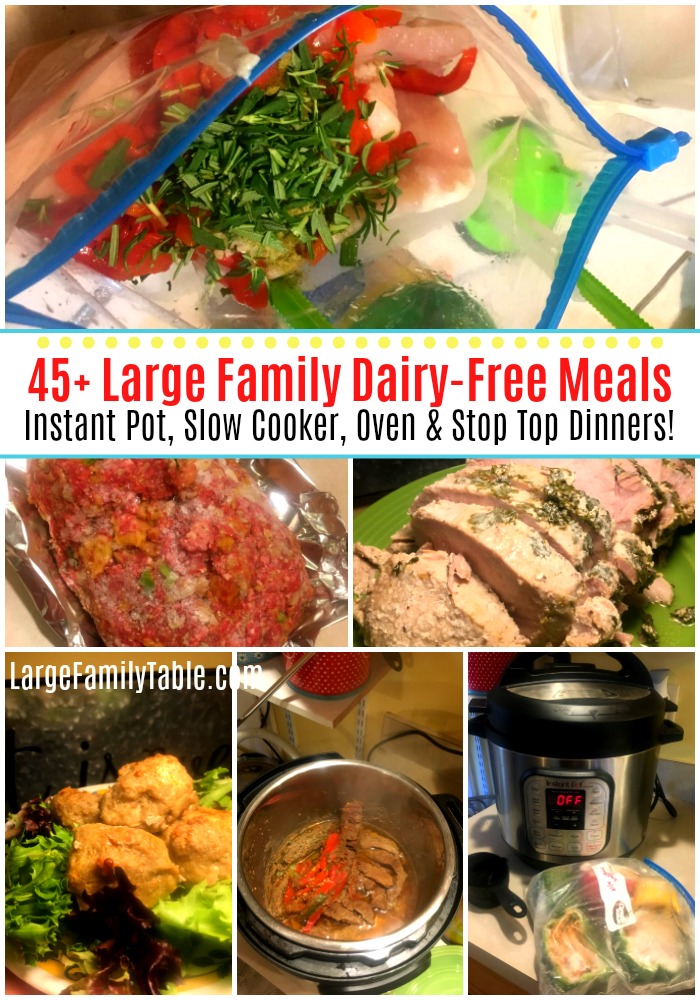 Dairy-Free Instant Pot or Slow Cooker Meals
I have recently added an Instant Pot to my kitchen and I can't begin to say how much I love it! It's easy and the flavors infuse so much better in my opinion. Of course, I still use my slow cooker, too, and the beautiful thing about many of these recipes is that that can be made both ways.
Are you in the mood for something Korean? Here's an Instant Pot Korean Beef meal that only takes five minutes to put together!
This tasty and versatile Rosemary Garlic Chicken can be placed in freezer bags for later, cooked in the slow cooker, or made in the instant pot. Your family will love this one as much as you do.
Trying to keep on Keto or Trim Healthy Mama? Try this Large Family Keto Instant Pot Beef Stew. You'll stay on your plan and the family will love the taste.
If you're tired of the usual roast beef, then try this Large Family Italian Peppered Beef Roast for the Instant Pot, Crockpot or Freezer.
This Coconut Lime Chicken is the perfect balance of refreshing and sweet.
Not sure what to make with that pork roast? Here's a Zesty Italian Pork Roast that's also freezer friendly.
Try something Asian inspired with this Sesame Orange Chicken.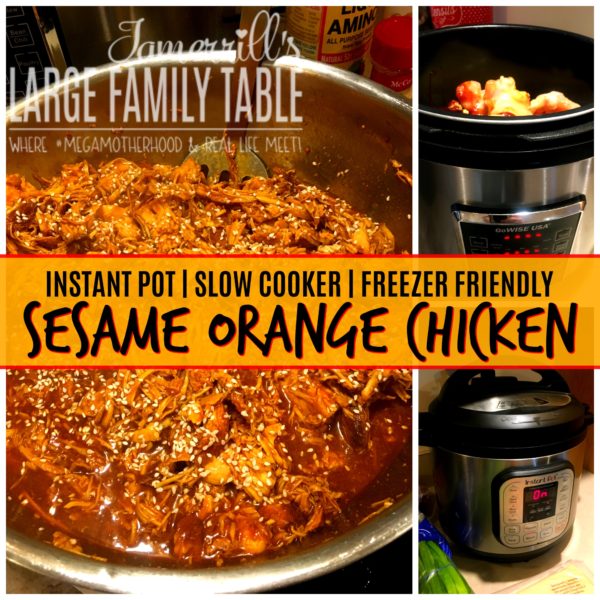 These large family sized Pork Chops are simple and tasty. They can be made in the slow cooker or Instant Pot.
Dairy-Free Slow Cooker Meals
This portion of the list if for the dairy-free slow cooker meals, however, if you are handy with the Instant Pot you can convert them. You'll also notice that some of these are already designed for the freezer, too.
Here is a Slow Cooker Meatloaf that includes the option of adding veggies to round out the meal.
You can make this Taco Meat recipe to suit everyone in your family. You supply the toppings to add and they get to make it their way. This is a nice option if you have people in your family who still can eat cheese because you can include that as a topping, too.
This Chicken Teriyaki is a family favorite in our house!
Beef Ragu is the perfect pasts dish for a busy night.
Freeze or make this Beef and Broccoli in the slow cooker. Either way, you'll love it.
Who doesn't love Sloppy Joes? They're kid friendly and great for parents, too.
Want to save some money but keep the taste? Make these Crockpot Beans and Rice, they're cheap and tasty!
This Turkey Chili Recipe is delicious, just replace the dairy toppings with toppings of your choice or enjoy it without toppings.
I like to add potatoes to this Ham and Beans meal and that rounds it out nicely.
Leave out the butter or replace it with olive oil in this Steak Roast and Brown Rice recipe.
Here's a Cabbage Soup recipe that is adaptable to Trim Healthy Mama. Be sure to leave out the butter or replace it with olive oil.
Try this yummy Chicken and Sweet Potato Stew for a great flavor and a hearty meal.
You'll love these Chicken Fajitas! Just throw them in the slow cooker in the morning and enjoy them at dinner time.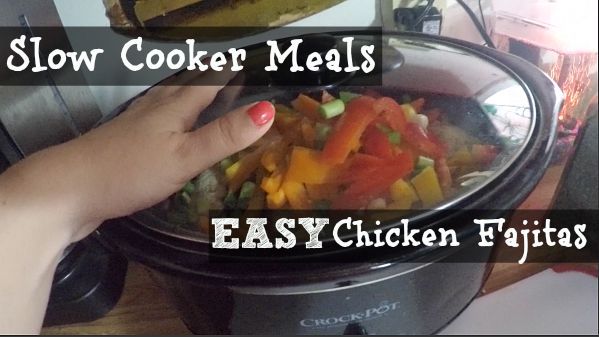 I love that this Slow Cooker Sausage and Spinach Soup Freezer Meal can be made immediately or put in the freezer for later.
Looking for a pop of flavor? Make this Thai Pineapple Vegetarian Curry . You will love these flavors and it takes so little work, too.
Dairy-Free Freezer Meals
If you are a freezer cooking mama, this list is going to make you happy! Wheather you make freezer meals to save your mama sainty or you have an impending big event coming (having a baby? traveling?) this list will get you set!
Your children will love this Chicken Fried Rice. It's a great place to start to introduce international food for the first time.
You'll enjoy the flavor combinations of this Sausage and Spinach Fried Rice.
There's nothing fancy in this Garlic Lemon Chicken, but it still tastes great! It's easy to make a batch for the freezer and keep on hand for those busy days.
Here is a Vegetable Beef Soup that's easy to throw together and stockpile in the freezer.
Don't be afraid to try making these Baked Egg Rolls just because you've never used a few of the ingredients. They're simple to make and you can tweak them to suit your likes.
If you love the flavor of curry, then try this Chicken Cauliflower Curry. This recipe makes two freezer meals for a large family so you can enjoy this meal twice as much!
These Low Carb Turkey Meatballs are the perfect choice if you are on the Trim Healthy Mama plan. Plus they're so good, too.
This Mexican Quinoa is a tasty meal. I like to serve salsa and chips and fresh fruit on the side to make this meal stretch for a large family.
Dairy Free Oven or Stove Top Meals
Our final list is ready for the oven or stove top. These dairy-free meals are still fast options, so don't worry about that! You just make them a different way.
This Puerto Rican Rice and Beans are delicious and serve 6. Of course, you can double it to feed more.
Here are Salmon Cakes and Oven Roasted Red Potatoes. I like to include fish of some kind on a regular basis.
This Chicken and Broccoli Stir Fry can be adjusted to suit any family size! Just apply the numbers you need into the drop-down menu.
Here's an easy Oven Fried Chicken with Corn Flake Coating meal for those nights when you are craving comfort food.
This Lemon Chicken Orzo is fairly easy to make and a great dish. Just add fruit or a salad and rolls, and its large family sized.
Double this Stuffed Bell Peppers meal and leave off the cheese topping to serve a large dairy-free family.
Here is a Korean Fried Beef that will be a favorite if you like Asian inspired meals.
Simple Chicken Broth Bowl is easy to make, but you will need to double this to feed a large family.
This Grilled Southwestern Steak Salad is perfect on summer evenings for a cook-out style dinner. Add sides like fresh watermelon, rolls or s'mores to make it stretch.
Double this Vegetable and Egg Fried Rice meal to make it a large family sized meal.
Don't want to clean up a mess? Try these Foil Packet Burgers and keep dinner mess free. Of course, you can leave off the cheese to keep them dairy-free.
Here is Mini Meatloaves. Don't be fooled by the name though, they're taste is not so mini.
Replace the butter with oil in this Brunswick Stew with Chicken and Pork.
Double this Maple Glazed Pork Chop recipe to make it large family sized.
Talk about flavor! This Beauford Stew is going to be all your family talks about if they love the flavor.
50 Keto Instant Pot Freezer Meals
Before you go, be sure to check out 50 Keto Instant Pot Large Family Freezer Meals!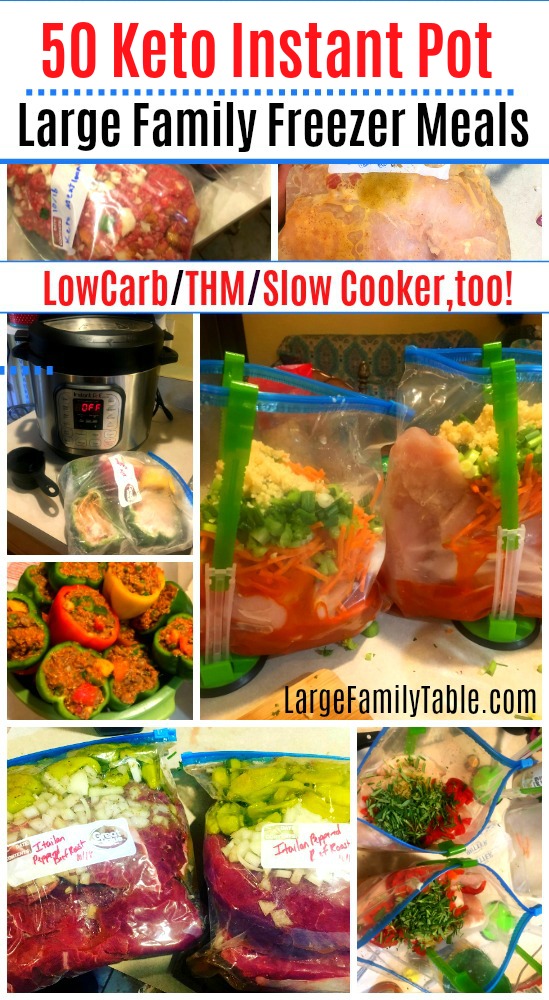 75+ Gluten Free Freezer Meals
Or if you are gluten free try our round up of 75+ Gluten Free Recipes.