I have mentioned many times in my videos over the past couple of years that I make my taco meat in the slow cooker. Today, I will be showing you how I prepare my meat, why I do it this way, and how we use this meat in several different ways.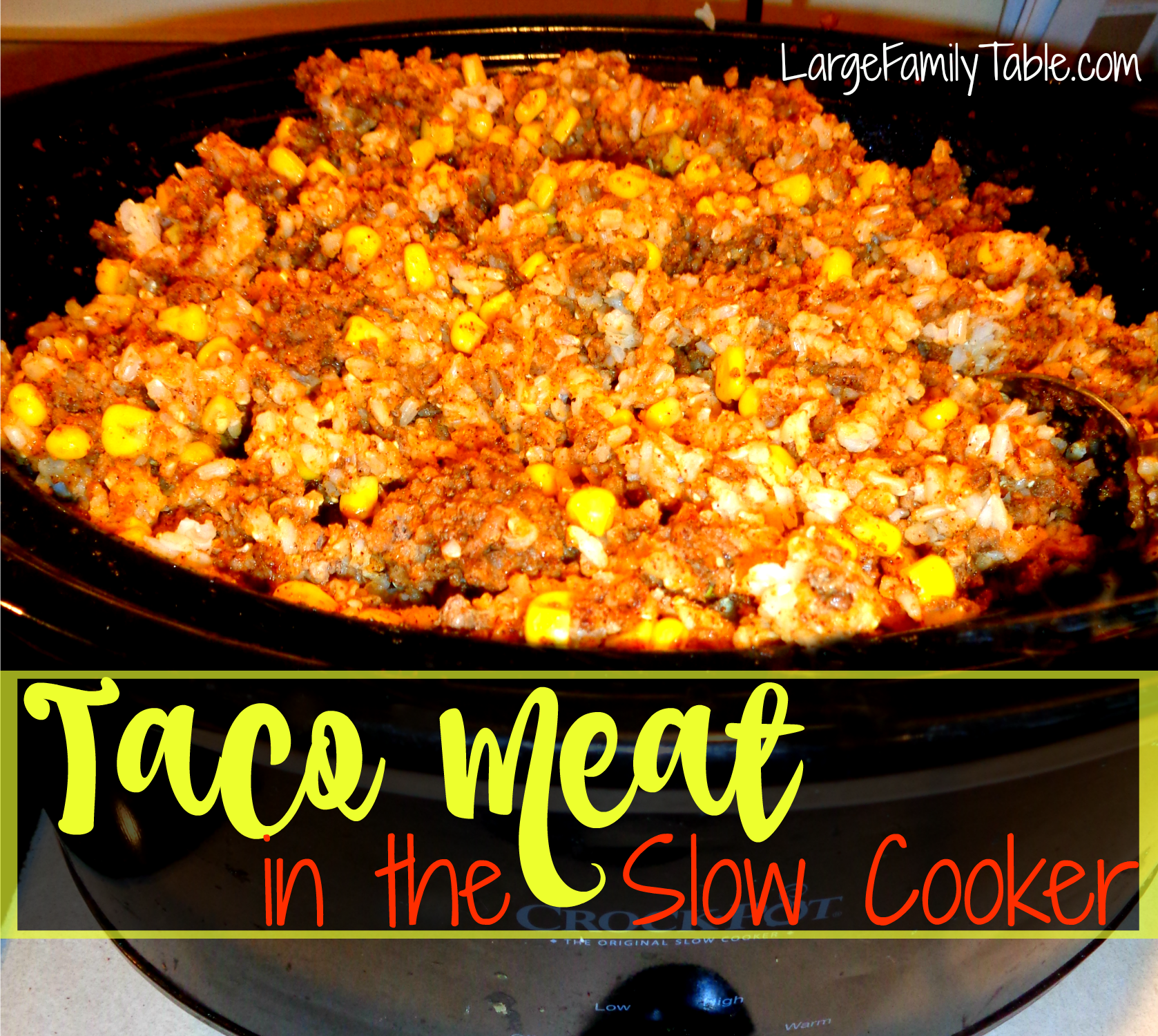 I've told you before that I usually make one big recipe for the weekends, and we eat off of that for the entire weekend. This slow cooker taco meat is perfect for that. You can use hard shells, soft shells; you can make taco salad, or nachos. There are just so many ways to use this meat without feeling like you're eating the same thing over and over. So if your family doesn't usually care for leftovers, this might be a good recipe for you to try.
Slow Cooker Taco Meat
This recipe is also very forgiving; I usually have beans cooked and ready to add in, but I forgot on this day until it was too late. So you can do it the way your family likes it. Add beans, leave out the corn, add hot peppers, leave out the rice. Tweak it to suit your family!
Print Slow Cooker Taco Meat
---
Ingredients
5 lbs. ground beef
2 lbs cooked brown rice
4 cans corn (I used 15 oz cans)
3 TBSP chili powder
3 TBSP garlic powder
3 TBSP onion powder
Salt and pepper to taste
Cumin – optional
Beans – optional
---
Instructions
Put ground beef in slow cooker.
Cook for 4 hours on high.
Drain fat off meat
Return meat to slow cooker.
Add rice, corn, spices, and any optional ingredients.
Turn slow cooker to warm.
---
Notes
Serve taco meat with hard or soft shells, chips, or on salad.
Top with cheese, lettuce, tomato, sour cream, hot sauce, or any other toppings you like.
Obviously, you can brown your ground beef on the stove top. But frankly, I don't have the 20 minutes or so it would take to do that, so I always use my slow cooker to brown my meat. I put the meat in, leave it for a couple hours, then I can just drain off the grease and my meat is ready to go.
(I always let my grease harden overnight and then scrape it in the trash the next day. Why? Because we have bears! Seriously, out here in the wilderness in Virginia, it is dangerous to leave any type of food or meat fat out. So I have to deal with the grease in other ways.)
I leave this meat mix on "warm" in the slow cooker while we do the things we need to do, then I reheat the meat if I need to later on. I enjoy mine on a soft shell with some lettuce, cheese, and hot sauce. I hope your family enjoys this as much as we do!
Be sure to comment below and tell me if you try it or any of my other recipes. I love to hear from you!
This Slow Cooker Taco Meat Recipe was featured in Large Family Meal Plan #1. You can find more large family meal plans here.
Slow Cooker Taco Meat
Click here to watch the full Taco Meat in the Slow Cooker Vlog!