Prepare a sweet treat with the perfect crunch by following this Candy Corn Poke Cake recipe. You can make this tasty harvest treat from scratch and serve it to the family or bring it into a party.
*Use special promo code HELLO20 to take 20% off your first order in the shop including the SUPER MEGA ULTIMATE Large Family Freezer Meals Bundle here!**
Preparing a Delicious Candy Corn Poke Cake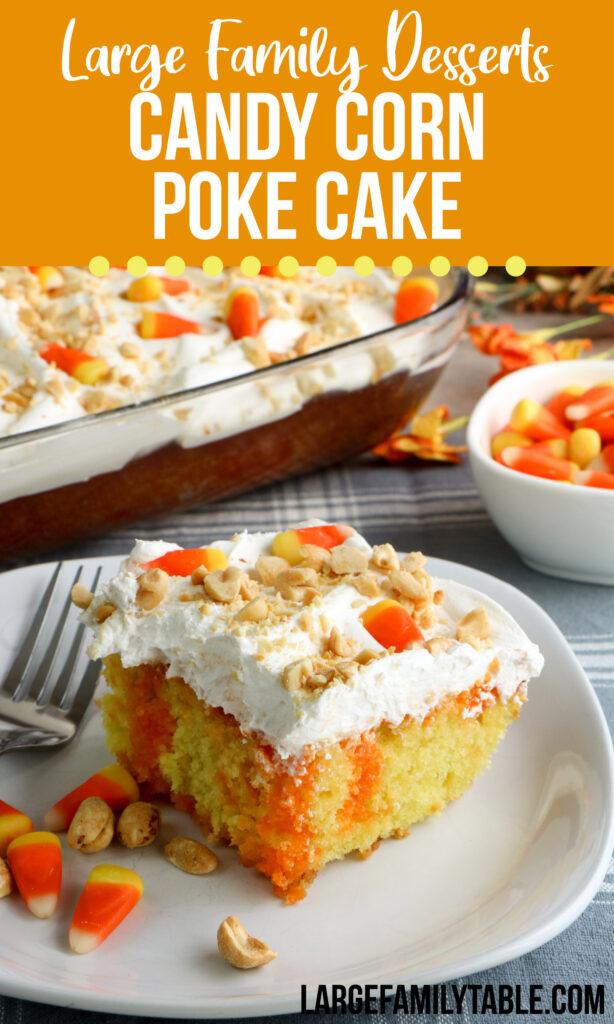 When trying to find the right dessert to prepare for a harvest gathering, it is safe to say that cake is always a good choice. I have never met someone who doesn't like to bite into a slice of cake.
Although the cake is delicious in general, this homemade Poke Cake is ideal for harvest because of its unique flavor, and use of one of the most traditional fall/harvest treats available—candy corn.
I love this recipe because even though it involves steps to make the cake from scratch instead of using a boxed cake mix, it is still easy to follow and prepare. The homemade taste truly makes a difference, giving this cake the perfect taste that everyone will love from the minute they take a bite.
I love this recipe because I can customize the color of the cake by using food dye. I can make the cake look as harvest-like as I want before adding the whipped topping and candy corn pieces.
The Ingredients to Use to Make the Candy Corn Poke Cake
When you want to make the Candy Corn Cake, you must have all the ingredients needed to bake a cake, such as:
All-purpose flour
Baking powder
Unsalted butter
Vanilla extract
The recipe calls for the ingredients that will help turn your cake into something that naturally tastes good. In addition to ingredients needed to make the cake itself, you will need the following essential ingredients to prepare the Candy Corn Poke Cake:
Candy corn to melt as a syrup for the poke cake and to add to the whipped topping to complete your cake
Frozen whipped topping of your choosing to use as icing for the cake
Food coloring to change the color of the cake and/or the icing for a custom harvest-themed Candy Corn Poke Cake
Chopped peanuts to add to the whipped topping with the candy corn for the perfect crunch
How to Modify Poke Cake When Needed
Although the recipe does call for chopped nuts to place on top of the cake with the candy corn, you do not have to use them if you have concerns about serving this cake to someone with peanut allergies. You could use a different type of nut that the individual is not allergic to, or simply skip the nuts completely.
You can choose the food coloring that you personally prefer. Although it is optional, food coloring drops are available in black, orange, and yellow, all of which are colors commonly associated with fall and harvest season.
While this is a recipe you can use to make a sheet cake, you can always choose to make Candy Corn Poke Cake Cupcakes by using a cupcake pan instead of a traditional cake pan.
You would simply need to sift small holes into each individual cupcake before adding your candy corn syrup on them and then finishing them off with a whipped topping, candy corn, and nuts.
Here are more desserts your family will enjoy!
Candy Corn Poke Cake
Print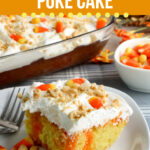 Candy Corn Poke Cake | Large Family Fall Desserts
Author:

Prep Time:

25 Minutes

Cook Time:

40 Minutes

Total Time:

1 hour 5 minutes

Category:

Dessert

Method:

Oven
---
Description
This Candy Corn Poke Cake will turn any boring day into a fantastic one. Fall is here, so it's time to celebrate with this candy corn inspired cake. 
---
Ingredients
2 cups all purpose flour

1 teaspoon baking powder

½ teaspoon baking soda

½ teaspoon salt

½ cup (1 stick) unsalted butter, room temperature

1 ¾ cups sugar

1 teaspoon vanilla

3 eggs, room temperature

1 ⅓ cups buttermilk

Yellow food coloring, optional

1 ½  cup candy corn, divided

¾ cup water

1 (8 ounce) container frozen whipped topping, thawed

½ cup dry roasted peanuts, chopped
---
Instructions
Preheat the oven to 350 degrees. Prepare a 9×13 baking dish with non-stick cooking spray.

In a medium bowl, whisk together the flour, baking powder, baking soda, and salt. 

In a large mixing bowl, beat the butter until fluffy. Slowly add the sugar and beat until completely incorporated. Add the vanilla and eggs, beating after each egg is added.

To the mixture, add the flour in ½ cup increments, alternating each addition with buttermilk. Blend just until mixed. Do not overbeat.

If desired, add yellow food coloring and stir until combined.

Pour the cake batter into the prepared 9×13 baking dish.

Place in the oven and bake for 40 to 45 minutes or until a toothpick inserted in the middle returns clean.

Allow the cake to cool on a wire rack to room temperature.

Meanwhile, place ¾ cup candy corn and water into a saucepan and cook over medium heat, stirring occasionally until the candy corn has melted. Bring the mixture to a boil and boil for 1 minutes. Remove from heat and allow to cool slightly.

Using a bamboo skewer, poke holes into the cake. Pour the candy corn syrup over the cake.

Spread the whipped topping over the cake.

Top with remaining candy corn and chopped peanuts.
Keywords: Candy Corn Poke Cake
Your family is going to really enjoy eating and making this fun and tasty cake! Festive and tasty, it's sure to be a hit!
5-Day Freezer Cooking Challenge with Jamerrill!
FREE Freezer Cooking Quick Start Guide 17-page PDF with grocery list, recipes, full freezer cooking plan, cheat sheets, More!
I WILL HELP YOU fill your freezer with 10+ freezer meals including breakfast, lunches, & dinners!
Any family size or dietary needs can easily accommodate and follow along.