Let's talk about Homemade Cinnamon Rolls with Icing and how delicious it is! There has never been a better breakfast to make for your family than this. I'm going to show you how to make it and your family will want this recipe as many times as you're willing to make it! Oh, and if you're feeling adventurous then be sure to try our Pumpkin Cinnamon Rolls.
*Use special promo code HELLO20 to take 20% off your first order in the shop including the SUPER MEGA ULTIMATE Large Family Freezer Meals Bundle here!**
Homemade Cinnamon Rolls with Icing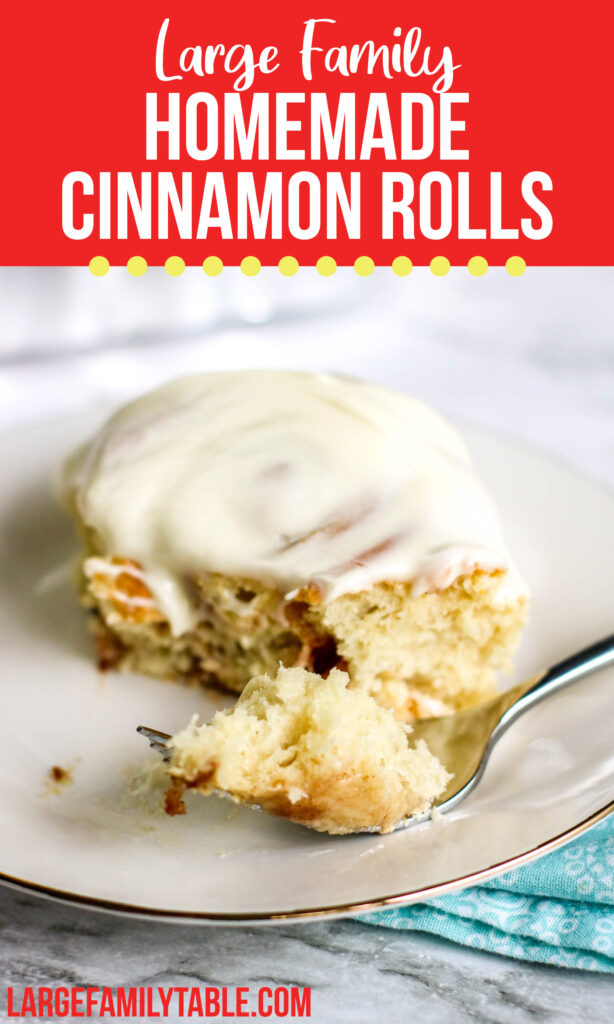 It can be hard to find a recipe for cinnamon rolls that can feed a large family. At my large family table, no one goes without having a cinnamon roll for dessert or for a special breakfast treat! Everyone needs to tastes this deliciousness. Homemade Cinnamon Rolls with Icing is sure to satisfy any sweet tooth!
Ingredients for Cinnamon Rolls With Icing
Have you ever made homemade cinnamon rolls before? If not, this is going to be your go-to recipe. I want to introduce you to some of the ingredients in this recipe. I am going to teach you how to make the dough, filling, and icing.
Flour – Every good homemade cinnamon roll recipe out there needs flour. You can purchase flour super cheap, so stock up when you can.
Active Dry Yeast – Let's talk about yeast for a second, this is what makes homemade cinnamon rolls so amazing!
Light Brown Sugar – This is my favorite part of this recipe because it brings so much flavor to the homemade cinnamon rolls.
Eggs – If you can get your hands on farm fresh eggs, then this recipe will be even better. However, storebought eggs work just as well!
Make sure you check out the recipe card, so you have access to all of the ingredients and the recipe.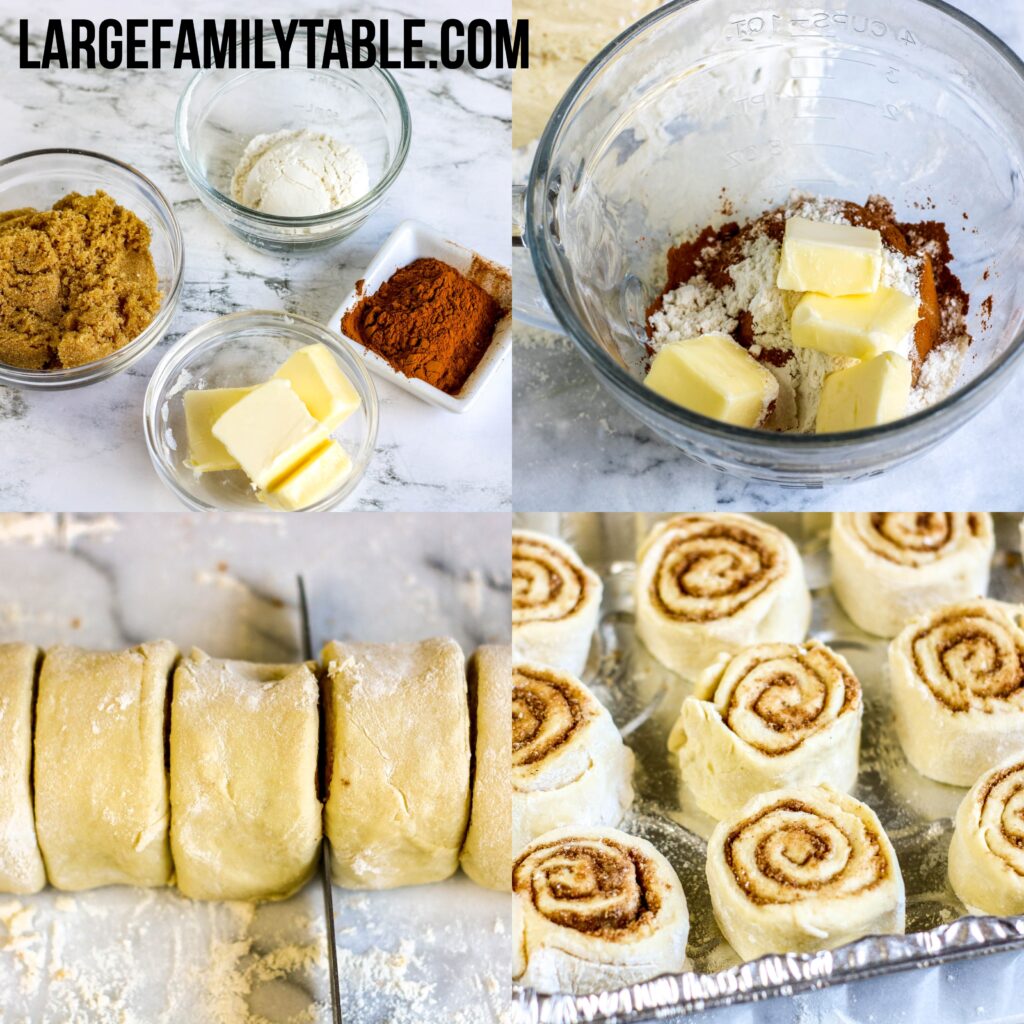 How to Store Homemade Cinnamon Rolls with Icing
Once you make these delicious cinnamon rolls, you will want to know HOW to store these. You cannot risk allowing these rolls to go bad. If you'd like to store these and keep them safe from going bad, you need an airtight container. An airtight container will make sure these rolls stay fresh!
Can You Freeze Homemade Cinnamon Rolls?
You may be wondering if you can freeze Homemade Cinnamon Rolls, the answer is yes! These make the best freezer cinnamon rolls ever! You can even make a double batch of these cinnamon rolls, so you can enjoy one at another time. Just make sure these rolls are in a freezer-friendly container. You can even double wrap them to help keep them longer in the freezer. I also like to freeze these individually, so they are easy to pull out.
What Can I Enjoy With Cinnamon Rolls?
If you're going to make these Homemade Cinnamon Rolls with Icing, then you may be wondering WHAT you can enjoy with them. Sometimes, I like to make bacon with the cinnamon rolls. Other times, I'll just serve these and give everyone a choice of hot chocolate, orange juice, or milk. The kids love having a choice.
The next time you're craving something delicious, go ahead and make these cinnamon rolls. You've never had rolls this delicious before! Homemade rolls are always the best!
Looking for more breakfast ideas for your large family?
Breakfast doesn't have to be complicated to be filling and healthy. I know it may seem easier to buy pre-made breakfast items, but you can save lots of time and money just by making breakfast ahead of time with my Breakfast Freezer Meals Pack, it's number 10 in my Large Family Freezer Meals Series. It includes 10 amazing breakfast recipes with directions to help you make 25 breakfast meals to put in your freezer!If your freezer is already full or you just don't have the freezer space, then try my Easy and Simple Large Family Sheet Pan Breakfasts which includes 10 delicious and easy breakfast meals to make your large family. Save time and money!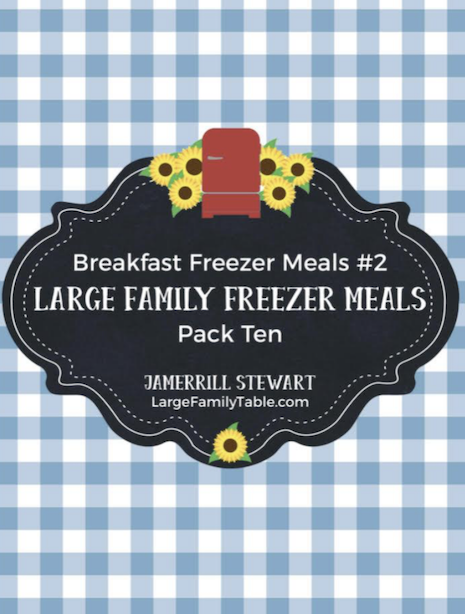 Here are more breakfast ideas your family will enjoy!
Homemade Cinnamon Rolls with Icing
Print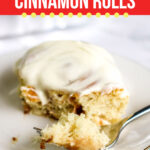 Homemade Cinnamon Rolls with Icing | Large Family Table Baking
Author:

Prep Time:

45 Minutes

Cook Time:

30 Minutes

Total Time:

1 hour 15 minutes

Category:

Breakfast

Method:

Oven
---
Description
Who is in the mood for Homemade Cinnamon Rolls with Icing? My family always loves this recipe and I enjoy making it for them. 
---
Ingredients
DOUGH:
4 cups flour

2 ¼ teaspoons active dry yeast

1 cup milk

⅓ cup unsalted butter

⅓ cup sugar

½ teaspoon salt

2 eggs, room temperature
FILLING:
2 tablespoons unsalted butter

¼  cup packed light brown sugar

2 teaspoons ground cinnamon

¾  cup sugar

1 tablespoon flour
ICING:
1 (8 ounce) package cream cheese, softened

4 tablespoons unsalted butter, softened

¼ teaspoon vanilla

1 cup powdered sugar

2 tablespoons milk
---
Instructions
In a mixing bowl, combine 1 ½ cups flour and yeast. Set aside.

In a saucepan, heat the milk, ⅓ cup butter, sugar, and salt until 120 degrees F. Remove from heat and stir until the butter is melted. Add to the flour and yeast.

Mix on low, using a regular paddle, adding the eggs one at a time.

Change the mixer attachment to the dough hook. Beat the dough at low, adding the remaining flour a little at a time. Increase speed to medium until a soft dough forms, approximately 3 minutes.

Transfer the dough to a lightly greased bowl, turning once to coat both sides. Cover with a clean dish towel.

Allow the dough to rise in a warm place until doubled, about 1 ½ hours.

Punch the dough down and turn out onto a floured surface. Cover and allow to rest for 5 to 10 minutes.

Combine the filling ingredients until sandy.

Roll the dough into a rectangle, approximately 20 inches by 10 inches. Sprinkle with the filling mixture, leaving a 1-inch space on one long edge without filling.

Starting on the long side, roll the dough up, working it tightly but without pulling the dough too much. Seal the long edge by pinching it shut.

Cut the dough into 12 even slices by cutting the dough in half, cutting those halves in half and then the quarters into three slices each.

Place each roll in a large bar pan sprayed with non-stick cooking spray, allowing about one inch between them. Cover and allow to rise in a warm place about 40 minutes or until doubled.

TIP: Before allowing the final rise, rolls may be tightly covered and placed in the refrigerator for up to 24 hours. Remove from the refrigerator and allow to rise before baking.

Bake at 350 degrees for 25 to 30 minutes.

While the rolls bake, combine the cream cheese, butter, and vanilla, stirring until well blended. Stir in the powdered sugar and then add the milk a little at a time until reaching the desired consistency.

Remove rolls from the oven and spread with icing.
Keywords: Homemade Cinnamon Rolls with Icing
These cinnamon rolls are a great way to start the morning! Whether you make them fresh or pull them out the night before, you are going to be glad you have them when you wake up!
FREE Emergency Pantry Planning Pack!
Don't forget to sign up for the emergency pantry planning pack for free to help you plan your pantry meals! The free Emergency Pantry Planning Pack will help you plan your needed pantry items! Printable pages include pantry inventory, grocery lists, meal planners, list of pantry staple items, and more.