For the perfect fall twist on a traditional cinnamon roll, try this tasty Pumpkin Cinnamon Rolls recipe that is a guaranteed crowd-pleaser. This recipe teaches you to make your dough, filling, and cream cheese frosting to add to your cinnamon rolls as a final touch.
When it comes to dessert food that you can eat as a snack or breakfast in the morning, cinnamon rolls are naturally such a great choice. These warm treats taste delicious when baked fresh and warm, but they taste good at room temperature or cold as well.
*Use special promo code HELLO20 to take 20% off your first order in the shop including the SUPER MEGA ULTIMATE Large Family Freezer Meals Bundle here!**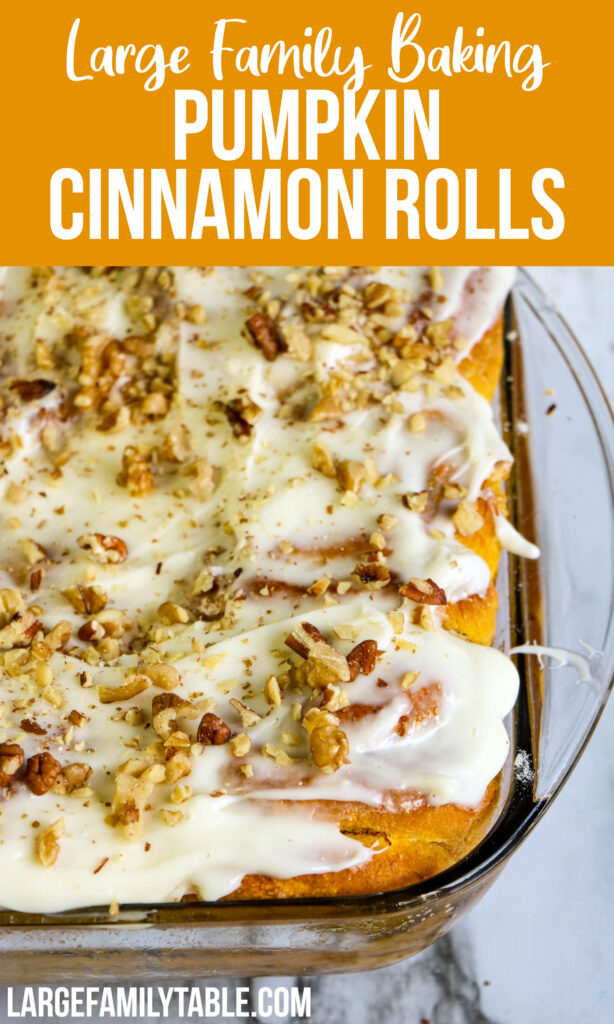 Why You Should Make Pumpkin Cinnamon Rolls
I love cinnamon rolls, but I am also a big fan of pumpkin-flavored treats, so this recipe was a no brainer for me. The recipe combines two popular treats into one to create something that tastes heavenly and is perfect for the fall season.
These cinnamon rolls are perfect for baking at home with the children. You can let those little helping hands assist with preparing the dough, combining ingredients to make the filling, and even adding the cream cheese topping on top of the rolls.
The kids always enjoy getting involved in the kitchen, and this is the perfect recipe to get them to help with because the cinnamon rolls are fun to make and loaded with flavor.
They can assist with rolling the dough into the perfect pieces. While you can make these as a delectable dessert, the pumpkin cinnamon rolls are the ideal choice for breakfast. Store them in the fridge or a food storage container on your kitchen table.
What to Do With Your Pumpkin Cinnamon Rolls
Serve your pumpkin cinnamon rolls fresh out the oven. You can eat them by hand, slice into them with a knife and fork, or even eat them with a side of something else, such as ice cream, fresh fruit, Greek yogurt, or bacon.
The cinnamon rolls are a sweet homemade treat to eat for breakfast, but you can also bake them for a school event, bring them to a party, or keep them at home for yourself and the family to enjoy throughout the week.
If you do not want to eat them right away, leave them in a food storage container that you can cover with a lid and pop them in the fridge. You can always reheat one in the microwave if you want a hot, fresh pumpkin cinnamon roll to eat.
Creative Tips and Suggestions When Preparing Cinnamon Rolls
The great thing about following this recipe is that you can make changes where you see fit. While the recipe calls for pecans, you can eliminate the pecans from this recipe if you do not like them.
You might want to add chopped macadamia nuts or peanuts to the top of your cinnamon rolls to give them that crunchy texture when you bite into them.
You can also choose your favorite cream cheese flavor that will taste good on the pumpkin cinnamon rolls because you are making the cream cheese frosting.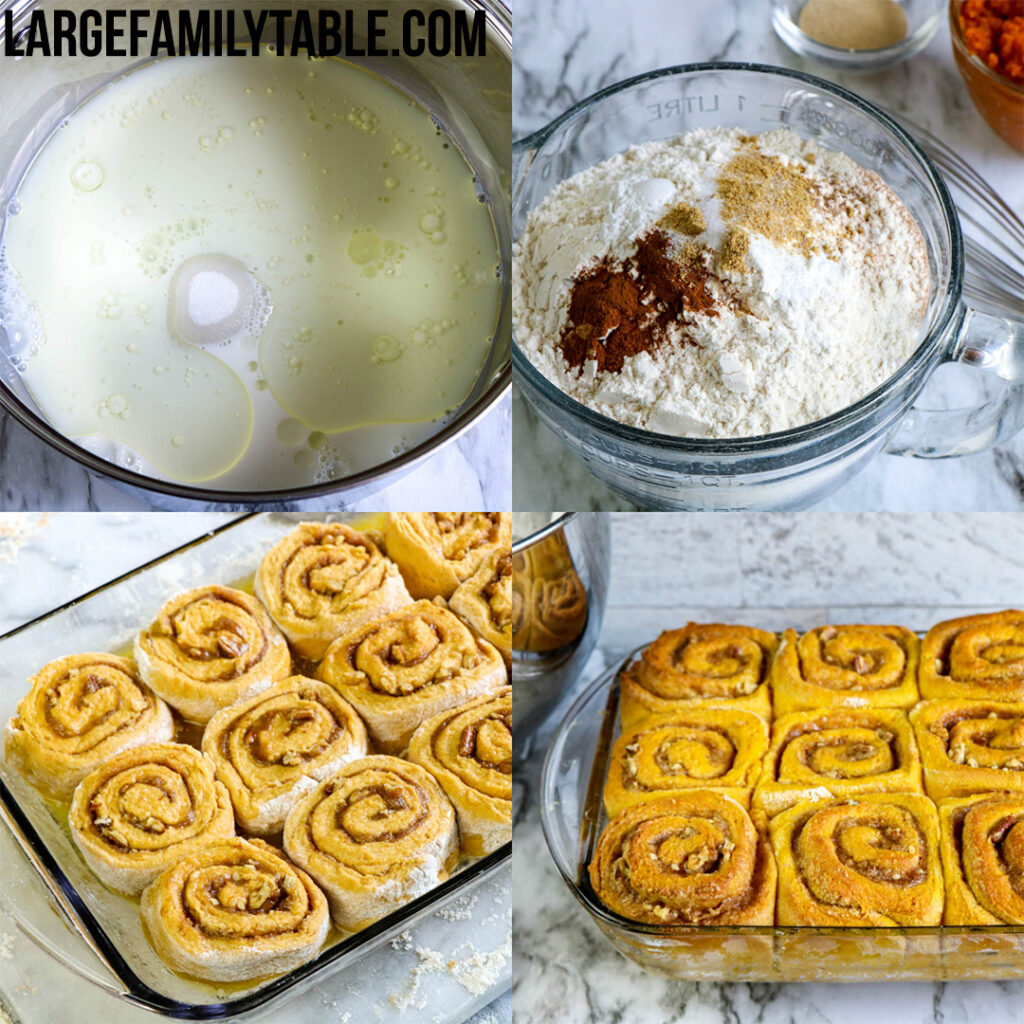 Where can I find more large family breakfast recipes?
If you love making delicious breakfasts for your family, you will love the recipes found in my shop! My Breakfast Freezer Meals Pack is number 10 in my Large Family Freezer Meals Series. It includes 10 amazing breakfast recipes with directions to help you make 25 breakfast meals to put in your freezer!If your freezer is already full or you just don't have the freezer space, then try my Easy and Simple Large Family Sheet Pan Breakfasts which includes 10 delicious and easy breakfast meals to make your large family. Save time and money!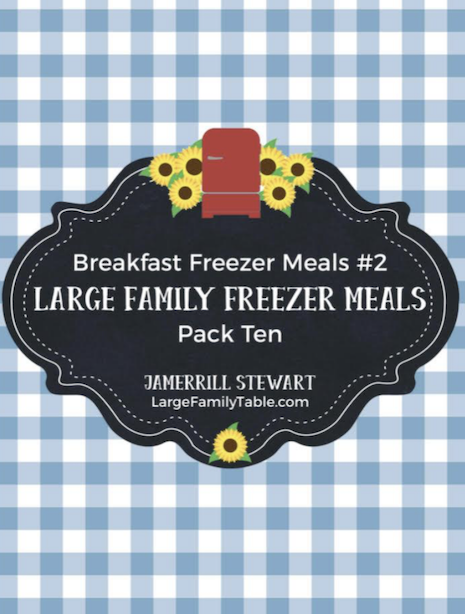 Here are more breakfast treats your family will enjoy!
Pumpkin Cinnamon Rolls
Print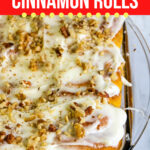 Pumpkin Cinnamon Rolls | Large Family Fall Baking
Author:

Prep Time:

2 Hours

Cook Time:

18 minutes

Total Time:

2 hours 18 minutes

Category:

Breakfast

Method:

Oven
---
Description
These Pumpkin Cinnamon Rolls are so perfect for fall, you'll want to make them again and again! 
---
Ingredients
For the cinnamon roll dough:
1 1/2 cups milk
1/2 cup vegetable or canola oil 
1/2 cup sugar 
2 1/4 teaspoons active dry yeast 
1 cup pumpkin puree 
4 1/2 cups all purpose flour
1/2 teaspoon ground cinnamon 
1/4 teaspoon ground ginger 
1/4 teaspoon ground nutmeg 
1/2 teaspoon baking powder 
1/2 teaspoon baking soda 
1/2 teaspoon salt
¼ cup butter, melted
For the filling:
1 stick (1/2 cup) butter, melted
1/2 cup brown sugar 
1/2 cup sugar 
1/2 teaspoon cinnamon 
1/2 teaspoon ground ginger 
1/4 teaspoon ground nutmeg 
1 cup finely chopped pecans 
For the cream cheese frosting:
1 (8 ounce) package cream cheese, room temperature
2 cups powdered sugar
1/4 cup milk
2 tablespoons butter, melted 
⅛ teaspoon salt
---
Instructions
In a dutch oven, whisk together the milk, oil, and sugar. Cook over medium heat, stirring often, until steaming. Remove from heat and allow to cool to 105 to 115 degrees.

Sprinkle the milk with yeast and allow the yeast to bloom for 5 minutes.

Stir the pumpkin into the milk mixture.

Meanwhile, whisk together the flour, baking soda, baking powder, and dry seasonings. Add the flour into the pumpkin until combined. 

Cover the dutch oven and place in a warm, draft-free place for about 1 hour or until doubled in size.

Preheat the oven to 375 degrees. Prepare a 9×13 baking dish by pouring the melted butter into the dish and turning the dish to coat all sides.

Turn out the dough onto a lightly floured pastry mat and sprinkle with flour. Fold the dough 2 to 3 times and pat into a rectangle. Roll the dough until about 18 inches by 24 inches.

To prepare the filling, use a fork or whisk to mix the brown sugar, sugar, cinnamon, ginger, and nutmeg together. Coat the dough with the melted butter and then sprinkle with the brown sugar mixture. Top the filling with 3/4 cup of the chopped pecans.

Starting on the long side, roll the dough up, working it tightly but without pulling the dough too much. Seal the long edge by pinching it shut.

Cut the dough into 12 even slices by cutting the dough in half, cutting those halves in half and then the quarters into three slices each.

Allow the pumpkin cinnamon rolls to rise in a warm place for 20 to 30 minutes.

Bake the pumpkin cinnamon rolls for 15 to 18 minutes or until the middle is cooked through and the edges are golden brown.

To make the frosting, beat the cream cheese, powdered sugar, milk, butter and salt until combined and fluffy.

When the rolls are done, immediately ice with the cream cheese frosting. Top with the remaining pecans.
---
Notes
The prep time includes letting the dough rise for an hour.
Keywords: Pumpkin Cinnamon Rolls
These Pumpkin Cinnamon Rolls will make it feel like fall. Your large family will enjoy these tasty treats for breakfast or snack!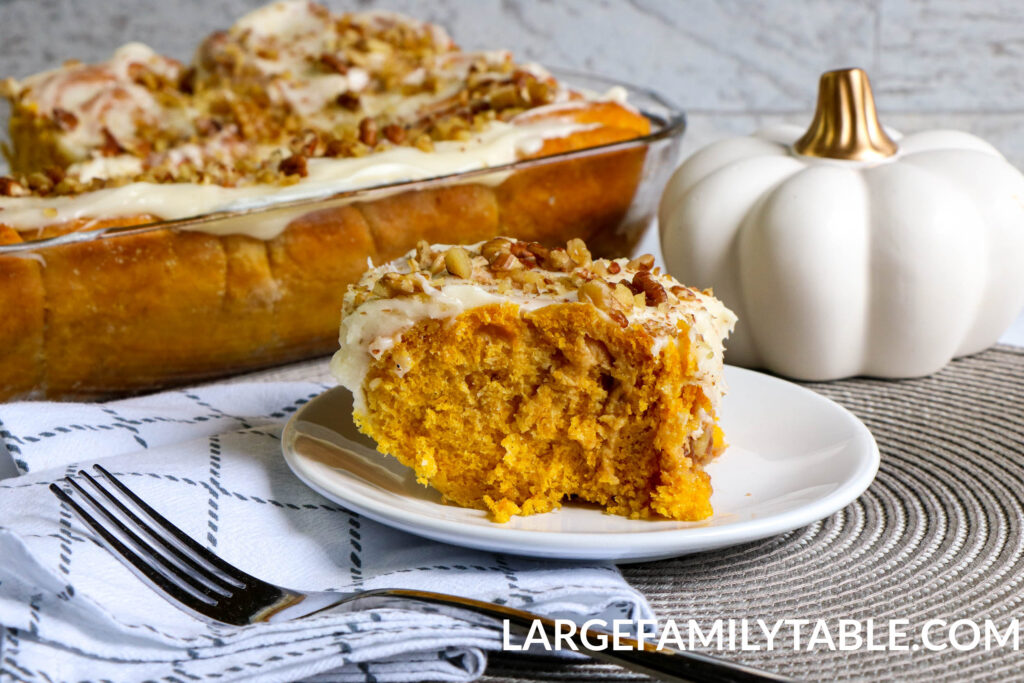 FREE Emergency Pantry Planning Pack!
Don't forget to sign up for the emergency pantry planning pack for free to help you plan your pantry meals! The free Emergency Pantry Planning Pack will help you plan your needed pantry items! Printable pages include pantry inventory, grocery lists, meal planners, list of pantry staple items, and more.