Bake the most flavorful bread to eat for breakfast, lunch, or even a snack. The Pumpkin Banana Bread contains the perfect amount of pumpkin flavor and banana flavor that pair well together to create an indescribable treat.
Making banana bread is one of my favorite things to do when the weather starts getting colder. I like making banana bread because it works as a quick breakfast or a snack, but it is also a popular treat in my household. So, you know I could not help myself when it came to making this Pumpkin Banana Bread recipe. The only thing better than traditional banana bread, or any other fruit-based bread, is Pumpkin Banana Bread because it is even more flavorful. It is the perfect treat for the autumn weather.
****Use special promo code HELLO20 to take 20% off the entire MEGA DEAL get-it-all Bundle including the best-selling Large Family Freezer Meal Packs 1-12 + so much more!!****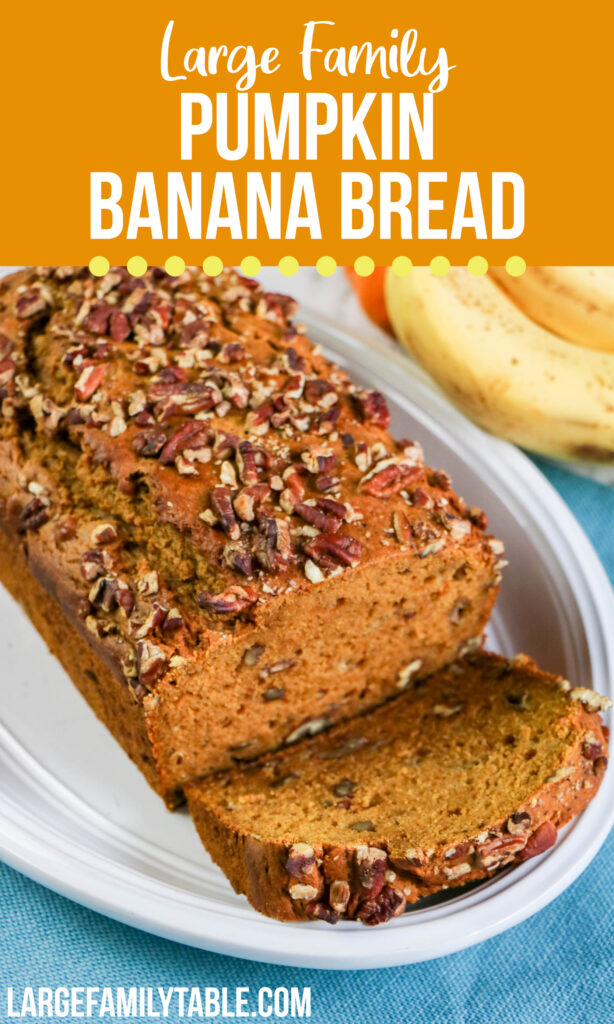 Pumpkin Banana Bread
I like to get the kids involved in helping prepare the Pumpkin Banana Bread. They like peeling the bananas and mashing them down with a fork while I get the other ingredients ready. If you want a fun treat to make that your family will love for breakfast and you can enjoy throughout the day, prepare this recipe because it is amazingly delicious!
Ingredients to Use to Make the Pumpkin Banana Bread
You will need several baking ingredients to prepare the Bread, including the following:
3 Ripe Bananas. Grab some ripe bananas to make this tasty Pumpkin Banana Bread. If your bananas are not ripe enough, the bread texture will not be as soft and moist.
White Sugar. You will need to add some white sugar to your flour mix with bananas and pumpkin puree for that added sweet touch.
Brown Sugar. In addition to white sugar, brown sugar is a must-have for this Pumpkin Banana Bread.
Flour. Mix your flour with several other ingredients, including mashed bananas and pumpkin puree, to prepare your bread.
Pumpkin Puree. If you want your bread to have that pumpkin taste, you will need to use pumpkin puree. I also have instructions on how to make your own pumpkin puree in this Pumpkin Pie recipe post.
Chopped Walnuts or Pecans. Do not forget the chopped walnuts or pecans that will give your Pumpkin Banana Bread the perfect crunch.
While you will need additional ingredients to make this, these are several of the primary ingredients required.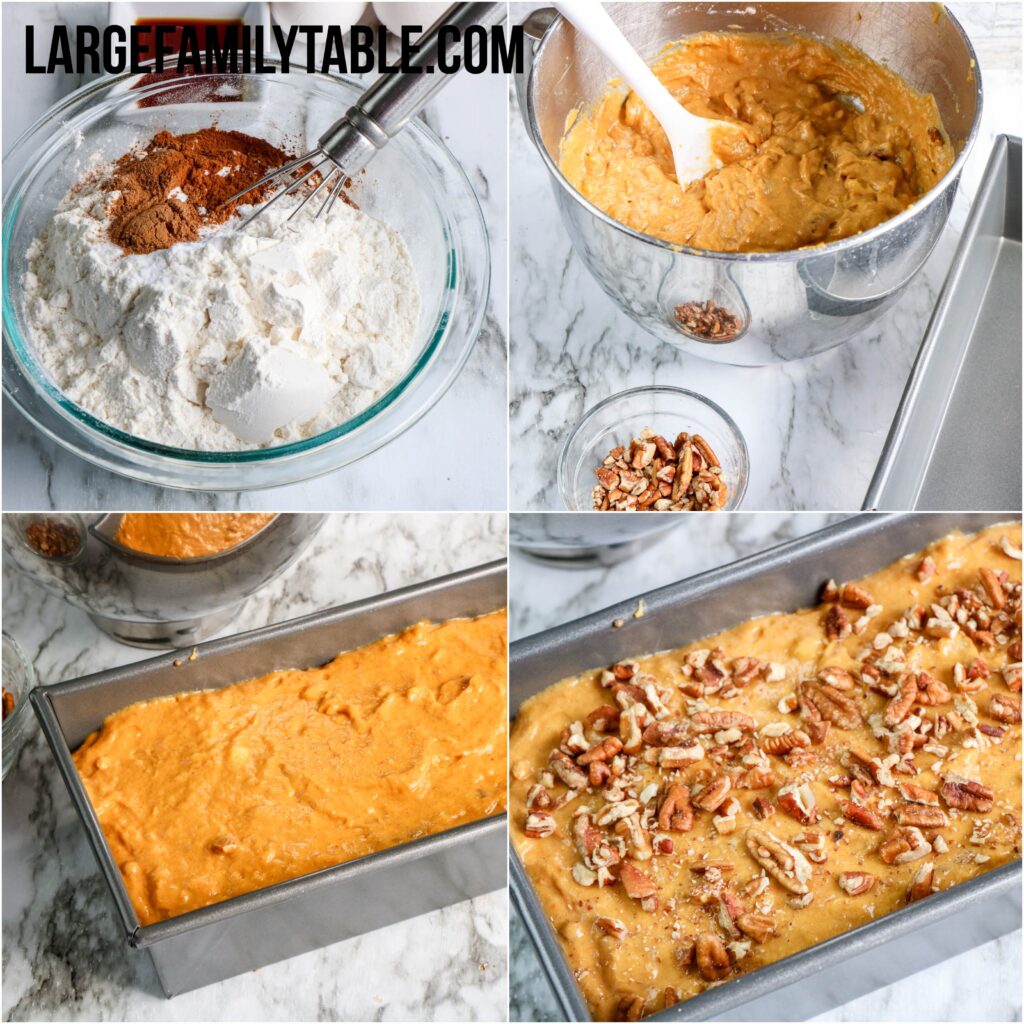 What to Add to Your Bread
Customize the taste of your bread by adding more to it. You might want to replace the walnuts or pecans with chopped peanuts or macadamia nuts. Some people like to add chopped dates to their Pumpkin Bread for a sweet taste. You might even want to substitute the sugar with dates to keep your bread naturally sweet.
What to Put On a Slice of the Pumpkin Banana Bread
After baking the Banana Bread, you might want to cut it into slices and serve it. I can eat it just like it is, but I also like to add different things to it at times. I enjoy a dollop of whipped cream cheese on my Pumpkin Banana Bread. I have also had it with a bit of butter, a drizzle of honey, and even with a side of vanilla ice cream. You can put all your favorite toppings on a slice of this bread.
Where can I find more large family breakfast recipes?
Breakfast doesn't have to be complicated to be filling and healthy. I know it may seem easier to buy pre-made breakfast items, but you can save lots of time and money just by making breakfast ahead of time with my Breakfast Freezer Meals Pack, it's number 10 in my Large Family Freezer Meals Series. It includes 10 amazing breakfast recipes with directions to help you make 25 breakfast meals to put in your freezer!If your freezer is already full or you just don't have the freezer space, then try my Easy and Simple Large Family Sheet Pan Breakfasts which includes 10 delicious and easy breakfast meals to make your large family. Save time and money!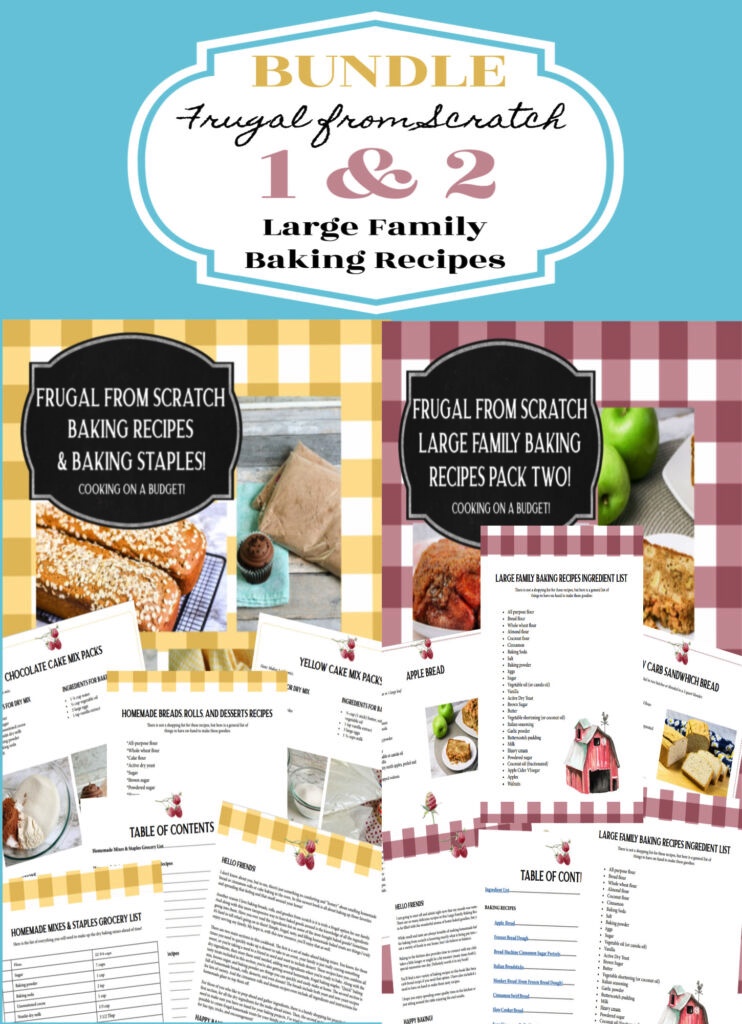 Here are more pumpkin recipes and banana recipes your family will enjoy!
Pumpkin Banana Bread
Print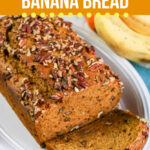 Pumpkin Banana Bread | Large Family Fall Baking
Author:

Prep Time:

15 Minutes

Cook Time:

1 Hour

Total Time:

1 hour 15 minutes

Yield:

3 bread pans

Category:

Dessert

Method:

Oven
---
Description
Bake the most flavorful bread to eat for breakfast, lunch, or even a snack. The Pumpkin Banana Bread contains the perfect amount of pumpkin flavor and banana flavor that pair well together to create an indescribable treat. This recipe makes three bread pans.
---
Ingredients
9 medium ripe bananas, mashed
3/4 cup vegetable oil
1 1/2 cups Brown Sugar
1 1/2 cups white sugar
6 eggs, room temperature
1 tablespoon vanilla extract
4 cups pure pumpkin puree
7 1/2 cups flour
1 tablespoon baking powder
1 tablespoon baking soda
1 tablespoon pumpkin spice blend
1 tablespoon cinnamon
1 1/2 teaspoons salt
3 cup coarsely chopped walnuts or pecans
---
Instructions
Preheat the oven to 350 degrees. Prepare a nonstick loaf pan with butter or nonstick cooking spray.
In a bowl, whisk together the dry ingredients: flour, baking powder, baking soda, pumpkin spice blend, cinnamon, and salt. Set aside.
In a mixing bowl, beat the oil and both sugars until the sugar is completely incorporated.
Add the eggs, pumpkin puree, bananas, and vanilla, beating until combined.
Add the flour mixture and mix just until blended. Stir in half of the nuts.
Pour batter equally into the loaf pans and spread evenly. Top with remaining nuts.
Bake for 50 to 60 minutes or until a toothpick inserted in the center comes out clean.
Cool the banana bread in the bread pan for 5 minutes before removing and placing on a wire rack to cool completely.
Keywords: Pumpkin Banana Bread
I hope your family enjoys this delicious sweet bread as much as we do. I love getting the kids involved and making memories while we bake something good!
FREE Emergency Pantry Planning Pack!
Don't forget to sign up for the emergency pantry planning pack for free to help you plan your pantry meals! The free Emergency Pantry Planning Pack will help you plan your needed pantry items! Printable pages include pantry inventory, grocery lists, meal planners, list of pantry staple items, and more.