Cheesecake lovers can unite for these Pumpkin Cheesecake Bars. When you want a portable dessert that you can take with you on the go, this is the perfect fall-themed treat to prepare.
*Use special promo code HELLO20 to take 20% off your first order in the shop including the SUPER MEGA ULTIMATE Large Family Freezer Meals Bundle here!**
Pumpkin Cheesecake Bars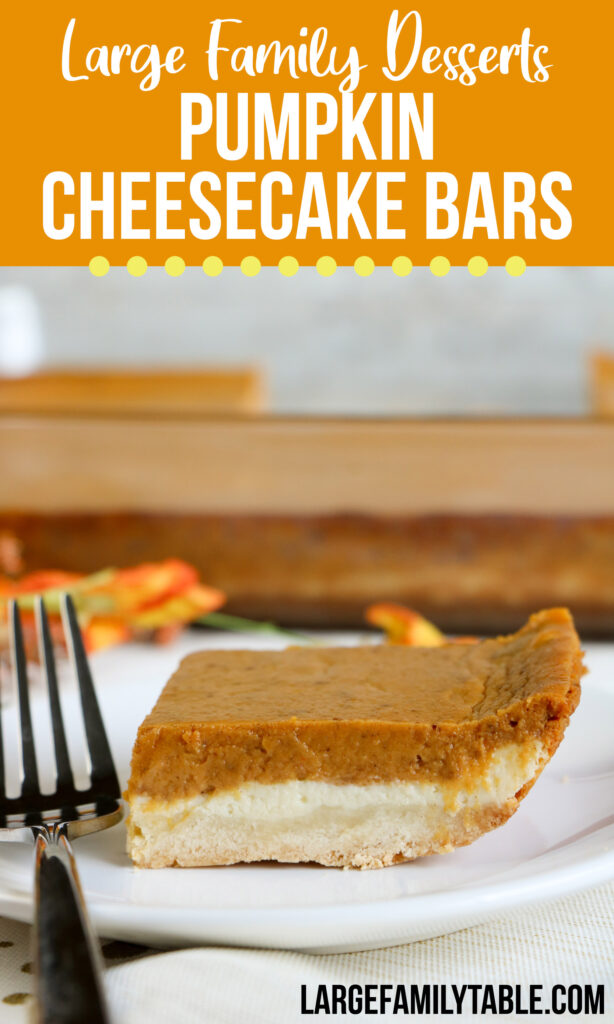 Cheesecake is one of the most popular desserts in existence, and with good reason. Lots of people love the savory yet sweet taste of cheesecake, but they also love having different ways to bake it to make it taste the way that they like it the most.
How to Prepare Cheesecake Bars
If you are fond of cheesecake, these bars are an absolute must-try. The recipe combines the unique taste of fresh pumpkin with cheesecake to make a fall-favorite treat that anyone can eat at home or on the go. You do not even need to eat this dessert with a fork. Simply slice into pieces to create miniature bars that are perfect for a grab-and-go treat.
I enjoy testing out different recipes, some of which take a bit longer to prepare. While making these Pumpkin Cheesecake Bars does require some effort and preparation time, the amount of time that I spend making these bars is worth it.
When I pull them out from the oven, allow them to cool off, slice into them, and eat one, I am in heaven! I recommend these Pumpkin Cheesecake Bars to anyone who likes cheesecake and pumpkin-flavored treats.
The Benefits of Making Cheesecake Bars

While you can make the Pumpkin Cheesecake Bars at any time throughout the year, these bars are the perfect dessert to make during the fall season.
You can bake the bars to have as an after-dinner snack with the family, prepare the dessert for Thanksgiving dinner, and even bring it to the office to share with your co-workers.
These cheesecake bars are a crowd-pleaser because of their fresh homemade taste.
It is easy to find the ingredients needed to prepare the Pumpkin Cheesecake Bars, including the cream cheese, evaporated milk, vanilla extract, and pumpkin puree.
Although there are steps to creating these bars, which include preparing the crust layer, making the cheesecake layer, and then adding the pumpkin layer, the steps are easy to follow and simple enough to complete in minutes. In less than two hours, you can have the perfect dessert to eat or serve to guests.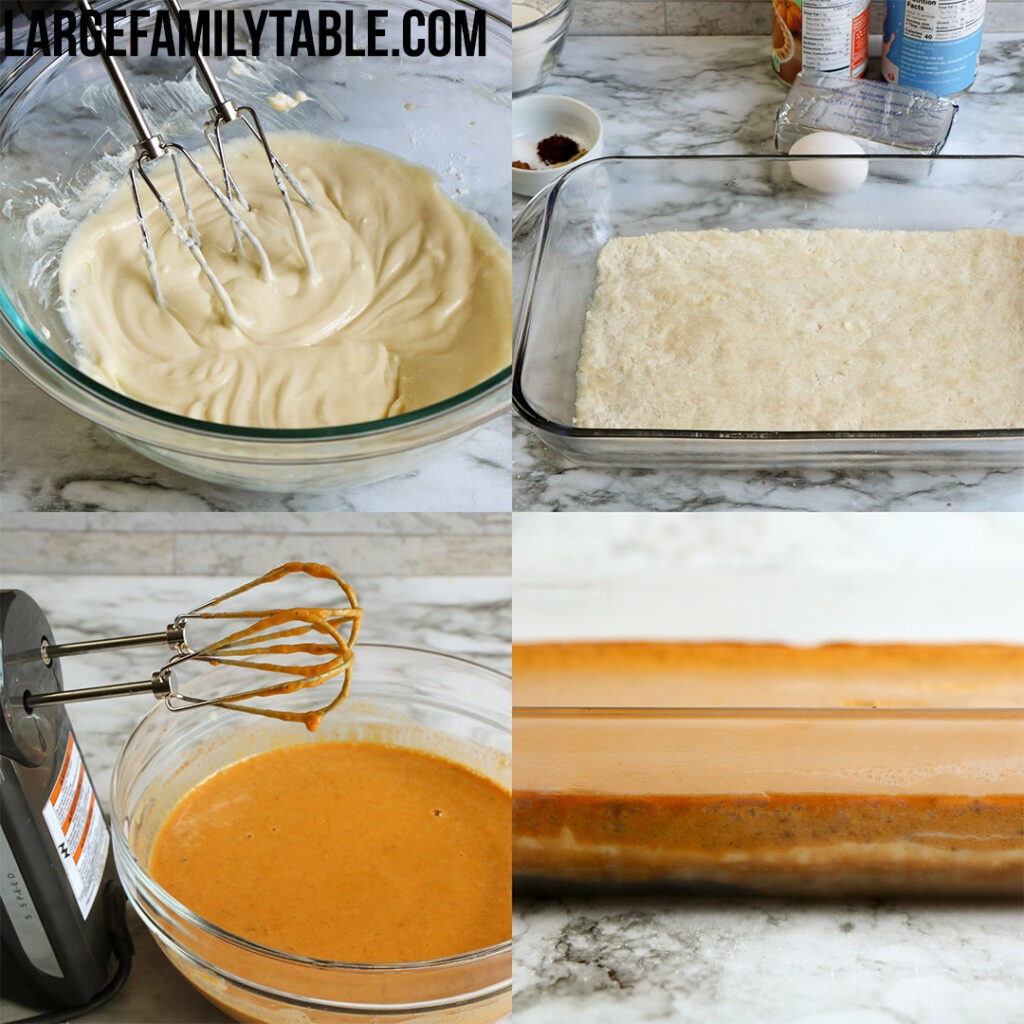 How to Store Your Pumpkin Bars to Keep Them Fresh
When you take the time to follow this recipe to make your homemade Pumpkin Cheesecake Bars, you want to know how to store them to preserve freshness and keep them tasting as good as they first did when you pulled them out of the oven. Always store any type of cheesecake in the fridge, including these bars.
You can apply clear plastic wrap around each individual bar, tape the plastic closed, and then put the bars in the fridge until you want to eat them or serve them to others.
Using plastic wrap helps retain some moisture, keeping these Pumpkin Cheesecake Bars from drying out while they are sitting in the fridge.
Which part of this recipe is your favorite? Let me know in the comment section.
Looking for more baking ideas for your large family?
Bring some joy to your family this season by baking cookies together! In my Make-Ahead and Freeze Cookie Baking Book you will find 10 easy and yummy recipes for large-batch cooking baking! You can prepare them for holiday get-togethers or gifts or just for fun any of the year!! 
Here are more Pumpkin and Cheesecake Desserts your Family will enjoy!
Pumpkin Cheesecake Bars
Print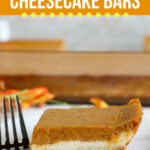 Pumpkin Cheesecake Bars | Large Family Fall Desserts
Author:

Prep Time:

35 Minutes

Cook Time:

1:15

Total Time:

1 hour 50 minutes

Category:

Dessert

Method:

Oven
---
Description
Are you ready for fall? Pumpkin Cheesecake Bars are perfect for fall, so make sure you make these when you get a chance. 
---
Ingredients
Makes up to 2 dozen
Crust Layer:
1 ½ cups all purpose flour
¼ cup sugar
½ cup (1 stick) unsalted butter, room temperature
Cheesecake Layer:
1 (8 ounce) package cream cheese, room temperature
¼ cup sugar
1 egg, room temperature
½ teaspoon vanilla extract
Pumpkin Layer:
1 (15 ounce) can pumpkin puree
1 (12 ounce) can evaporated milk
¾ cup sugar
2 eggs
¾ teaspoon cinnamon
½ teaspoon salt
½ teaspoon ground ginger
¼ teaspoon ground cloves
---
Instructions
Preheat the oven to 425 degrees. Prepare a 9×13 baking dish with non-stick cooking spray.

In a large bowl, whisk together the sugar and flour. Cut in the butter with a pastry blender until the mixture resembles sand.

Press the flour mixture into the bottom of the prepared baking dish. Bake for 12 to 15 minutes or until the edges are browned. Allow to cool on a wire rack until cool enough to touch.

With a mixer, beat together the cream cheese and sugar until well blended. Add the egg and vanilla and continue beating until completely incorporated.

Spread the cream cheese layer over the crust.

Wipe out the bowl or use a new mixing bowl to beat together the ingredients for the pumpkin layer. Pour evenly over the cream cheese layer and spread to smooth.

Bake for 55 to 60 minutes or until the middle is set.

Cool to room temperature on a wire rack and then refrigerate for at least two hours prior to slicing and serving.
Keywords: Pumpkin Cheesecake Bars
I hear that some people get tired of pumpkin-flavored things, but that won't happen here! If you enjoy pumpkin-flavored desserts, then these bars will be irresistible to you and your family!
FREE Emergency Pantry Planning Pack!
Don't forget to sign up for the emergency pantry planning pack for free to help you plan your pantry meals! The free Emergency Pantry Planning Pack will help you plan your needed pantry items! Printable pages include pantry inventory, grocery lists, meal planners, list of pantry staple items, and more.