Have you ever had Cajun Chicken and Sausage Casserole or one of my other Chicken Casseroles? If not, now is your chance to give it a try for your large family table. You may be amazed at how easy it is to make this delicious dish! When you're craving a Cajun dish, then make sure you give it a try! Using chicken and sausage as your main protein, this is one filling meal.
*Use special promo code HELLO20 to take 20% off your first order in the shop including the SUPER MEGA ULTIMATE Large Family Freezer Meals Bundle here!**
Cajun Chicken and Sausage Casserole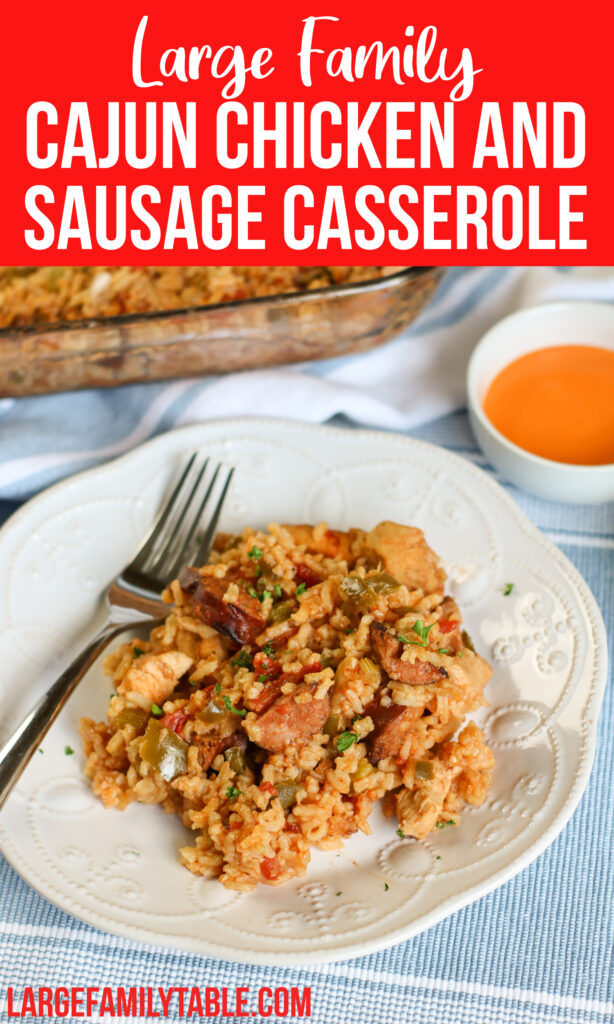 Every once in a while, you crave something a little different for dinner. You know, something like this that you haven't had before. The family is going to love trying out a Cajun dish. Plus, the fact that this dairy-free meal can feed a large family is such a good thing in my book!
Using chicken breasts, cajun sausage, olive oil, onion, and other ingredients, you are going to make a flavorful dish that is easy to serve, store, and freeze.
Ingredients for This Casserole
If you follow my blog, then you know that casseroles are a big thing. When you are making dinner for a large family table, every single night, it can make you crazy trying to figure out what to make. I want to share the ingredients for this casserole because it might be just the meal you decide to make for your family tonight.
Skinless chicken breast – Let's talk for a minute about chicken. Buy it when it's on sale and then all you need to do is pull the chicken out of the freezer and cook it.
Cajun sausage – While this isn't a meat you probably keep in hand normally, make sure you pick up enough for this casserole. You'll love the flavor of the sausage.
Cajun seasoning blend – This recipe calls for other seasonings, but this is my favorite one used in this dish.
Sliced green onions – You can't have a Cajun dish without having proper fresh ingredients. These sliced green onions will do the trick!
Of course, this isn't the exhaustive ingredients list, but it does give you a start of how to make this casserole.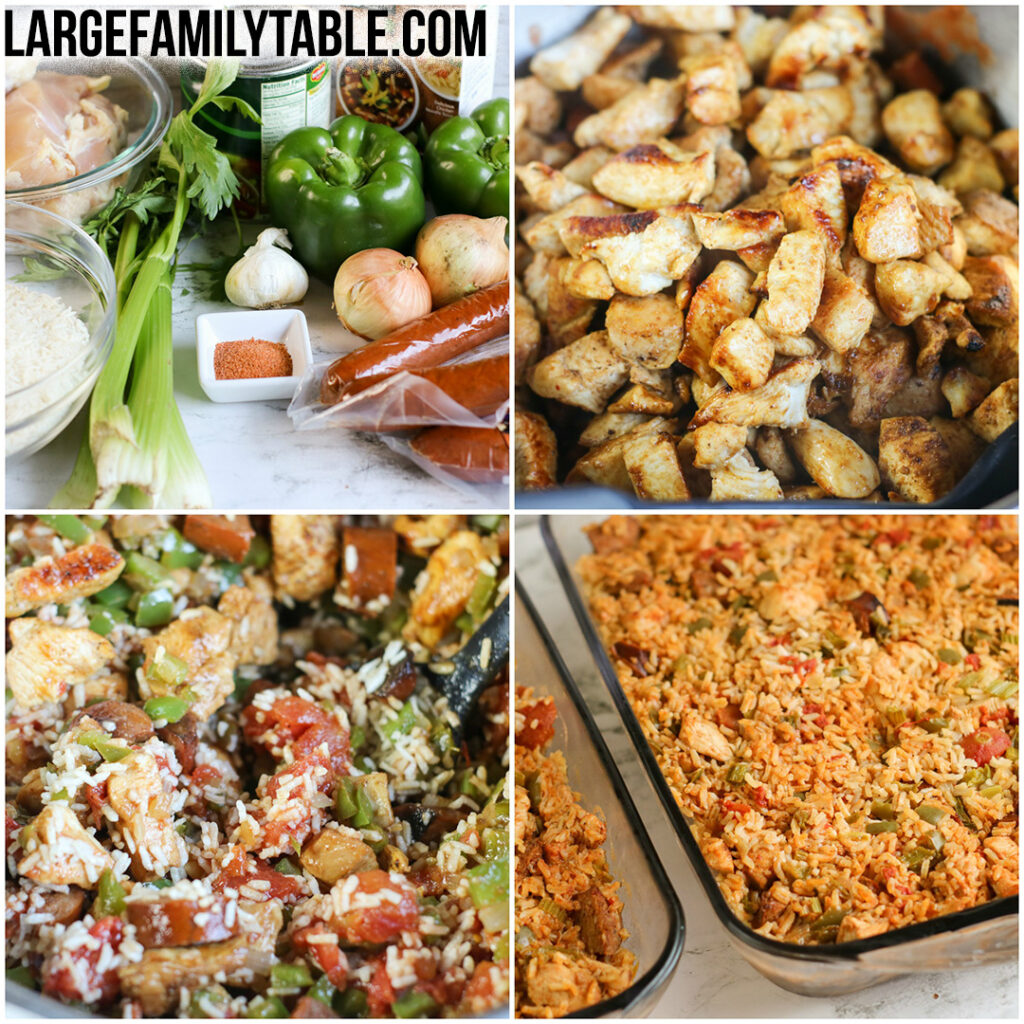 How to Freeze a Casserole
After you have made this Cajun Chicken and Sausage Casserole, you may be wondering how you can freeze it. I'm going to show you how to freeze a casserole.
If you've like to make casserole freezing easy, then line the pan with aluminum foil, so that you can easily take it out of the pan.
Once you've gotten the casserole out of the pan, you can put it in a freezer-friendly container.
Once you freeze it, you can keep it in there for around 6 months.
Make sure you double wrap the casserole, so it stays fresh!
I hope this helps you figure out how to make a casserole and freeze it. Casseroles are great for when you want to save yourself from time later. With a big family, you'll be glad you put one of these in the freezer for later. What's your favorite part of this casserole?
Do you have more casserole recipes?
Yes! If you love this Cajun Chicken and Sausage Casserole, you'll love the casserole recipes in my shop! Check out my Classic Casserole Dinners & Freezer Meals Cookbook One for Now, One for Later! It includes 10 delicious, classic casserole recipes that will make two 9×13 casseroles each–one to eat right away, and one to put in your freezer for a later date. It's an easy and quick way to build a freezer stash.
Here are more Casseroles your family will enjoy!
Cajun Chicken and Sausage Casserole
Print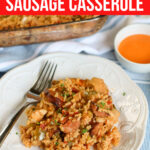 Cajun Chicken and Sausage Casserole | Large Family Meals
Author:

Prep Time:

25 Minutes

Cook Time:

45 minutes

Total Time:

1 hour 10 minutes

Category:

Dinner

Method:

Oven
---
Description
You've never had flavor like this before. Cajun Chicken and Sausage Casserole is so delicious, you'll make it again and again. 
---
Ingredients
4 boneless, skinless chicken breasts, cubed

2 (14 ounce) packages cajun sausage, cut in half lengthwise and then into 1 inch slices

2 tablespoons olive oil

2 medium onion, diced

4 stalks celery, diced

2 green bell peppers, seeded and diced

4 cloves garlic, minced

2 teaspoons cajun seasoning blend

1 (28 ounce) can diced tomatoes

4 cups chicken stock

3 cups instant rice

Sliced green onions, for garnish
---
Instructions
Preheat the oven to 375 degrees.  Prepare two (9×13) casserole dishes with nonstick cooking spray.

Place tomatoes and rice in a large bowl. Set aside.

In a large skillet over medium heat, add 1 tablespoon olive oil and the onions, peppers, celery, and sausage. Cook until the vegetables begin to soften and the sausage is browned. Stir in the garlic. Remove from the skillet and add to the large bowl.

Add the remaining olive oil to the skillet with the chicken, seasoning with cajun seasoning blend and cooking until the chicken is browned on all sides and cooked through. 

Transfer the chicken to the large bowl with any remaining cajun seasoning. Stir together to mix well.

Add half of the mixture to each casserole dish. Pour the chicken broth equally over the top of each casserole.

Cover the casserole dishes with aluminum foil and bake for about 45 minutes or until the rice is tender.
Keywords: Cajun Chicken and Sausage Casserole, large family freezer meals
If you are looking for something new with lots of flavors then this is the recipe for you! This recipe was also featured in my new cookbook Classic Casserole Dinners & Freezer Meals ~Cookbook One~ One for Now, One for Later!
FREE Emergency Pantry Planning Pack!
Don't forget to sign up for the emergency pantry planning pack for free to help you plan your pantry meals! The free Emergency Pantry Planning Pack will help you plan your needed pantry items! Printable pages include pantry inventory, grocery lists, meal planners, list of pantry staple items, and more.