Create the perfect holiday treat with the Large Family Gingerbread Cookie Cups recipe. These cookie cups look similar to muffins, but they have a crispy crunch to them with the perfect cheesecake filling center that your family will love.
Do you need a delicious treat to make during the holiday season? If you are tired of preparing the same treats all the time, consider making the Large Family Gingerbread Cookie Cups. These cookie cups consist of a decadent cheesecake filling that will make you feel like you are biting into an authentic slice of fresh cheesecake. If you need an easy treat try our Gingerbread snack treats made from oatmeal cookies. And for a fun editable craft try our Gingerbread houses with Royal Icing.
****Use special promo code HELLO20 to take 20% off the entire MEGA DEAL get-it-all Bundle including the best-selling Large Family Freezer Meal Packs 1-12 + so much more!!****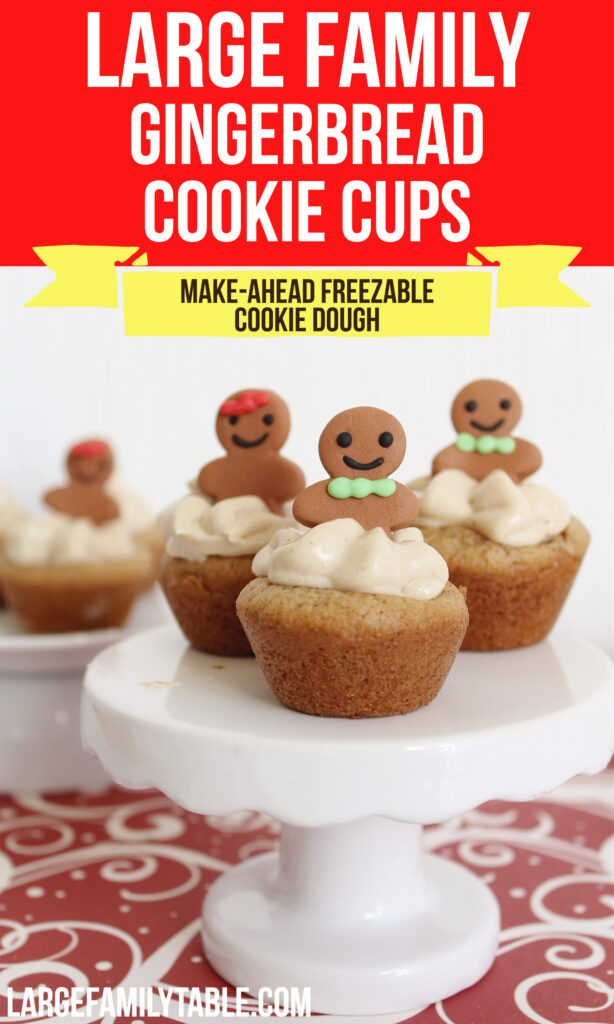 Besides the great taste of the cookie cups, another great thing about them is that they are fantastic to have as a grab and go snack. You can set these cookie cups out on a display table for loved ones to have access to at your family gatherings and other assorted events with your loved ones. Both adults and children can enjoy the taste of Gingerbread Cookies.
The Ingredients Needed to Prepare Large Family Gingerbread Cookie Cups
You need to have several important ingredients in your kitchen to prepare the Gingerbread Cookie Cups. These are a few of the essential ingredients you should have:
Packed Brown Sugar. The packed brown sugar will help you create the perfect consistency for the cookie cups while also giving them a sweeter taste.
Ground Ginger. You will need to add ground ginger to your cookie dough to give it that gingerbread-like taste.
Flour. It is crucial to have flour as a base to help you create the cookie dough from scratch.
Cinnamon. Much like ginger, cinnamon gives these cookie cups their gingerbread taste.
Baking Soda. Using baking soda in the recipe will help the cookie cups rise and turn out perfectly when baked in the oven.
Of course, you will need a few other ingredients, such as cloves, nutmeg, cornstarch, butter, molasses, and an egg. With these ingredients, you can make the cookie cups and then focus on preparing your cheesecake filling. The cheesecake filling for the Large Family Gingerbread Cookie Cups is easy to make by mixing cream cheese with powdered sugar, ground cinnamon, ground ginger, and brown sugar.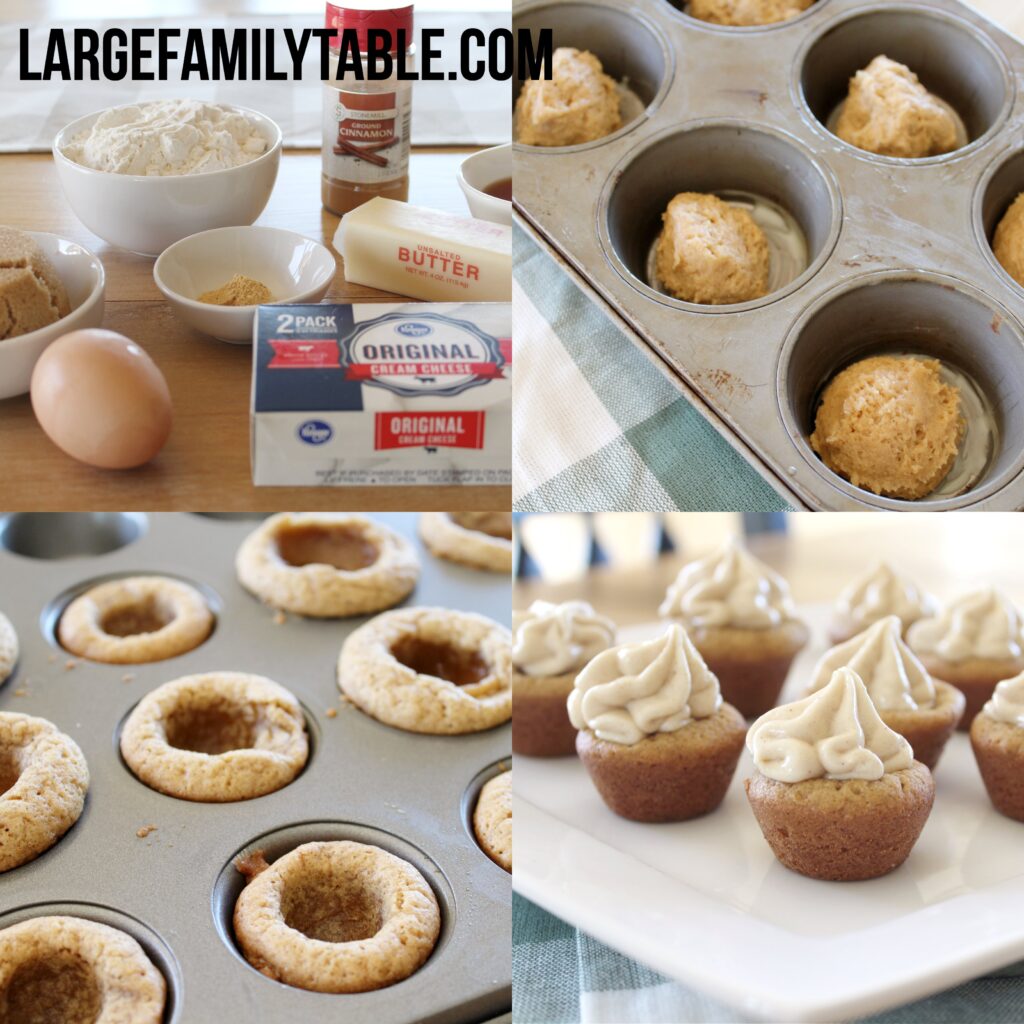 How to Make Gingerbread Cookie Cups in Advance
If you want to make your Large Family Gingerbread Cookie Cups weeks or months before serving them, prepare the cookie dough as you normally would. Scoop your cookie dough out with a cookie scoop to create small dough balls. Place those dough balls on a baking sheet with parchment paper and put them in the freezer until frozen.
Once the cookie dough balls freeze, remove them from the baking sheet and place them in an airtight container. You can keep the cookie dough stored in your refrigerator for the best results, but it is also possible to set the cookie dough in the freezer. You would need to thaw the cookie dough before you end up shaping and baking the cookie cups. After you bake them, you can add your cheesecake filling to the Large Family Gingerbread Cookie Cups.
Need More Baking Recipes for Your Large Family?
These Large Family Make Ahead Gingerbread Cookie Cups will be a crowd-pleaser this season! If you love baking with your family, try my Frugal from Scratch Baking Recipes and Staples Book One for lots of money-saving recipes like Depression Era Chocolate Cake plus three other sweet treats, four delicious versions of bread recipes, plus baking staples like cake mixes, baking mix, baking powder, and more. My Frugal From scratch Baking Book Two expands into ten new recipes. Grab them both in the DOUBLE BUNDLE!! Frugal From Scratch Baking Recipes & Baking Staples to save even more!
Here are more make-ahead cookies your family will enjoy!
Large Family Make-Ahead Gingerbread Cookie Cups
Print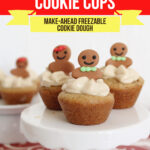 Large Family Make-Ahead Gingerbread Cookie Cups | Cupcakes for a Big Family
Author:

Prep Time:

25 Minutes

Cook Time:

10 minutes

Total Time:

35 minutes

Yield:

32 Cupcakes

Category:

Dessert

Method:

Oven
---
Description
Create the perfect holiday treat with the Large Family Gingerbread Cookie Cups recipe. These cookie cups look similar to muffins, but they have a crispy crunch to them with the perfect cheesecake filling center that your family will love.
---
Ingredients
Cookie Cup Ingredients:
1 1/2 cups butter, softened to room temperature
2 cups packed brown sugar
2 egg
6 TBSP molasses
4 cups flour
5 tsp ground ginger
2 tsp cinnamon
1/4 tsp nutmeg
Small pinch of cloves
2 tsp baking soda
4 tsp cornstarch
Cheesecake Ingredients:
24 oz cream cheese, softened to room temperature
2 cup powdered sugar
1 1/2 cup brown sugar
1/2 tsp ground cinnamon
1/2 tsp ground ginger
---
Instructions
Preheat oven to 350 degrees. Coat two mini cupcake pan with cooking spray.
Cream butter and sugar together until light and fluffy.
Add the molasses and egg, beat until well combined.
In a separate bowl, combine the dry ingredients, then to the wet ingredients and mix until fully combined.
Make balls of about 2 tbsp. of cookie dough. And place into each muffin cup. (OR at this point you can flash freeze the cookie dough balls for later if you'd like the make-ahead cookie dough freezable option. More on this below.)
Bake for 10-12 minutes.
Remove from oven and using a the back of a small teaspoon measuring spoon press in the cups of the cookie to form the bowl. Allow cookies to finish cooling.
While cookies are cooling, make the cheesecake filling. Mix the cream cheese, brown sugar, powdered sugar, ginger, and cinnamon together until smooth.
Pipe the cheesecake filling into cookie cups.
These are best stored in the refrigerator until ready to serve.
---
Notes
To freeze:
Place waxed paper on a baking sheet.
Prepare the batter as directed and scoop onto the waxed paper.

Place the baking sheet in the freezer until the cookie dough is frozen.

Transfer to an airtight container and freeze up to 6 months.

Follow the baking directions above! You can bake the cookies from frozen, but they will need a few more minutes added to the baking time if you chose. I like to defrost the cookie dough beforehand and bake as directed. 
Keywords: Gingerbread Cookie Cups
These Gingerbread treats are delicious, fun to make, and super cute! Give them a try with your family.
FREE Emergency Pantry Planning Pack!
Don't forget to sign up for the emergency pantry planning pack for free to help you plan your pantry meals! The free Emergency Pantry Planning Pack will help you plan your needed pantry items! Printable pages include pantry inventory, grocery lists, meal planners, list of pantry staple items, and more.