Take Oreo cookies to the next level by preparing these double chocolate Oreo Cookie Balls. These chocolatey treats are sweet and delightful, making them perfect to prepare for the family as an after-dinner treat or a holiday dessert. Even better? They are freezable and you can make them ahead of time!
Are you looking for a sweet recipe that you can make for the family to enjoy as a delicious treat after a meal? If so, try the Oreo Cookie Balls. If you are a fan of Oreo cookies and chocolate in general, you will enjoy eating these cookie balls. It does not take long at all, and it is relatively easy to make the Oreo Cookie Balls if you have the right ingredients on hand. You might also want to make it a baking day and try our Trail Mix Cookies, our Keto Pumpkin Chocolat Chip Cookies, or our Carrot Cake Cookies. I also listed more make-ahead and freeze cookies below!
****Use special promo code HELLO20 to take 20% off the entire MEGA DEAL get-it-all Bundle including the best-selling Large Family Freezer Meal Packs 1-12 + so much more!!****
Make-Ahead Oreo Cookie Balls
If you follow this recipe, you should have about 50 cookie balls, but you can always double the recipe to make 100 cookie balls to satisfy the chocolate cravings you and your loved ones might have throughout the week.
With just a handful of ingredients, including Oreo Cookies and cream cheese, you can prepare the Oreo Cookie Balls and have them ready in no time. Not only will your children enjoy them, but so will everyone else who gets the chance to taste them. Make them for fun or as an easy dessert appetizer for loved ones to grab and enjoy at family gatherings.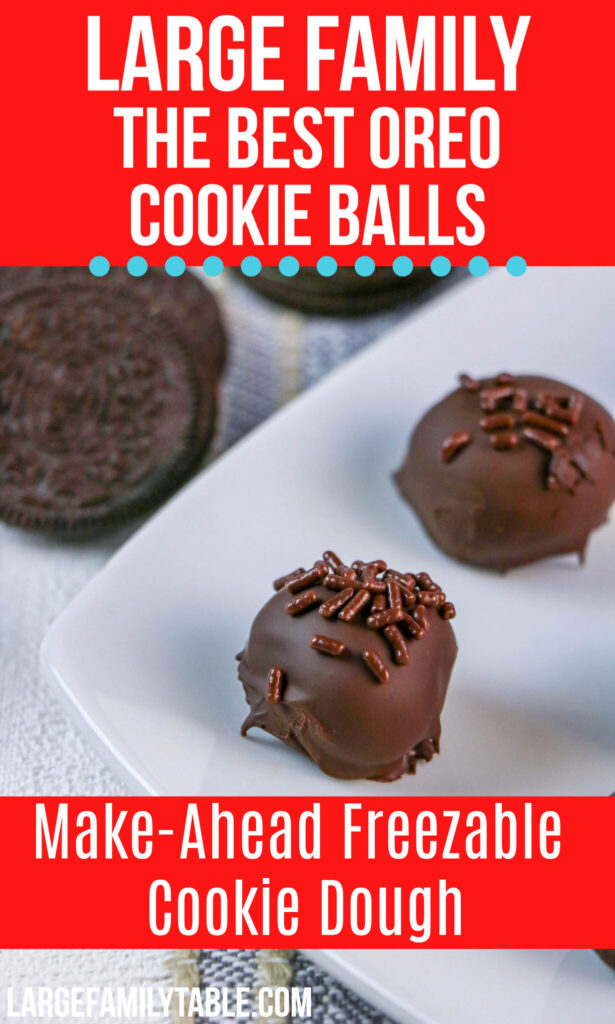 Ingredients Needed to Make Oreo Cookie Balls
You need just a few ingredients to make these balls. The ingredients to use to prepare these cookie balls would include:
Package of Oreo Cookies. You will need a box of Oreo cookies that you can crush down into crumbles to prepare these cookie balls.
Package of Softened Cream Cheese. The cream cheese is an essential ingredient that gets mixed with the Oreo cookie crumbles.
Semi-Sweet Chocolate. Semi-sweet chocolate comes in handy for melting and dipping the cookie balls.
Chocolate Sprinkles. The chocolate sprinkles offer an added chocolate touch to these decadent treats.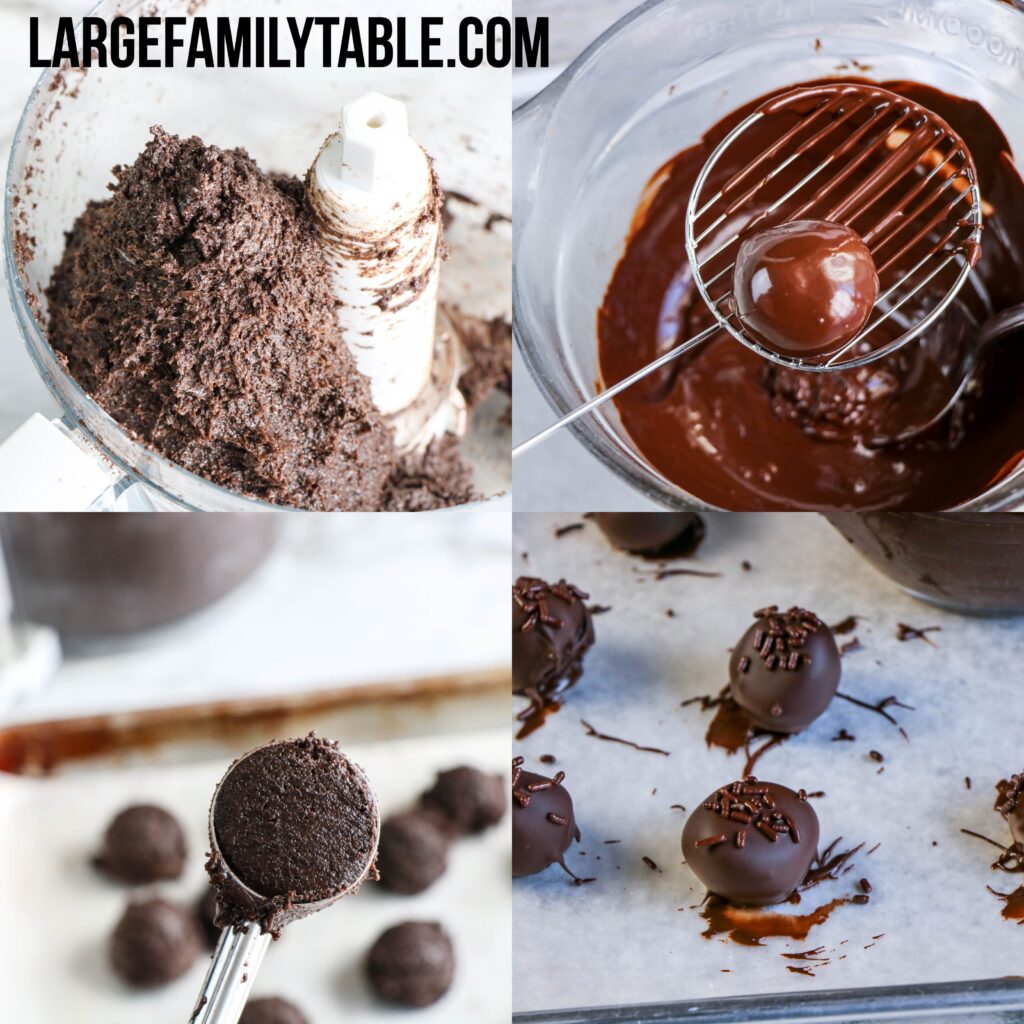 How to Make-Ahead and Freeze the Oreo Cookie Balls
The holidays can be such a busy time so I find it best to make these cookies ahead of time and freeze them. Even if it's not the holiday, making these ahead of time is still a great way to save time.
To make these ahead of time, you will want to mix the dough up completing steps one through four. Then place the dough on a cookie sheet and freeze them individually. When frozen, place them in a air tight bag or container and place them back in the fridge. They can be kept up to six months like that.
To make them, keep them frozen. Do not defrost them as they will get messy. When you have the chocolate melted, bring them out of the freezer and continue with steps five and six below. Do not freeze them after coating them in chocolate as the chocolate will crack.
How to Store the Oreo Cookie Balls
While you do not need to refrigerate traditional Oreo cookies, you will need to put the cookie balls in your fridge to keep them fresh because they contain cream cheese. Place the Oreo Cookie Balls into an airtight container and keep them in the refrigerator for up to five days to remain fresh.
Different Variations of the Cookie Balls
Make all kinds of cookie balls while following the same instructions included in this recipe. For example, if you like vanilla more than chocolate, you can use golden Oreo cookies instead of chocolate ones. You can dip your balls into white chocolate and add rainbow sprinkles on top.
Because Oreo offers lots of different types of cookies, including ones that taste like carrot cake, mint, and brownies, you can easily make all types of cookie balls for each person in the household to enjoy.
Need more delicious and fun baking ideas for your large family?
Aren't these Oreo Cookie Balls delicious? They are an instant family favorite!! In my Make-Ahead and Freeze Cookie Baking Book you will find 10 easy and yummy recipes for large-batch cooking baking! You can prepare them for holiday get-togethers or gifts or just for fun any of the year!! 
Here are more Make-Ahead Cookies your family will enjoy!
Oreo Cookie Balls | Large Family Make-Ahead Freezable Cookie Dough
Print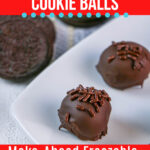 Oreo Cookie Balls | Large Family Make-Ahead Freezable Cookie Dough
Author:

Prep Time:

20 Minutes

Total Time:

20 Minutes

Yield:

50 balls

Category:

Dessert
---
Description
Take Oreo cookies to the next level by preparing these double chocolate Oreo Cookie Balls. These chocolatey treats are sweet and delightful, making them perfect to prepare for the family as an after-dinner treat or a holiday dessert. This is also a freezable cookie dough recipe you can make ahead!
---
Ingredients
1 (16 ounce) package Oreo Chocolate Sandwich Cookies

1 (8 ounce) package cream cheese, softened

2 (8 ounce) bars semi-sweet chocolate, melted

Chocolate jimmies sprinkles
---
Instructions
Prepare a baking sheet with waxed paper.

Place the cookies into a food processor and pulse until the cookies become fine crumbs.

Cut the cream cheese into chunks and add the cream cheese to the food processor. Pulse until the mixture is well blended and forms a large ball.

Using a small cookie scoop, portion the cookie dough into 1-inch balls and roll into a smooth ball.

Dip each ball into the melted chocolate and tap to remove the excess chocolate. Place the cookie ball on the prepared cookie sheet and immediately sprinkle with jimmies.

Place the cookie sheet in the refrigerator for about 1 hour or until firm.  
---
Notes
To freeze:
Prepare the cookie balls as directed and place on the baking sheet without dipping them in chocolate.

Put the baking sheet into the freezer until the cookie balls are frozen.

Transfer the cookie balls to an airtight container. Seal and free up to 6 months.

When ready to use, dip them into the chocolate frozen.
Keywords: Make-Ahead Oreo Cookie Balls
These cookie balls are so delicious and fun to make. Kids will enjoy dipping them and putting on sprinkles. They also make a great gift if you wrap them in cellophane and but a pretty ribbon on them. Lots of great ways to use them, if they last that long!
FREE Emergency Pantry Planning Pack!
Don't forget to sign up for the emergency pantry planning pack for free to help you plan your pantry meals! The free Emergency Pantry Planning Pack will help you plan your needed pantry items! Printable pages include pantry inventory, grocery lists, meal planners, list of pantry staple items, and more.