These homemade trail mix cookies are soft and chewy and packed full of protein. They're perfect for an afternoon snack or a tasty dessert.
Whether you're headed out on a family hike or needing a healthy snack to tide the kids over until dinner, this homemade cookie recipe is just what you need! Whip up a batch on the weekend, and your family can munch on them all week long.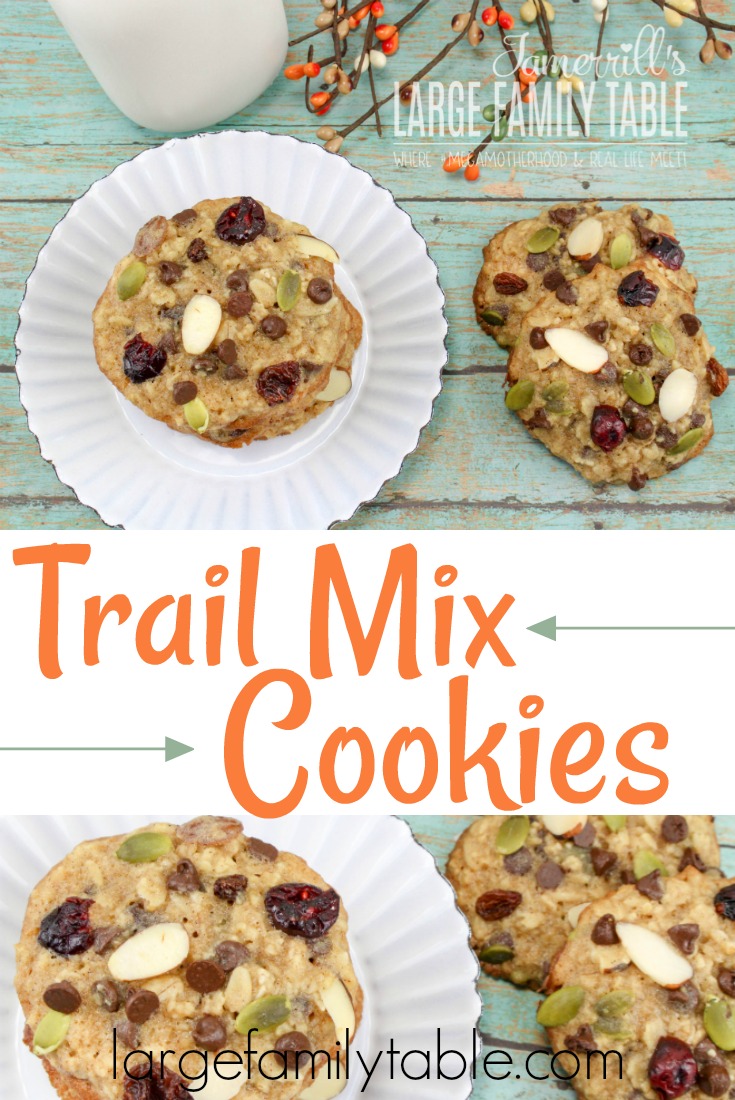 Trail Mix Cookies
I love being able to treat my kids to homemade baked goods. It's even better when those treats are actually healthy for them, too.
If you're looking for a healthy cookie you can serve your family without the guilt, scroll down for the recipe for homemade trail mix cookies.
They'll be so glad you did!
Print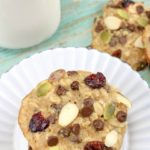 Homemade Trail Mix Cookies Recipes
---
Description
DO NOT bake on an airbake cookie sheet. The cookies will not turn out right. Use a regular cookie sheet for these cookies.
---
Ingredients
• 1 1/4 c old fashioned rolled oats
• 3/4 c flour
• 1/2 tsp baking powder
• 1/4 tsp salt
• 1/2 tsp cinnamon
• 1/2 c butter, softened (1 stick)
• 1/4 c honey
• 1 egg
• 1/2 c light brown sugar
• 1 tsp vanilla
• 1/4 c cranberries
• 1/4 c mini chocolate chips
• 1/4 c sliced almonds
• 1/4 c pumpkin seeds
• 1/4 c raisins
---
Instructions
1.  Preheat oven to 350.
2. In a medium bowl, add the butter, brown sugar, and honey. With your mixer, beat on medium speed for about 2-3 minutes or until creamy.
3. Add egg and vanilla. Continue to beat until combined.
4. In a separate bowl, add the oats, flour, baking powder, salt, and cinnamon. Mix together, then add to the wet ingredients and mix until well combined. You can use a spoon or your mixer to mix.
5. Once mixed, add some of the cranberries, chocolate chips, almonds, pumpkin seeds, and raisins. Save a little of each ingredient to place on top of the cookie. Mix with a spoon until combined.
6. With a 3-inch cookie scoop (or spoon), scoop 8 cookies and place on a cookie sheet lined with parchment paper. Press down to flatten just a little bit. Don't flatten too much. Press in a few more pieces of the trail mix ingredients that you saved back. This step is optional. It just makes for a prettier cookie.
7. Bake for 8-10 minutes or until the edges are golden brown and the middle is still slightly soft. Take out, and leave them on the cookie sheet to cool. This will finish the baking process, and you'll have a perfect chewy cookie.
---
Notes
**DO NOT bake on an airbake cookie sheets. The cookies will not come out right. Use regular cookie sheets.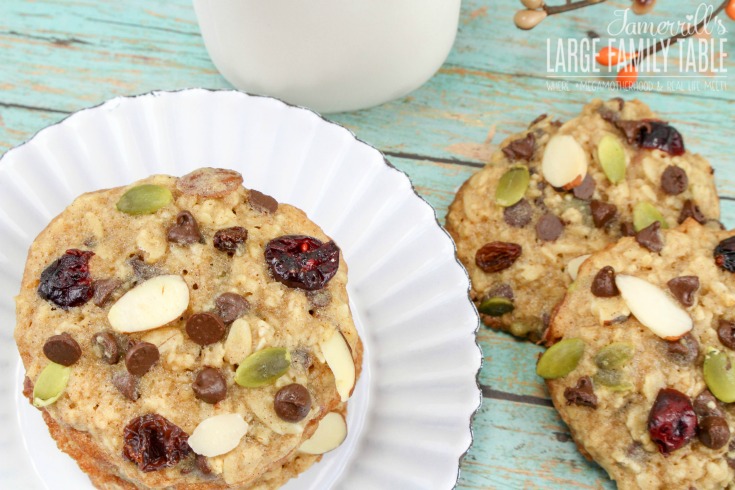 A healthy treat you can serve your family any time!
If you're looking for more cookie recipes, be sure to check out my recipes for peanut butter chocolate chip cookies, homemade oatmeal raisin cookies, and no-bake chocolate oatmeal cookies.