When you want to prepare a fantastic freezer meal for your big family, try this Large Family Make-Ahead Cheesy Tuna Noodle Casserole. It is creamy, cheesy, and delicious!
Have you been on the search to find a great freezer meal you can make for the family? The Large Family Make-Ahead Cheesy Tuna Noodle Casserole might be the recipe you need in your life! If you enjoy tuna or even lump crabmeat that you can use as a substitute, you will enjoy every bite of this casserole. It is a wholesome dish that you can put together within minutes and then bake before serving your family. Not only can you make it a few hours before eating it, but you can also prepare it days or weeks in advance and store it in your fridge or freezer.
***Use special promo code HELLO20 to take 20% off your first order in the shop including the SUPER MEGA ULTIMATE Large Family Freezer Meals Bundle here!**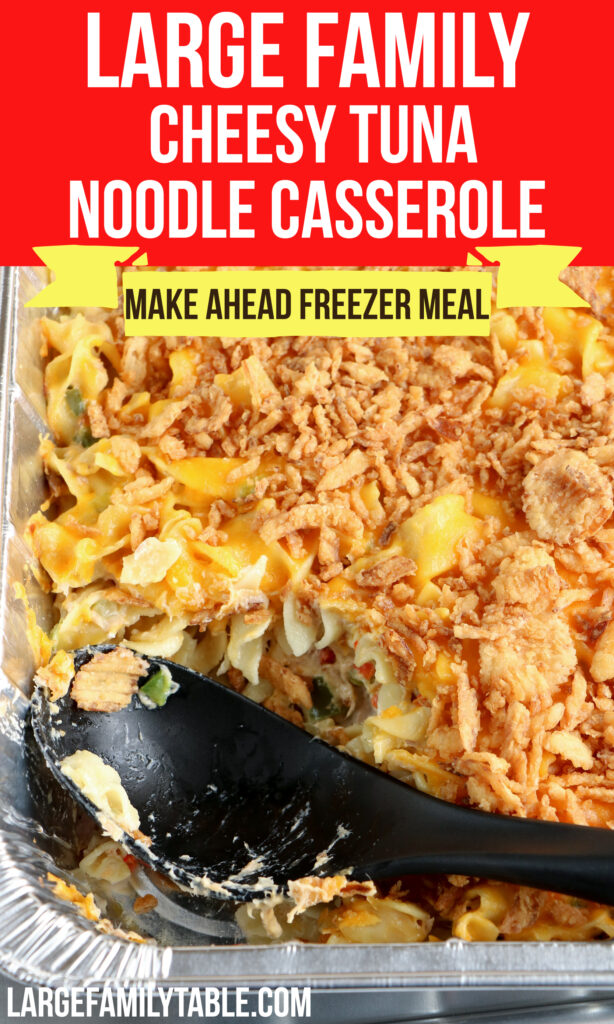 The List of Ingredients Needed to Make the Cheesy Tuna Noodle Casserole
When preparing the Large Family Make-Ahead Cheesy Tuna Noodle Casserole, it is necessary to have these ingredients:
Egg Noodles. The egg noodles have the right consistency and are a great addition to this dish.
Chunk Light Tuna in Water. Grab any brand of chunk light tuna in water. If you do not like tuna as much, you can substitute it for lump crabmeat.
Green Bell Pepper. Dice your green bell pepper into small pieces before adding it to the casserole for flavor and a crunch.
Mayo. Using mayo makes the casserole creamier. It does not matter the brand or style of mayo that you decide to use.
Shredded Cheddar Cheese. You can give this casserole a cheesy texture and taste by using plenty of shredded cheddar cheese.
French Fried Onions. These onions go on top of the casserole to provide a crispy crunch with each bite.
There are many other essential ingredients to add to the casserole, including butter, diced onion, celery, flour, black pepper, salt, milk, and chopped pimentos. Be sure to have the proper kitchen tools on hand, too! Check out my must-have list of kitchen tools.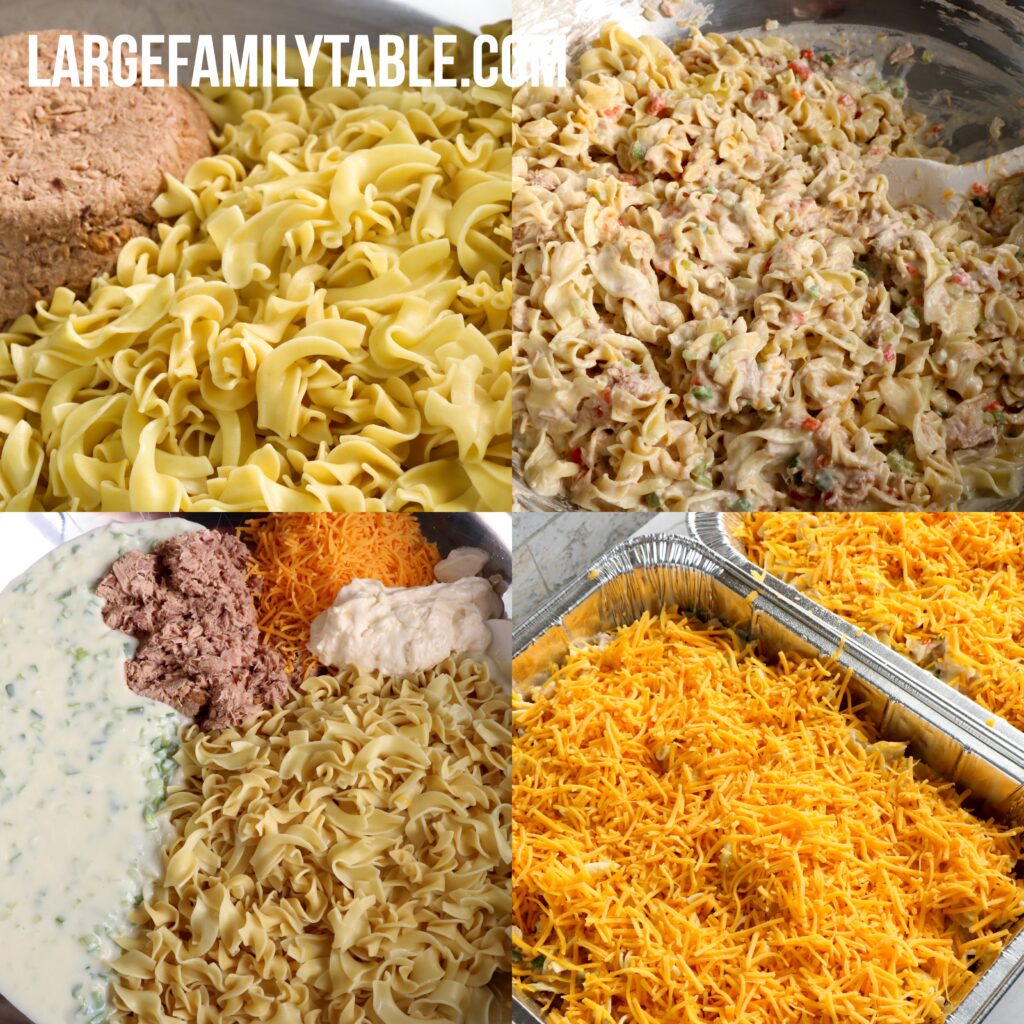 How to Freeze the Cheesy Tuna Noodle Casserole
If you have plans to freeze the Large Family Make-Ahead Cheesy Tuna Noodle Casserole ahead, prepare it as the directions explain but do not place the French fried onions on top of it.
Cover your casserole dish tightly with both plastic wrap and aluminum foil before putting it in the freezer. The casserole can stay in the freezer for six months. If you do not want to freeze it, you can store it in your fridge for up to three days. You can add the French fried onions to the top of the casserole when you are getting ready to heat it and eat it.
Extra Ingredients You Can Add to the Cheesy Tuna Noodle Casserole
You can always add assorted vegetables to the Large Family Make-Ahead Cheesy Tuna Noodle Casserole to make it healthier. Some of the best vegetables to add to this casserole dish include chopped carrots, peas, corn, and broccoli florets. You should have no problem getting your children to eat their veggies when adding a few of them to this casserole because the flavor of all the other ingredients makes the meal taste great.
Here are more large family casseroles for you to enjoy!
Here are more Casseroles that Freeze Well and don't miss all these large family freezer cooking days!
Do you have more casserole recipes?
Casseroles like the Cheesy Tuna Noodle Casserole are simple, delicious, and convenient to freeze for later! I have so many more casseroles that you will love in my shop. Check out my Classic Casserole Dinners & Freezer Meals Cookbook One for Now, One for Later! It includes 10 delicious, classic casserole recipes that will make two 9×13 casseroles each–one to eat right away, and one to put in your freezer for a later date. It's an easy and quick way to build a freezer stash.
Large Family Make-ahead Cheesy Tuna Noodle Casserole
Print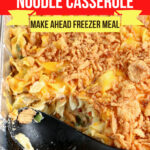 Large Family Make-Ahead Cheesy Tuna Noodle Casserole
Author:

Prep Time:

25 Minutes

Cook Time:

45 minutes

Total Time:

1 hour 10 minutes

Yield:

2 9×13 Casserole Dishes

Category:

Dinner
---
Description
When you want to prepare a tasty yet simple meal for your loved ones, try this Large Family Make-Ahead Cheesy Tuna Noodle Casserole. It is creamy, cheesy, and delicious!
---
Ingredients
2 (16 ounce) packages egg noodles

7 (5 ounce) cans chunk light tuna in water or lump crab

6 tablespoons butter

1 cup diced onion

1 cup seeded and diced green bell pepper

1 cup diced celery

¼ cup flour

½ teaspoon black pepper

Salt, to taste

4 cups milk

1 cup mayonnaise

4 cups shredded cheddar cheese, divided

2 (4 ounce) jars diced pimentos, drained well

2 cups french fried onions
---
Instructions
Preheat the oven to 350 degrees. Prepare two 9×13 casserole dishes with nonstick cooking spray.

Cook pasta according to package directions and drain well.

In a large (12 inch) skillet over medium-low heat, melt the butter and add the onions, bell pepper, and celery. Cook the vegetables until tender, about 5 minutes. 

Add the flour and seasonings to the skillet and stir until the flour coats everything, cooking for an additional 2 minutes.

Gradually add in the milk, whisking until thick and bubbly. 

Remove the skillet from heat. Stir in the mayonnaise and half of the cheddar cheese until melted.

In a 30 quart bowl, combine the pasta, tuna, cheese sauce, and pimentos.  Divide the mixture between the prepared casserole dishes.

Sprinkle the remaining cheese over the top.

Bake the casseroles for 40 to 45 minutes or until the edges are bubbling. 

Temporarily remove the casseroles from the oven and add a layer of french fried onions. Return to the oven and cook for an additional 5 to 10 minutes or until the onions are crispy.
To make ahead and freeze as a freezer meal:
Prepare casseroles as directed but do not top with french fried onions.

Cover tightly and store in the refrigerator for up to 3 days or freeze for up to 6 months.

Allow to thaw in the refrigerator overnight prior to baking.

Uncover and proceed according to directions.
Keywords: Cheesy Tuna Noodle Casserole
This yummy and classic dish is easy to make and its cheesiness makes it a kid favorite!
FREE Emergency Pantry Planning Pack!
Don't forget to sign up for the emergency pantry planning pack for free to help you plan your pantry meals! The free Emergency Pantry Planning Pack will help you plan your needed pantry items! Printable pages include pantry inventory, grocery lists, meal planners, list of pantry staple items, and more.