?Get the Best-Selling Large Family Freezer Meals Collection here! Use promo code HELLO20 to take 20% off your first order.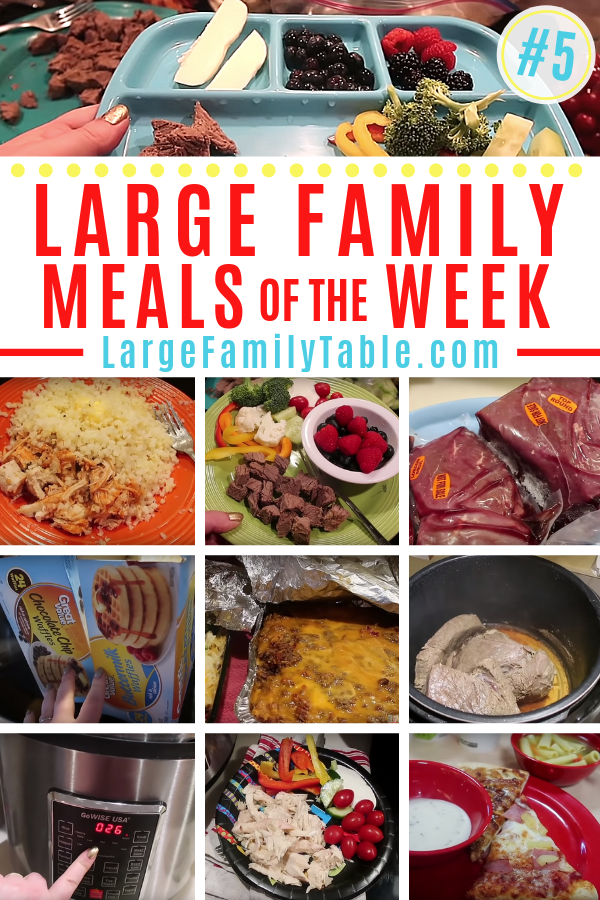 You know how much I love to share my large family meal plans here and on my YouTube Channel. They have been such a hit that I decided to start sharing exactly what our family of ten eats in a one week period. Welcome to Large Family Meals of the Week episode #5!
Large Family Meals of the Week
In my Large Family Meals of the Week series on YouTube, I have been taking you through a week in the life of my family, showing you exactly how I fed my large family of ten. This is real life stuff! These videos aren't sharing what our meal plan was, the large family meals of the week posts & videos show you how our meals actually worked out that week!
Low Carb/THM Dinners, Family Meal Prep, Freezer Meals!!
You can click here to watch Large Family Meals of the Week #5 | Low Carb/THM Dinners, Family Meal Prep, Freezer Meals!! on YouTube and see how we had lots of family time, a birthday celebration, Saturday fridge clean out, "Grandma Christmas", and how I pushed a lot of Cutie clementines on the kids! 😀
Feeding a Large Family During a Busy Week of Celebrations
Here are the meals and snacks that I fed my family (and that they fed themselves), during our extremely busy New Year's and Birthday Celebration week!
I shared that I really need to get in another large family freezer cooking day for freezer meals, but wanted to clean out the fridge and freezer first. So, of course, this turned into an all day affair where I went "shopping" in my storage fridge and started cleaning and reorganizing the inside house fridge.
MONDAY
We had a family movie day, then I fell asleep with dinner in the Instant Pot and the plan for a family dinner at the table was foiled.
Breakfast – Lots of bananas for Benjamin, bagels and cream cheese for all kids, eggs for Travis and I and I had a Triple Zero greek yogurt.
Lunch – Low carb sausages, and sauerkraut for myself, kids grazed.
Dinner – The plan was to have the Large Family Caesar Pork Roast in the instant pot and some steamed brussel sprouts. The reality was that I fell asleep and the kids had a fend-for-yourself dinner of PB&J sandwiches, turkey sandwiches, and cheese sticks.
Extra Snacks – Popcorn at movie theater and snacks. Yay!
TUESDAY
New Year's Day and we celebrated Liam's birthday party.
Breakfast – Some sort of DIY breakfast
Late Lunch/Early Dinner – We ate out at a buffet. I had steak, chicken, and broccoli; there were french fries, and my baby "had a knife" (you'll get it if you watch the video!)
Extra Snacks – Birthday cake, chips and junk food 😀
WEDNESDAY
I did some cooking in the kitchen and we had friends come over. I also showed off my "power verse" of the week. Exodus 14:14
Breakfast – I had a Triple Zero greek yogurt, and the kids had a throw together breakfast.
Lunch – Pasture raised 5 lb. chicken in the pressure cooker, veggies on the side. We fed 9 people with one chicken! I had chicken, hot sauce, veggies.
Dinner – Balsamic and Garlic chicken in my Go Wise 14 Quart Pressure Cooker. Kids had chicken, corn, and clementines. I had chicken with cauli-rice, hot sauce, and a cheese stick.
THURSDAY
We did some "drive- bys" looking at houses with my mom, and we went to Cici's pizza buffet for lunch.
Breakfast – Kids had freezer waffles.
Lunch – Cici's Pizza lunch buffet.
Dinner – BBQ Meatloaves from the freezer in the slow cookers.
FRIDAY
Travis and I looked at a couple of properties in the morning, and we had a big 4 hour roller skating event that evening.
Breakfast – I had a banana and a Triple Zero greek yogurt on the go. The kids had yogurt and cereal with my mom.
Lunch – We had a late lunch, but not dinner because we would be gone at dinner time. Kept handing out the clementines, and it was leftover chicken, turkey, and cold shrimp for shrimp the kids.
Dinner – Late lunch, then went to Wendy's for Frosties and crispy chicken sandwiches from the value menu. #reallife
Extra Snacks – Icees at the skating rink, bags of nuts and peanut butter crackers, and of course, more clementines. 😀
SATURDAY
I cleaned out some older low carb freezer meals to prep for Sunday dinner. I did some shopping from one fridge to another and spent the day cleaning and restocking the fridge for the week. That evening we had "Grandmother Christmas".
Breakfast – 50 cent Quaker Go kits
Lunch – Yogurts, clementines and on your own, otherwise known as fend-for-yourself! 😀
Dinner – Low carb bacon cheeseburger bake, frozen cauliflower and kielbasa & cheesy broccoli bow tie bake, cauliflower rice.
Extra Snacks – Yogurts, chocolate pumpkin bread, more Clementines!!! Pillsbury break-and-bake Christmas tree cookies.
SUNDAY
We finished preparing for the week, and Travis got all our snacks and food prepped, chopped, and bagged up!
Breakfast – Big breakfast of bacon, 2 pans of scrambled eggs, and more clementines.
Lunch – Must have been something we threw together with leftovers. 😀
Dinner – 3 frozen Top Round and London Broil pasture-raised beef roasts for beef stew, thrown frozen in the pressure cooker with some chopped veggies, fruit, and cheese.
Meal Planning for Large Families
I hope you found this week of meals for busy, large families helpful! Here are some additional large family meal plans and planning helps for you:
Here are even more large family meal planning resources!