Leftover turkey is prevalent in the days after Thanksgiving. You have to get creative to use it all up. Leftover turkey noodle soup is a perfect large family freezer meal. You will love having this in your freezer for the cold winter days that typically follow the holidays Bonus points that by making it in advance, you give the flavors time to mingle and marry.
**Use special promo code HELLO20 to take 20% off your first order in the shop including the SUPER MEGA ULTIMATE Large Family Freezer Meals Bundle here!**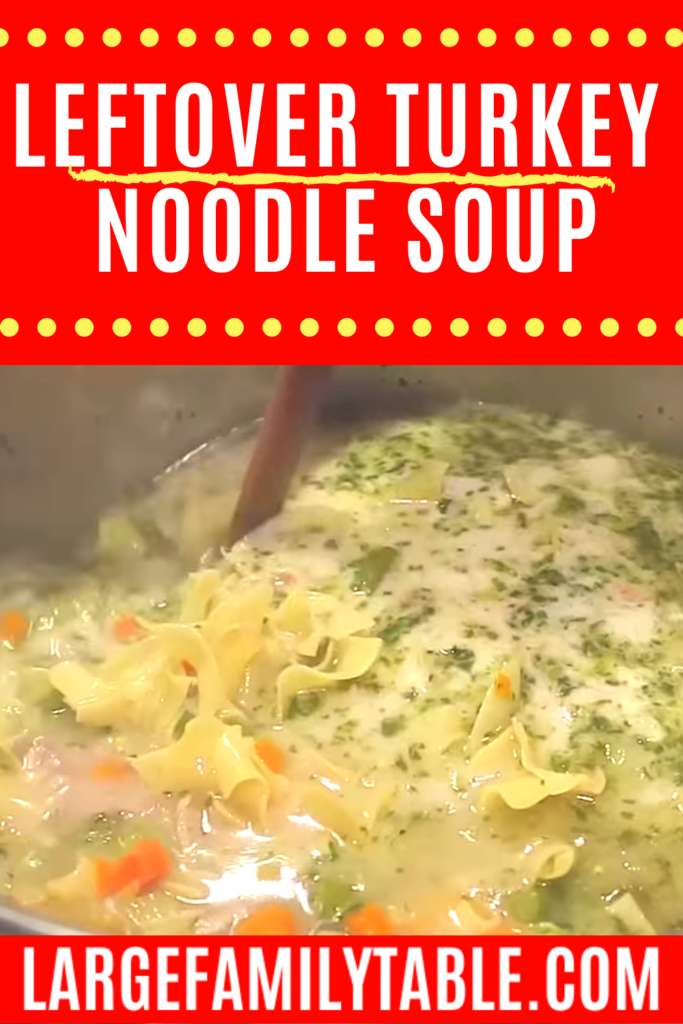 How long can you keep leftover turkey?
Leftover turkey can hang out in the fridge for 3 to 4 days after it's cooked. This gives you plenty of time to take a nap and recover from the copious amounts of turkey you ate the first time. Be sure it's in a sealed freezer bag or container. No one wants to eat dried out leftover turkey.
Start this recipe by chopping up an onion and whatever celery you have left lying around. In a large pan or Dutch Oven, saute the onion, celery, and frozen veggies until tender. While that's happening, go ahead and cook your egg noodles.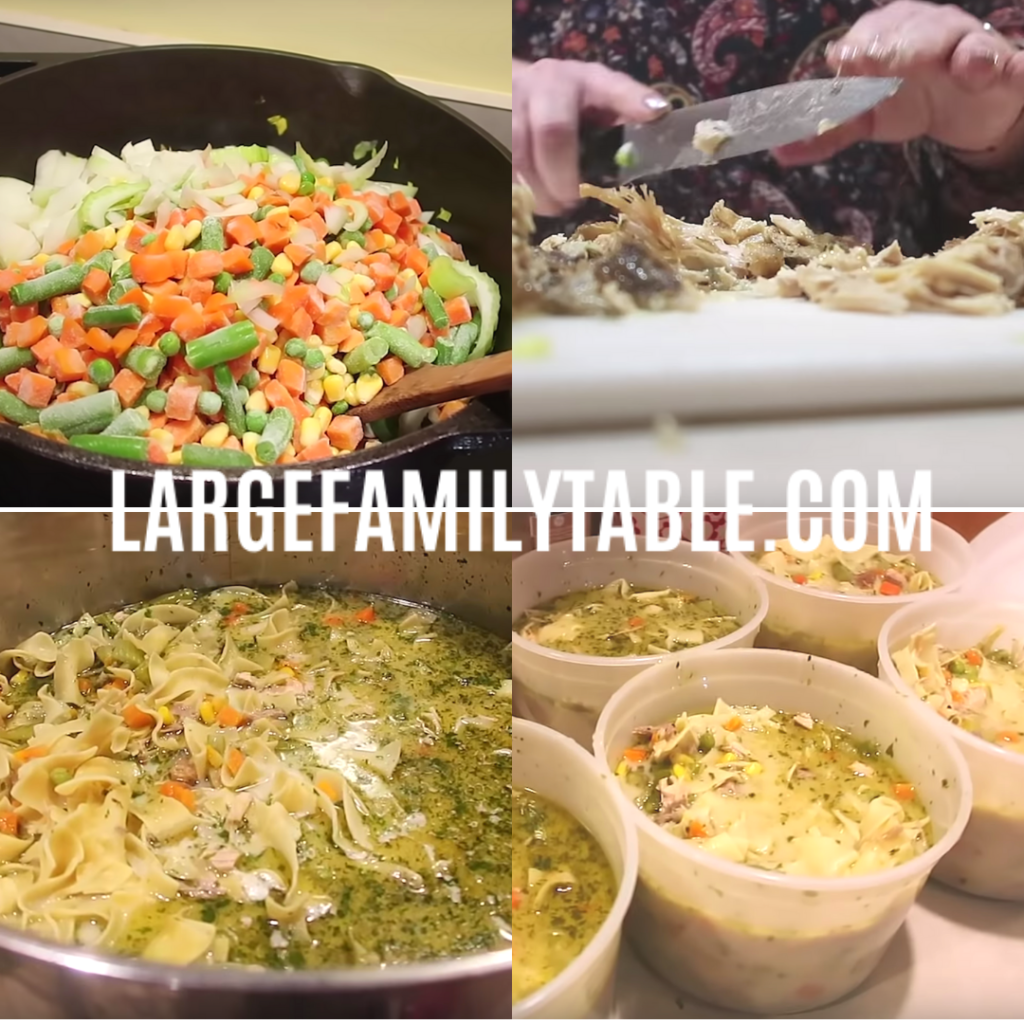 In your large stockpot, add broth, water, leftover turkey, and spices. Simmer on low heat while you multitask the other 2 burners you have going. Kiss a child who runs past you before you drain the egg noodles. Check the veggies that are sauteing to see if they are tender.
Add the egg noodles and vegetable mixture to the simmering stock pot. Stir together and let simmer for a bit. Great directions huh? Really they are simmering to get to know each other. If serving immediately, you can get the bowls ready or the salad done if you want to make the meal heartier.
Print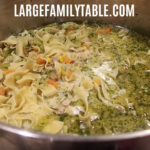 LEFTOVER TURKEY NOODLE SOUP – LARGE FAMILY FREEZER FRIENDLY
Author:

Prep Time:

15 mins

Cook Time:

30 minutes

Total Time:

45 minutes

Category:

Soup

Method:

Stovetopq

Cuisine:

Leftovers
---
Description
Got leftover turkey? Make this freezer friendly leftover turkey noodle soup to use it all up. 
---
Ingredients
Leftover turkey (stretch what you have available)

One onion, chopped

Several celery stalks, chopped

One 32-oz bag of frozen peas, carrots, corn

Three 48-oz containers of broth (or make your own leftover turkey broth)

Four cups water (if you have less broth you and replace with more water – use what you have available)

One cup heavy cream (if you like)

Two 12-oz bags of your favorite egg noodles

One tbsp each of parsley, onion powder, garlic powder

Salt/Pepper per preference

Two tbsp real butter (to cook veggies in – see below)
---
Instructions
In Dutch Oven or large pan cook

1 chopped onion, celery, and frozen veggies until tender.

Boil, cook, and drain egg noodles per package directions.

In large stock pot add broth, water, spices, and peeled/shredded leftover turkey meat on low heat until noodles and veggies are done.

Add veggies and egg noodles to the stockpot of turkey soup once those are complete.

Continue to simmer all ingredients together for a bit (how do you like those *exact directions, ha!*) to let flavors blend and stir as needed.

Serve Leftover Turkey Noodle Soup with salad, sandwiches, or as a meal on its own.
---
Notes
Freezer Meal Directions — Once Leftover Turkey Noodle Soup is cooled fill several containers with soup leaving about 1 inch or so from the top to give room for expansion while freezing. I've talked to moms who use leftover ice cream buckets for freezing large batches of soups. I use a variety of containers that work well for soup freezer meals. To use your soup freezer meals just set your container out in the refrigerator the day before you need it (or if you forget, defrost the day you need your soup using the cold water defrost method). Once soup is defrosted just reheat fully in microwave or stove top.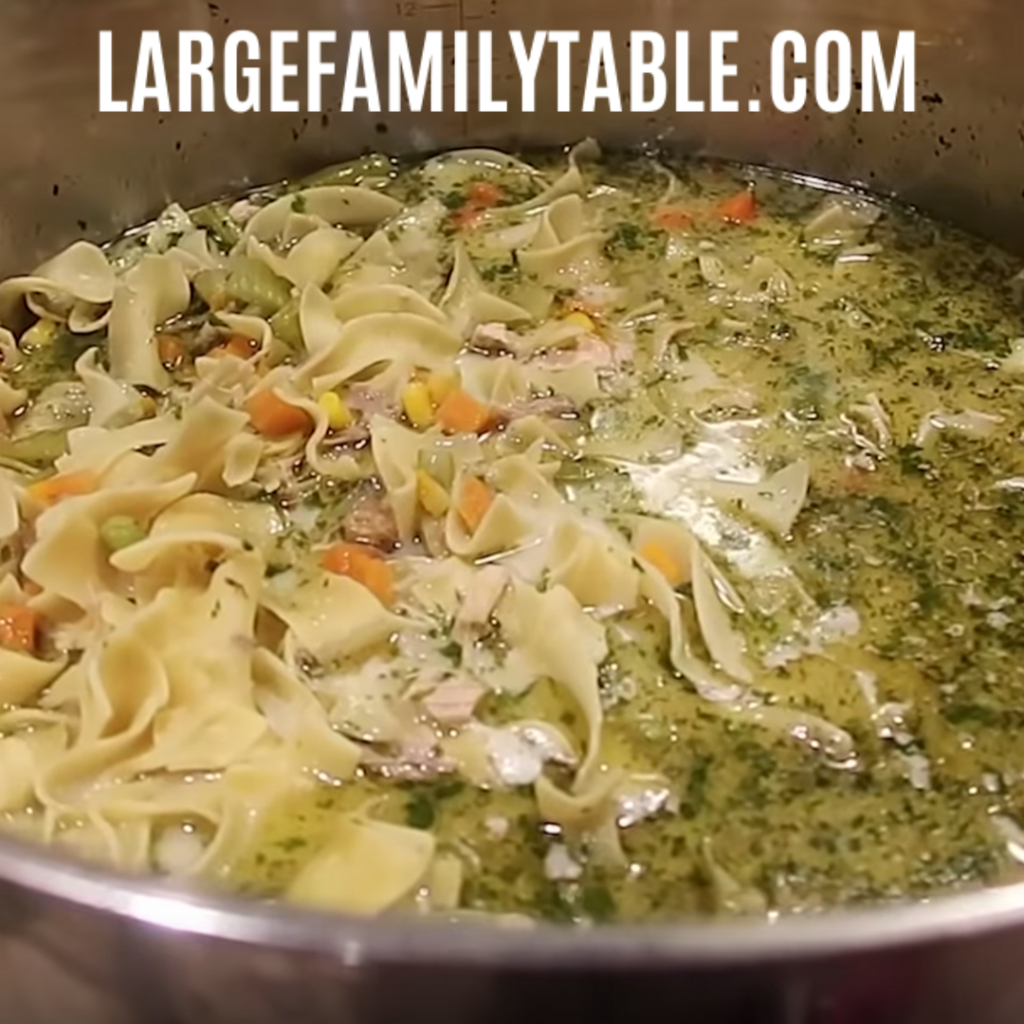 Leftover turkey noodle soup is a perfect meal for any day but especially a blustery, cold one. Serve with grilled cheese, salad, or all on its. own. If you would like to freeze it, wait for it to cool. Add into large containers (old ice cream containers work well for this) leaving a minimum of 1 inch at the top for expansion. Take out the night before serving, thaw, heat and enjoy!