Cold weather is soup weather. Unfortunately not all soups are low carb. This low carb cheesy cauliflower soup is not only delicious but you can throw several bags together in your freezer. Thaw it out, dump in your crockpot then come home to hot soup that won't derail your low carb lifestyle.
?Get the Best-Selling Large Family Freezer Meals Collection here! Use promo code HELLO20 to take 20% off your first order. 🙂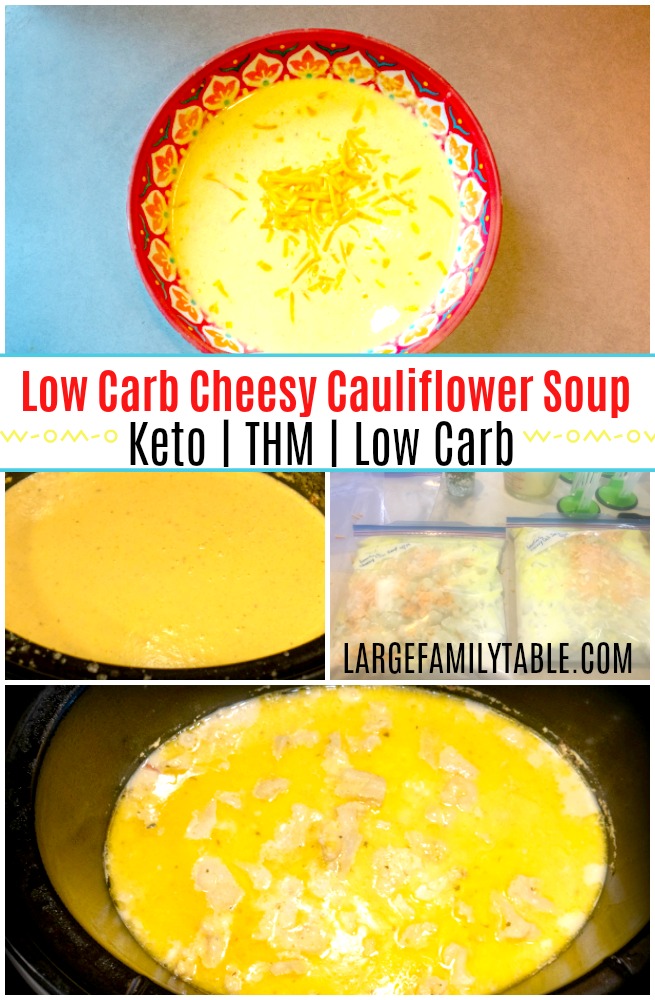 I shared I recently made 20 Healthy Freezer Meals including this yummy Low Carb Cheesy Cauliflower Soup! I'm a big fan of cauliflower so this recipe is a favorite around here. Even my 6-year-old requests it! You might also enjoy this Low Carb Broccoli Cheddar Soup.
I've fallen in love with using my immersion blender on various easy slow cooker soups. It blends the soup ingredients nicely towards the end of the cooking cycle leaving a thick and filling soup.
Cheesy Cauliflower Soup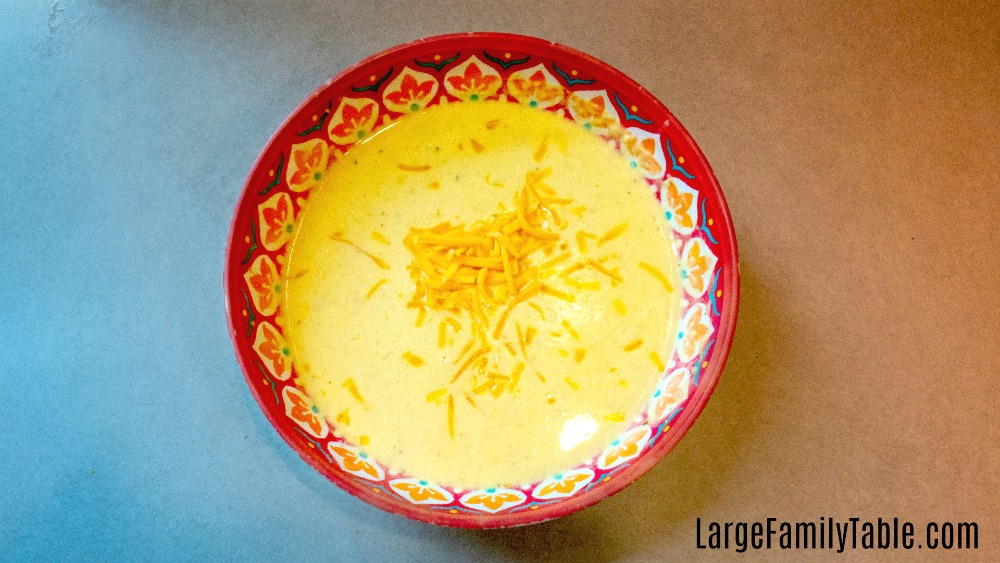 Below is a picture of the soup before blending with the immersion blender.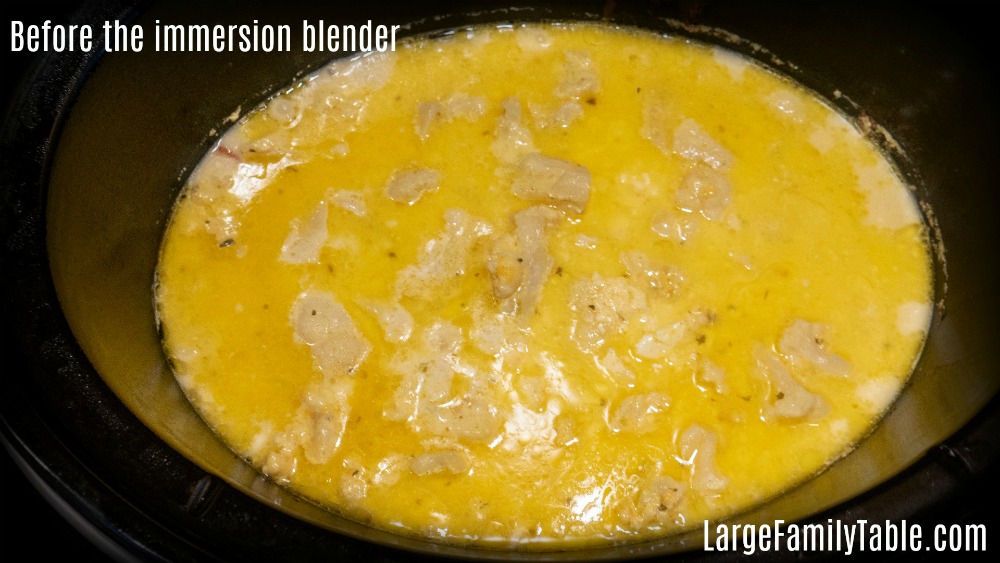 And here's the Low Carb Cauliflower Soup all blended beautifully with the immersion blender.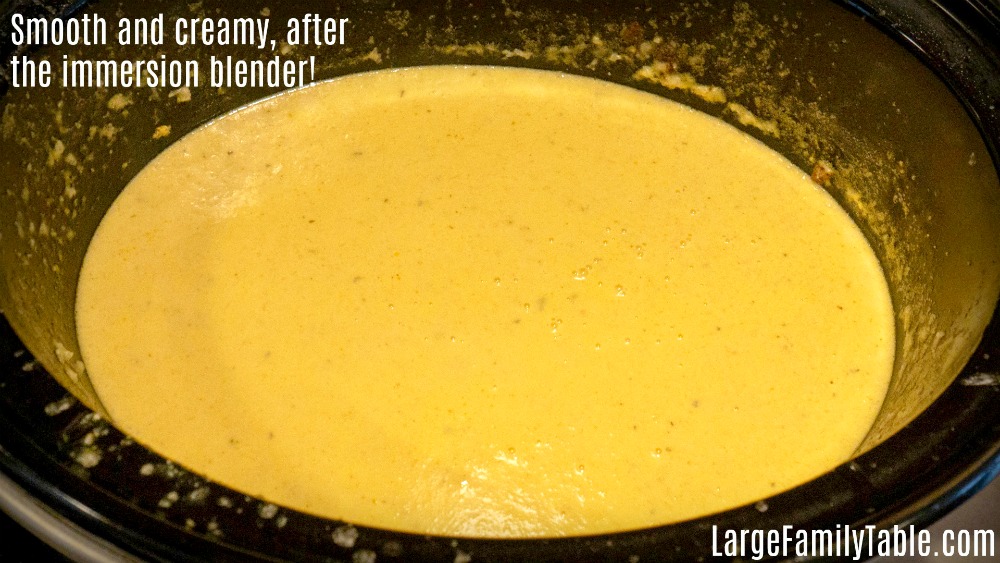 Low Carb Soup Recipe
Print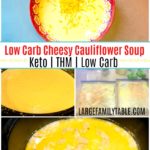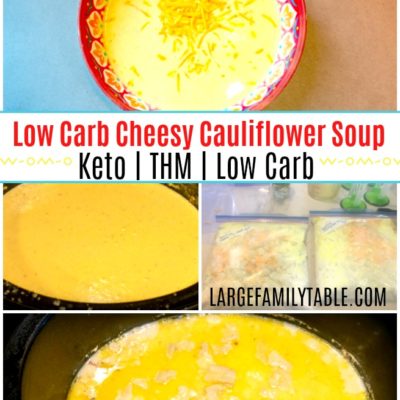 Low Carb Cheesy Cauliflower Soup | Slow Cooker Freezer Meal
---
Description
Make ahead this low carb cheesy cauliflower soup that's wonderful in the slow cooker! Use an inexpensive immersion blender to finish the job right before serving. Top with sour cream, bacon bits, and green onion! 
---
Ingredients
52 oz frozen cauliflower 

6 cups shredded cheddar cheese

1 large yellow onion, diced

1/2 cup butter

6 cups heavy whipping cream

1 package cream cheese 

2 tbs minced Garlic 

6 cups chicken broth (bone broth if available)

1 tsp pepper

1 tsp salt 




---
Instructions
Divide ingredients into two labeled freezer bags, freeze up to 3 months.
When you desire to serve this recipe just thaw the bag in the refrigerator the night before. On cooking day dump contents of the bag in the Instant Pot or Slow cooker. For Instant Pot cook soup on manual high for 20 minutes. For the Slow Cooker on high up to 3 hours, low 4-5 hours.  Once the cooking time is complete use an immersion blender to gently blend the soup to desired consistency.
20 Healthy Freezer Meals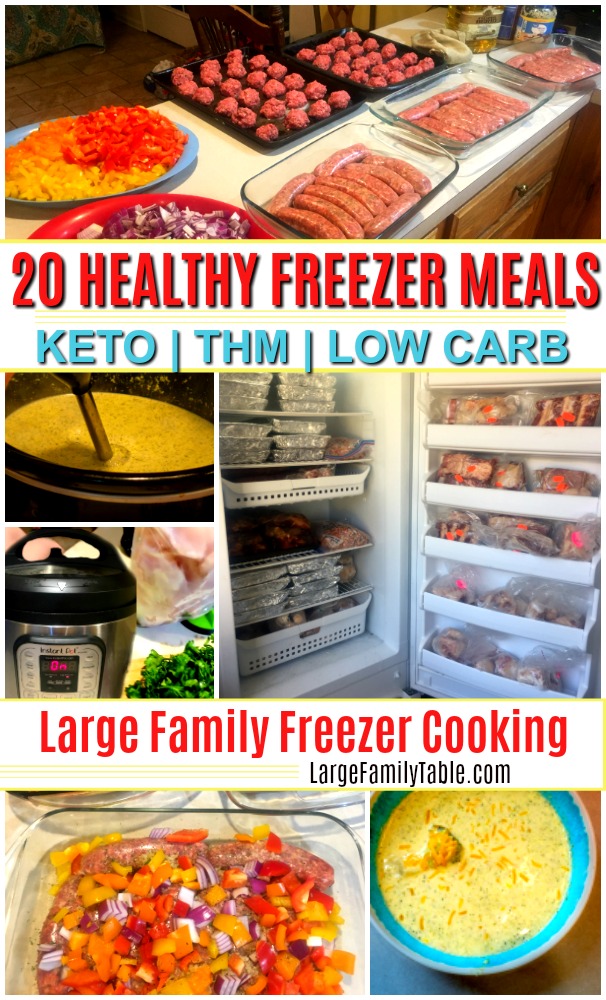 Click here to find more healthy freezer meals in the post 20 Healthy Freezer Meals (Instant Pot, Slow Cooker, Oven Meals, too!)